Kielbasa sausage recipes are one of the easiest and most versatile recipes. You can combine Kielbasa with starches, such as rice, potatoes, pasta, or beans. It also goes very well with sauerkraut. If served for breakfast, Kielbasa is an awesome compliment to hashbrowns and eggs.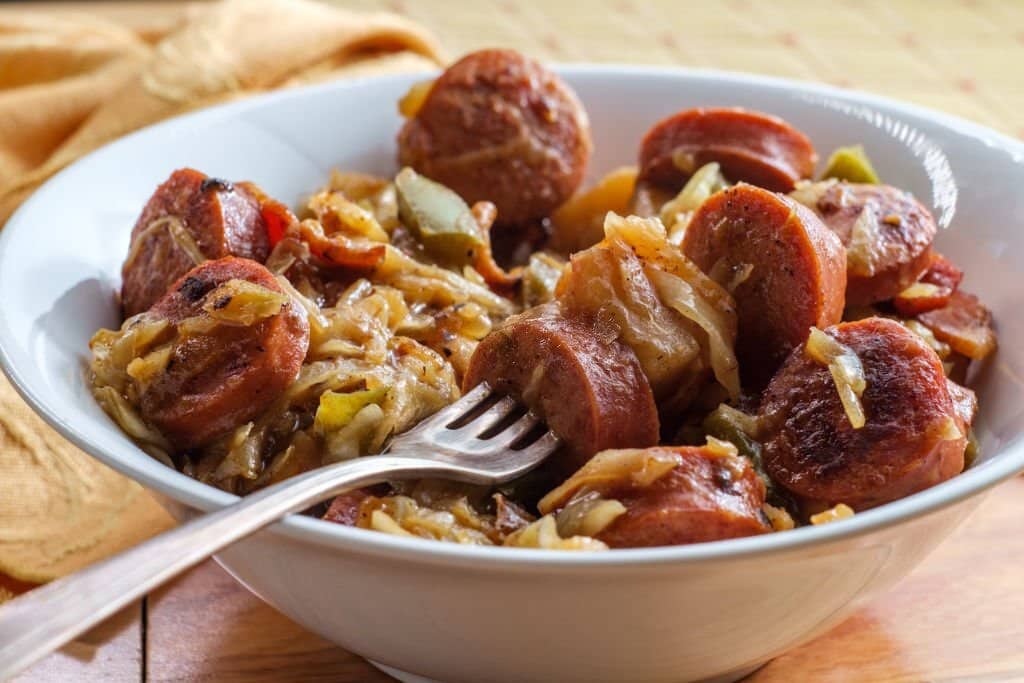 Polish kielbasa sausage is a staple in every household. You can make amazing kielbasa meals in minutes without a fuss any time. And cooking polish kielbasa is no rocket science, you can make them on the stovetop, grill, pan-fry, or oven. The admiringly flavorful kielbasa is perfect on its own and exceptional when incorporated with any type of dish.
One of the most popular ingredients in Polish cuisine is kielbasa sausage. This type of sausage has a smoky flavor that pairs well with onion, tomato sauce, or mustard. You can cook kielbasa in the oven with potatoes and carrots. Kielbasa is also a great ingredient for pasta dishes, soups, and casseroles
This blog post contains recipes for kielbasa sausage and other dishes that use this ingredient including some cold kielbasa appetizers. It also contains links to related recipes where you can find full ingredients plus directions.
Read on for the 25 best recipes using kielbasa sausage that are worth the spot in your weekly rotation!
Enjoy a steaming meal with this easy kielbasa recipe. This is a delicious and easy low-carb kielbasa dinner with bell peppers, cabbage, and tons of chopped onions, perfect for a quick weeknight meal any day.
Recipes using kielbasa are crawling the web. They are equally good, but what sets this kielbasa recipe apart is the simple ingredients used, and this takes only thirty minutes to make!
It is feast time with this Kielbasa & Pierogi Snack Dinner! There is surely something for everyone on this colorful, very appetizing kielbasa sausage platter.
This is a fresh kielbasa recipe with a fun twist! I've seen this a lot in food magazines and online. The beautiful presentation and variety of choices on a big platter is enough reason to gather everyone around the dinner table. And this Kielbasa & Pierogi Snack Dinner is fancy enough for entertaining!
Nowadays, it is very easy to find keto recipes. People now pay great attention to health and fitness. Cornbread meets kielbasa – this fun, exciting, and best kielbasa recipe is another keto dinner idea to try. Enjoy this warm and delectable cornbread stuffed with smoky kielbasa sausage for a light meal with a green salad on the side or as a delicious appetizer.
Pin this now and try this sausage kielbasa recipe soon. Experience the balance of flavors with this incredible Keto Kielbasa Cornbread!
Easy, quick, and delicious – this is the best kielbasa recipe you can make in your Instant Pot! Four minutes and four ingredients are all it takes to throw this kielbasa dinner together.
This Kielbasa and Cabbage is another low-carb option. Packed with flavors and always sets the mood right. This is perfect for everyone struggling with a busy schedule and carbs! Kielbasa lovers will no doubt be digging this!
What is the best way to cook kielbasa? In the Instant Pot with cabbage and potatoes!
Enjoy a well-balanced meal in a snap with this kielbasa recipe. An all-in-one dinner option perfect for your entire family! Lovers of easy and quick dinner will want this simple kielbasa dinner idea. Everyone will agree that nothing beats a comforting and flavorful meal that you can whip up with almost no effort!
Simple and close to effortless meals is my thing, and I think I found my number one favorite! Cooking polish sausage with Pierogi and Brussels Sprouts in a single sheet pan is not crazy because throwing together a delicious and simple dinner like this is everything we need. There are tons of dinner ideas with kielbasa, but I cannot think of anything easier than this one!
I am always in search of kielbasa dinner ideas. You can tell how much I love kielbasa. It makes dinner easy, and you can use it for anything! Sausage kielbasa in a single skillet with savory veggies – this makes the perfect keto meal that you can make in under thirty minutes. With 400 calories per serving and less than 5 net carbs, this Kielbasa, Peppers, and Cauliflower Rice Skillet is a sure-fire!
If you are looking for a classic meal to enjoy on chilly days, then this Kielbasa and sauerkraut soup is a must-try! Filled with veggies, exceptionally flavorful, and very comforting, serve a big bowl for a filling kielbasa dinner to warm you up inside and out. If you have any leftovers, don't worry because meals with kielbasa are great even after a couple of days!
Unique and mouthwatering, this is one of the best kielbasa recipes you'll ever make! Tickle your taste buds with the harmony of sweet, tangy, and savory flavors of this hearty, flavorful kielbasa dinner. Throw this together easily in under thirty minutes for a satisfying kielbasa meal that your loved ones will undoubtedly ask for again and again! Leftovers also make a nice quick meal for busy weeknights.
If you are looking for another go-to kielbasa dinner idea, pin this recipe now!
Mixing up dinner is my thing. I enjoy throwing together meals with colors and diverse flavors. My love for meals with kielbasa is never boring because of the easy kielbasa recipes in my sleeves. My new obsession? This Easy Prep Kielbasa Veggie Sheet Pan Dinner. I can throw in veggies I love with smoked kielbasa. Or use the vegetables I have available. Thirty minutes after, I have a fun and delicious kielbasa dinner to serve to my loved ones!
Sheet pan recipes are one of the easiest, most versatile dinners you can throw together in a snap! I have shared tons of easy kielbasa recipes, and I am not stopping soon! Today, the star of the show is another kielbasa dinner with potatoes and broccoli. It is the perfect meal if you love cooking kielbasa, super simple and ready in under thirty minutes. You can even toss in whatever veggies you like or have on hand.
I am taking a rest from cabbage and kielbasa. I have my newest favorite – Kielbasa and Potatoes. And just like my other go-to kielbasa recipes, this requires only a handful of ingredients. In two simple steps and thirty minutes, this best kielbasa dinner is ready!
Seared in a single skillet until golden and crisp on the outside, this flavorful kielbasa dinner is a great dinner idea for busy weeknights.
Packed with flavor, low-carb, and the perfect appetizer/meal. This kielbasa recipe requires only three ingredients and your trusty crockpot to pull off!
If you are all about easy and quick, you are in luck! Cooking kielbasa in this recipe does not need heavy lifting. Just toss and stir and you are all set! What to serve with kielbasa if not serving this as an appetizer? I love veggies or brown rice for an easy dinner.
Hearty and filling! This kielbasa dinner is packed with vegetables and potatoes. It is an excellent meal option if you want something a little healthier on your dinner table.
I can already feel the cold breeze, and it means only one thing, the season of (everything) soup! I love cream-based soup, but I always make an exemption to the broth-based soup of this kielbasa recipe. I suggest whipping up a big batch because this Kielbasa Soup tastes better the next day!
If you are in search of kielbasa dinner ideas, you have to try this cola kielbasa recipe. Insanely easy and quick to throw together using just four simple ingredients! Blow everyone away with a plate of this kielbasa dinner coated in coke and brown sugar mixture.
Cooking kielbasa has never been more fun with this kielbasa recipe. It is my favorite go-to that never fails to put smiles on everyone's faces!
Cold days are coming and a hot bowl of soup is everything we need to warm us up inside and out.
Kielbasa dishes are on my top list for this season. Not only that they take less effort and time to make, but they guarantee a flavorful and hearty meal perfect for everybody. And this kielbasa potato soup certainly fits the bill! Loaded with veggies with a bit of milk and cheddar cheese, this nice and creamy kielbasa dinner will surely fill you up without being too rich and heavy.
Colder weather is fast approaching, and I am welcoming it with my favorite crockpot kielbasa recipe. Comforting, packed with flavor, and easy – these are the best phrases to describe this mouthwatering kielbasa soup. To begin, you need your favorite smoked sausage kielbasa. From here on, you can easily customize this recipe to your heart's desire!
When I say comforting, I meant a good old familiar dinner! I can list all the dishes to go with it, but lately, I have been obsessing with quick and easy kielbasa recipes.
Kielbasa in a mac and cheese, and don't forget the beer! Throw in sauerkraut if you'd like. Thirty minutes is all it takes to make this saucy kielbasa dinner on the stovetop. An important tip – use your favorite beer (ideally pale ale) and drink the rest!
Three main ingredients and five minutes are all it takes to make this easy kielbasa appetizer. A one-pan kielbasa recipe that needs the tiniest prep time and clean-up.
In need of a quick appetizer that you can easily turn into a meal? Bring these snackable kielbasa bites to parties or serve these with steamed or roasted vegetables and spoon the extra sauce over rice for the perfect kielbasa dinner.
Made in one pan and packed with broccoli, this is another kielbasa recipe that even your pickiest eaters will love! A freezer-friendly meal for an easy weeknight dinner that will save the day.
Don't we all love one pot or pan meals? I have a lot of recipes to share, but today the star is one of my favorites (newly improved) kielbasa dishes, One-Pot Cheesy Kielbasa, Broccoli, and Rice. Delicious and a family's approved meal.
Polish kielbasa is a staple at home. Growing up with my Poles aunt, I have tasted varieties of kielbasa dishes you could think of. And a pan full of smoked sausage and vegetables has been my go-to for years! I love the contrasting flavors and textures of the kielbasa, zucchini, mushrooms, and shredded Parmesan in this kielbasa meal. Smoky, salty, garlicky, with a little bit of spice, your tastebuds will be more than satisfied!
I am never running out of ideas for cooking polish sausage. And I have another for you today, Polska Kielbasa Stir Fry. Packed with sausage kielbasa and vegetables in a no-frill teriyaki sauce. It is a sure-fire kielbasa dinner perfect over rice for a deliciously satisfying meal!
Bright and packed with flavor, easily make this healthy kielbasa meal in under thirty minutes and cheer everyone with a winner sausage kielbasa dinner!
I have another incredible kielbasa dinner idea for everyone. Made in a crockpot with chock full of hearty kielbasa and melty cheese. Perfect for a budget-friendly meal and if you love sausage kielbasa. This Cheesy Pierogi and Kielbasa Casserole is delicious and the best way to cook polish sausage. Nothing beats coming home to a scrumptious meal like this polish sausage casserole!
Giant smoked sausage served in buns with pickles and mustard! Or slice the smoked sausage and throw the pieces in your Air Fryer with onions and peppers. Dinner is served in less than ten minutes!
Looking for easy and quick smoked sausage recipes for dinner? You are in luck! The air fryer makes this recipe way easier and faster, too!
I can't get over my Instant Pot. It has become my favorite kitchen tool for great reasons. Today is another kielbasa dinner. I am thinking kielbasa with diced potatoes and sauerkraut seasoned with a mix of seasonings and fresh onions.
How to cook polish sausage in your Instant Pot? This easy recipe does not require experience. It is as easy as finishing up a whole bowl of this delicious kielbasa dinner!
Remember it later? You Like Those 25 Easy Recipes For Kielbasa Sausage! Pin it to your favorite board NOW!
CHECK OUT THESE AWESOME, EASY RECIPES: