Macaroni Salad Recipe – Hey there, I've got a dish for you today that's going to make your taste buds stand up and dance with joy. It's our family's Best Macaroni Salad, a recipe that has transformed many a simple lunch into a festival of flavors. Yes, my friend, we are talking about more than just a salad here – it's a harmonious medley of colors, tastes, and memories that'll have you coming back for more.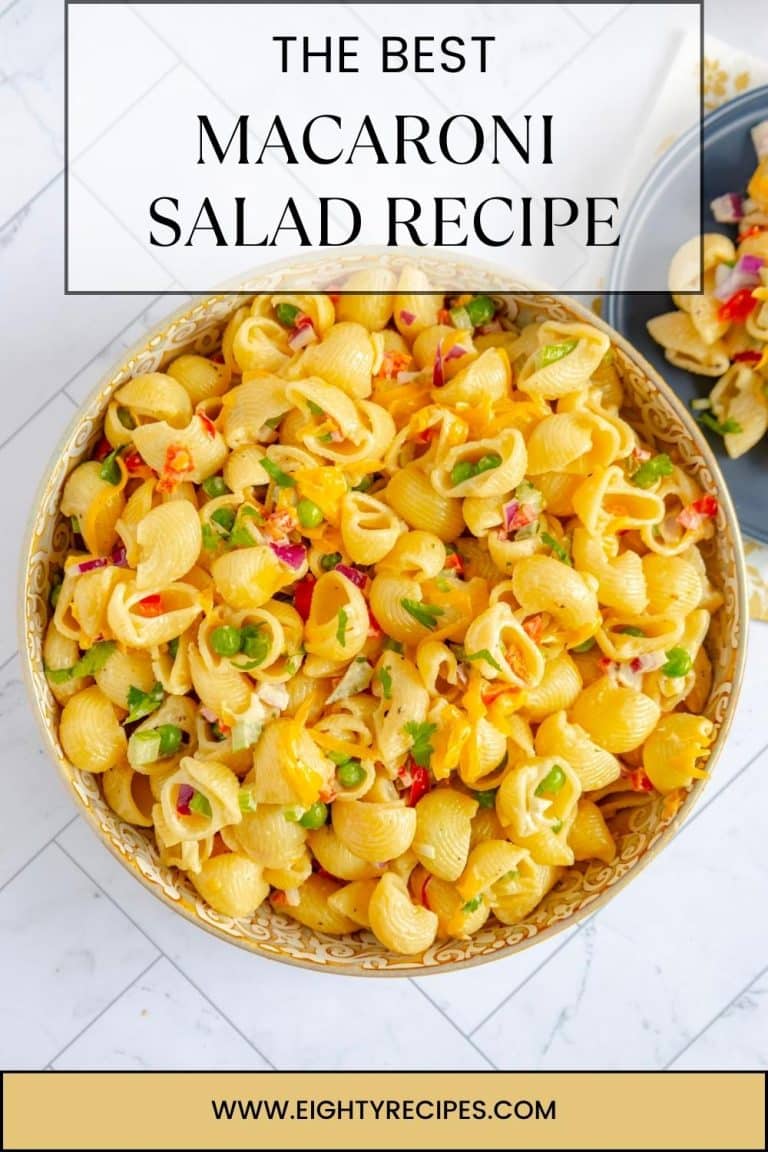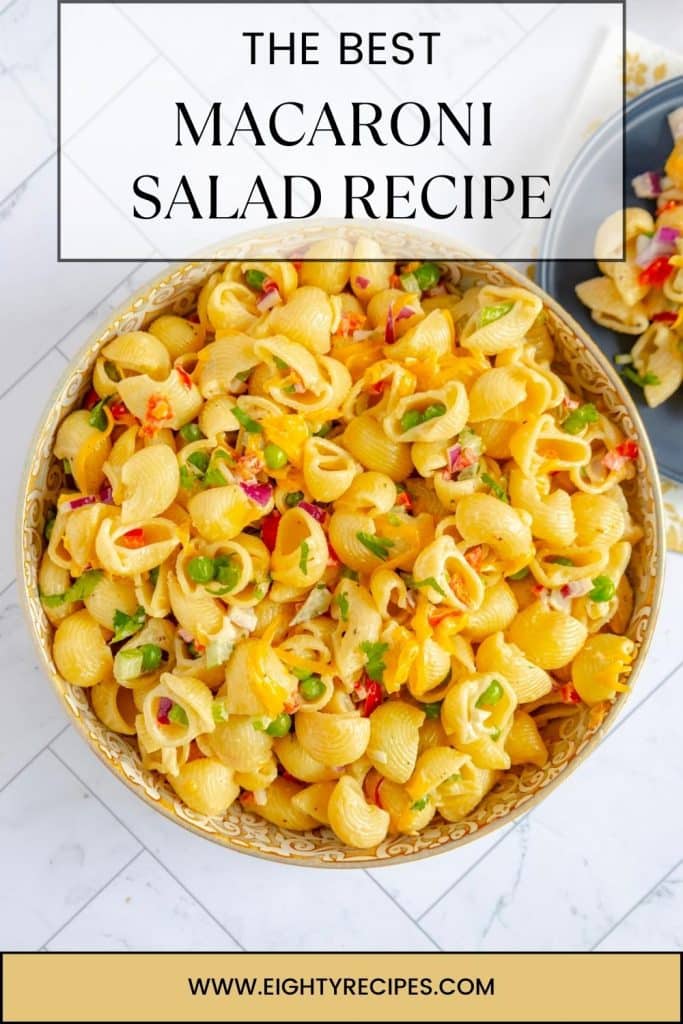 Why Do I Love This Classic Macaroni Salad?
An Express Recipe: Got 20 minutes to spare? That's all you need to bring this fantastic dish to life. This salad recipe is all about the quick turnaround without skimping on taste or quality. It's a go-to for busy weekdays and lazy weekends alike!
A Flavor Riot: It's a concert of textures and flavors that'll have you humming with delight. Creamy mayo, tangy cider vinegar, sweet relish, and fresh, crunchy veggies all come together to create a song your palate won't forget.
Kid-approved: If your little ones are anything like mine, this salad will be a surefire hit! It's got that magical combination of fun, color, and taste that kids simply can't resist. Plus, it's a great way to sneak in those veggies.
Customize to Your Heart's Content: Feel free to add your own spin to this recipe. Some grilled chicken, perhaps? Or a dash of your favorite spice? This recipe is your canvas, and you're the artist!
Now let's get down to the nitty-gritty.
Here's a bit more detail about what goes into this elbow Macaroni Salad: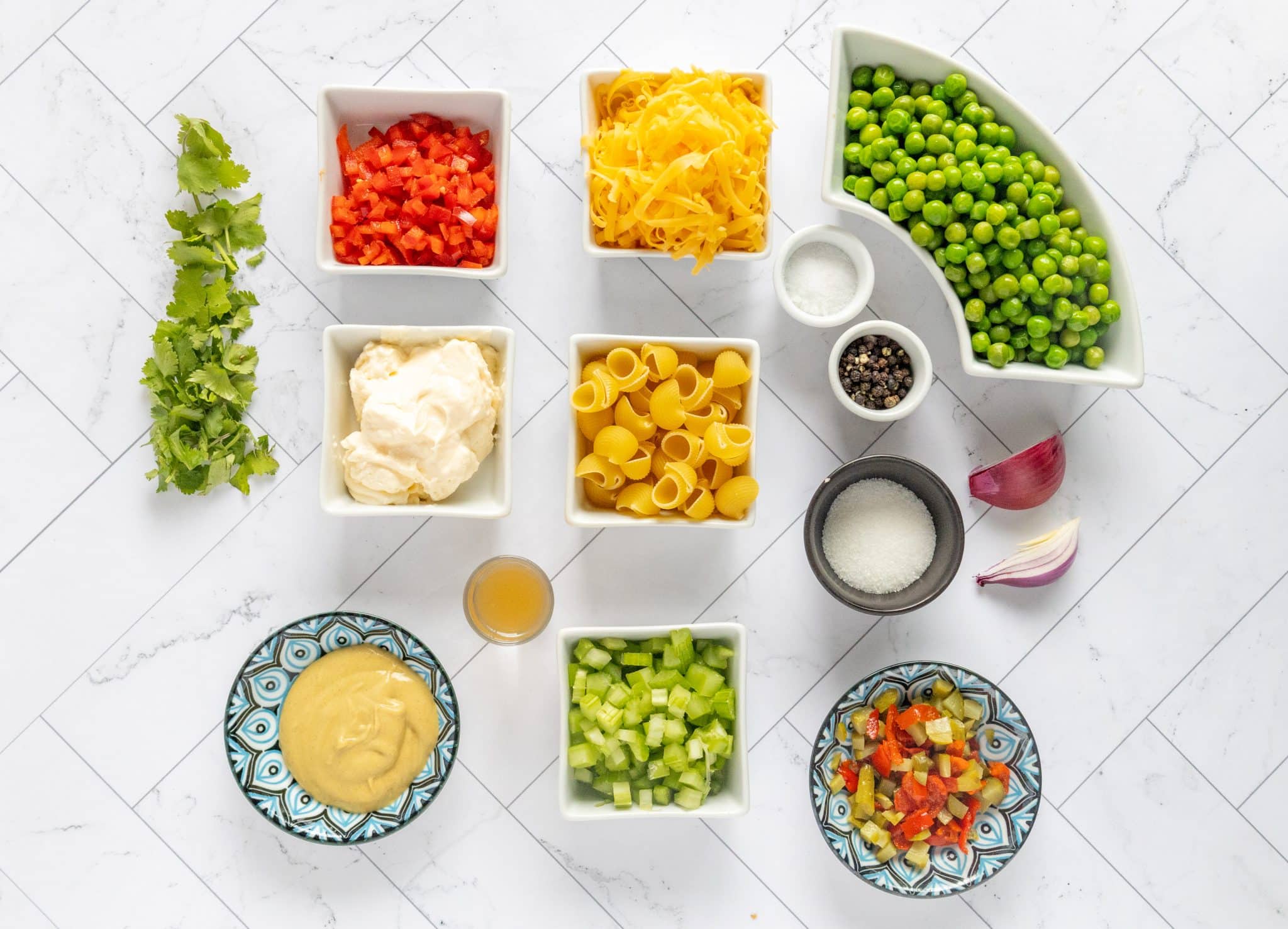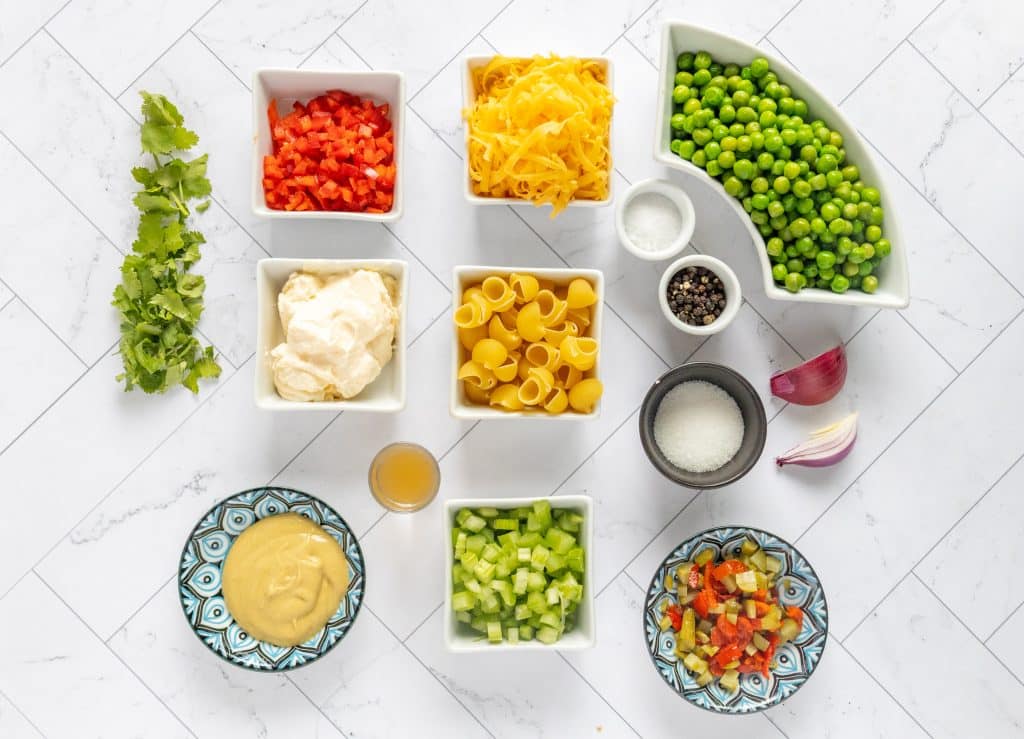 Elbow Noodles: The star of our show. Choose a good quality brand for the best results. for me, I use (the Barilla brand) for elbows.
Cheddar Cheese: I prefer sharp cheddar for its bold flavor, but feel free to substitute it with your favorite cheese.
Veggies: We've got red onion, celery, red bell pepper, and peas here. They add a lovely crunch and a pop of color to the salad. Fresh is best, but frozen works too.
Dressing: It's the lifeline of the salad. A mix of mayo, cider vinegar, dill, sugar, sweet pickle relish, Dijon mustard, salt, and pepper. This combination is what takes this salad from good to unforgettable.
Creamy Macaroni Salad Variations: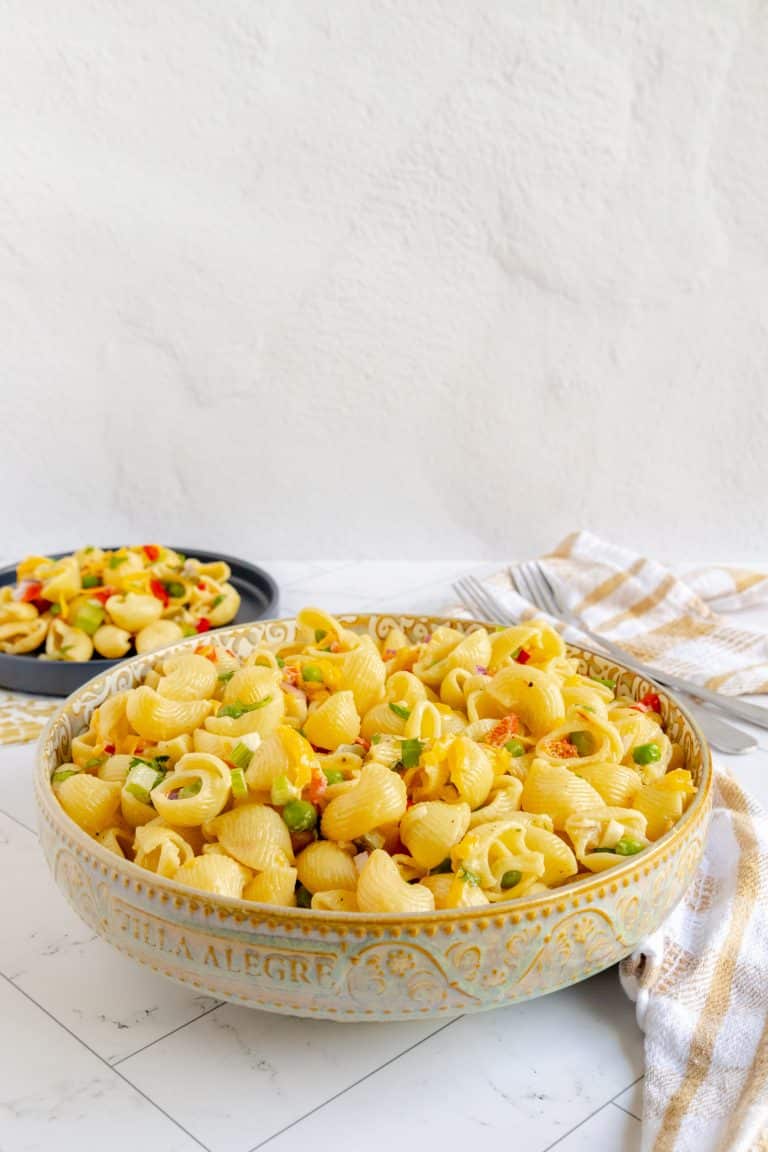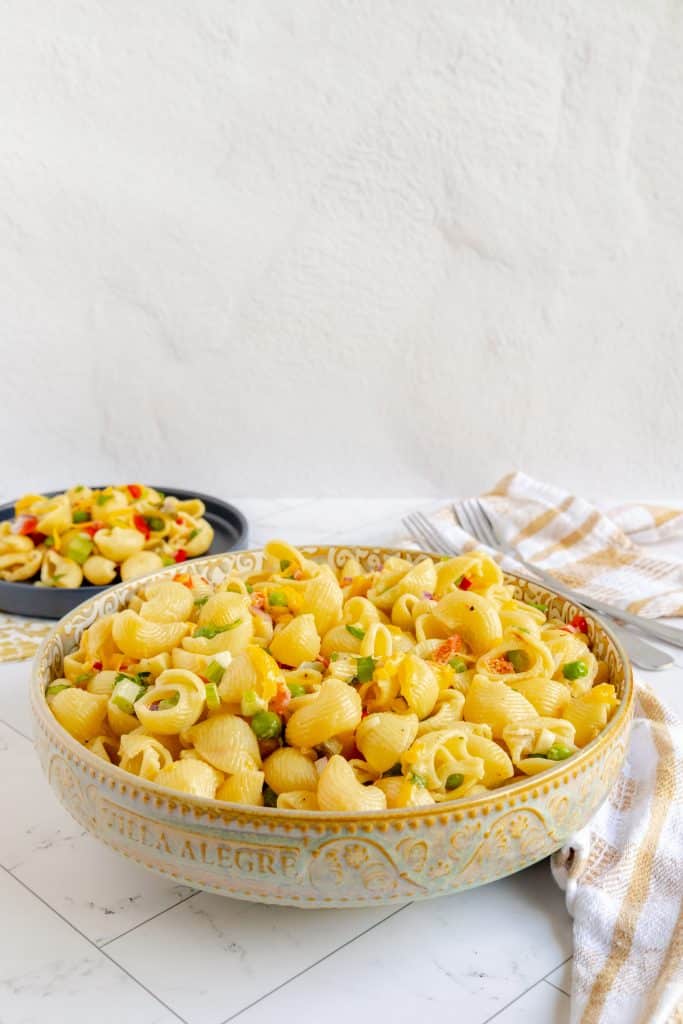 Pasta: Elbow noodles are classic in macaroni salad, but this is your culinary playground. Want to go for a more health-conscious route? Whole wheat or gluten-free pasta might just be your ticket. Want to mix things up with a fun shape? Fusilli, farfalle, or even Orzo can make a fabulous stand-in.
Cheese: We've got sharp cheddar in our original recipe, but who's to say you can't change up the cheese game? A smoked gouda could add an unexpected depth, or cubed mozzarella could give a wonderfully mild, creamy balance. Even crumbled feta could work for a tangy twist.
Veggies: While our standard line-up of onion, celery, bell pepper, and peas is quite the quartet, there's plenty of room for creativity. Crunchy radishes, sweet corn, diced cucumber, or even cherry tomatoes can add a fresh pop of flavor and color.
Protein: This recipe as it stands is a vegetarian delight, but adding some protein can elevate it to a full-fledged meal. Grilled chicken, chopped ham, or crispy bacon would do the trick. For a vegetarian option, consider cubed tofu or chickpeas for a protein punch.
Dressing: The dressing as is balances creaminess, tanginess, and a hint of sweetness. Want a bit more kick? A dash of hot sauce or a sprinkle of cayenne pepper could spice things up. Want an herby twist? Try adding some fresh parsley or basil for a different layer of flavor. You could even replace the Dijon mustard with whole-grain for a more rustic taste.
Remember, the key is to have fun and make the recipe your own. After all, the best part about cooking is getting to play around and create something uniquely yours!
How To Make Macaroni Salad Recipe?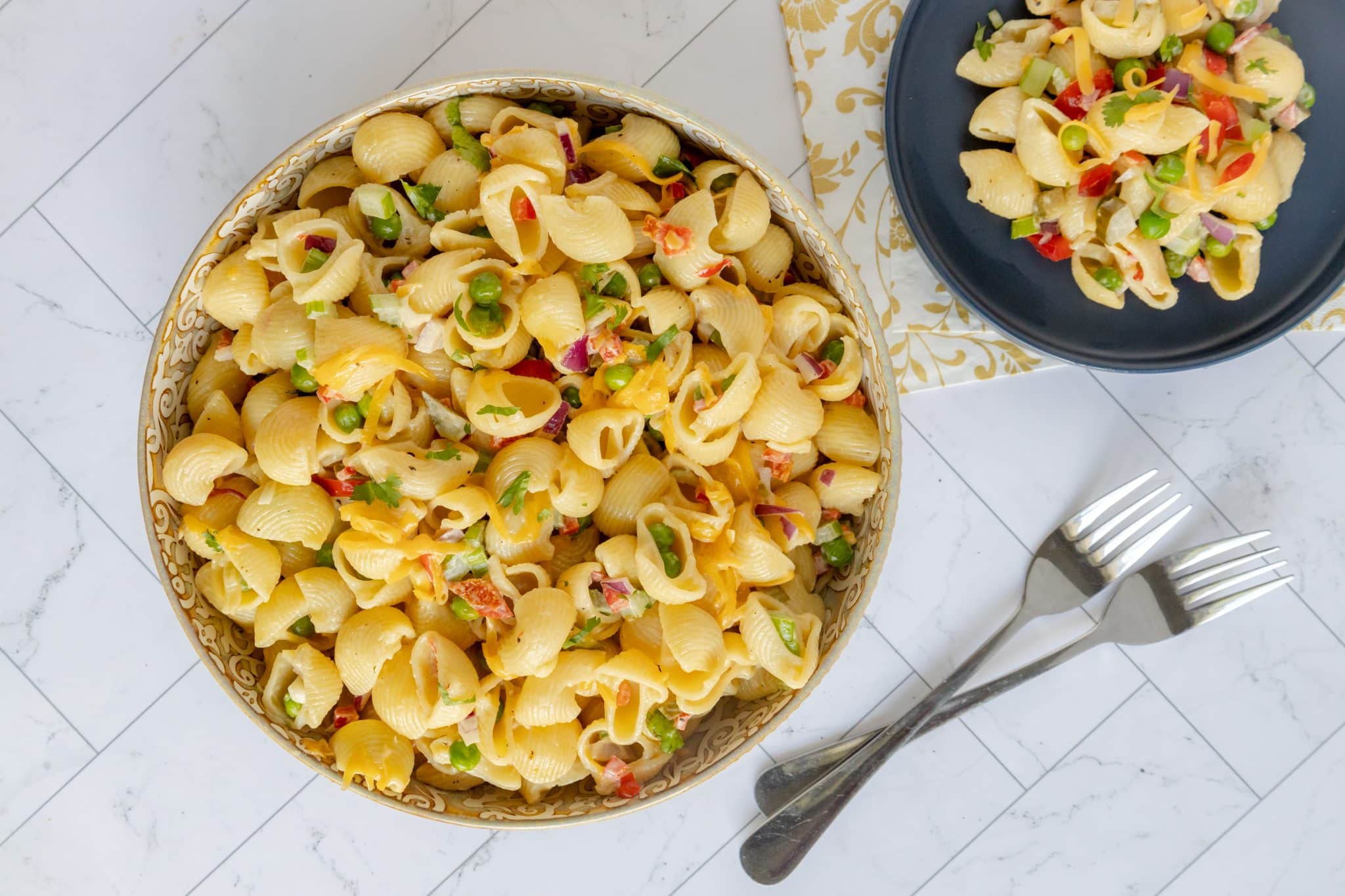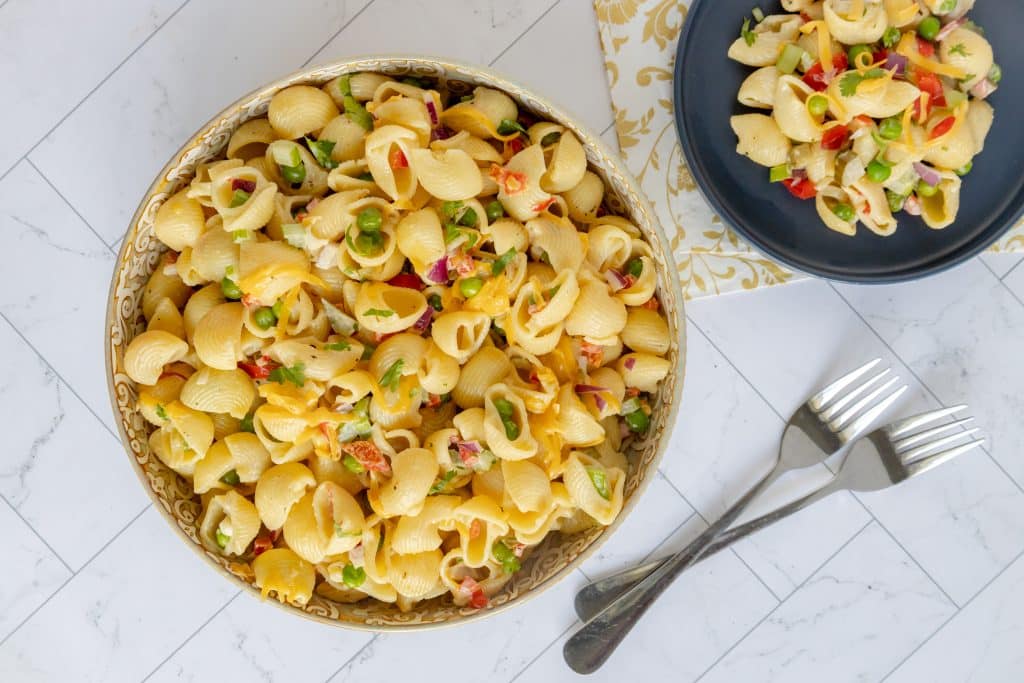 Cooking the Noodles: Start by boiling the elbow noodles. Make sure the water is salted well – it's your only chance to season the pasta itself. Cook them until they're al dente, that is, they should still have a bite to them.
Prepping the Veggies: While the noodles cook, get started on your veggies. Aim for a fine chop on the onion, celery, and bell pepper. This gives you a nice texture and ensures you get a bit of everything in each bite.
Mixing it Up: Once your noodles are cooled and your veggies are prepped, toss them all together. Now's also the time to add in that beautiful cheddar.
The Dressing: In another bowl, whisk together all the dressing ingredients. Give it a taste and adjust the seasoning as per your preference. Pour this over the pasta, and give it a good mix. The goal is to get everything well coated in that creamy, tangy, slightly sweet dressing.
Chill Time: Patience, my friend. Let the salad chill in the fridge for at least an hour before serving.
What's the Best Way to Serve Your Macaroni Salad?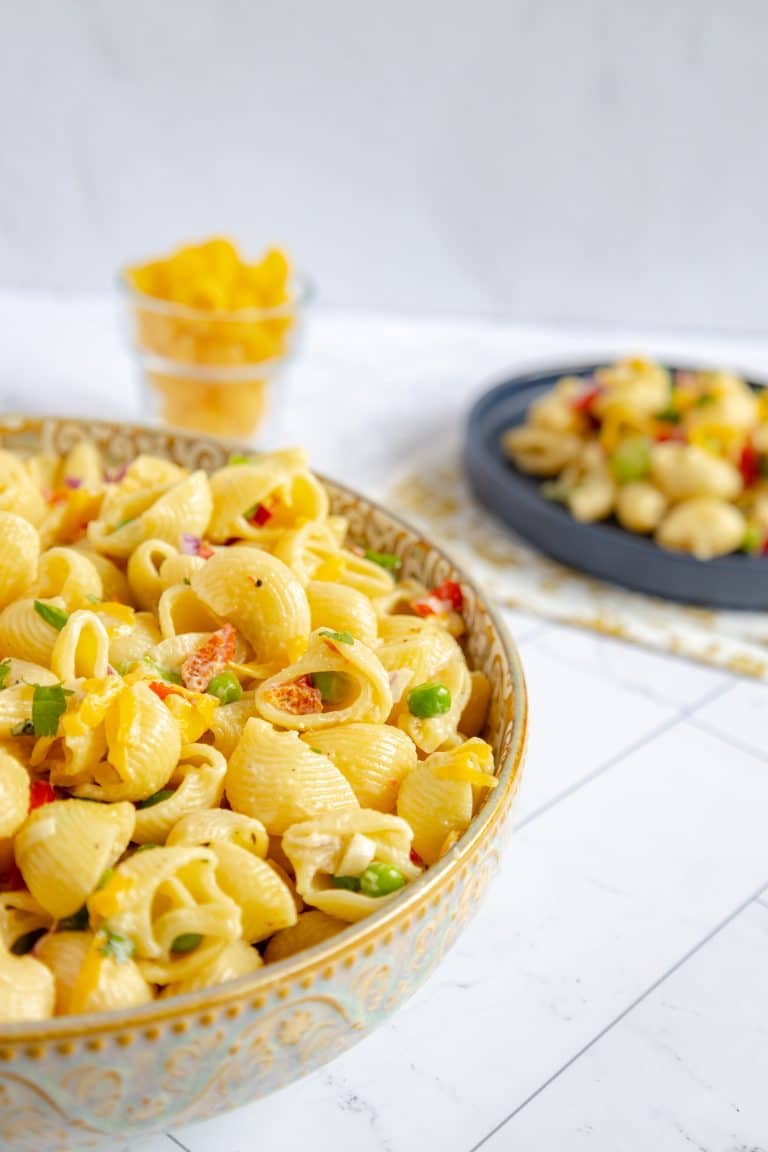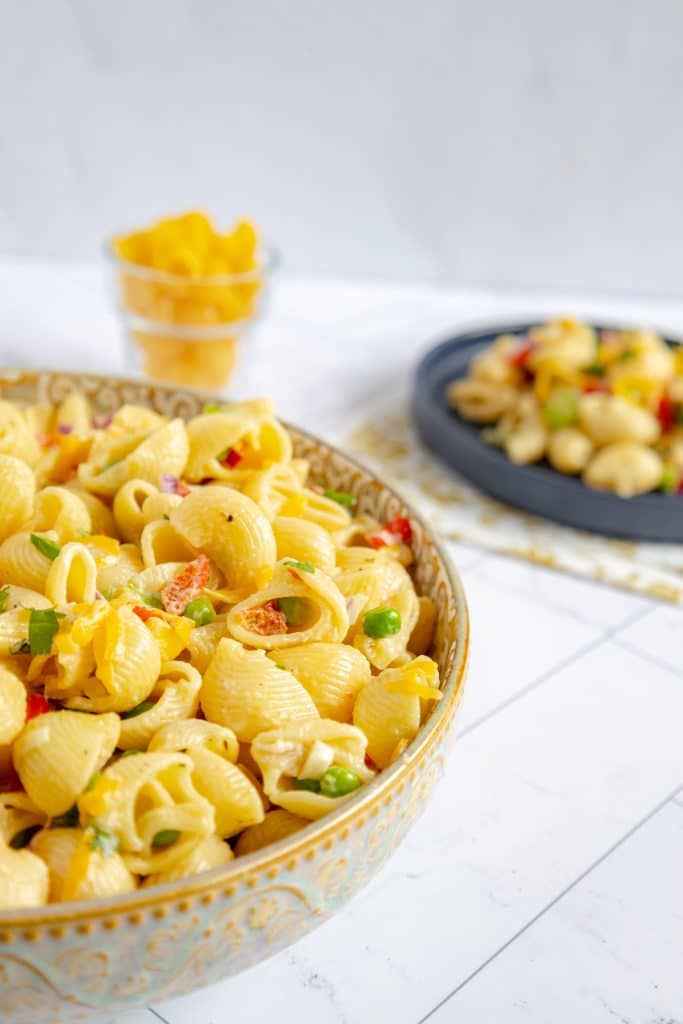 Macaroni salad is a versatile side dish that can complement any meal. For any season or event, our classic macaroni salad recipe is sure to please.
Pairings with Meats
Grilled burgers or steaks? Serve them with our creamy and flavorful pasta salad. The coolness of the macaroni salad balances out the smoky flavors from grilled meat. It also works well with roasted chicken or pork chops – anything cooked on high heat to develop rich, caramelized flavors.
Pairings with Seafood Dishes
Seafood lovers, rejoice. Our best macaroni salad recipe pairs beautifully with many types of fish and shellfish. Try it next to grilled salmon or shrimp skewers; the tanginess from the dressing cuts through the richness of these dishes nicely.
Want to turn this Mac Salad side dish into a full meal?
Toss in some diced ham or shredded chicken for added protein.
Don't forget about the presentation…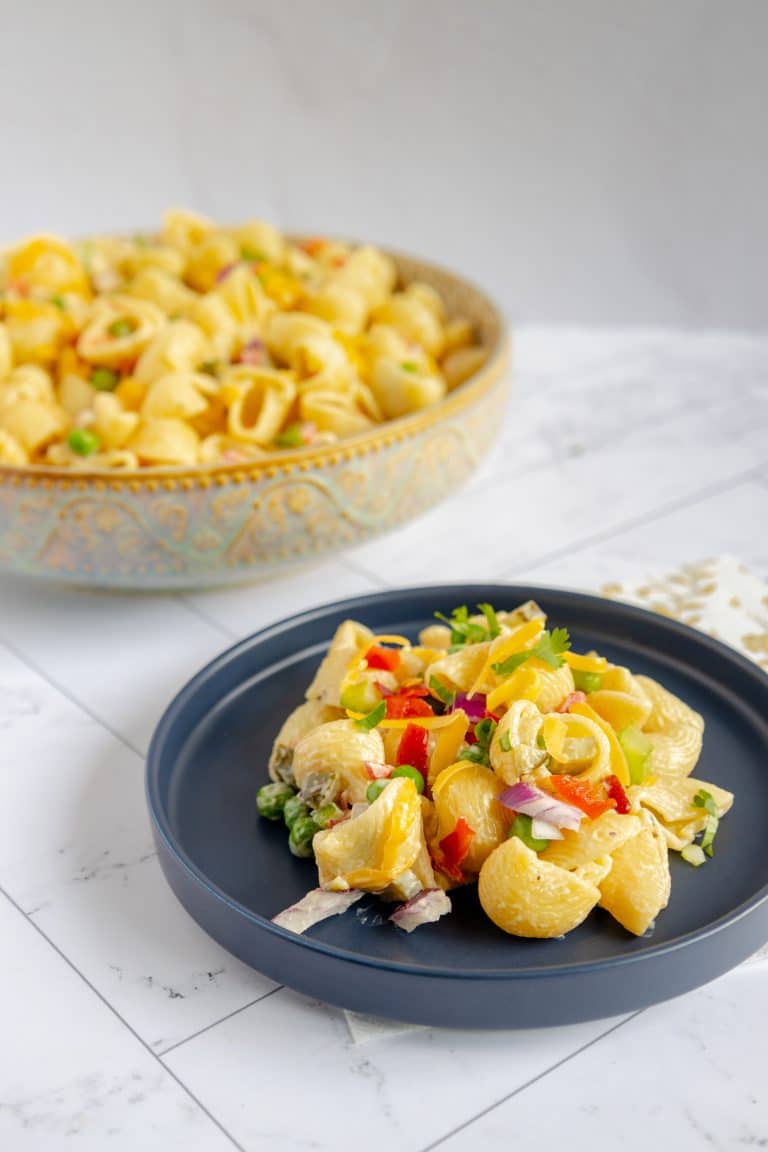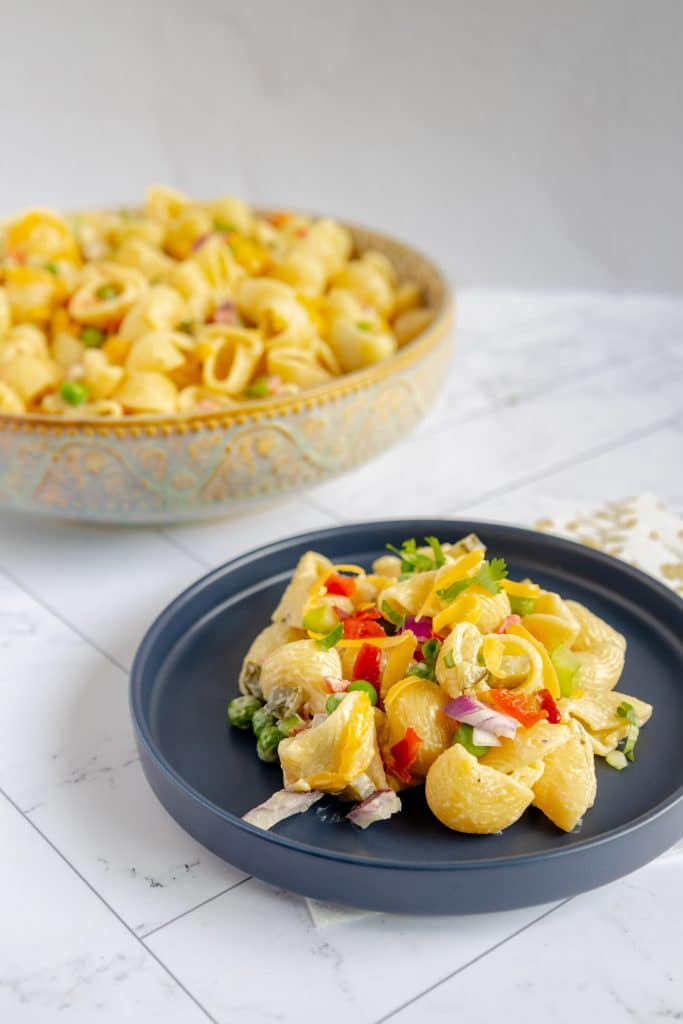 Serve your delicious homemade macaroni pasta salad in colorful bowls or arrange them attractively on platters before bringing them out at your next gathering.
The possibilities are endless when it comes to customizing and serving this delightful dish – use our tips as starting points but feel free to experiment based on what suits your taste buds best.
Notes: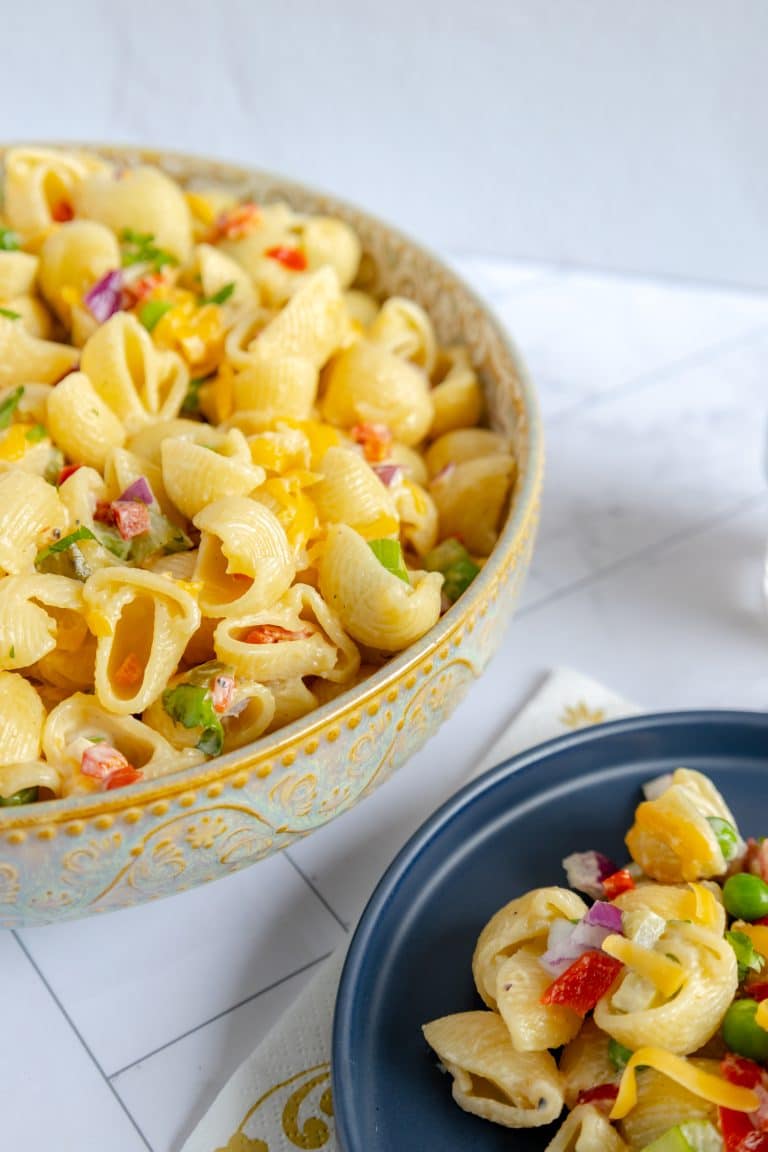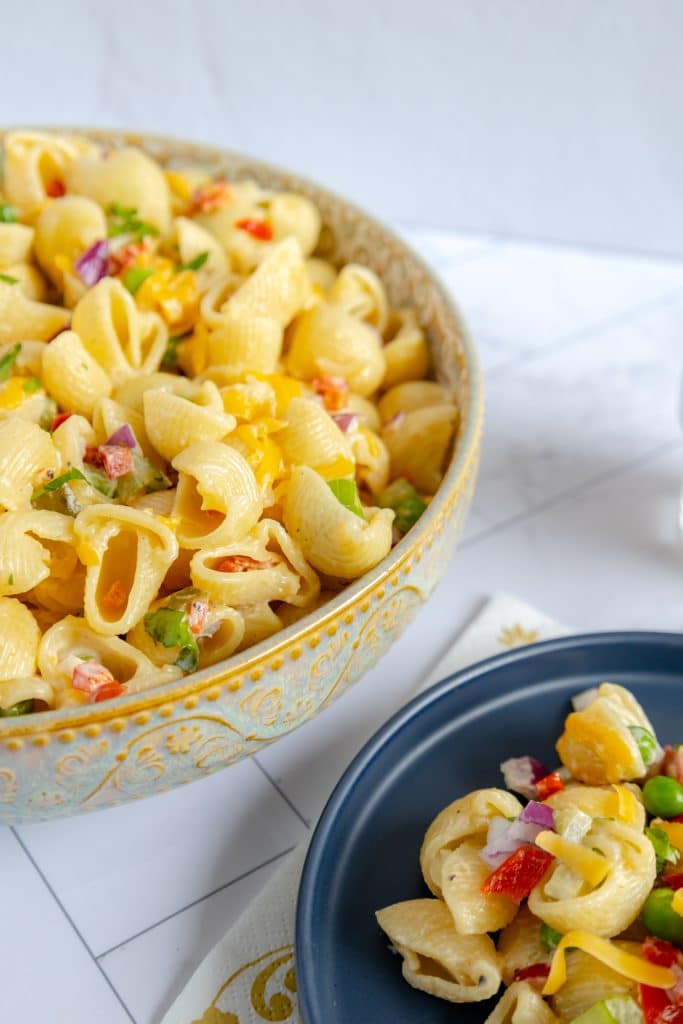 The key to creating an exceptional macaroni salad lies in careful ingredient selection paired with skillful pasta handling including optimal cooking and cooling techniques.
Other important elements include resolving common issues that frequently occur during preparation stages as well as tailoring the dish according to individual taste buds.
To properly maintain moisture levels when preparing cold salads always rinse cooled pasta thoroughly; adding a light coating of olive oil also helps retain freshness. Experiment with diverse dressing options beyond traditional mayo-based choices accompanied by an array of crisp vegetables.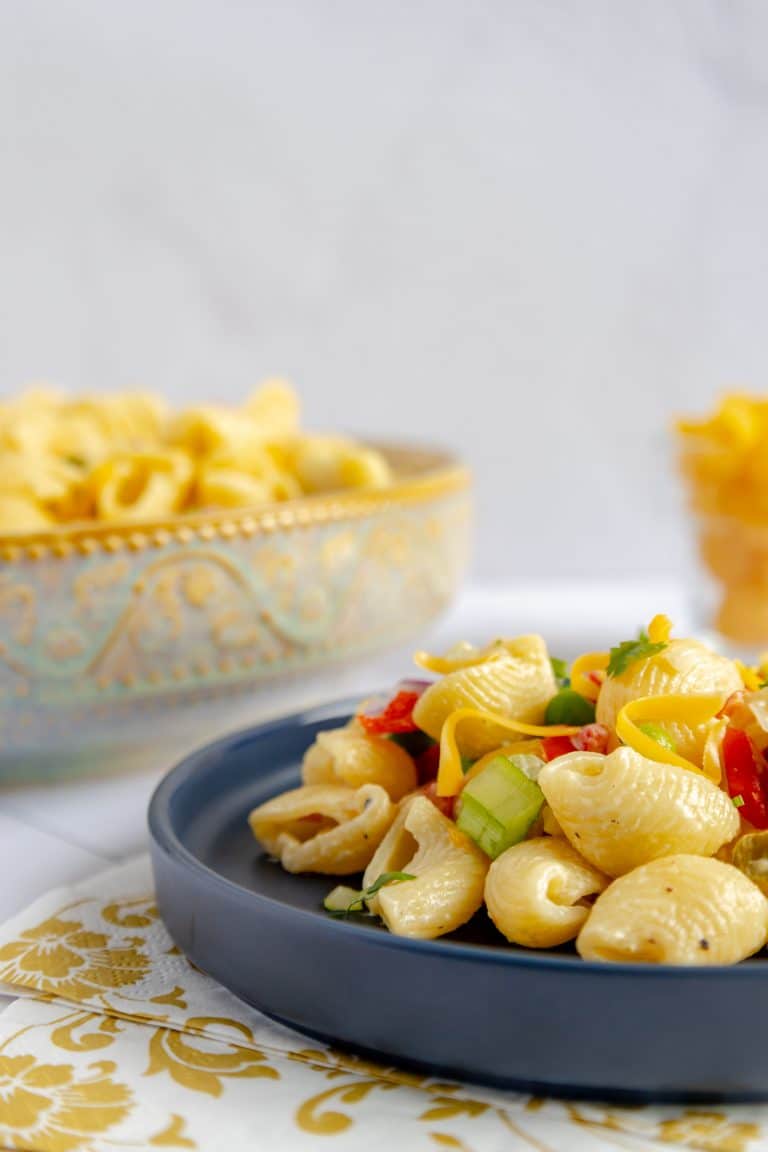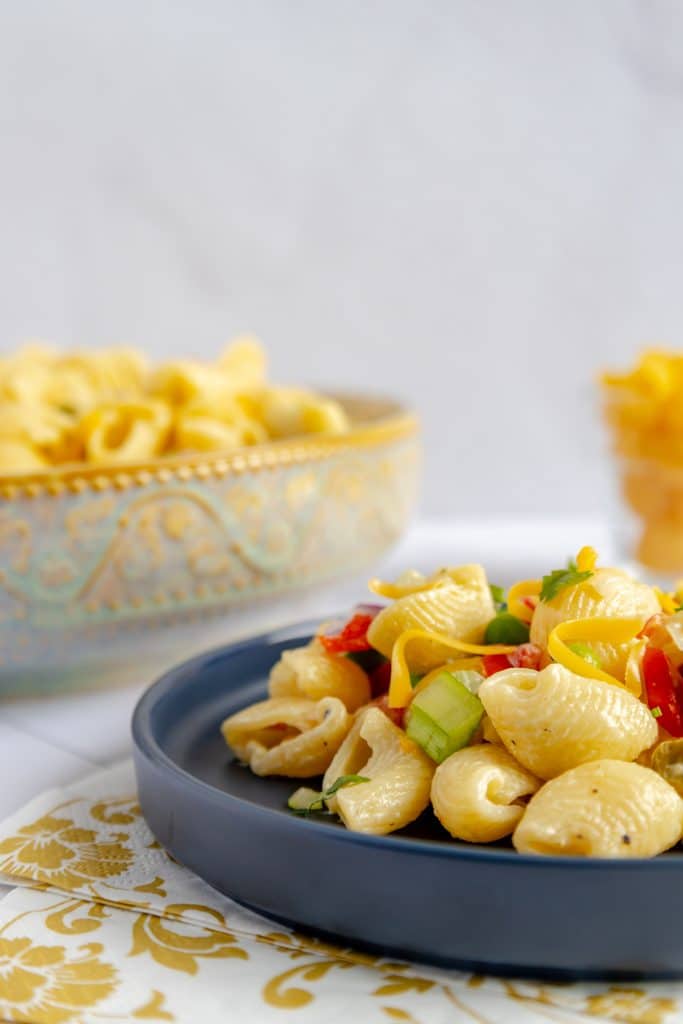 Questions You May Ask:
Can I make the macaroni salad in advance?
Yes, indeed! In fact, making this salad ahead of time allows the flavors to mingle and meld beautifully. Just cover it up and pop it in the fridge until it's time to serve.
How long does this salad last in the fridge?
This macaroni salad can be safely stored in the fridge for about 3-5 days. Just ensure it's kept in an airtight container to maintain its freshness and flavor.
Can I freeze the macaroni salad?
It's not generally recommended to freeze this salad as the mayo-based dressing tends to separate when frozen and thawed, altering the texture and taste.
Can I add other ingredients to the salad?
Absolutely! This macaroni salad recipe is like a canvas. Feel free to toss in some sliced hard-boiled eggs, diced ham, or even some spicy jalapenos for a kick. The world is your culinary oyster! check the variations section.
What if I don't have fresh dill?
No problem! You can substitute fresh dill with dried dill. Just remember, the flavor of dried herbs is more concentrated, so you'd need less. A good rule of thumb is to use one-third of the amount when substituting dried for fresh.
Is this salad vegetarian-friendly?
It sure is! This salad is completely meat-free. However, do note that it isn't vegan because of the mayonnaise. But if you're catering to a vegan crowd, you can easily swap traditional mayo for a vegan variant.
Final Thoughts…
Alright, friends, let's wrap this epic culinary journey up. This easy macaroni salad recipe is honestly the best ever. It has become our go-to pasta salad recipe and I have a hunch it will soon be yours too. It's a classic recipe – kind of a mash-up between a Hawaiian mac salad and a traditional southern macaroni salad, with a twist.
Our dressing? Well, it's a creamy concoction whipped up with mayonnaise, sour cream, and a hit of apple cider vinegar for that tang. I mean, who needs pickle juice when you've got this dreamy dressing? The pasta – cook the elbow macaroni in salted water according to package directions and then rinse well under cold water. This gives us perfectly cooled macaroni ready to take on that luscious dressing.
Don't be shy about tossing in some boiled eggs, black olives, or maybe even some leftover broccoli salad. It's a good recipe to play around with. The ingredients can be adjusted according to your preference.
For a heartier option, consider adding a spoonful of homemade coleslaw. Who knew an easy pasta salad could be so versatile? Whether you're whipping up a classic potato salad or an authentic Hawaiian food feast, this macaroni salad is one great recipe to have in your arsenal.
So, whether you're keeping this macaroni salad in the refrigerator ahead of time, making the salad just before your summer barbecue, or serving this recipe alongside your best foods, remember – the love you put into your cooking makes every bite taste that much better. Go ahead, folks, and make this easy macaroni salad recipe your own!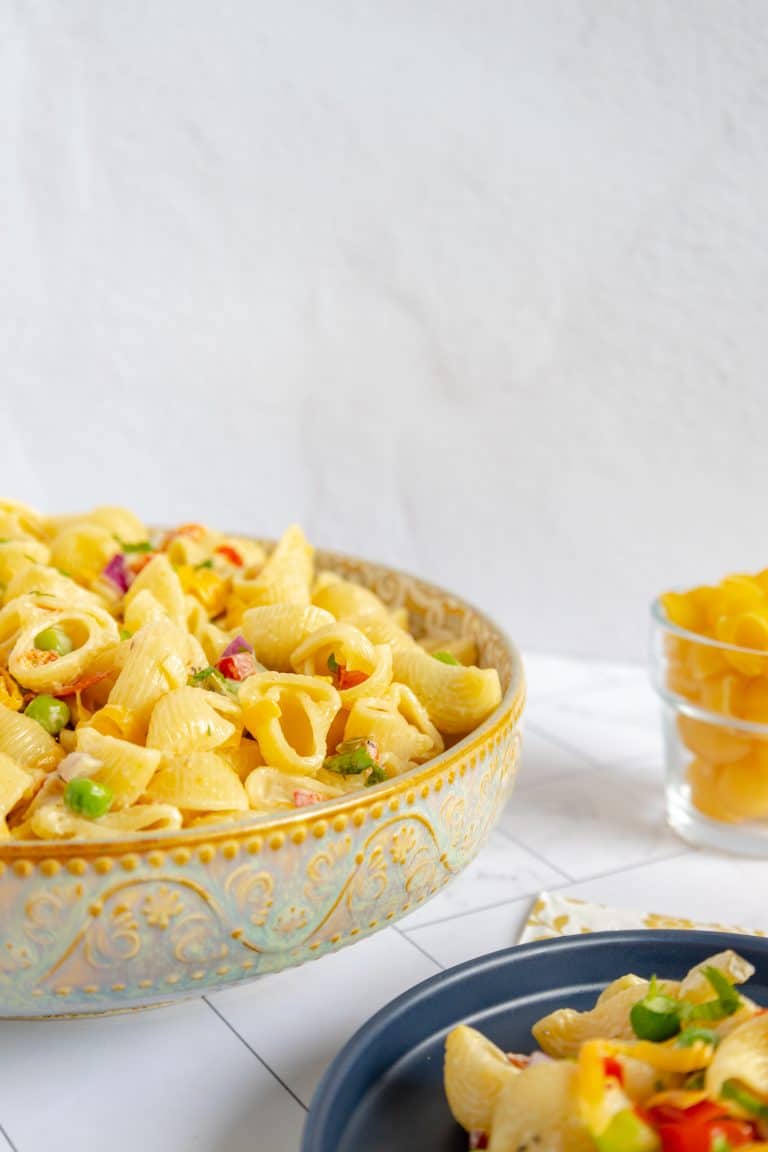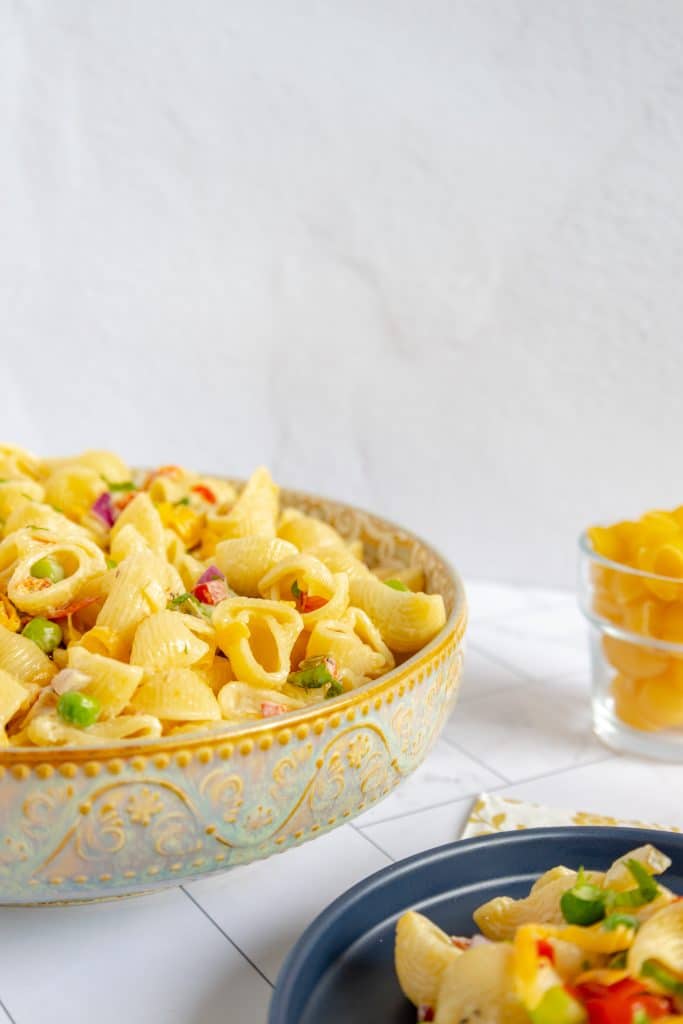 More Salad Recipes to Try!
Check out the printable recipe below and let me know what you think about this Easy Pasta Salad (comments below)
To receive our daily recipes you can follow us on Facebook, Pinterest, and Instagram.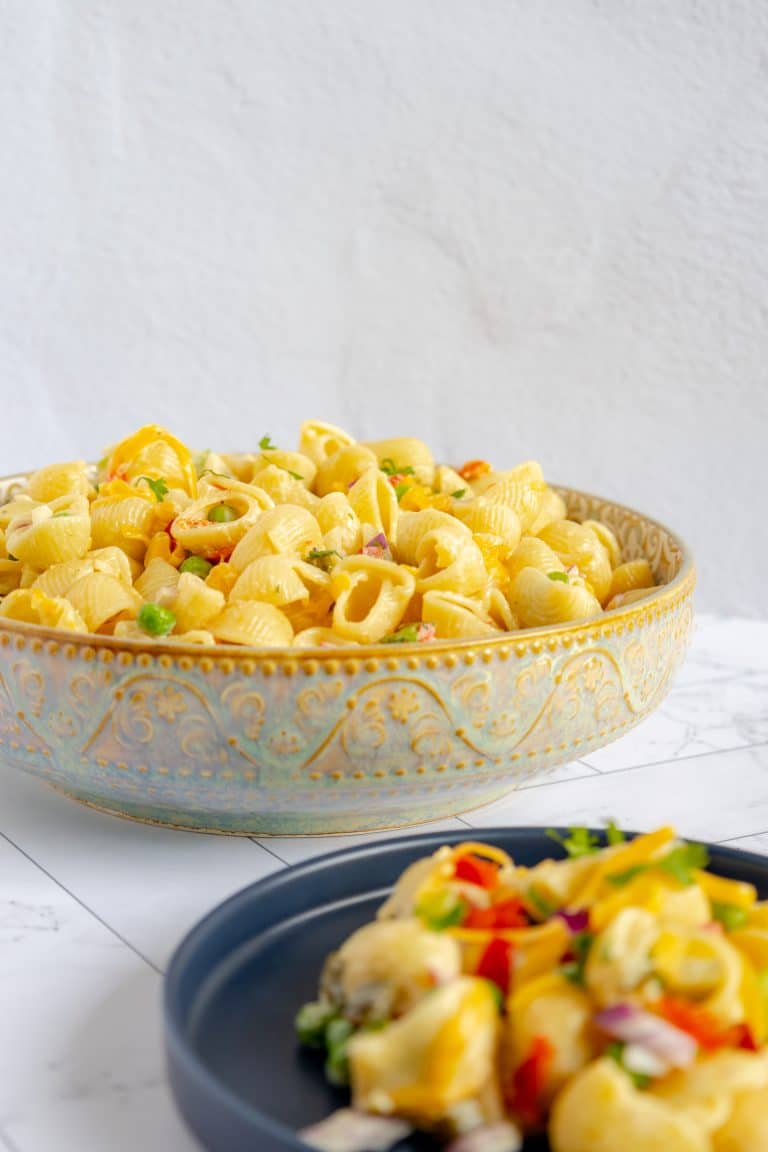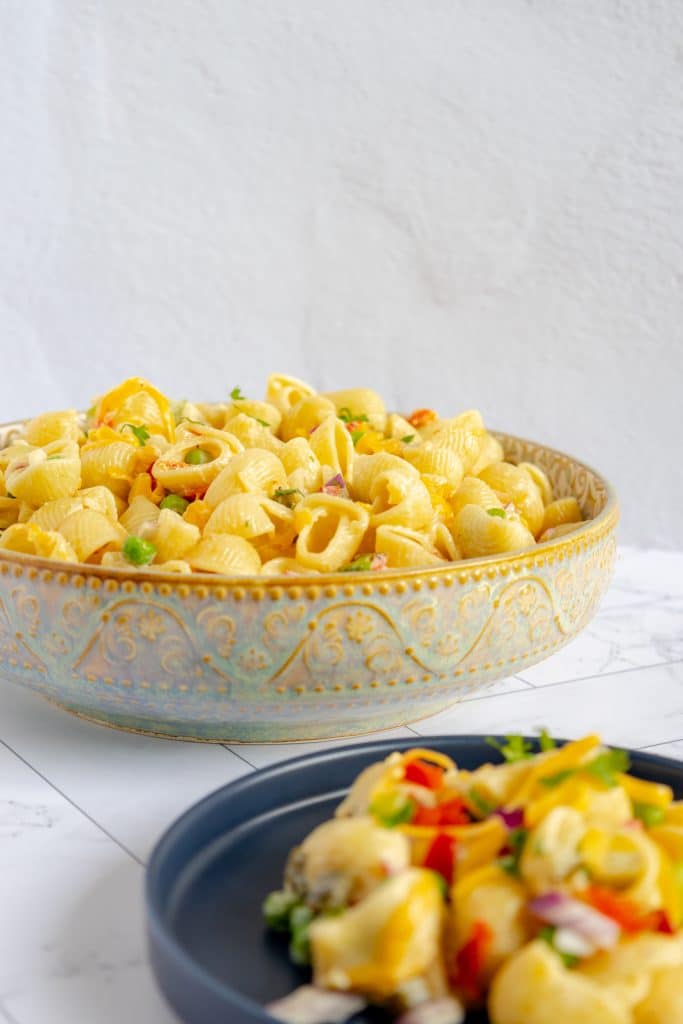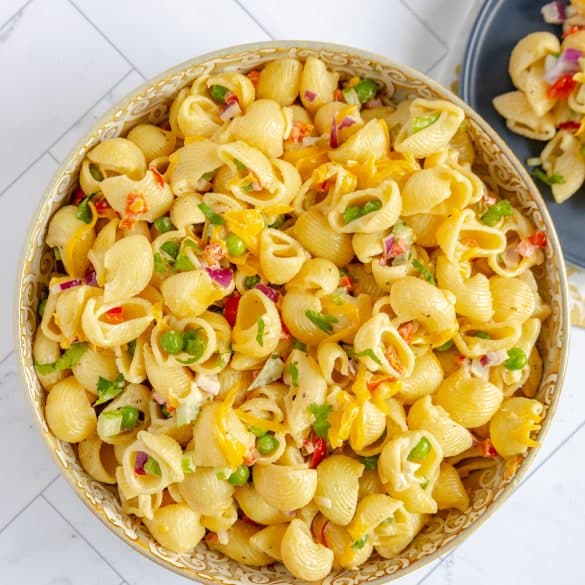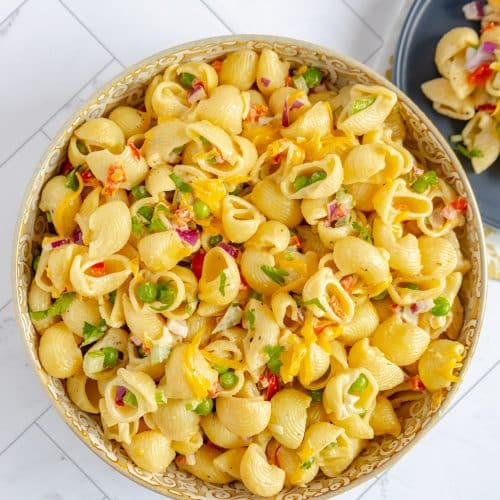 The Best Macaroni Salad Recipe
Whip up this crowd-pleasing classic! Our Best Macaroni Salad Recipe is a creamy, flavorful blend of elbow noodles, crunchy veggies, cheddar cheese, and a tangy homemade dressing. It's the perfect side dish for any occasion – ready in just 20 minutes!
Ingredients
1

pound

Elbow noodles

(450g)

4

ounces

Cheddar cheese cubed or shredded

(115g)

½

Red onion

about 75g minced

4

Ribs celery

about 200g diced

1

Red bell pepper

about 150g minced

1

cup

Frozen peas thawed

(130g)

1/2

cup

Mayonnaise

(115g)

¼

cup

Cider vinegar

(60ml)

¼

cup

minced fresh dill

(15g)

2

tablespoons

sugar

(25g)

2

tablespoons

30g sweet pickle relish

(30g)

1

tablespoon

15g Dijon mustard

(15g)

1

teaspoon

5g salt

(5g)

½

teaspoon

1g pepper

(1g)
Instructions
Start by filling up a sizeable pot with water, toss in some salt, and get it bubbling away on high heat. Next, you'll want to add your elbow noodles into the pot, following the package's cooking instructions to the letter. Once cooked, drain them and then give them a good rinse under cold water to halt the cooking process. Make sure they're thoroughly drained.

Now comes the fun part – in a large bowl, combine the cooled noodles, the cheddar cheese, the minced onion, diced celery, minced bell pepper, and the thawed peas. Give it all a good stir to ensure everything's nicely mixed.

In a separate, smaller bowl, let's make the dressing. Mix together the mayonnaise, cider vinegar, chopped dill, sugar, sweet pickle relish, Dijon mustard, salt, and pepper. Whisk it all until you've got a smooth, well-blended dressing.

Then, drizzle the dressing over the pasta mixture and toss until every nook and cranny of the pasta and veggies is coated with this heavenly sauce. Once done, cover the bowl with some cling film and pop it in the fridge to chill. Give it at least an hour before serving, to let all those wonderful flavors blend together beautifully. Enjoy!
Notes
Cook the Pasta: Follow package instructions but aim for al dente – firm yet tender. Overcooked or mushy noodles will absorb too much dressing leading to a soggy salad.
Drain Immediately: Once done, drain the hot water immediately using a colander.
Rinse with Cold Water: Run plenty of cold water over drained pasta until completely cooled. You may need to toss gently with tongs or spoon while doing this so all parts cool evenly.
Dry Before Mixing: To ensure your dressing adheres well and doesn't get diluted by residual water on the surface of noodles, pat dry using paper towels or let air-dry before mixing into your salad ingredients.
Making sure each noodle is perfectly prepared ensures every bite of your homemade macaroni salad is flavorful and refreshing – just as it should be. So remember these tips next time you're making this classic side dish for family gatherings or summer BBQs.
Nutrition
Serving:
8
Servings
Calories:
399
kcal
Carbohydrates:
51
g
Protein:
12
g
Fat:
16
g
Saturated Fat:
5
g
Polyunsaturated Fat:
7
g
Monounsaturated Fat:
4
g
Trans Fat:
0.03
g
Cholesterol:
20
mg
Sodium:
544
mg
Potassium:
241
mg
Fiber:
3
g
Sugar:
7
g
Vitamin A:
2449
IU
Vitamin C:
23
mg
Calcium:
127
mg
Iron:
1
mg