Cream Pie Recipes: Prepare your taste buds for a heavenly journey through the land of cream pies.
From traditional banana to gingerbread and mango, these 27 cream pie recipes will offer you a delicious escapade, catering to all your sweet cravings.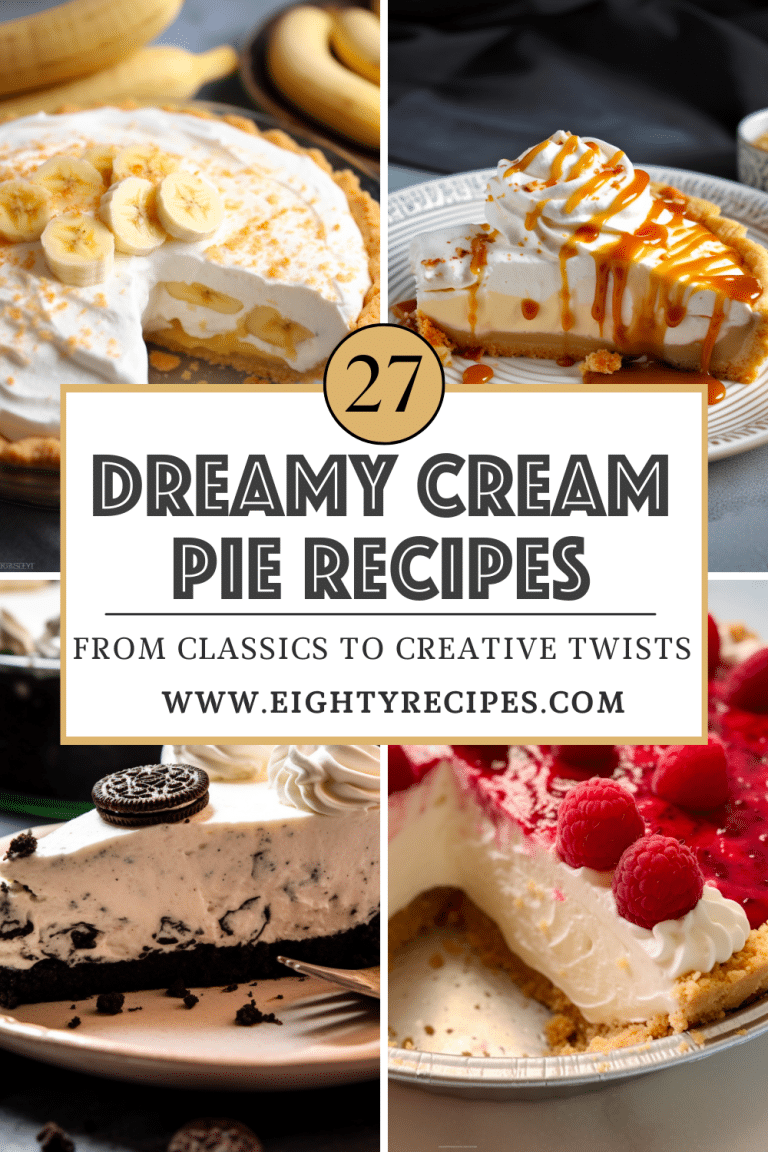 Here is a List of 27 delicious Cream Pie Recipes:
Gluesticks takes us back to the good old days with this banana cream pie recipe. Its creamy filling and fluffy whipped topping, nestled on a crumbly crust, create an irresistible classic dessert.
A twist on the traditional cream pie, this cookies and cream pie from Sally's Baking Addiction is a true treat for Oreo lovers. The rich, creamy pie is brimming with cookie pieces for a delightful crunch.
For a taste of nostalgia, try this Grandma's coconut cream pie. A creamy coconut filling in a homemade crust, topped with whipped cream and toasted coconut flakes, creates a tropical delight.
Butter Your Biscuit delivers a dream come true for chocolate lovers with this rich and creamy chocolate cream pie. The smooth, velvety chocolate filling is perfectly complemented by a crumbly cookie crust.
This Caramel Cream Pie from Just So Tasty is a delicious concoction of creamy caramel custard, whipped cream, and a crunchy graham cracker crust. It's the perfect dessert for caramel enthusiasts.
Oh la la! Get ready to be whisked away to a Parisian cafe with Joy Food Sunshine's French Silk Pie. The rich and creamy chocolate filling tucked into a buttery, homemade pie crust, topped with a fluffy cloud of whipped cream and sprinkles of chocolate…pure bliss. Your tastebuds will be doing the can-can!
Calling all peanut butter fans! This Amish Peanut Butter Cream Pie from The Baking Chocolatess is a total game changer. Imagine sinking your teeth into a rich peanut butter filling and fluffy meringue topping, all wrapped up in a perfect pie crust. It's like a giant, gourmet peanut butter cup in pie form. You're welcome.
Time for a little sunshine! Celebrating Sweets' Lemon Cream Pie is like summer on a plate. The creamy lemon filling is so refreshing, and when it meets that crunchy graham cracker crust, it's pure magic. This pie will have you dreaming of picnics and garden parties.
Ready to get festive? This No-Bake Eggnog Cream Pie from A Family Feast is Christmas in a pie dish. The creamy eggnog filling sprinkled with a dash of nutmeg, no oven time needed. It's like a holiday miracle!
Together As Family's Raspberry Cream Pie is a showstopper! Look at that vibrant raspberry filling paired with a sweet cream layer – talk about gorgeous! And the taste? Even better. This pie is a love letter to berry lovers everywhere.
If the thought of Christmas makes your heart skip a beat, Lauren's Latest Gingerbread Cream Pie is a surefire way to bring that festive cheer, any time of the year. Each bite of this creamy, spiced pie will wrap you up like a warm hug on a snowy day.
When you take a bite of Build Your Bite's Pecan Cream Pie, you're transported to the heart of an autumn celebration. With its decadent pecan filling and whipped cream topping, this pie is like the grand finale of a Thanksgiving feast in each slice.
This Chocolate Banana Cream Pie from Portlandia Pie Lady is your ticket to a tropical beach. The fusion of ripe bananas, creamy filling, and chocolate in a pie shell is like a balmy breeze on a sunny coast. Trust me, your taste buds will do the hula dance.
Life, Love, and Sugar brings the best of two worlds together in this Boston Cream Pie Cheesecake. With a rich cream cheese filling and chocolate ganache topping, this cake embodies the spirit of Boston in every bite.
This Wicked Good Boston Cream Pie from Food Folks and Fun, is a love letter to the classic American dessert. It's a soulful tribute to the original recipe, with its creamy filling and chocolate icing.
Kitchen Fun with My 3 Sons brings an exciting twist to the table with this Oatmeal Cream Pie Cheesecake. This recipe is an adventurous blend of childhood nostalgia and grown-up indulgence. Take a walk down memory lane with this playful dessert.
This Sugar Cream Pie from Cookie Dough and Oven Mitt is the ultimate comfort food. It's as if grandma's love and warmth were baked into a custard-filled crust. One bite and you'll feel like you're home, no matter where you are.
Great Grub, Delicious Treats serves up a slice of heaven with this Chocolate Cream Cheese Pie. Imagine the silky combination of chocolate and cream cheese in a buttery crust. It's the perfect recipe for chocoholics who love a tangy twist.
A Latte Food captures the essence of a tropical island getaway with this Easy Banana Coconut Cream Pie. The combination of bananas, coconuts, and creamy filling in a buttery crust is enough to make anyone daydream of palm trees and hammocks.
Fiesta Friday offers an irresistible trio of flavors with this Chocolate Peanut Butter Banana Cream Pie. This pie is a symphony of chocolate, peanut butter, and bananas playing together in perfect harmony. It's a party in your mouth, and everyone's invited.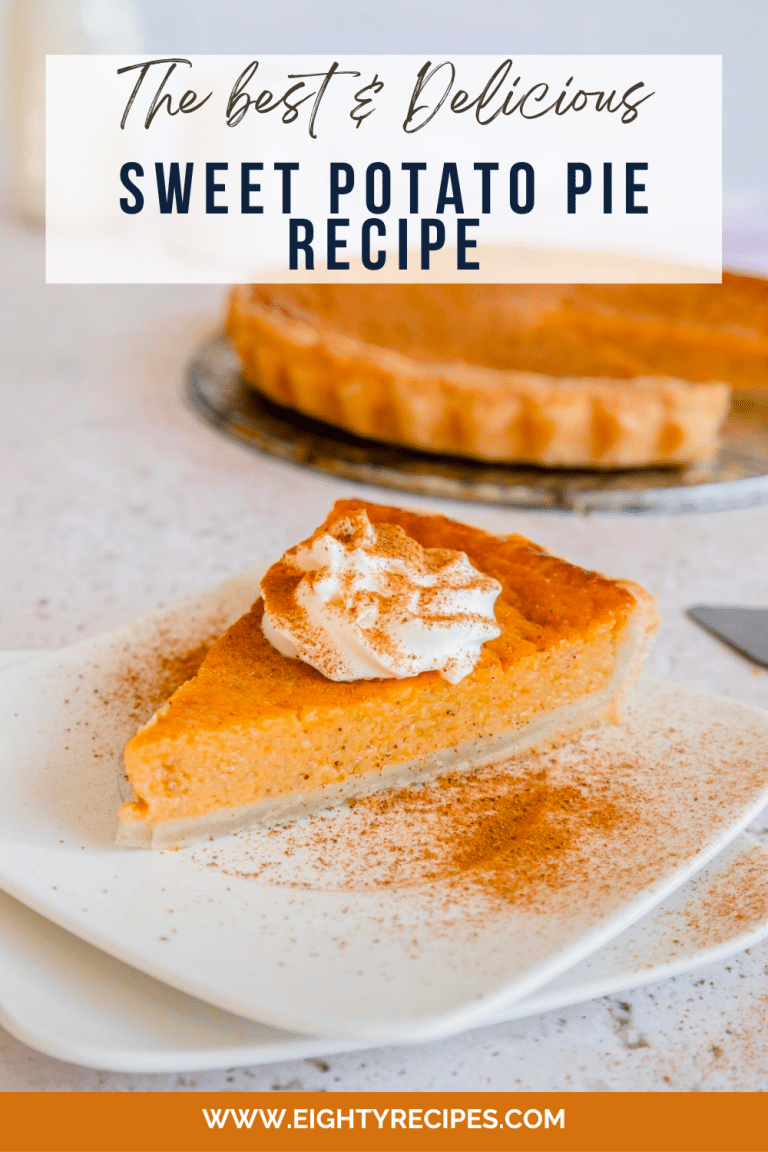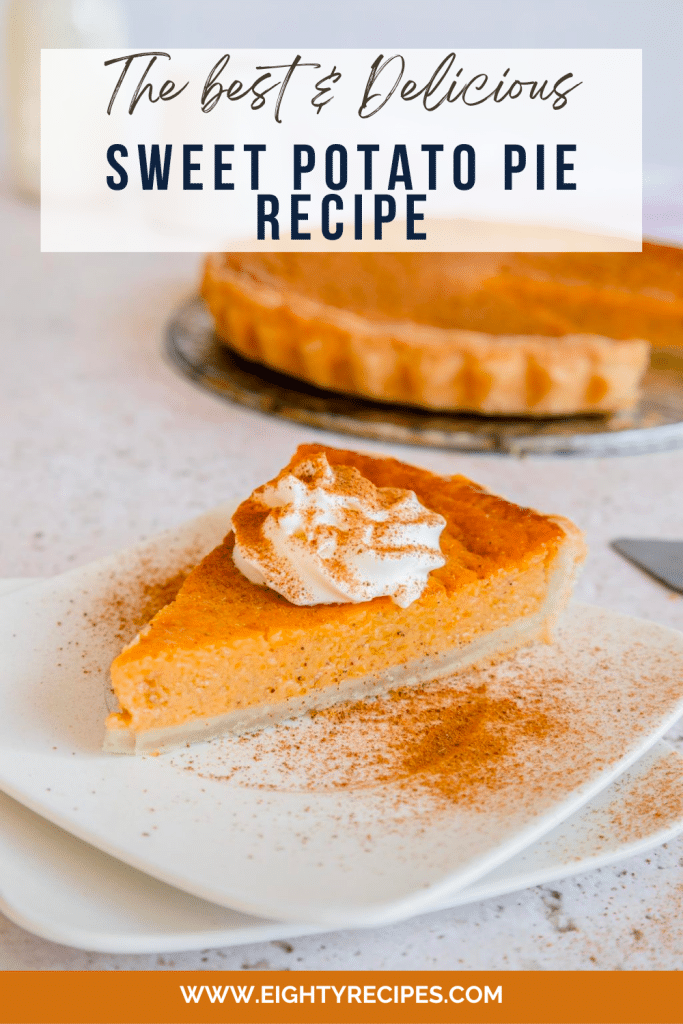 Eighty Recipes brings the comforting flavors of home and the holidays into your kitchen with this Sweet Potato Pie Recipe. Imagine the taste of creamy, spiced sweet potatoes wrapped in a flaky, buttery crust. It's like being at the family holiday table, savoring that familiar, nostalgic flavor. Each bite is a warm, delicious reminder of what it means to gather, to feast, and to celebrate. It's not just a pie, it's a taste of precious memories.
Get ready to fall in love with autumn all over again with Princess Pinky Girl's No-Bake Pumpkin Pie. This pie brings together the heartwarming flavors of pumpkin spice and creamy filling, with the added bonus of no baking required! It's the perfect dessert to celebrate the changing leaves and cooler weather.
Whole and Heavenly Oven cleverly combines two beloved desserts in this Snickerdoodle Apple Cheesecake Pie. Each bite is a journey through layers of creamy cheesecake, juicy apple filling, and a snickerdoodle cookie crust. It's like a warm embrace on a crisp fall day.
If summer had a flavor, it would taste like Cheerful Cook's Strawberry Cream Pie. The bright, juicy strawberries and luscious cream filling take center stage in this dessert. One bite, and you'll be whisked away to a sunny afternoon picnic.
A Spicy Perspective combines warm spice and cool cream in this Cinnamon Cream Pie with Brown Sugar Whipped Cream. This pie is like a cozy blanket on a chilly day, with its comforting cinnamon filling and fluffy brown sugar whipped cream.
Girl Versus Dough invites you on a tropical vacation with their Creamy Mango Pie. The exotic mango cream filling is like a sweet, sunny escape. It's the perfect way to bring a little island paradise into your kitchen.
The grand finale comes from Modern Honey with this Salted Caramel Banana Cream Pie. Imagine a luscious banana filling, drizzled with homemade salted caramel and topped with fresh whipped cream. It's a symphony of flavors that will make your heart sing.
Whew! If you've made it this far, congrats! You've just taken a drool-worthy tour through the land of luscious cream pies. I don't know about you, but I'm pretty sure I can smell the sweet aroma of freshly baked pies right now! Are you already imagining slicing into one of these beauties at your next family dinner? Or maybe enjoying a quiet moment with a cup of tea and a delicious slice of creamy goodness? I know I am!
Notes:
It's been quite a delicious journey we've been on, hasn't it? I hope this parade of creamy, dreamy pies have you raring to roll up your sleeves and create some baking magic. Just remember, the true beauty of a cream pie lies in its versatility.
Yearning for something simple and comforting? An easy-to-make classic cream pie might just hit the spot. Think about a fluffy whipped cream on top of a silky cream of banana pudding encased in a crumbly crust. The combination of the sweet custard filling with ripe bananas is pure bliss.
Feeling a little adventurous? Why not try a nutty peanut butter pie? It's a delightful marriage of fluffy peanut butter mousse with a chocolate cookie crumb crust. Don't forget that dollop of whipped cream on top! The contrast between the nutty filling and the bittersweet chocolate is bound to leave you craving more.
If you're all about shortcuts (no judgment here, we've all been there), a store-bought pie filling can be a lifesaver. Maybe an ice cream pie with store-bought ice cream is more up your alley. Try it with a classic coconut or maple flavor. Simply let it solidify on a pie plate, and voila! You've got yourself a sliceable treat!
No Time? No Problem: The Magic of No-Bake Pies
For the bakers who are constantly on a time crunch, no-bake pies are your best friend. A no-bake lime margarita pie can be a refreshing change. With its easy press-in graham cracker crust and zingy filling, it's sure to be a hit.
Pie's not always about the filling, though. The crust can make or break a pie, too. Whether you're a fan of a classic, chewy vanilla wafer crust or prefer the dark, decadent notes of a chocolate wafer, the choice is all yours. You could also opt for a gluten-free crumb crust if you'd like to use a healthier alternative.
Craving a campfire classic? You might want to try a s'mores pie. With its graham cracker crumbs, decadent chocolate filling, and a topping of whipped egg whites toasted to perfection, it's every bit as heavenly as it sounds.
And let's not forget about those delightful specialty pies. A mile-high chocolate pie, a zesty lemon meringue pie, or a light and airy chiffon pie — these are just a few examples of the amazing variety cream pies can offer.
At the end of the day, remember, the best pies are the ones made with love and served with a smile. Whether it's a decadent pie for a special occasion or a simple pudding pie for a weeknight dessert, there's no going wrong here.
Happy baking, my pie-loving friends!