Easy Scones Recipe: Y'all gotta try this super easy scone recipe! It's perfect for a quick brekkie or afternoon tea snack. With just a few basic ingredients like flour, bakin' powder, butter, sugar, milk, and egg, you can whip up 8 fluffy and buttery scones in no time! Follow the simple instructions and enjoy warm, golden brown scones that are perfect with a cuppa or joe. Trust me, you won't be able to resist these yummy scones. They're so delish, you'll wanna make them every day!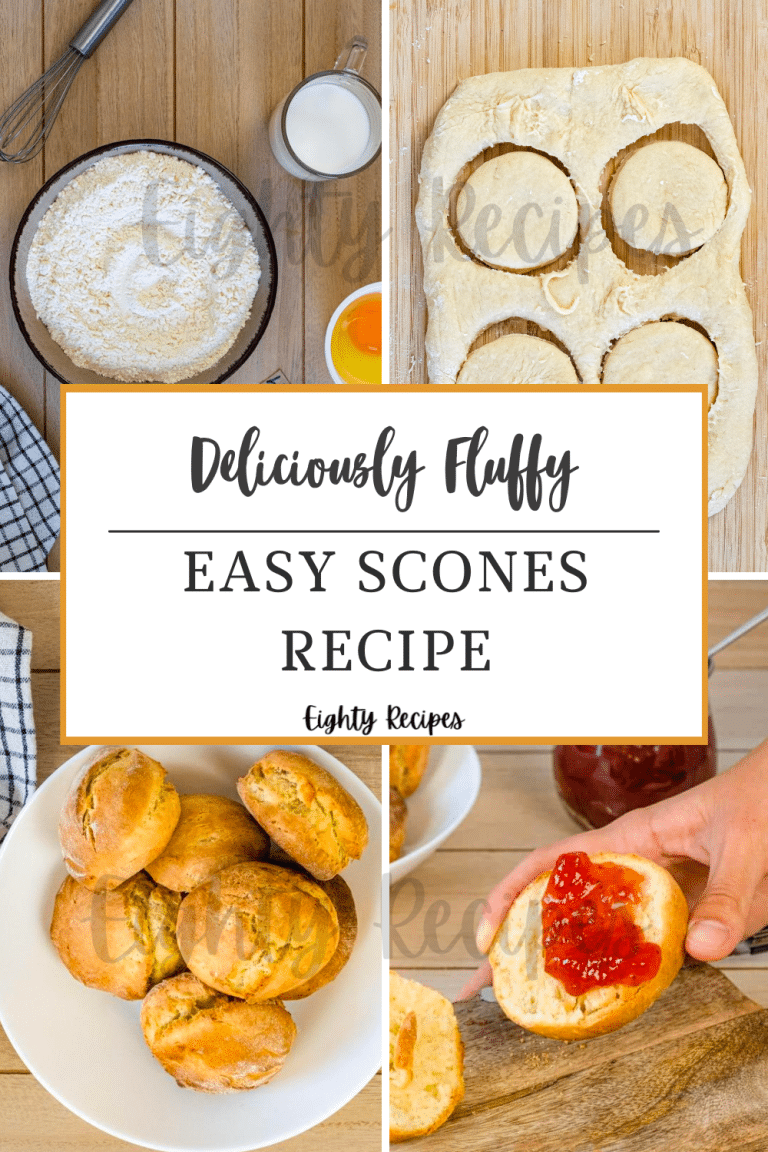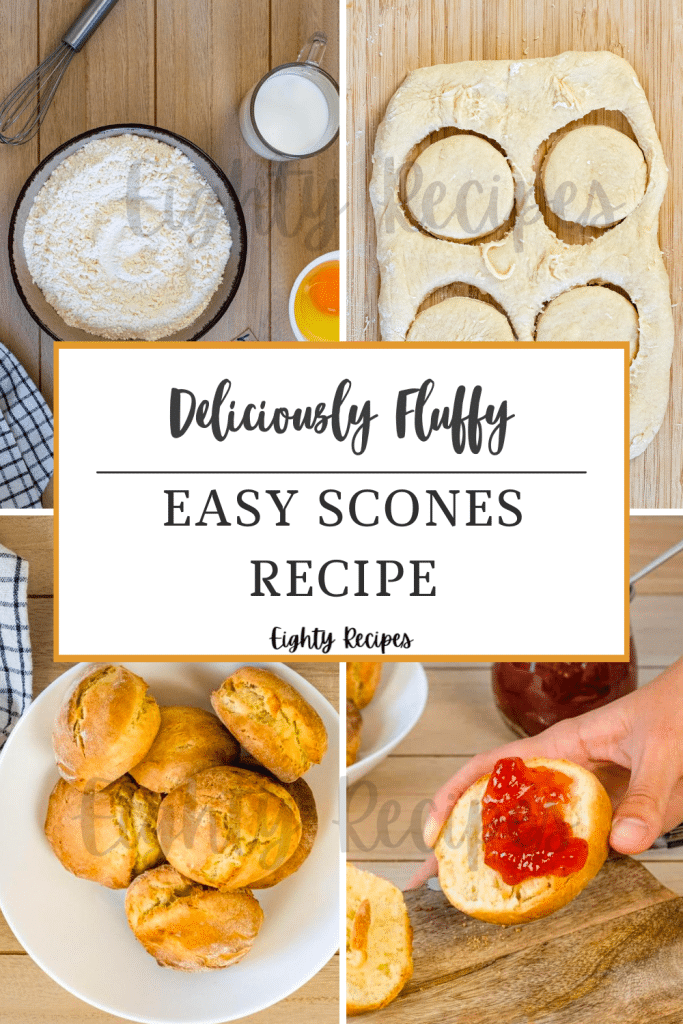 Here is my story behind this Scones recipe…
Let me tell you about the time I tried making it for the first time. I was a bit nervous, but I decided to give it a shot. The result? A kitchen filled with the sweet aroma of warm, buttery scones!
My children and hubby came running into the kitchen as soon as they smelled the goodness. We couldn't wait for them to cool down enough so we could take a bite. And when we did, it was like we had entered scone heaven! They were, buttery, and oh-so-delicious!
My kiddos loved them so much that they asked for seconds, and my husband, who's usually not a scone person, couldn't stop raving about them. It was such a special moment for us as a family, and ever since then, the scone recipe has been a regular in our weekend breakfast lineup.
It's amazing how something as simple as a scone recipe can bring so much joy to a family. It's moments like these that make me appreciate the little things in life. So, grab your aprons and give this a try. Who knows, it may just become a family favorite for you too!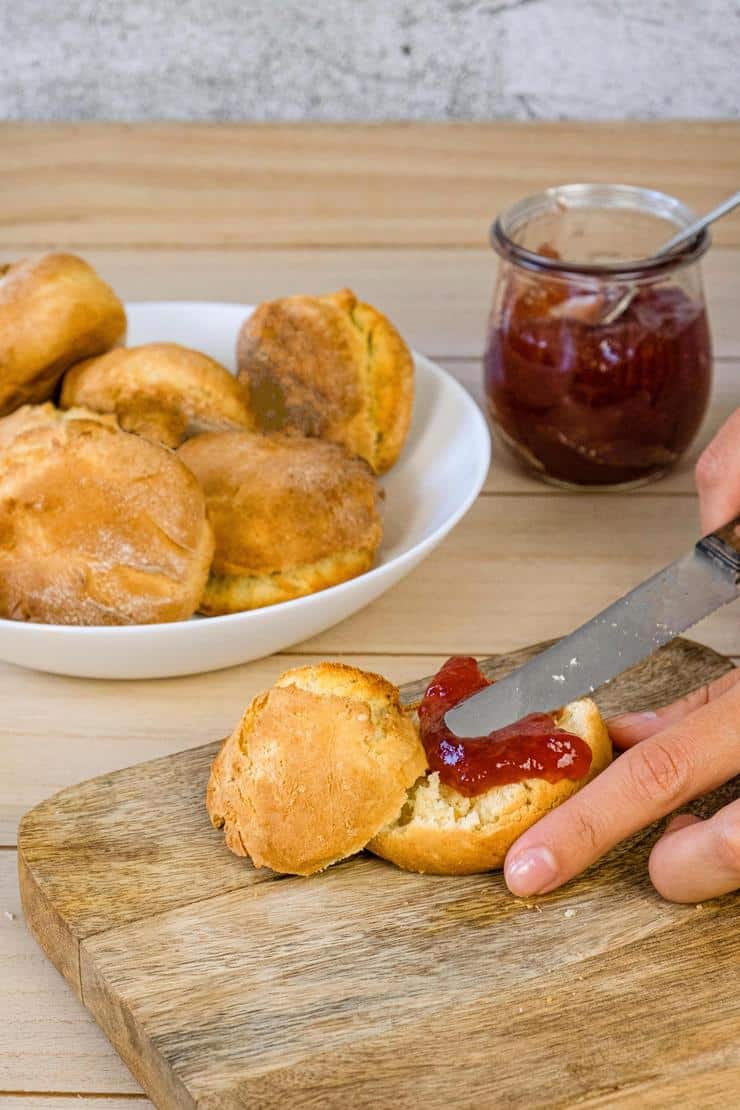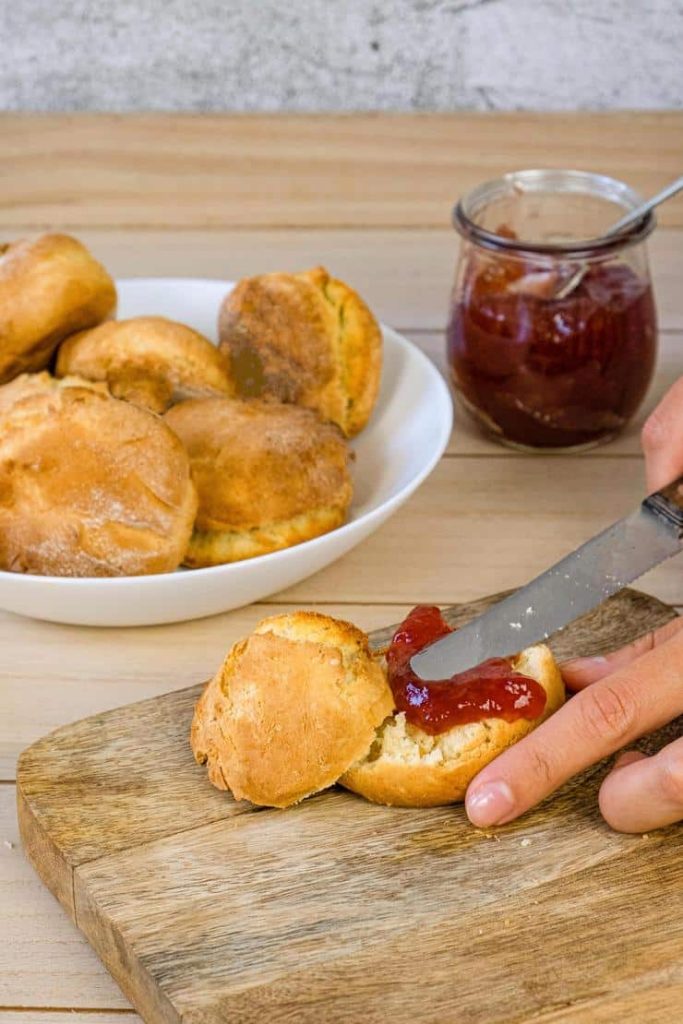 This scones recipe is something special…
First off, it's incredibly easy to make. With just a handful of ingredients and a little bit of elbow grease, you can have fresh, warm scones in no time. And let's be real, who doesn't love a recipe that's simple and quick?
But the best part? These scones are downright delicious. They're soft and fluffy on the inside, with just the right amount of crumbly goodness on the outside. And the taste? OMG, it's a perfect balance of sweet and buttery. You'll be in scone heaven, trust me.
And let's not forget, this recipe is totally versatile. You can add in your favorite fruits or nuts, or even some chocolate chips, to switch up the flavor profile. The possibilities are endless!
But what I love most about this recipe is how it brings my family together. Seeing my kiddos and hubby gather around the kitchen, eagerly waiting for the scones to come out of the oven, just warms my heart. It's the little things like this that make life so special.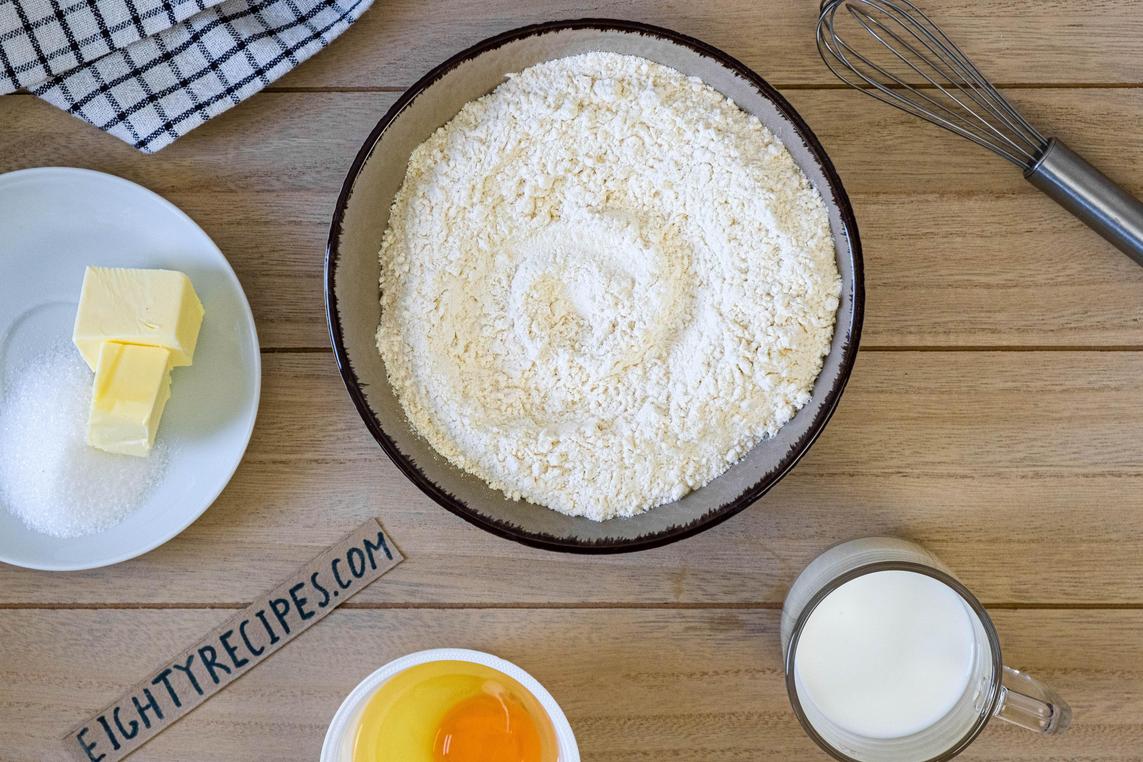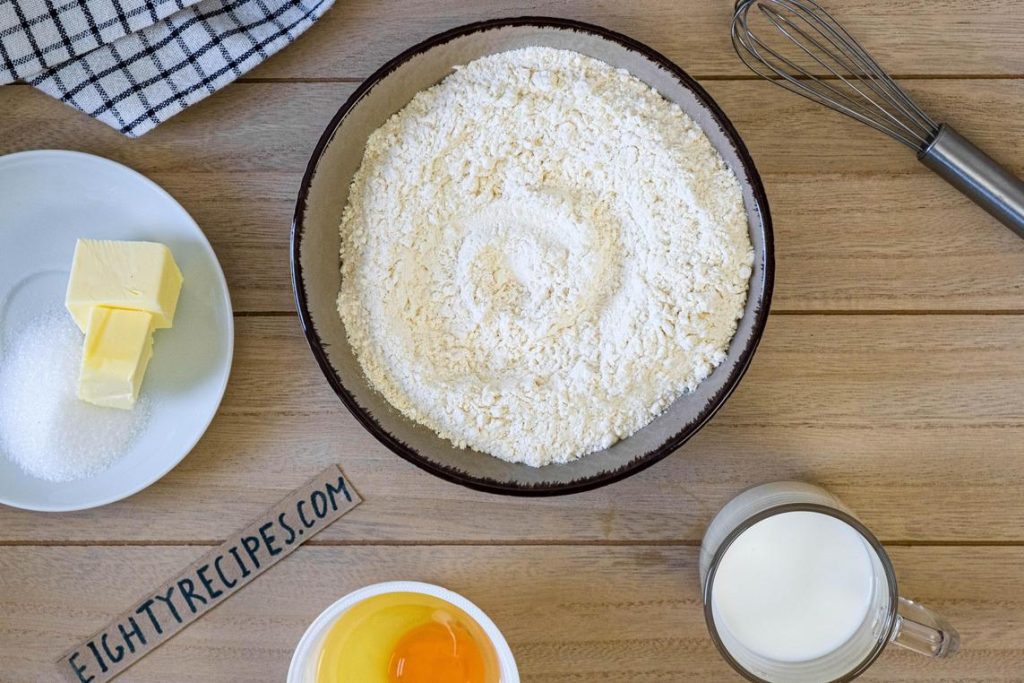 Which Ingredients Do You Need To Make This Easy Scones Recipe:
Here are some deets on the ingredients you'll need for these amaze-balls scones:
Plain Flour: In the US, you'll want to use all-purpose flour. And, psst, make sure you're not packing in that flour when you're measuring it out!
Baking Powder: Fresh is best! You don't want your scones to fall flat, so be sure your baking powder isn't expired.
Salt: Fine sea salt or regular old table salt will do the trick.
Butter: Here's the deal: the colder, the better! Trust me, you'll get those flaky, buttery scones you've been dreaming of. And don't be afraid to get your hands dirty when you're cutting that butter into the flour.
Sugar: Granulated or caster sugar are both game on.
Milk: Whole milk is where it's at, folks. And, you guessed it, make sure it's cold!
Egg: Go for a large egg at room temp.
And here's a pro tip: don't overmix that dough, or you'll end up with some seriously tough scones. Ain't nobody got time for that!
I know that sometimes you need to switch things up and get creative in the kitchen. So, I've got some juicy deets for ya on how to make some killer substitutions for this recipe!
How to Make These soft Scones Recipe:
First things first preheat that oven to 425°F (220°C). Oh, and make sure to line a large baking sheet with parchment paper or a silicone mat, so your scones don't stick!
Next up, sift your flour, baking powder, and salt into a large mixing bowl. This will help get rid of any lumps and make sure your scones are perfectly fluffy.
Now, add in some cold, cubed butter and get to work with that pastry cutter. You want to incorporate that until it's in teeny, tiny crumbs. Trust me, this is what makes the scones so flaky and delicious.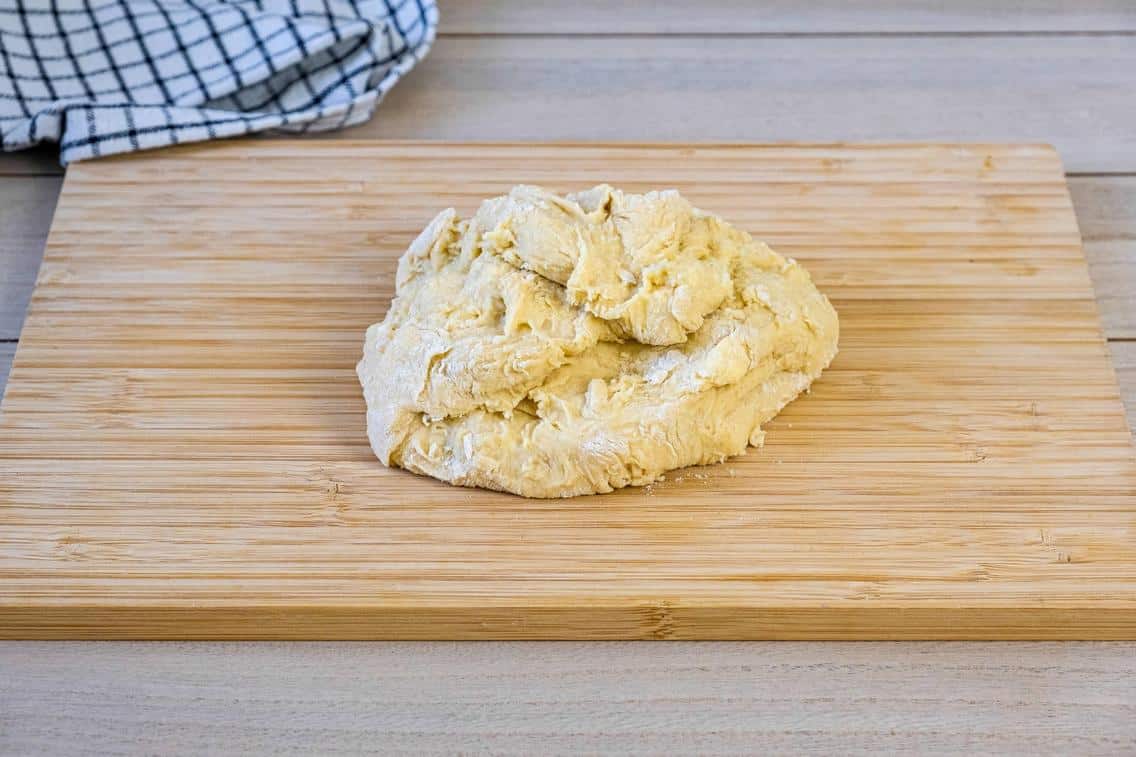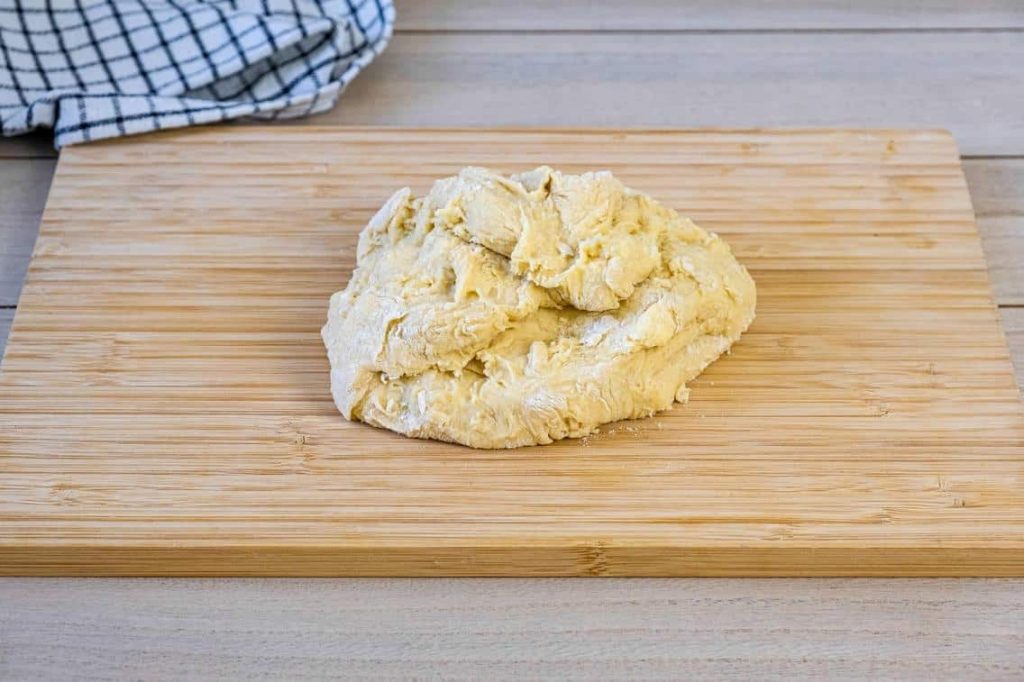 In a separate bowl, whisk together your sugar, milk, and egg. Then, pour this mixture into your dry ingredients and mix gently until a soft dough forms. Don't overdo it though, we want those scones to be tender, not tough!
Time to roll out that dough on a cutting board. Aim for about 2 cm thickness, and then use a round cookie cutter to cut out eight perfect little scones. Just make sure not to twist the cutter, or your scones will end up wonky. We don't want that!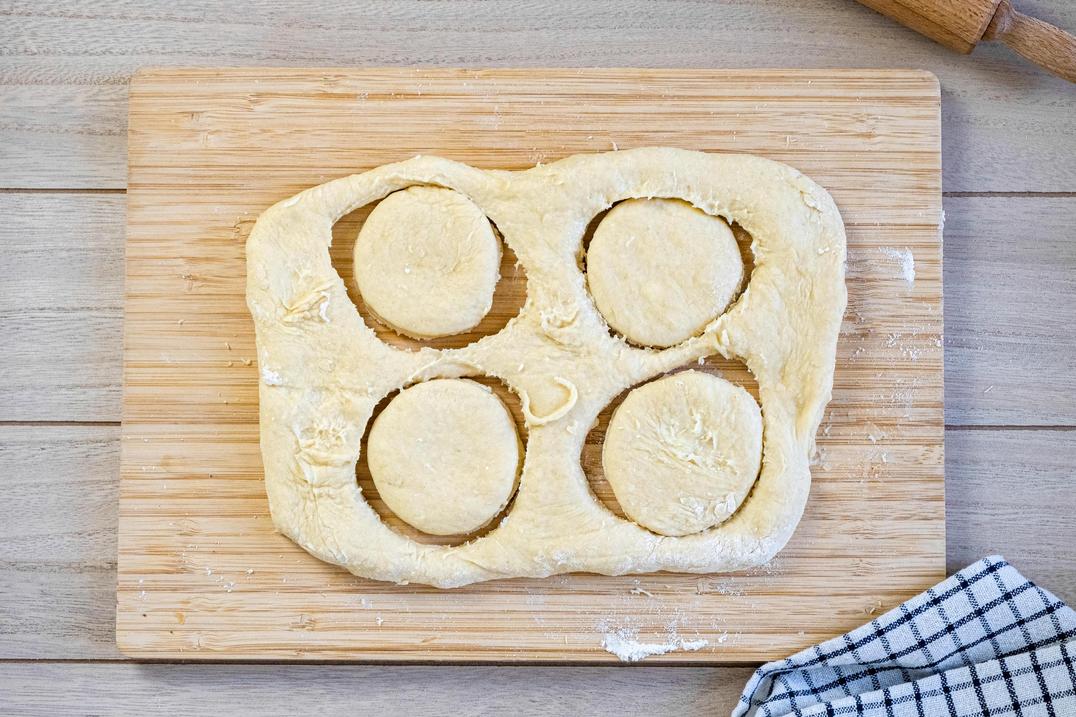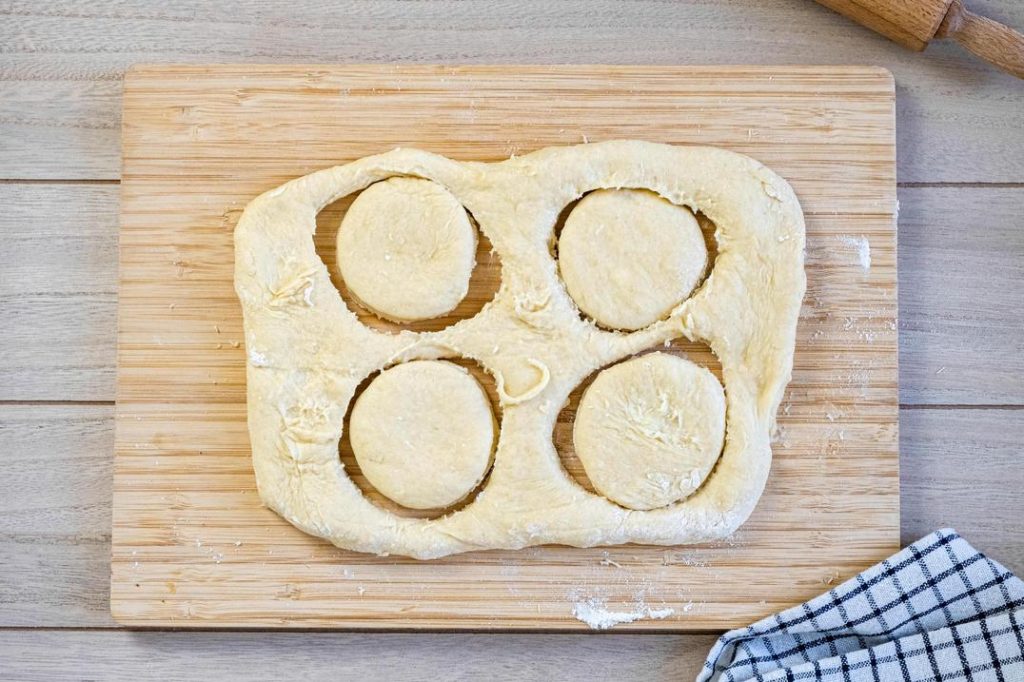 Now, here's a little tip for you. If you want those scones to rise even more, you can pop them in the freezer for 20-30 minutes before baking. But don't forget about them, or they'll get too chilly!
Before throwing those babies in the oven, give 'em a little milk bath on top. It'll make 'em extra golden and delicious.
And finally, it's time to bake! Stick those scones in the oven for 12-15 minutes, or until they're perfectly golden brown. You're gonna love 'em, I promise.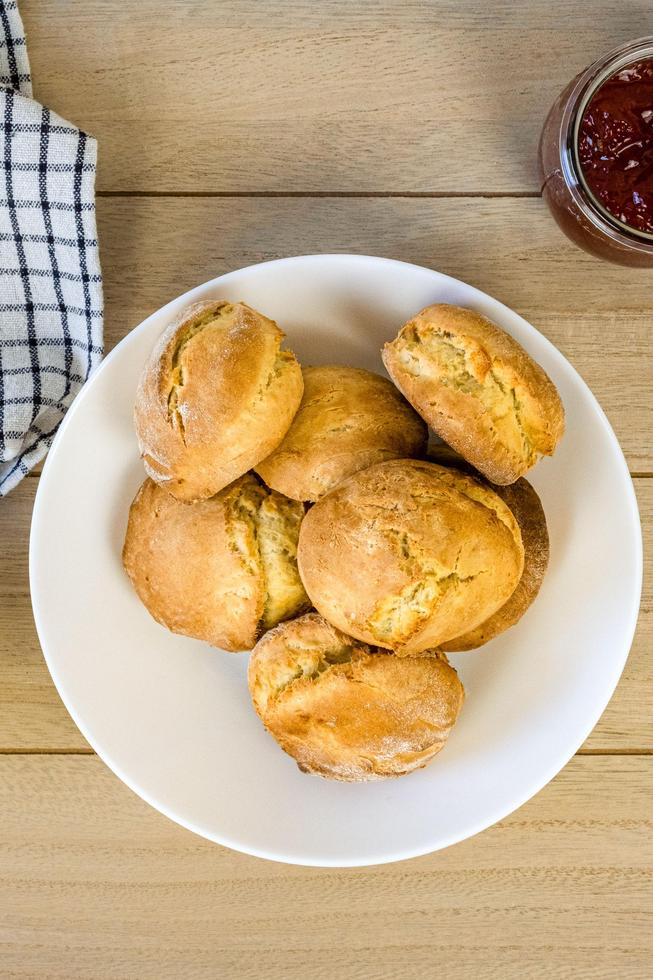 Scone Recipe Substitutions & Variations:
Plain Flour: If you're feeling a bit wild and crazy, switch out that plain flour for some whole wheat or gluten-free flour blend. Just remember, if you go for wheat, your scones may be denser, and if you go gluten-free, you might need some extra liquids or binders.
Butter: If you're looking to keep it dairy-free, you can swap in some vegan butter or coconut oil for regular butter. But, warning, your scones might not be quite as buttery and rich.
Milk: Hey, there's a whole world of non-dairy milk out there, folks! Try almond, soy, or oat milk instead of the regular stuff. Just remember that the taste and texture might change a bit.
Egg: For my vegan peeps out there, don't worry, I got you! Swap in a flax or chia egg instead of a regular egg. Just mix 1 tablespoon of ground flax or chia seeds with 3 tablespoons of water and let it sit for a bit until it thickens up.
Sugar: Sometimes we wanna keep things a bit more natural. So, try swapping in some maple syrup, honey, or agave syrup for that sugar. Just remember that the flavor might change a bit depending on what you use.
Now, go forth and experiment, my lovelies! And remember, no matter what you choose, your scones will be made with love, and that's what really matters.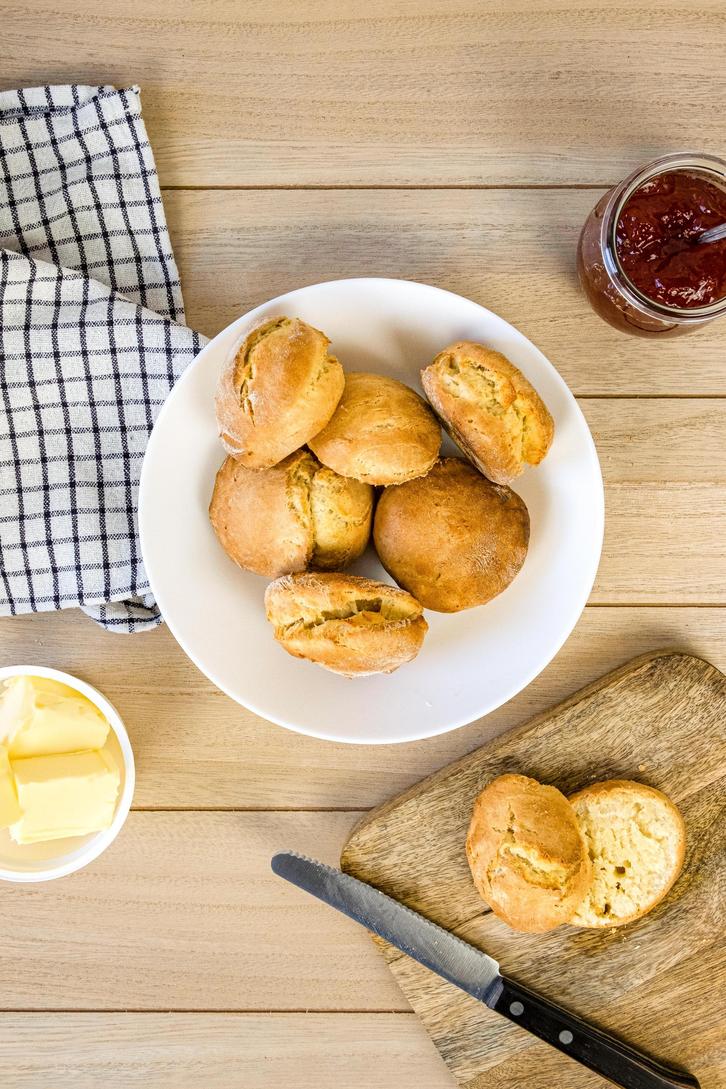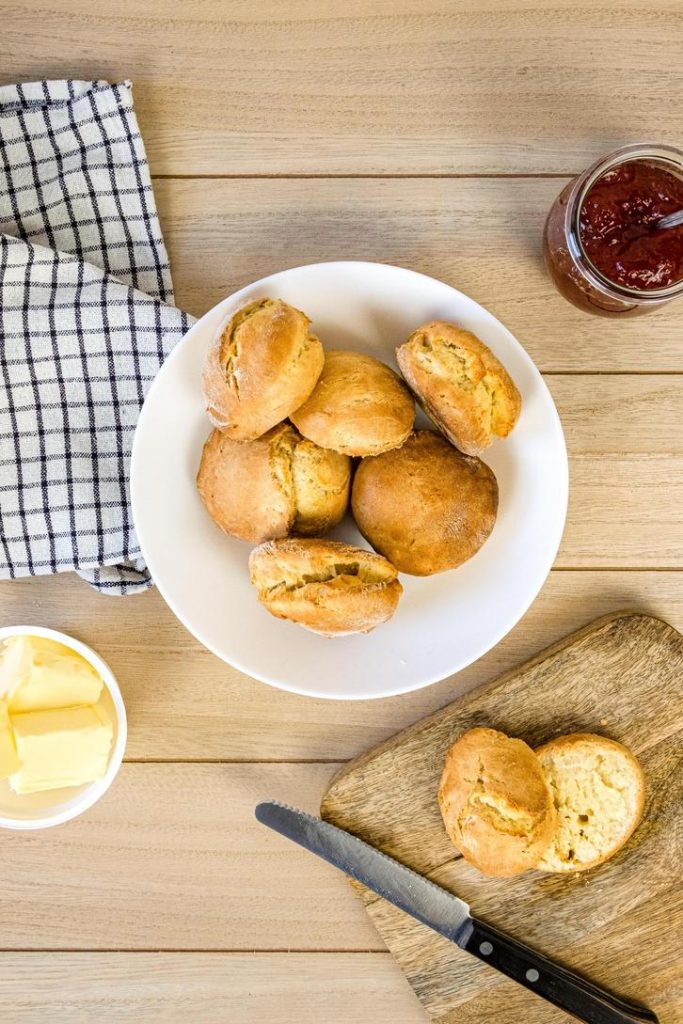 How to Store Scones?
Alright, guys, when it comes to storing these mouth-watering scones, there are a few things you need to know. First, make sure they have cooled down completely before you store them. Next, pop them in an airtight container or a ziplock bag to keep them fresh. You can leave them at room temperature for up to two days, but if you want to save them for longer, toss them in the freezer for up to three months. Just wrap them up tight and chuck them in a resealable freezer bag. And when the cravings hit, thaw them out and reheat them in the oven at 350°F (180°C) for a few minutes until they're hot, crispy, and ready to devour!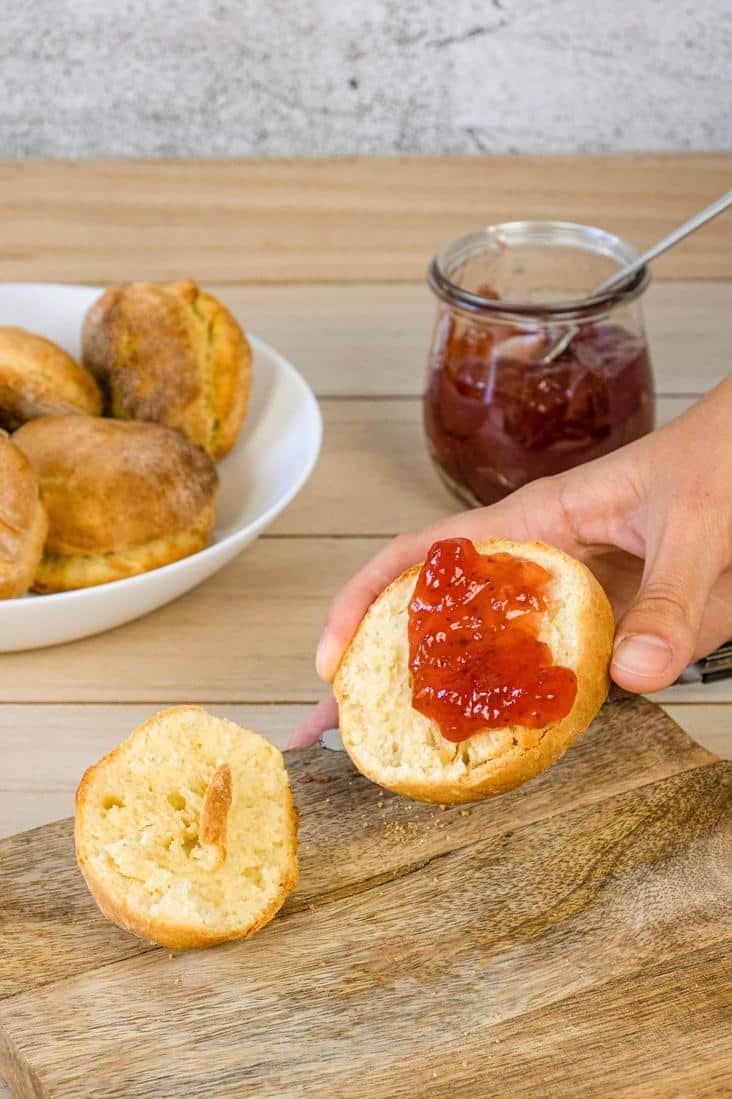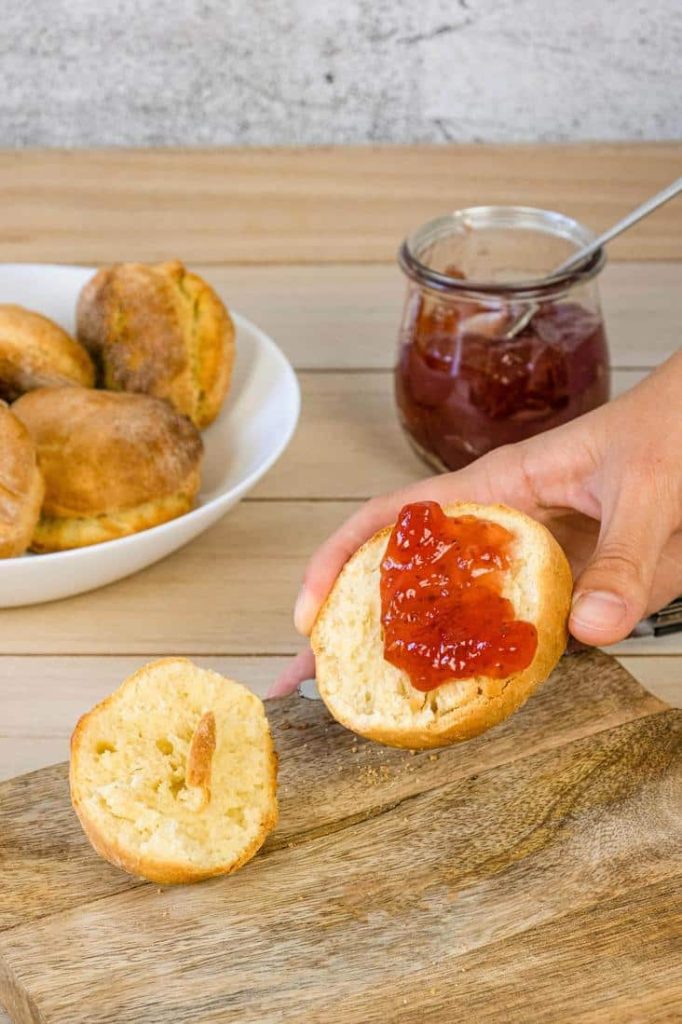 Check out the printable recipe below and let me know what you think about This Easy Fluffy Scones Recipe (comments below).
To receive our daily recipes you can follow us on Facebook, Pinterest, and Instagram.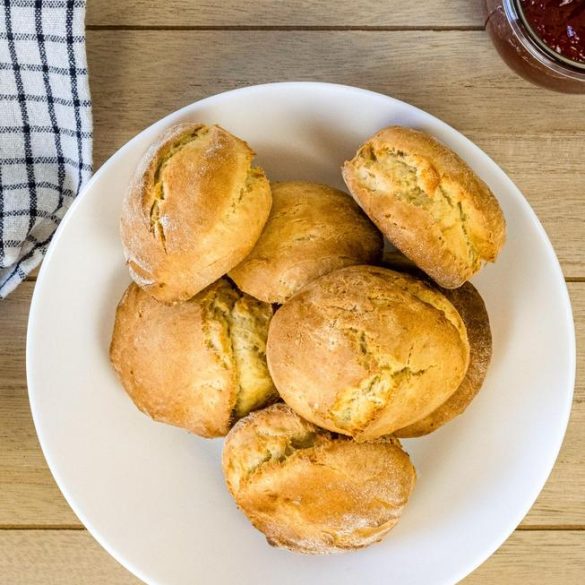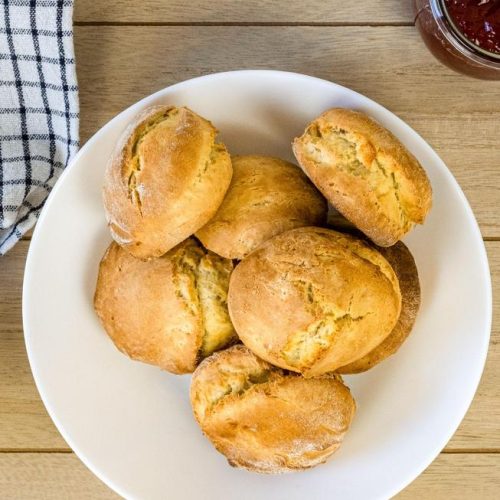 Easy Scones Recipe
Are you ready to bake the most delicious scones you've ever tasted? This easy scones recipe will blow your mind! The flaky, buttery texture combined with the sweet and savory flavors will have your taste buds dancing with joy. Perfect for breakfast or afternoon tea with your loved ones, these scones will become a family favorite in no time. So grab your apron and get ready to impress everyone with your baking skills!
Ingredients
2

cups

of all-purpose flour

250g

4

teaspoons

of baking powder

20g

1

teaspoon

of salt

6g

2

ounces

of cold butter

cubed (50g)

2

tablespoons

of sugar

25g

1/2

cup

of cold milk

125ml

1

large egg
Instructions
First things first, preheat your oven to 425°F (220°C). Grab a large baking sheet and line it with parchment paper or a silicone baking mat.

Now, let's sift together 250g of plain flour, 20g of baking powder, and 6g of salt into a large mixing bowl.

Add in 50g of very cold butter cubed and use a pastry cutter to incorporate it into the flour mixture until it forms small crumbs.

In a separate bowl, whisk together 25g of sugar, 125 ml of very cold milk, and 1 large egg. Pour this mixture into the dry ingredients and gently mix until a soft dough forms. Be careful not to over-mix!

Next, press or roll out the dough onto a lightly floured cutting board until it's about 2cm thick. Use a round cookie cutter to cut out 8 scones and place them on the baking sheet. Don't twist the cutter though, or the scones won't rise properly.

For extra fluffiness, pop the scones in the freezer for 20-30 minutes (not longer though!). This will help them rise even more when baked.

Before popping them into the oven, brush the tops of the scones with milk. Bake for 12-15 minutes, or until they're golden brown and smell heavenly.
Nutrition
Serving:
1
scone
Calories:
194
kcal
Carbohydrates:
28
g
Protein:
4
g
Fat:
7
g
Saturated Fat:
4
g
Polyunsaturated Fat:
0.5
g
Monounsaturated Fat:
2
g
Trans Fat:
0.2
g
Cholesterol:
38
mg
Sodium:
563
mg
Potassium:
66
mg
Fiber:
1
g
Sugar:
4
g
Vitamin A:
232
IU
Calcium:
146
mg
Iron:
2
mg
CHECK OUT THESE AWESOME, EASY RECIPES: