These matcha chocolate chip cookies are just the thing for when you need a little pick-me-up. Whenever I'm feeling down, or have a lot on my mind, I make these and they really help me to destress and feel better. They're also a great way to use up that leftover matcha after making matcha buttercream frosting or cake!
Chocolate chip cookies are a favorite in my house! They are hearty and sweet cookies that are perfect for satisfying any chocolate craving. These cookies have an extra kick with the addition of matcha, making them the perfect winter treat!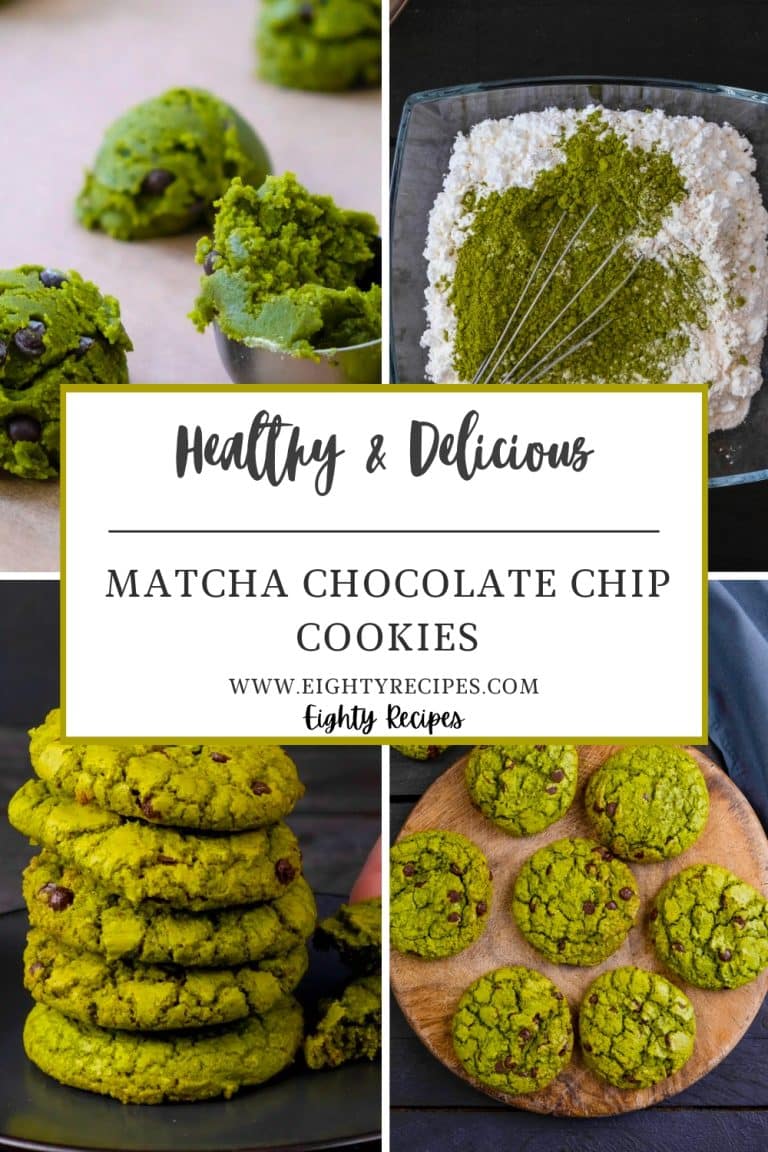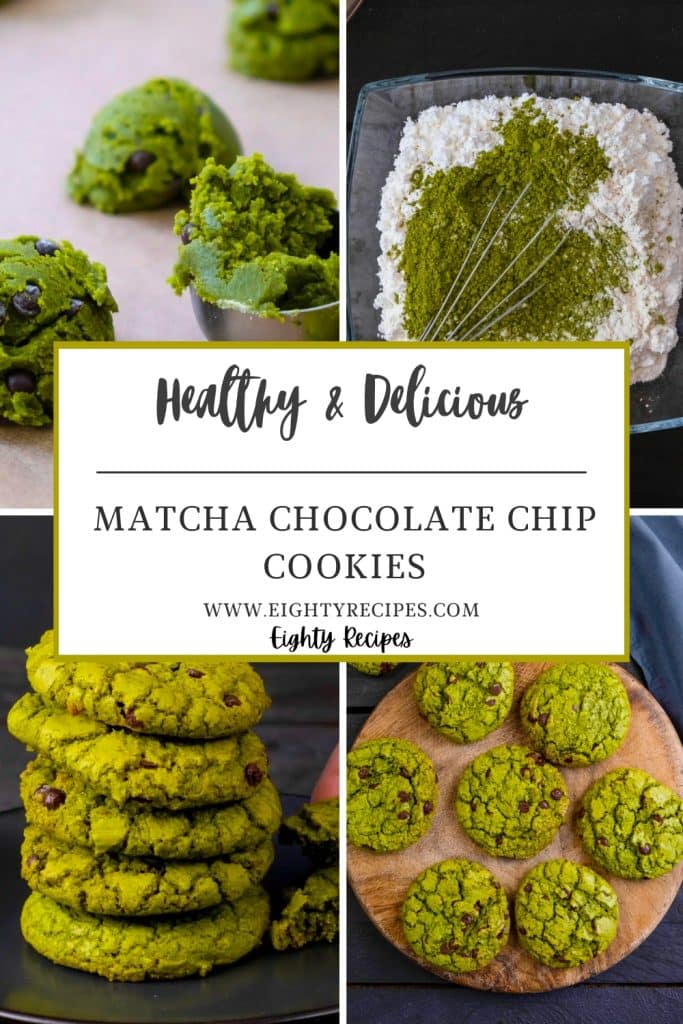 What are matcha cookies made of?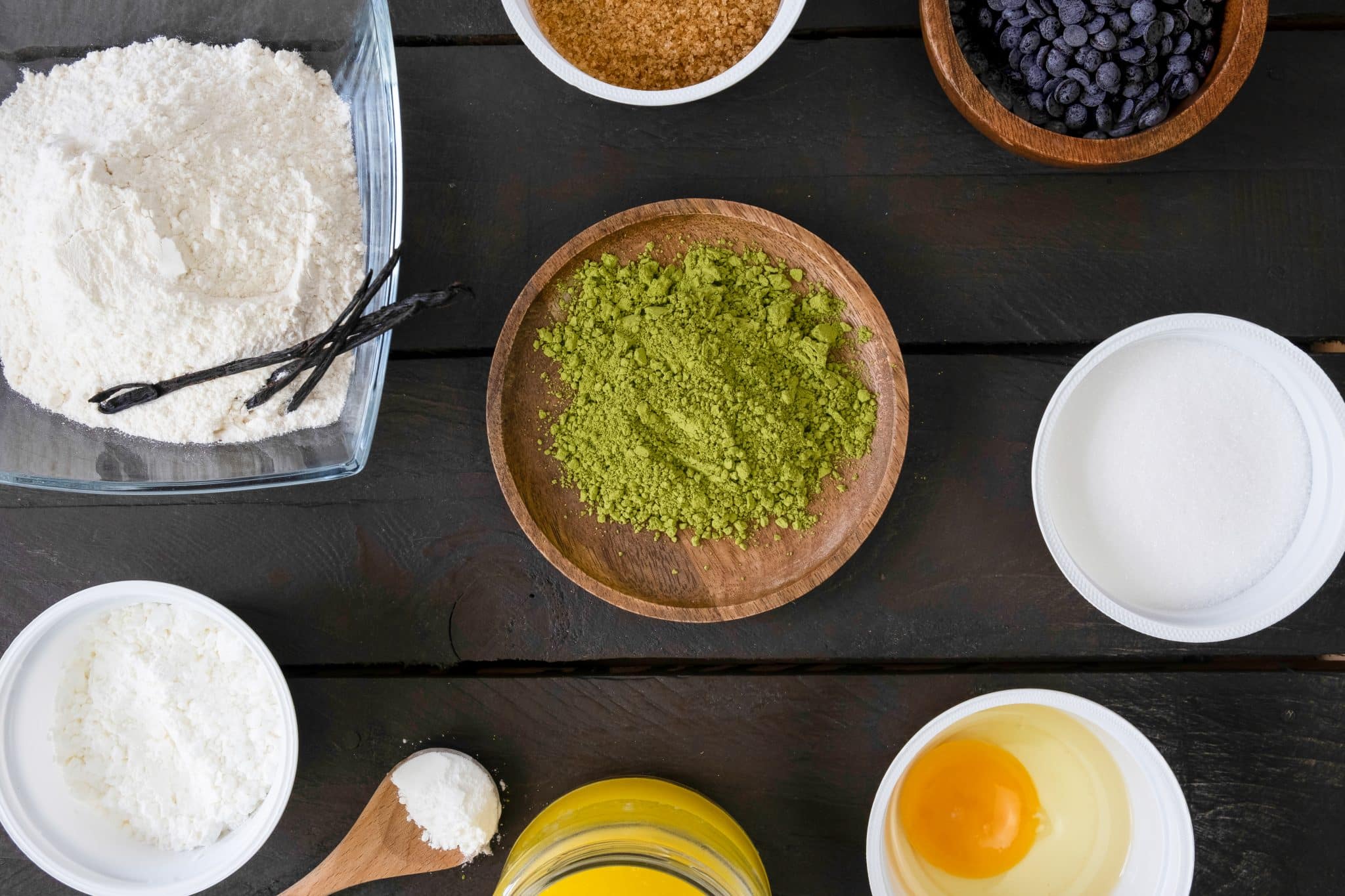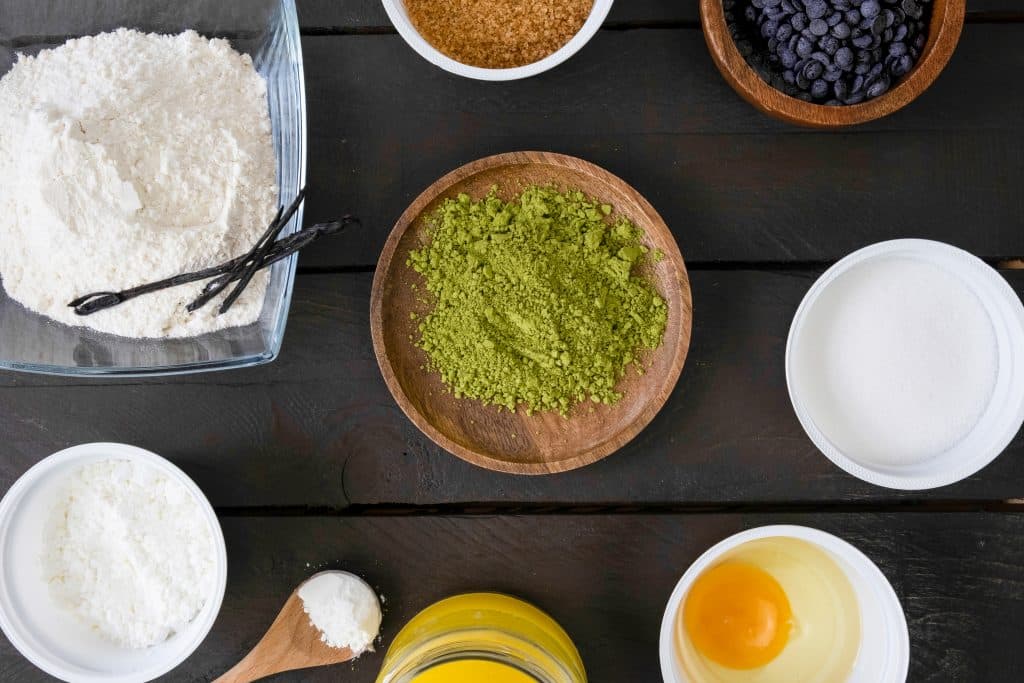 These matcha chocolate chip cookies are a delicious and easy way to enjoy the flavor of matcha green tea. The cookies are made with a simple recipe that includes matcha powder, butter, sugar, eggs, cornstarch, and flour. The chocolate chips add a touch of sweetness and richness to the cookies.
These cookies are not only incredibly tasty, but they're also pretty easy to make. The dough comes together quickly and doesn't require any chilling time, so you can have these cookies ready to bake in no time at all. And because they're made with just a few simple ingredients, they're also pretty darn healthy – so you can feel good about indulging in one (or two… or three…) of these delicious cookies.
Taste of matcha chocolate cookies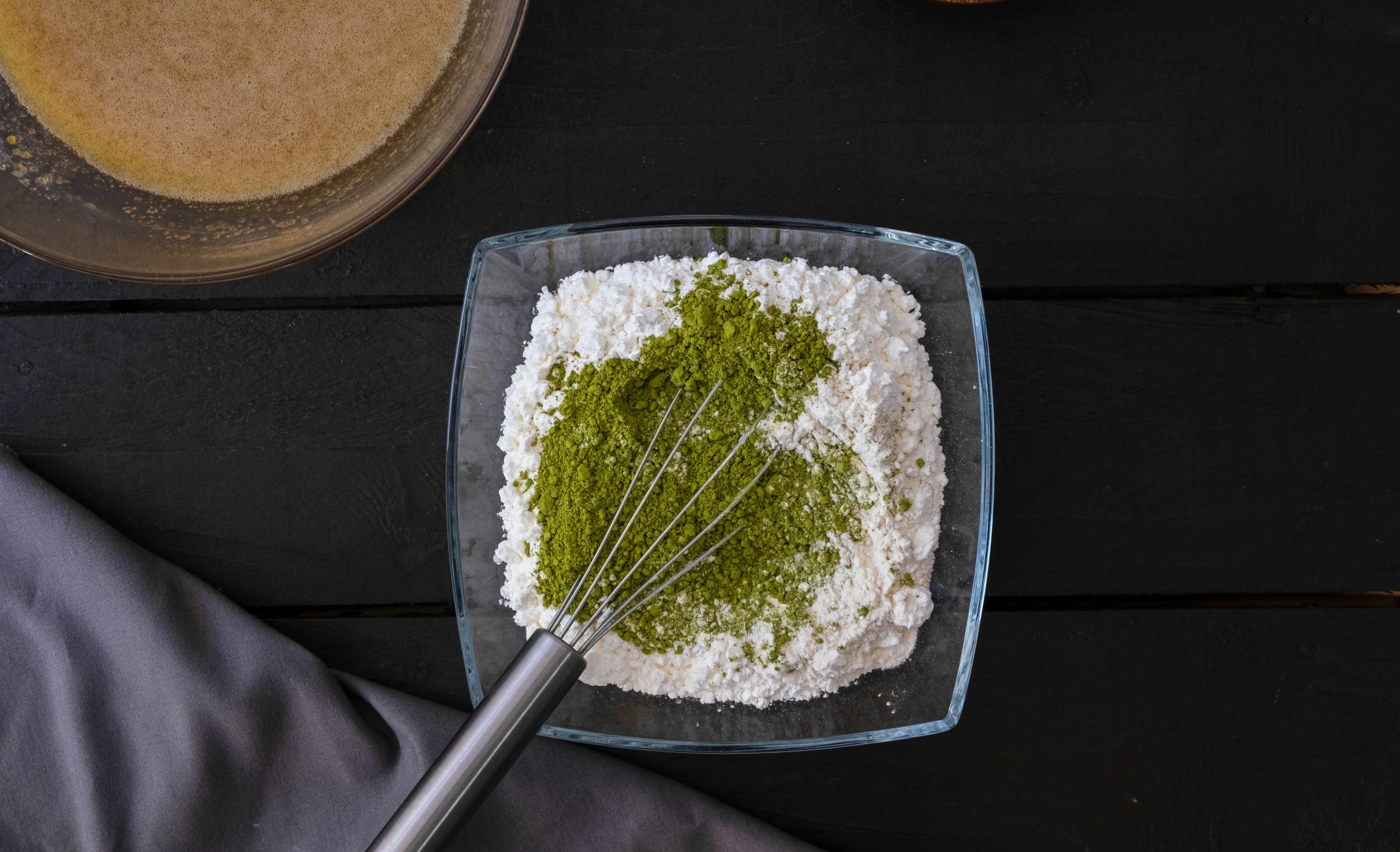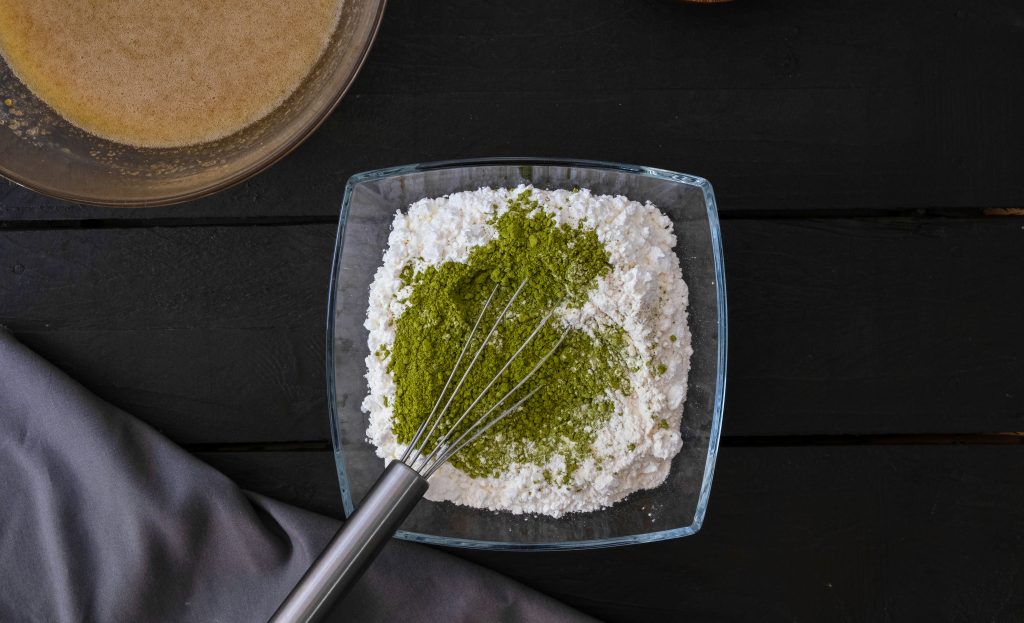 When it comes to cookies, there are few flavor combinations as classic and delicious as chocolate and matcha. These Matcha Chocolate Chip Cookies are the perfect balance of sweet and earthy, with a hint of bitterness from the matcha. The chocolate chips add a lovely richness to the cookie, while the matcha powder gives them an extra boost of flavor.
Do matcha and chocolate taste good together?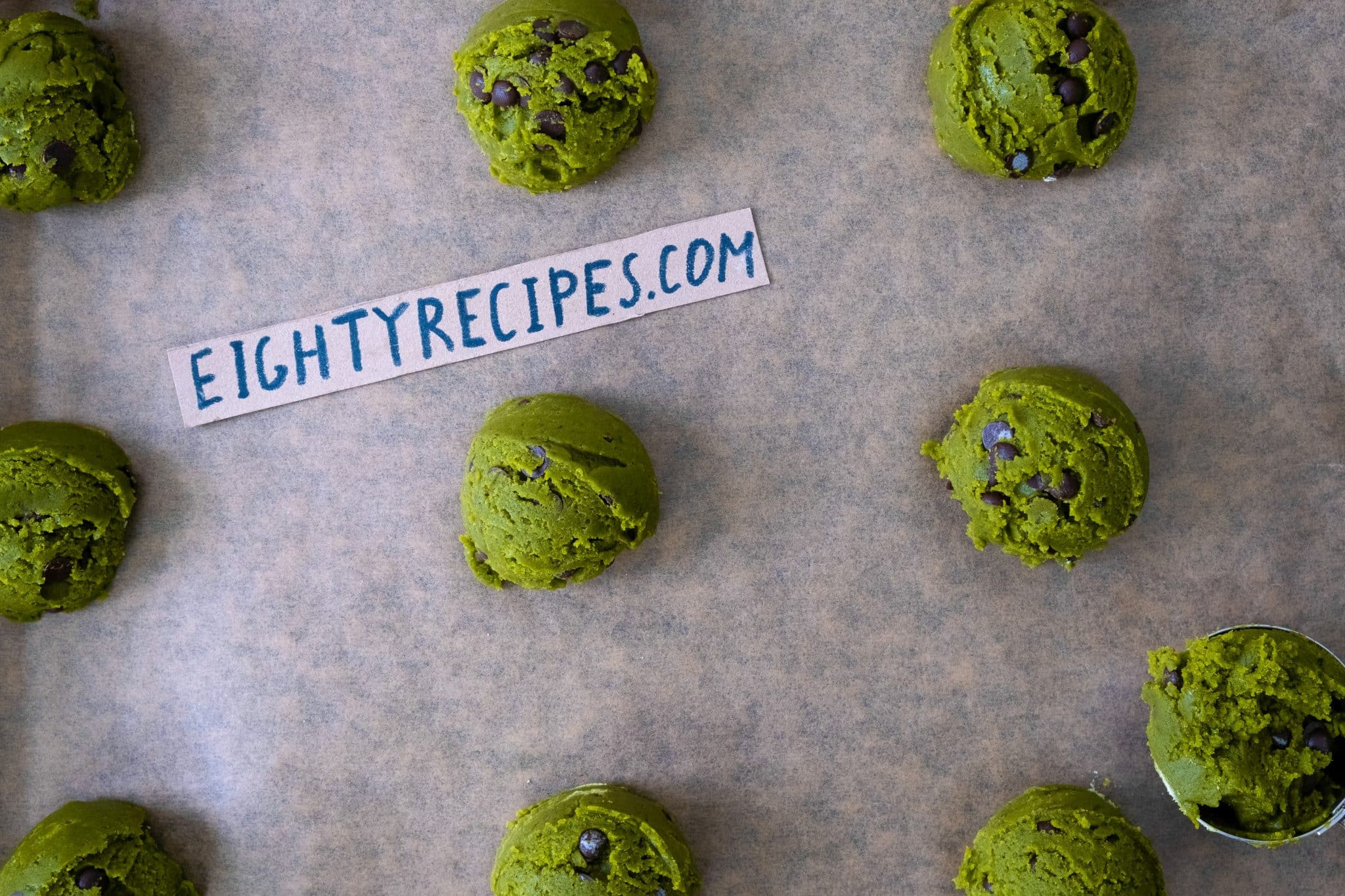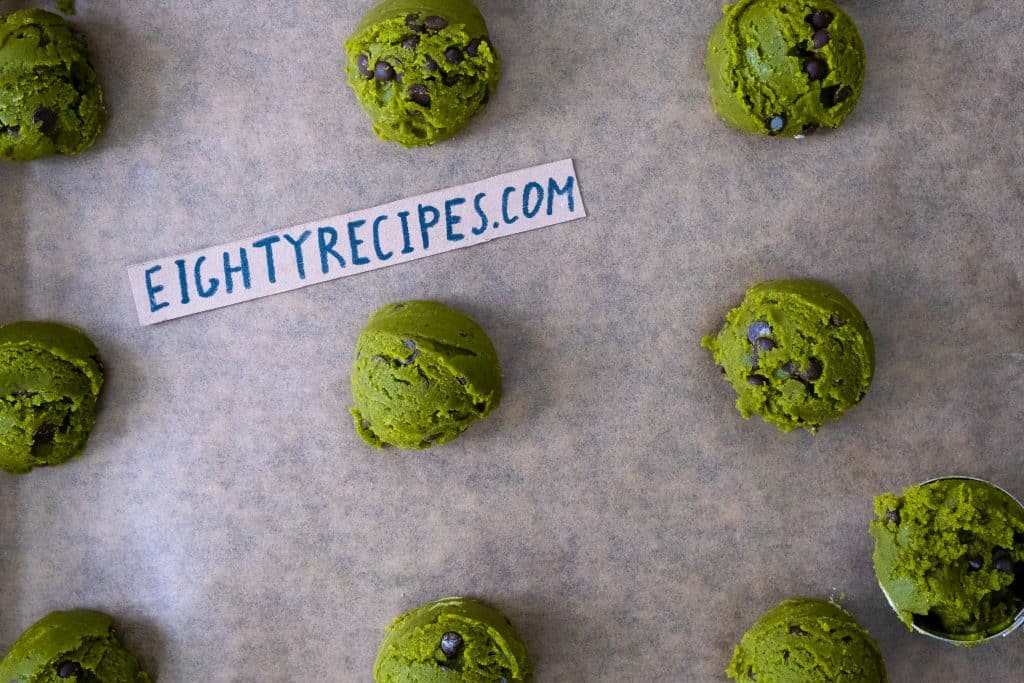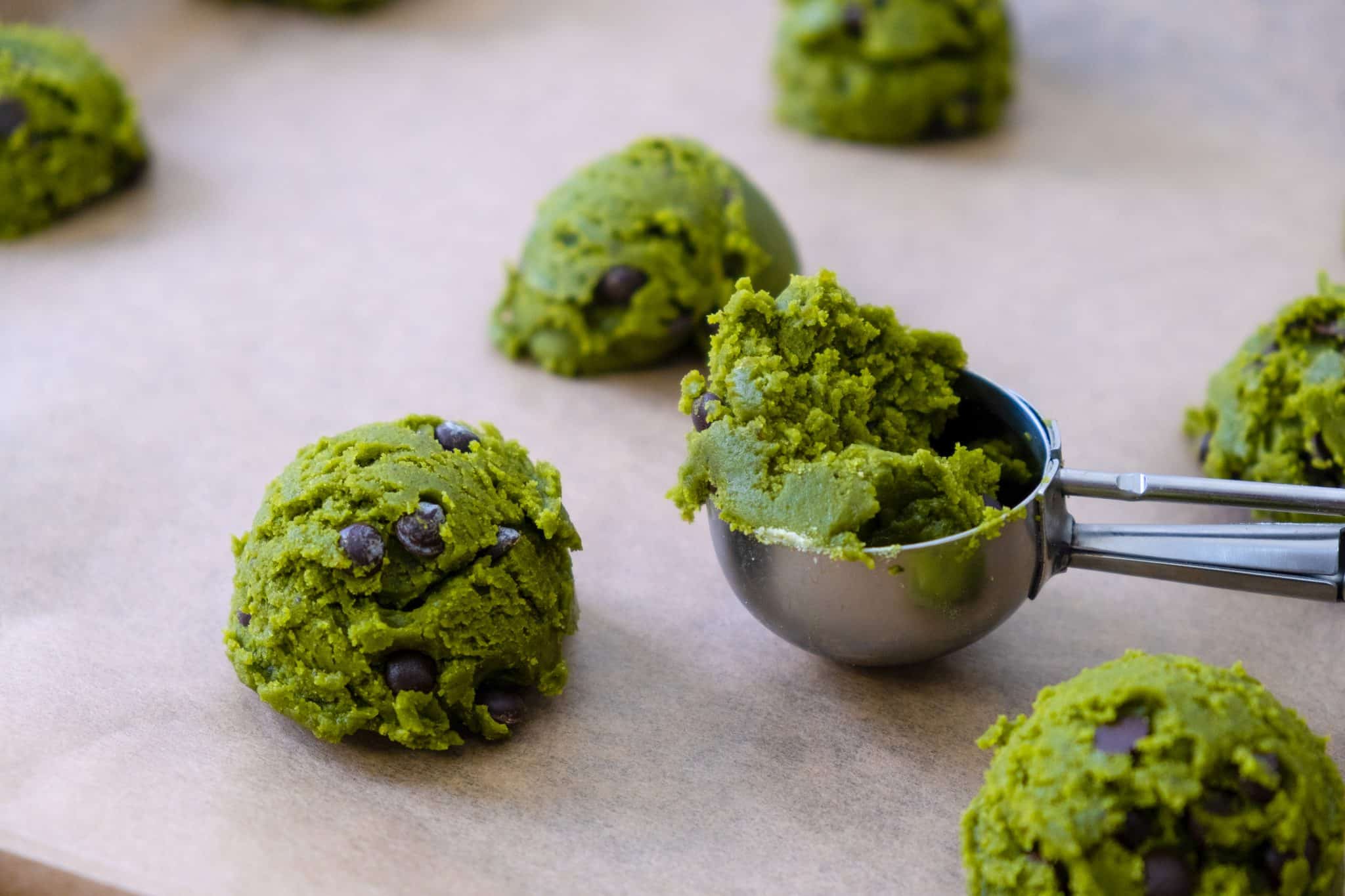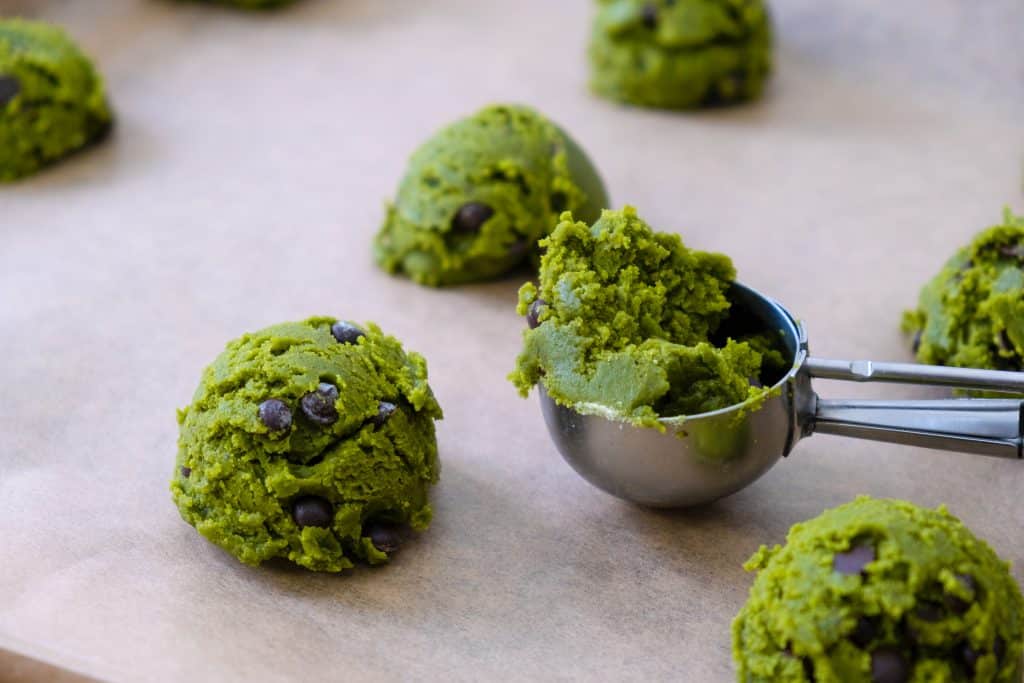 If you're a fan of matcha and chocolate, then you'll love these matcha chocolate chip cookies! The two flavors work so well together, and the cookies are super soft and chewy.
I used regular chocolate chips in these cookies, but you could use white chocolate chips or even dark chocolate chips. I think all three would be delicious. If you want a little bit of extra matcha flavor, you could add a teaspoon of matcha powder to the dough.
How do you keep cookies from spreading?
First, make sure your ingredients are at room temperature before beginning to mix them together. Room-temperature ingredients will help the cookies hold their shape better as they bake.
Secondly, use a cookie scoop or spoon to portion out the dough onto the baking sheet, and then use your fingers to slightly press down on the top of each mound of dough. This will also help the cookies keep their shape while baking.
Finally, bake the cookies in a preheated oven so that they cook evenly and don't spread too much.
Which flour is best for cookies?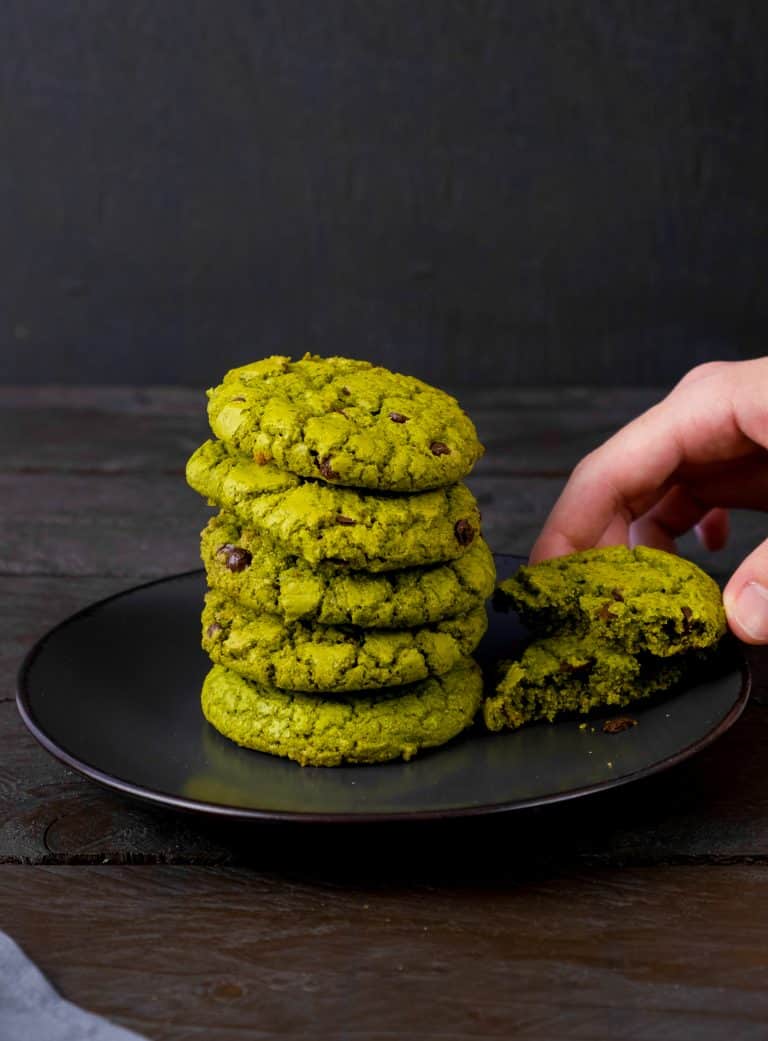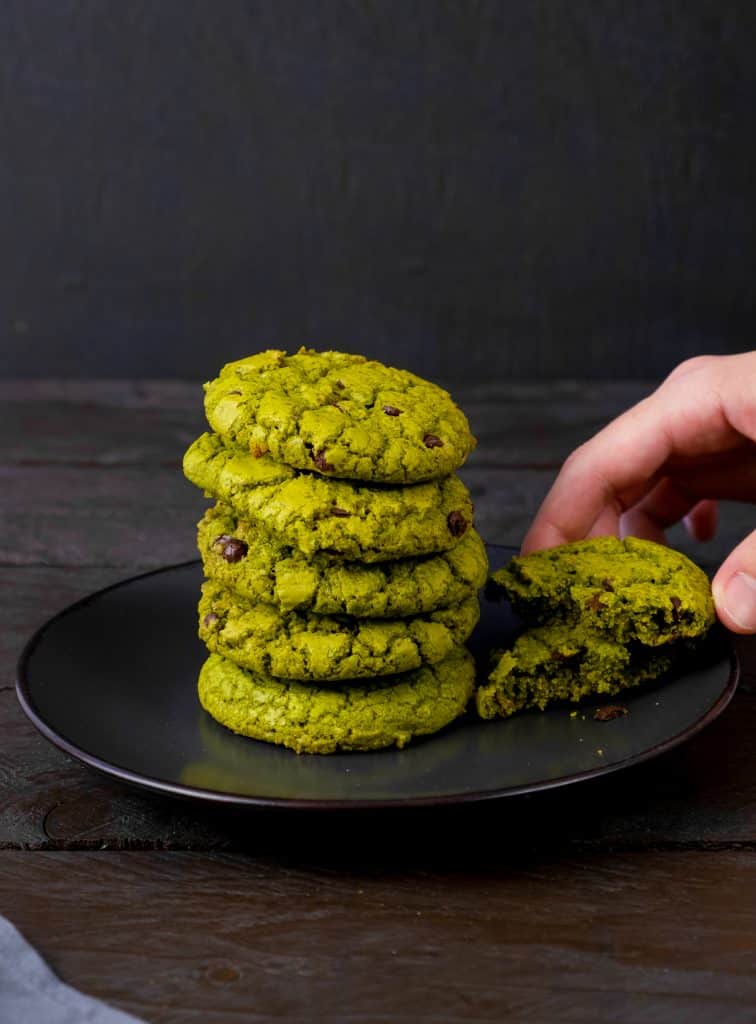 There are many types of flour that can be used for cookies, but not all flours are created equal. The type of flour you use can affect the texture, flavor, and overall quality of your cookies. So, which flour is best for cookies?
The answer to this question depends on what kind of cookie you're looking to make. For example, if you want a chewy cookie, then you'll want to use a different flour than if you want a crisp cookie.
Here are some of the most common types of flour and how they affect cookies:
All-purpose flour: This is the most versatile type of flour and can be used for almost any type of cookie. All-purpose flour will produce a medium-textured cookie.
Bread flour: Bread flour has a higher protein content than all-purpose flour, which gives it a slightly tougher texture. Cookies made with bread flour will be slightly more chewy than those made with all-purpose flour.
Cake flour: Cake flour has a lower protein content than all-purpose or bread flour, which makes it more fine and powdery. Cookies made with cake flour will be light and delicate in texture.
What to serve with matcha chocolate chip cookies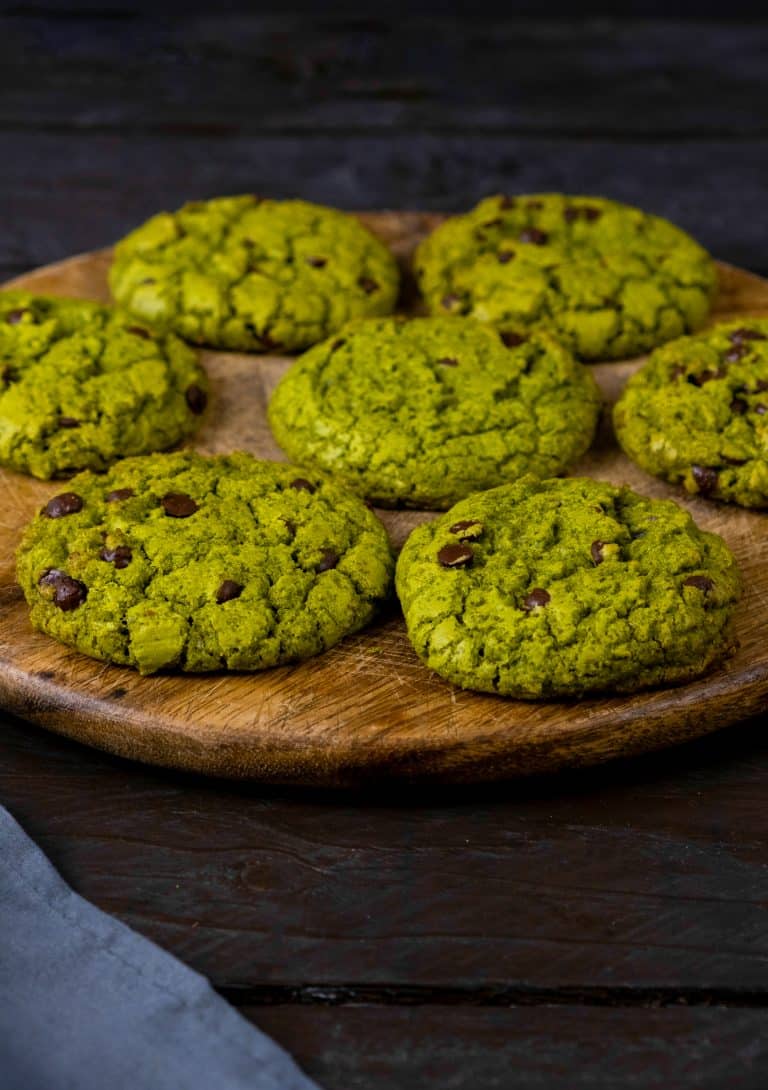 There are a few things that go really well with matcha chocolate chip cookies. A cold glass of milk is always a good choice, but if you want something a little bit more special, try one of these options:
-A cup of hot coffee or tea
-A scoop of vanilla or green tea ice cream
-A slice of fresh fruit (matcha and lime is a great combination!)
These cookies are also delicious on their own, so don't feel like you need to serve them with anything. Just sit back, relax, and enjoy
How long can cookies last?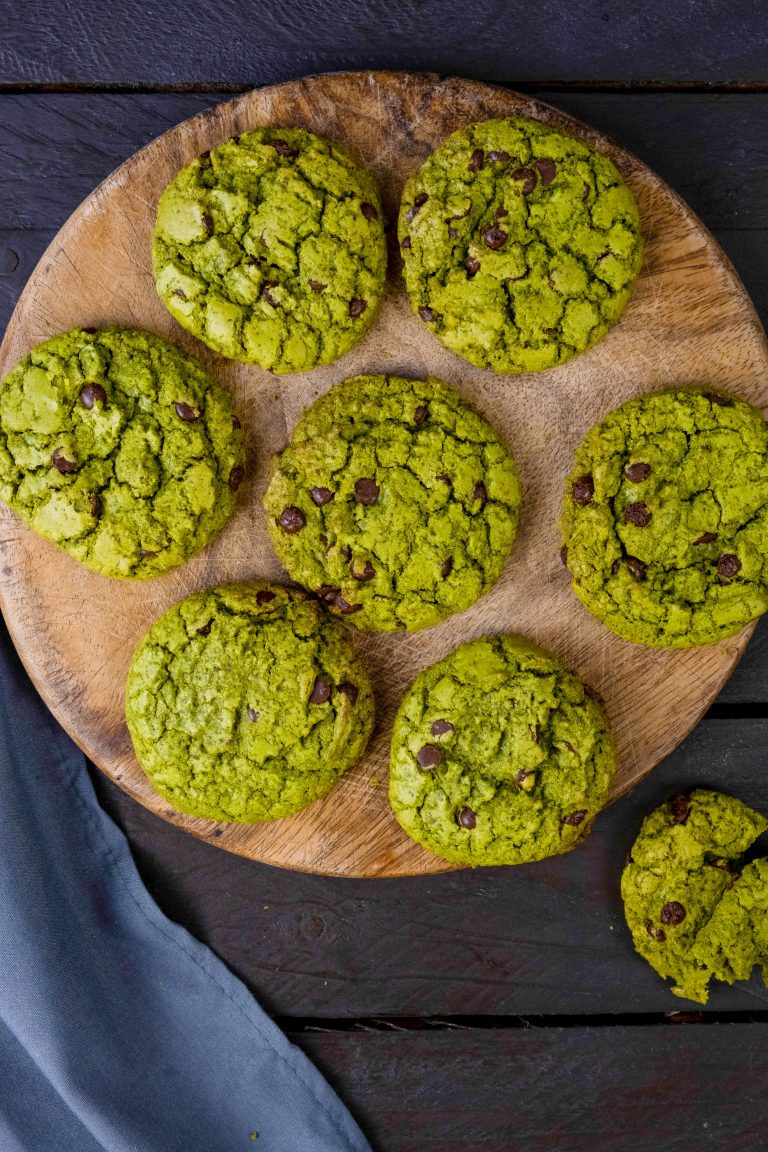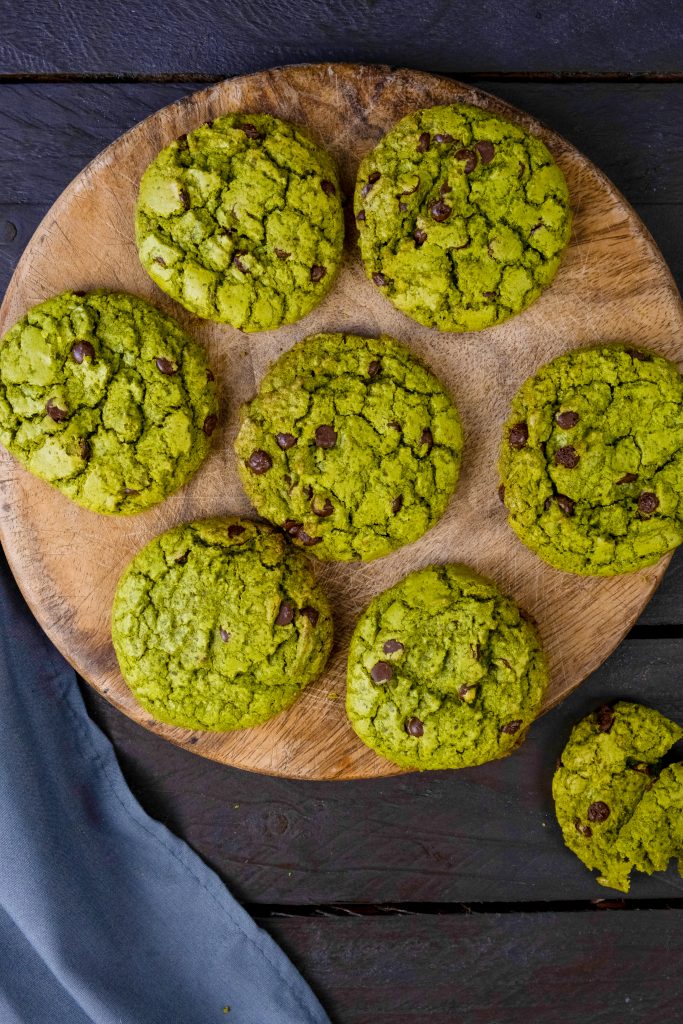 If you store your cookies in an airtight container, they should last between 1-2 weeks. homemade cookies will last for about a week. If you want them to last longer, you can freeze them for up to two months.
Of course, this all depends on how fresh your ingredients were, to begin with. For example, using older baking powder will cause your cookies to go flat quicker than if you had used fresher powder.
How to Store Matcha Chocolate Chip Cookies?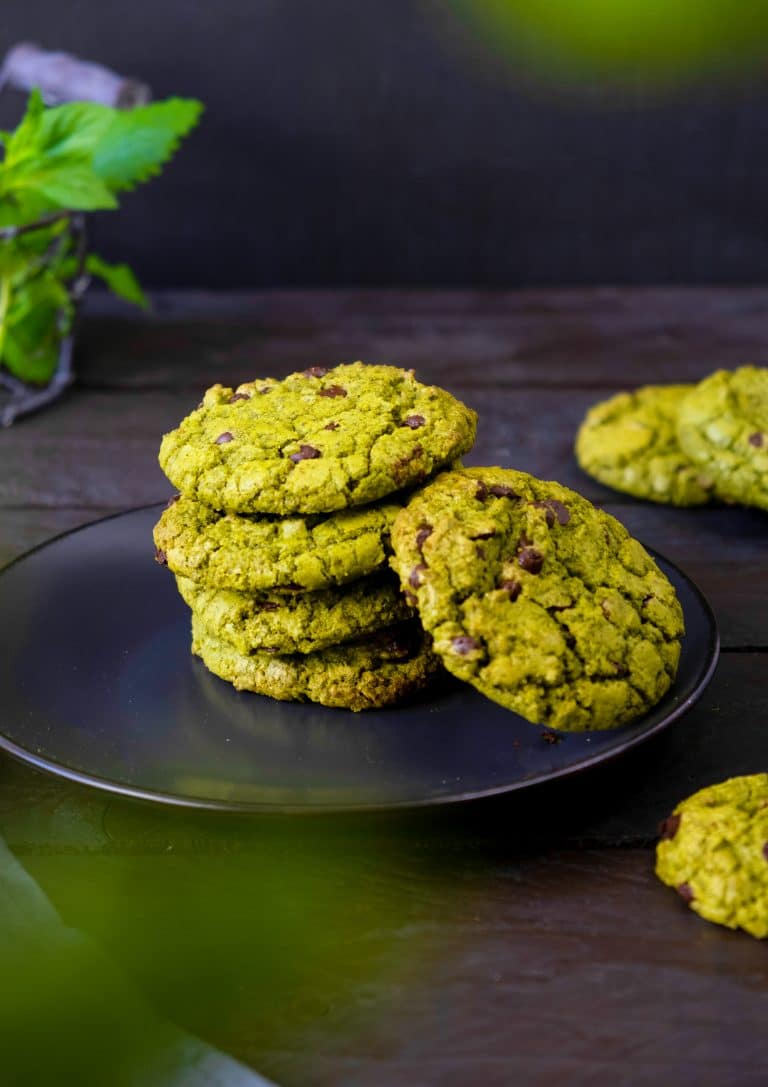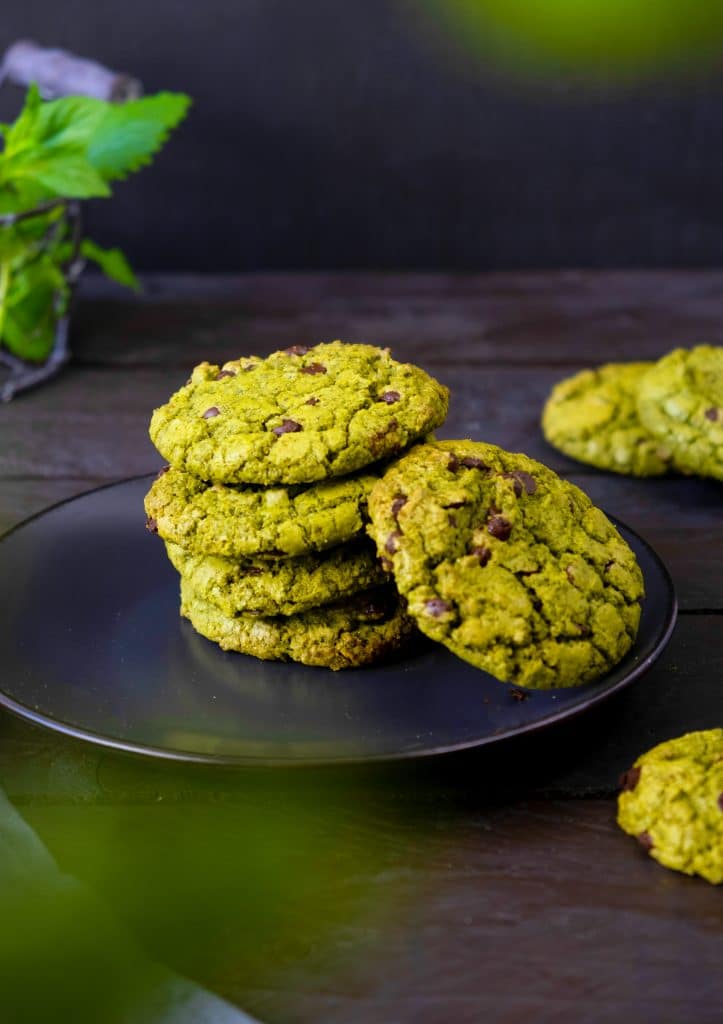 If you want your matcha chocolate chip cookies to stay fresh and delicious, there are a few things you need to do.
First, make sure to store them in an airtight container. This will keep them from drying out or getting stale.
Second, if you're not going to eat them right away, put them in the freezer. This will help them last longer and stay fresher.
Third, when you're ready to eat them, make sure to let them thaw before you enjoy them.
With these tips in mind, you can be sure that your matcha chocolate chip cookies will be fresh and delicious every time you want to enjoy them!
Check out the printable recipe below and let me know what you think about these Matcha Chocolate Cookies Recipe (comments below).
To receive our daily recipes you can follow us on Facebook, Pinterest, and Instagram.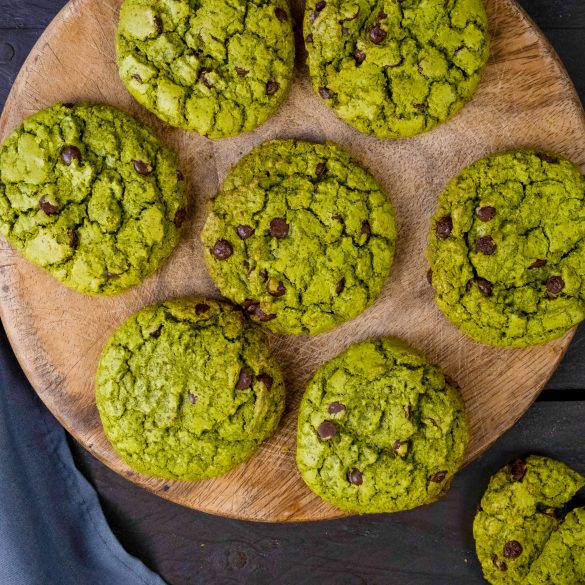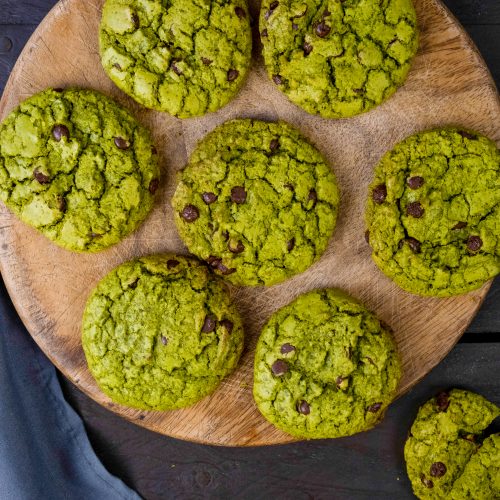 Matcha Chocolate Chip Cookies
These cookies are the perfect flavourful mix of matcha and chocolate. Chocolate chips and matcha powder give them a perfect balance, not too sweet but still just as delicious.
Ingredients
2

tbsp

16 grams cornstarch

1⅓

c.

167 grams all-purpose flour (measured by weight or fluffed using the spoon-and-level method)

½

c.

114 grams salted butter – melted

1

tbsp

15 grams matcha powder – high-quality, culinary grade

½

tsp

2 grams baking soda

½

c.

110 grams light brown sugar, packed

⅔

c.

133 grams granulated sugar

1

large egg – room temperature

1½

tsp

7ml pure vanilla extract

flaky sea salt – for sprinkling

optional

¾

c.

177 grams chocolate chips – semi-sweet, dark, or white
Instructions
Place the flour, cornstarch, baking soda, and matcha in a medium bowl. Mix well until blended and set aside.

Mix the melted butter with sugars, egg, and vanilla in a large bowl until smooth.

Into the wet ingredients, slowly mix the dry ingredients until blended. Then, fold in the chocolate chips.

Using plastic wrap, tent the bowl and place it in the fridge to chill the dough for at least 30 minutes.

In the meantime, prepare the oven and preheat it to 350 degrees F. Using parchment paper or a silicone baking liner, line a large baking sheet.

Scoop out the dough using a small cookie scoop and place the cookie dough onto the prepared baking sheet about 2 inches apart.

Place in the preheated oven and bake for about 10 to 12 minutes or until the edges of the cookies are golden brown. It is okay if the middle of the cookies still looks underdone as they will continue to cook a little as they cool.

If desired, sprinkle the cookies with flaky sea salt. Enjoy!
Notes
1. In baking, I usually use salted butter. If using unsalted butter, simply add 1/4 tsp of salt to the dry ingredients.
2. Always use a kitchen scale to measure the dry ingredients. This guarantee that the cookies will spread. Also, ensure soft and chewy cookies. Or use the spoon-and-level method if a kitchen scale is not available.
3. Feel free to add extra 2 tbsp flour to the dry ingredients if you prefer slightly thicker cookies.
Nutrition
Serving:
1
cookie
Calories:
195
kcal
Carbohydrates:
30
g
Protein:
2
g
Fat:
8
g
Saturated Fat:
5
g
Polyunsaturated Fat:
0.3
g
Monounsaturated Fat:
1
g
Trans Fat:
0.2
g
Cholesterol:
21
mg
Sodium:
70
mg
Potassium:
38
mg
Fiber:
1
g
Sugar:
19
g
Vitamin A:
197
IU
Calcium:
23
mg
Iron:
1
mg
FAQs
Why do my Matcha cookies turn brown?
When baking with matcha, it's important to keep in mind that the powder can cause baked goods to brown more quickly than usual. This is because matcha contains tannins, which are natural compounds that can lead to browning.
You can prevent your matcha cookies from turning brown by baking cookies at a lower temperature for a shorter amount of time.
Why are my Matcha chocolate chip cookies dry?
There are a few reasons why your Matcha chocolate chip cookies might be dry. One reason could be that you didn't add enough moisture to the dough. When working with matcha powder, it's important to add a bit of liquid (milk or water) to help make a smooth dough. Another reason could be that you overbaked your cookies. Be sure to watch your cookies closely as they bake and remove them from the oven as soon as they're lightly golden brown.
CHECK OUT THESE AWESOME, EASY RECIPES: