Teriyaki and Honey Mustard Sauce Party Meatballs – If you're like me, you tend to get bored with the same old meatball recipes. Well, I've been experimenting with different sauces and ingredients, and I've come up with a recipe that is so good, all your guests will be asking for the recipe, too!
Try these teriyaki sauce meatballs! They're perfect for parties or any other gathering. Plus, they're really simple to make. All you need is a few ingredients and a little bit of time. So give them a try today!
If you're looking for a delicious meatball recipe, this is the one! These frozen meatballs come out moist and juicy on the inside with a nice crispy crust on the outside. Mix up that sauce while they're baking and in no time you'll have a burst of flavor in every bite!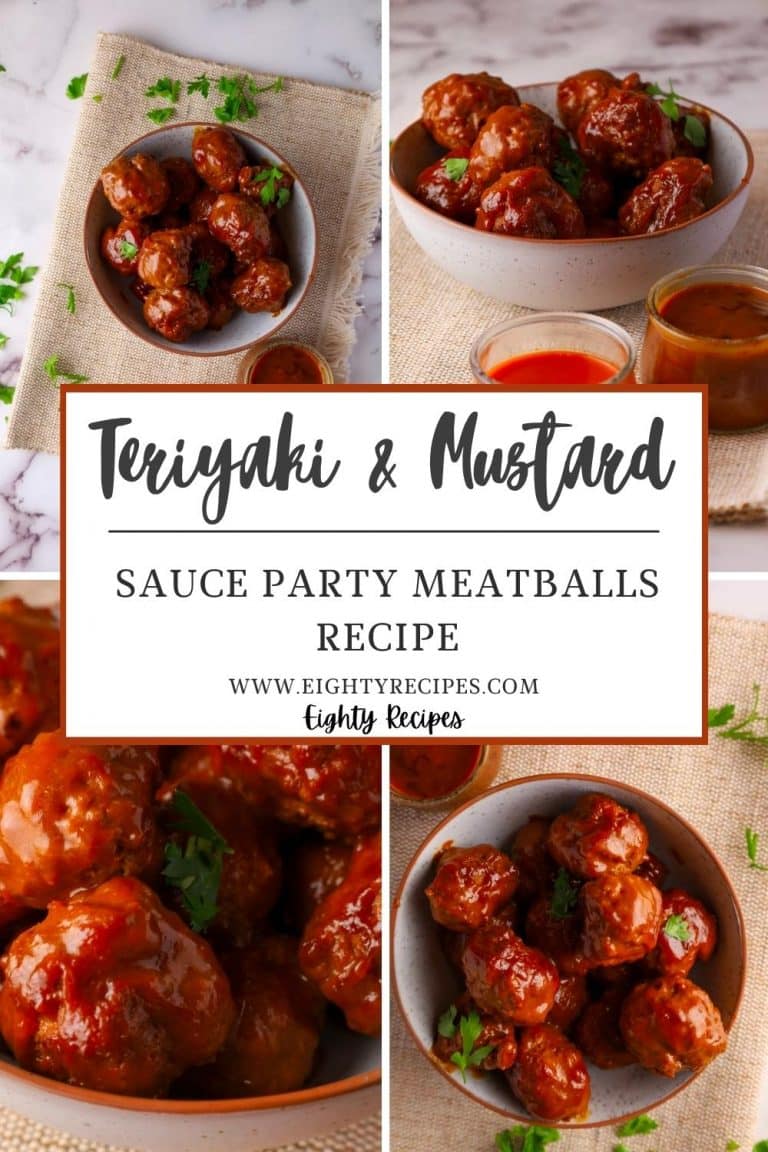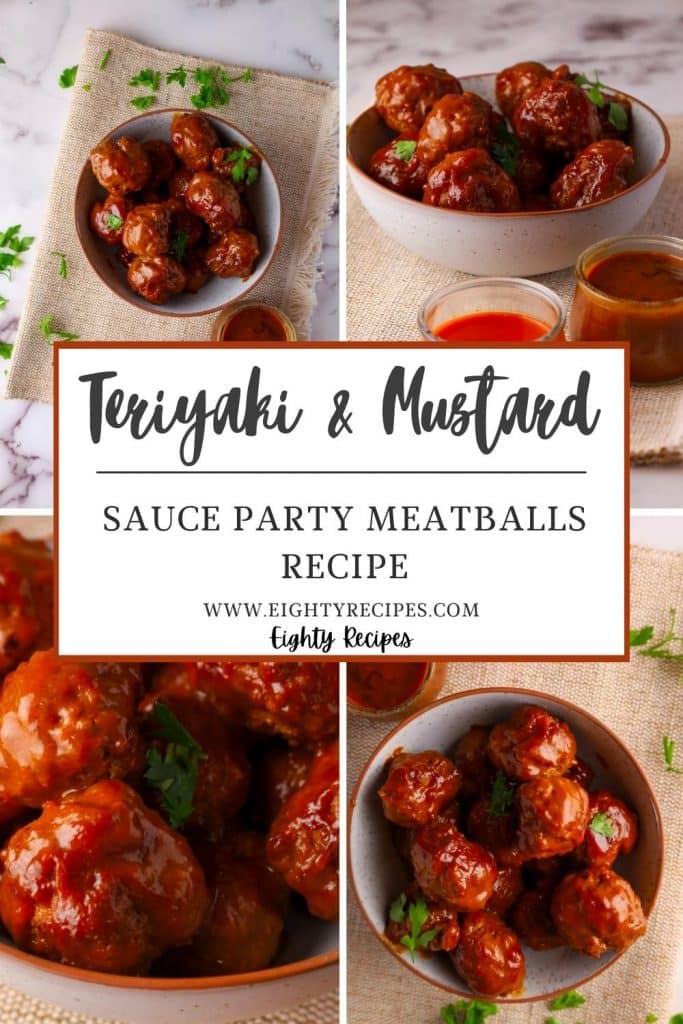 About Teriyaki Sauce party meatballs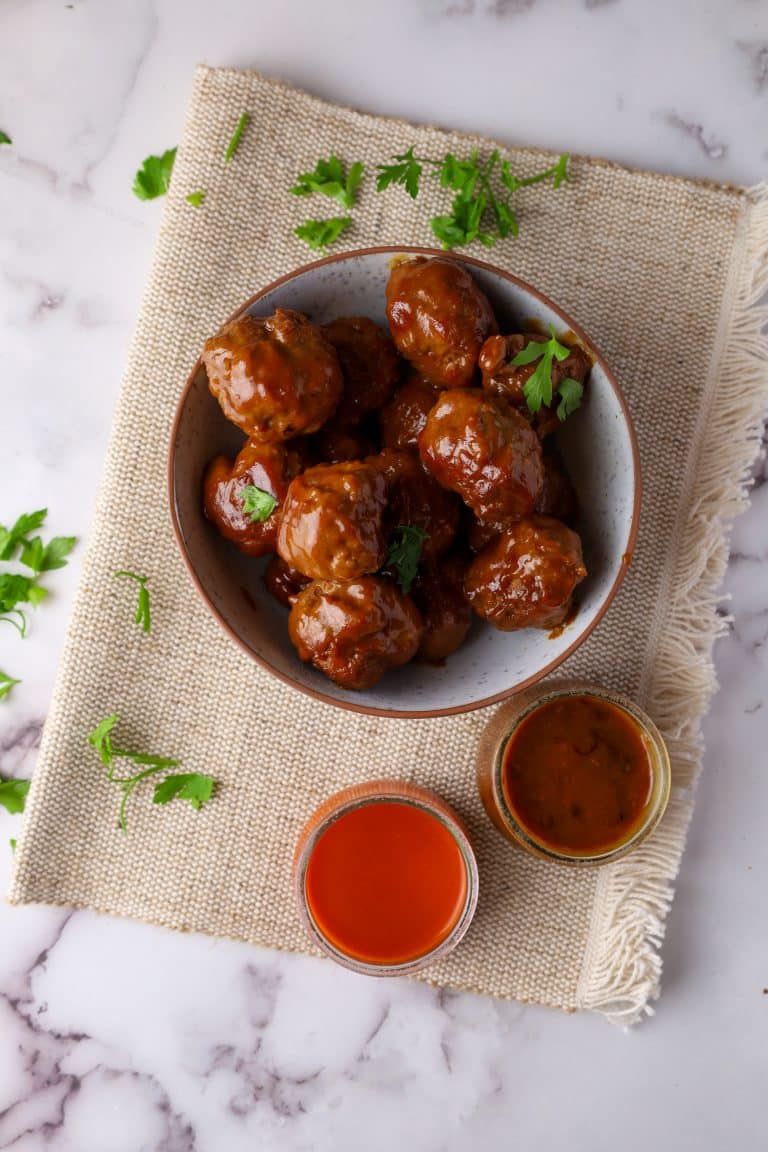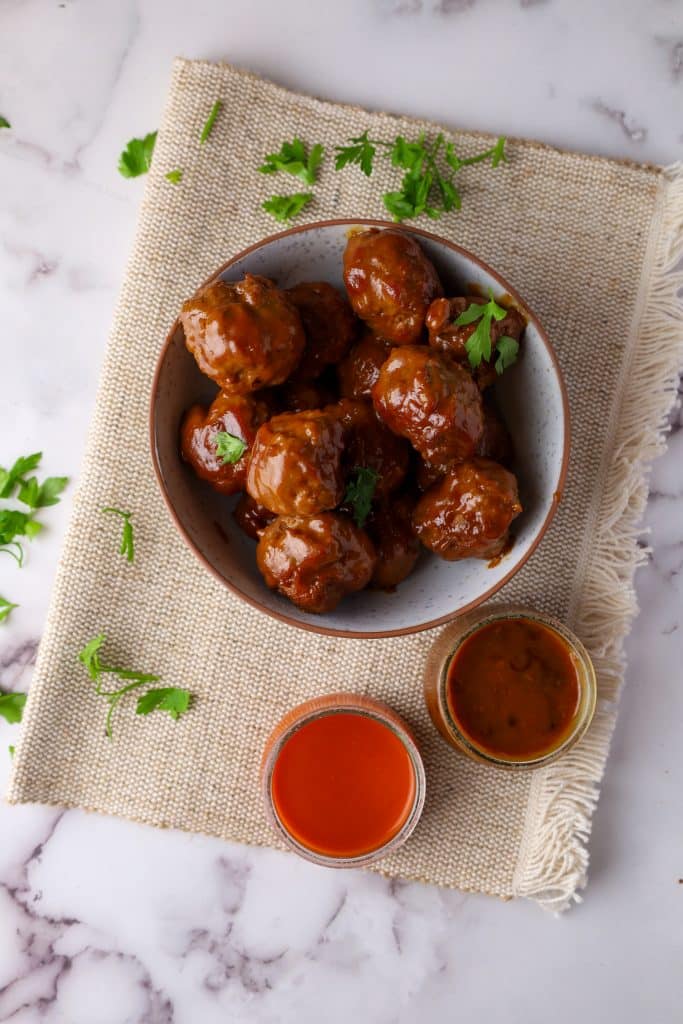 Teriyaki and honey mustard sauce meatballs are a delicious and easy way to feed a crowd. These frozen meatballs are cooked in a saucepan with your favorite sauce.
Sauce party meatballs are a great option for feeding a large group of people. They're easy to make and can be cooked in a slow cooker, which keeps them warm and ready to serve. Serve them over rice or pasta for a complete meal.
How To Make Sauce Party Meatballs
Sauce party meatballs are a fun and easy way to add some flavor to your next party or gathering.
All you need is a package of frozen meatballs, hot chili sauce, Sweet Baby Rays Teriyaki sauce, and honey mustard dressing.
Mix hot sauce, Sweet Baby Rays Teriyaki sauce, and honey mustard.
Now thaw the meatballs according to the package instructions. Once thawed, add them to a slow cooker or saucepan with a mixture of our sauce. Heat on low until the meatballs are cooked through and the sauce is hot.
Serve with toothpicks for easy eating. These delicious little bites are sure to be a hit with your guests! Whether you choose a sweet or savory sauce, everyone will love these easy and tasty sauce party meatballs.
Sauce Party Meatballs Variations: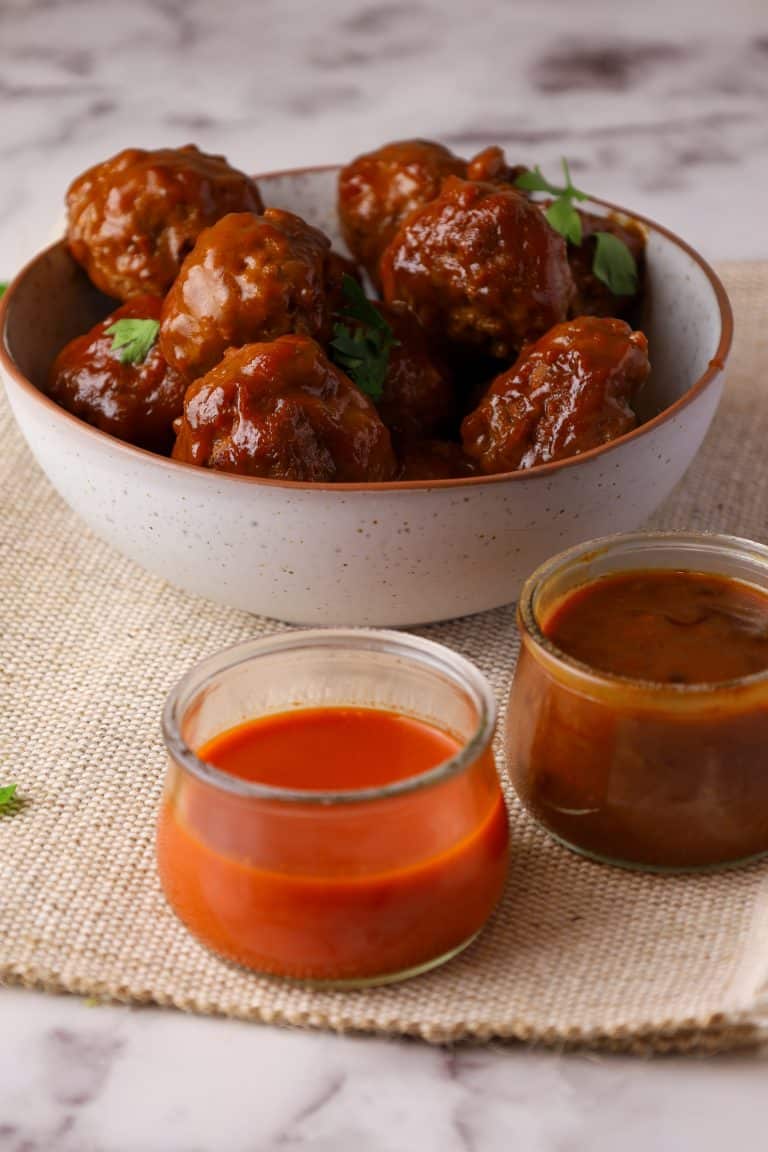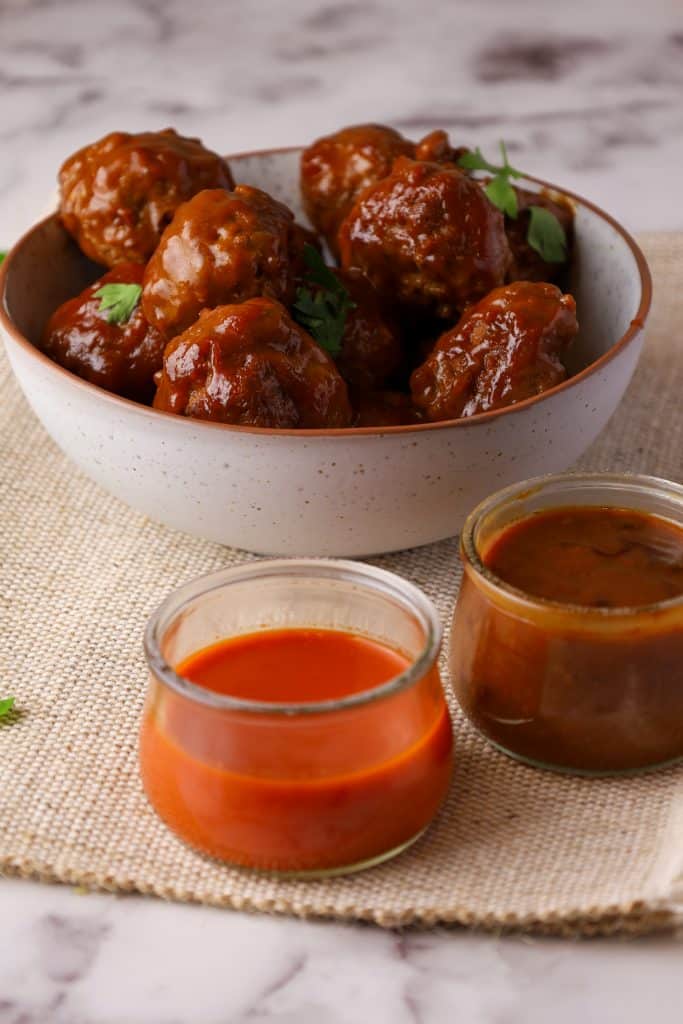 When it comes to sauce party meatballs, there's something for everyone. If you're looking for a classic flavor, try the Italian-style meatballs in marinara sauce. For something a little different, try the Asian-style meatballs in sweet and sour sauce. And for those who like it hot, there's always the jalapeno-spiked meatballs in the spicy tomato sauce!
No matter what your taste, sauce party frozen meatballs are sure to be a hit at your next gathering. So bring on the fun – and the flavor – with these delicious bites!
Try Different Sauces
There are many types of sauces that can be used for variation with these easy party meatballs. A few popular options I tried before included marinara sauce, barbecue sauce, sweet and sour sauce, and hot sauce depending on if you like a little touch of spicy or not. Experiment with different flavors to find the perfect match for your taste buds.
How Many Meatballs is One Serving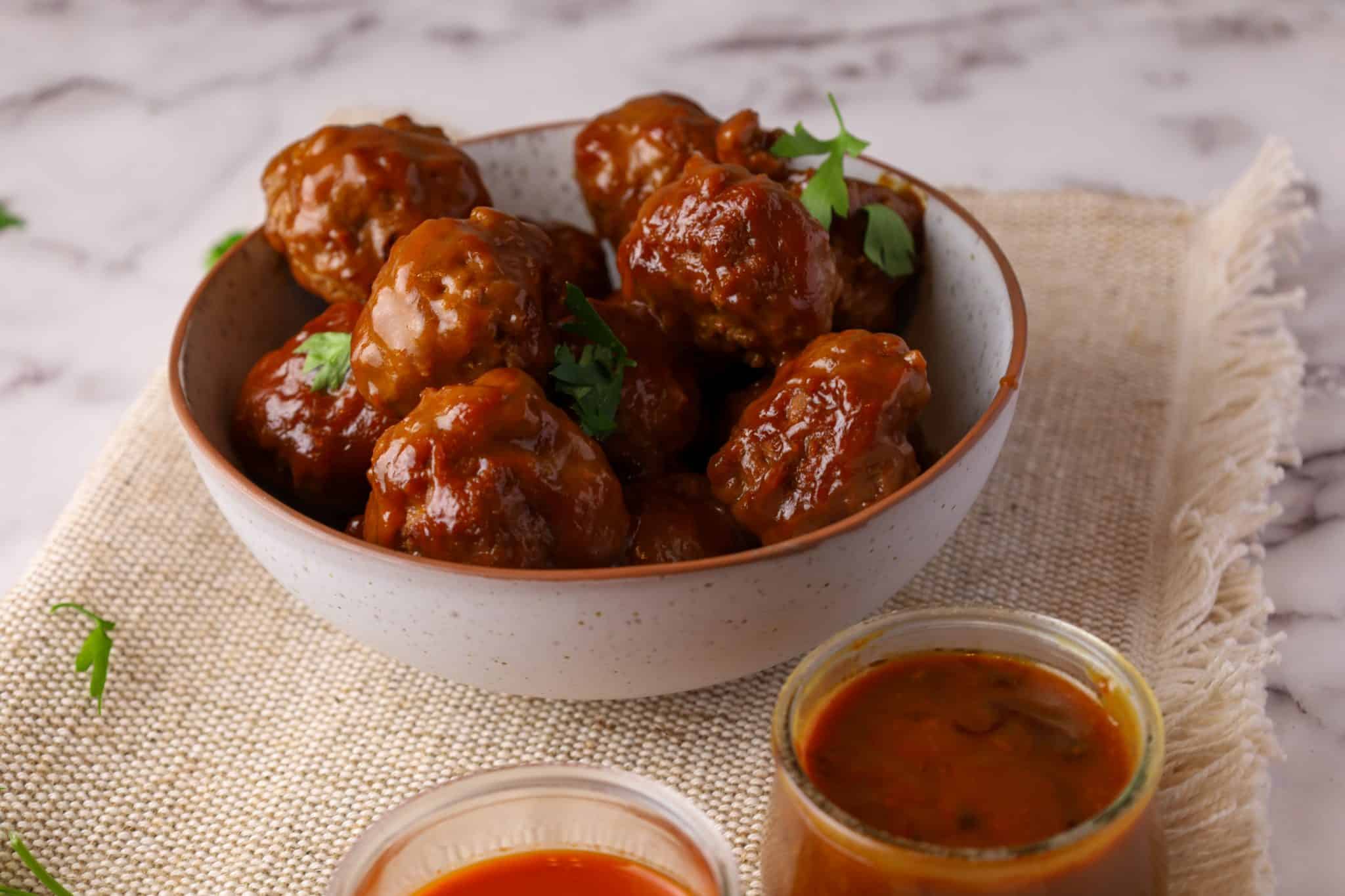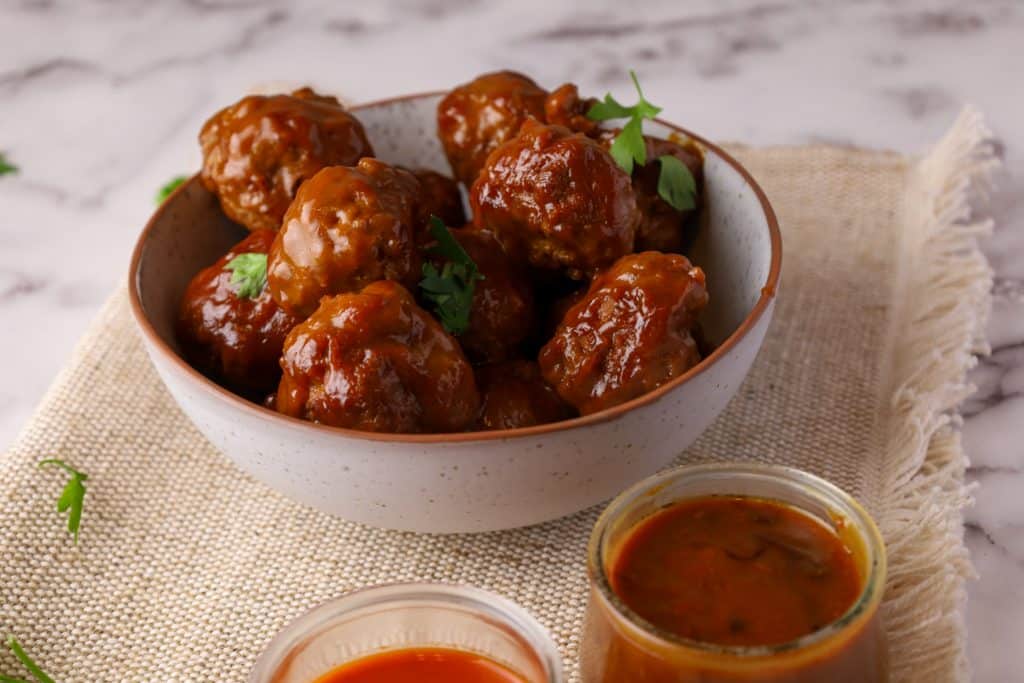 One serving of meatballs is typically four to six meatballs. Of course, this depends on the size of the meatballs. If you're serving mini meatballs, you might be able to get away with eight or more per person. Conversely, if you're making massive meatballs, four might be enough.
What goes well with these Teriyaki and honey mustard sauce meatballs?
As for me I all time I like to serve it with some rice and steamed vegetables and my husband like them just as they are.
Serve them with a side of rice and steamed vegetables, or on their own as an appetizer. Either way, they're sure to be a hit!
Can I use homemade meatballs?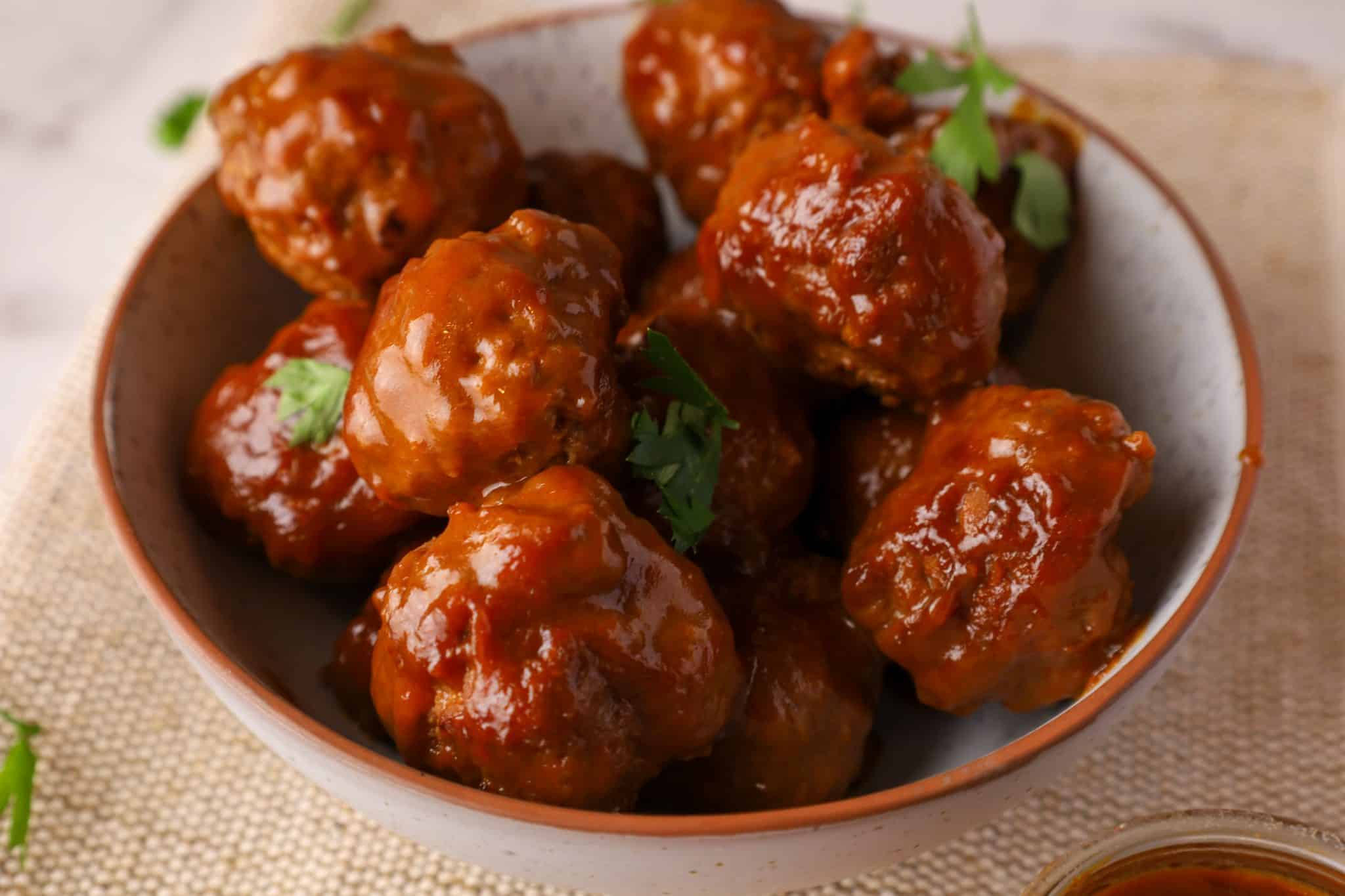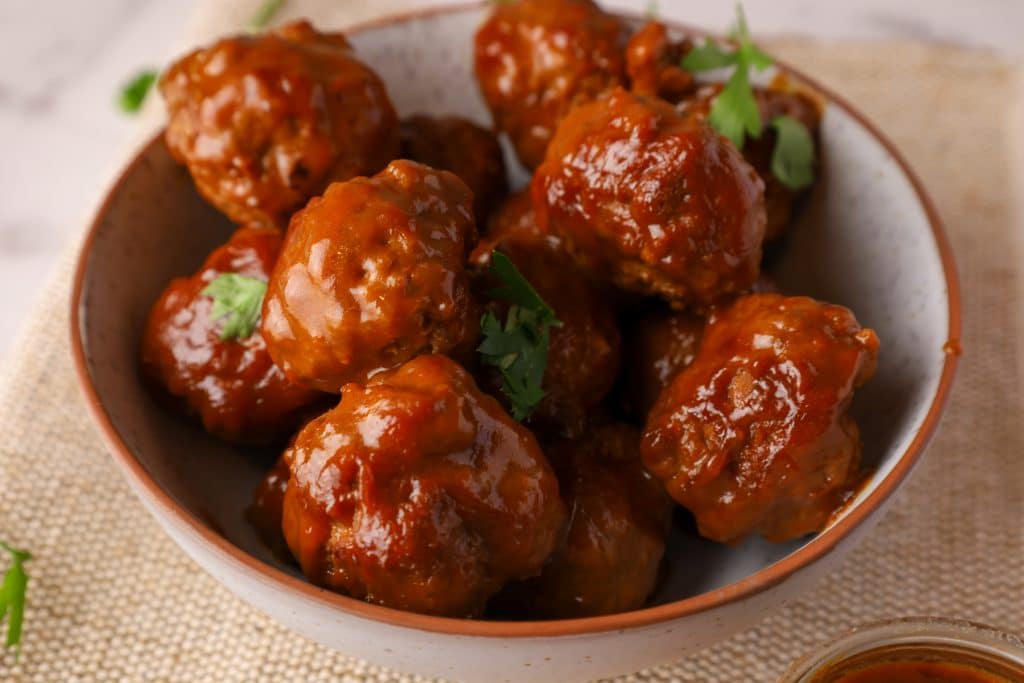 You can absolutely use homemade meatballs in this recipe! In fact, we think they taste even better than store-bought frozen meatballs. If you're short on time, you can even make the meatballs ahead of time and freeze them until you're ready to use them.
In order to freeze the meatballs, first place them on a baking sheet lined with parchment paper. Then, place the baking sheet in the freezer for about 2 hours, or until the meatballs are frozen solid. Once frozen, transfer the meatballs to a freezer-safe container or bag. Label the container or bag with the date and contents, then store them in the freezer for up to 3 months.
When you're ready to use the frozen meatballs, thaw them overnight in the refrigerator. Then, cook as desired according to your recipe.
What to do with leftovers?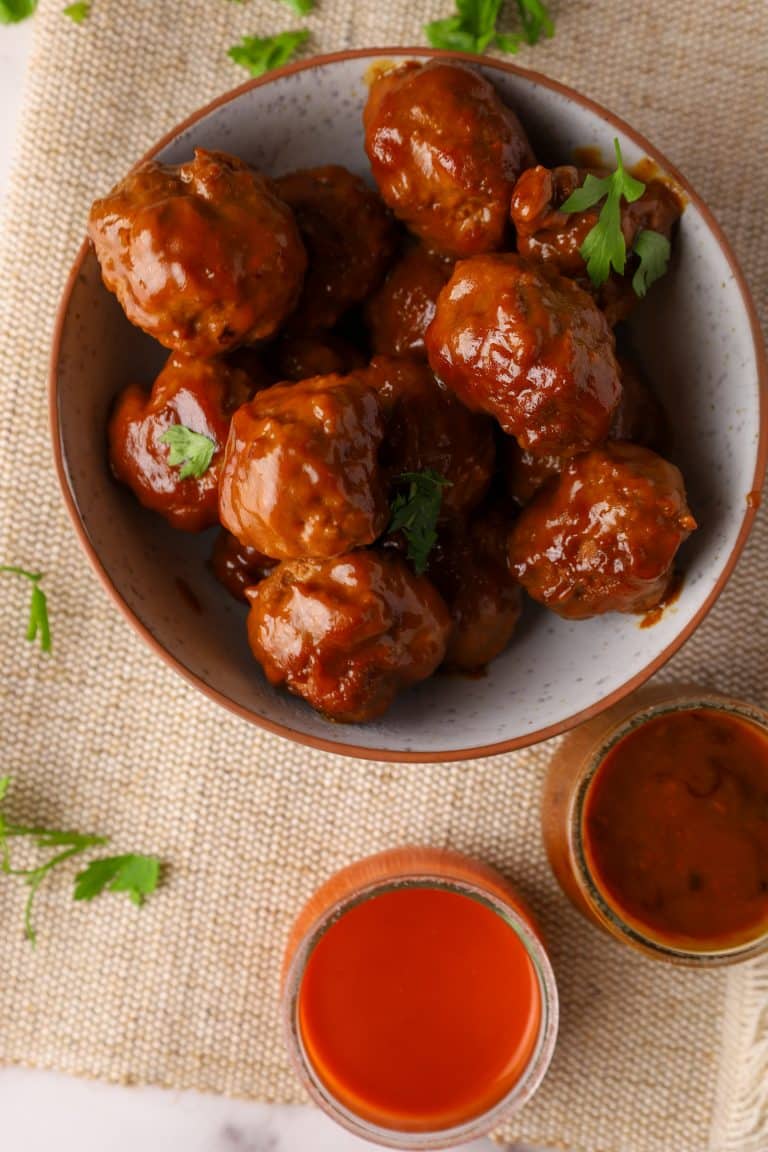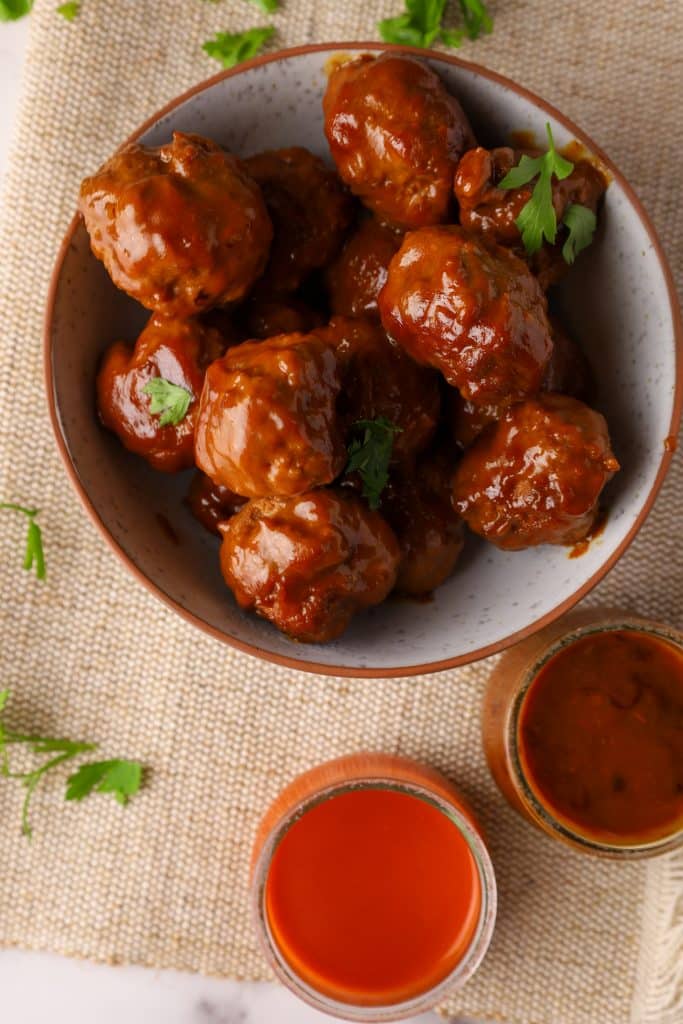 There are so many delicious things you can do with leftover sauce party meatballs! Here are a few of our favorite ideas:
-Toss them in a salad for a hearty, filling lunch-Use them as toppings on a pizza or flatbread-Stir them into pasta or rice for an easy one-pot meal
-Add them to a soup or stew for extra flavor and protein
-Turn them into mini sandwiches or wraps.
The possibilities are endless! So next time you have some leftover sauce party meatballs, get creative and see what new dish you can come up with.
Expert Tips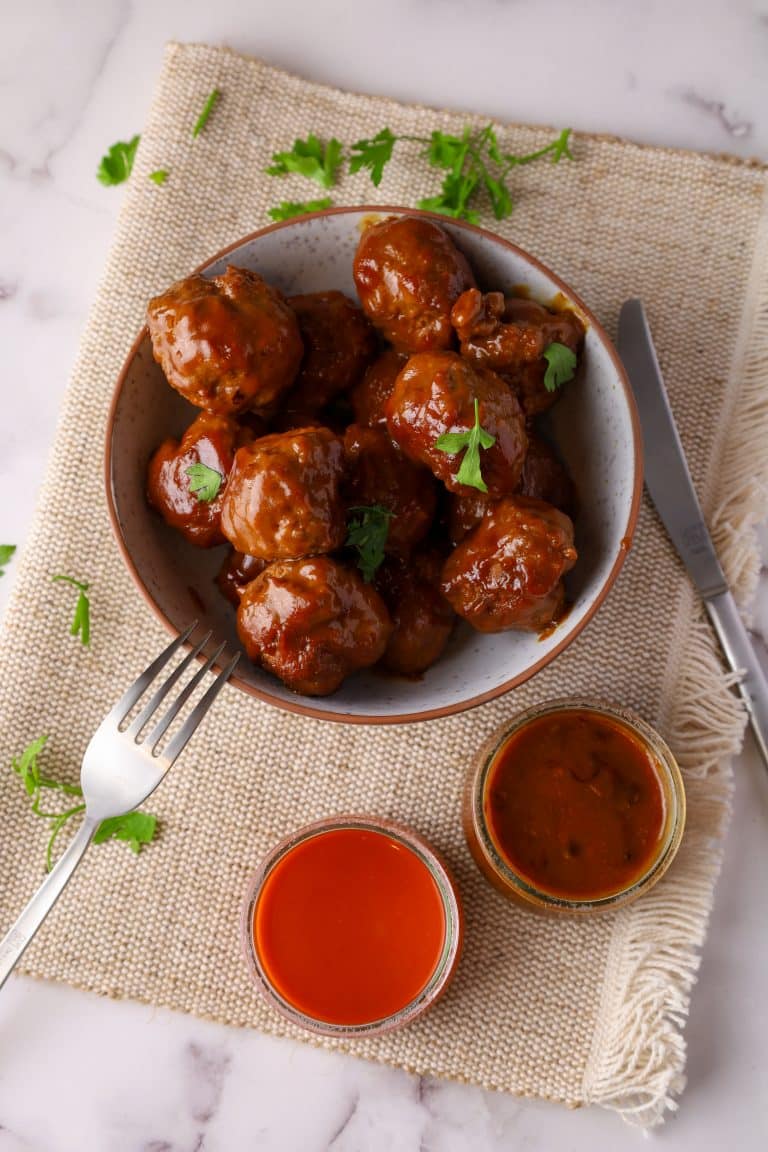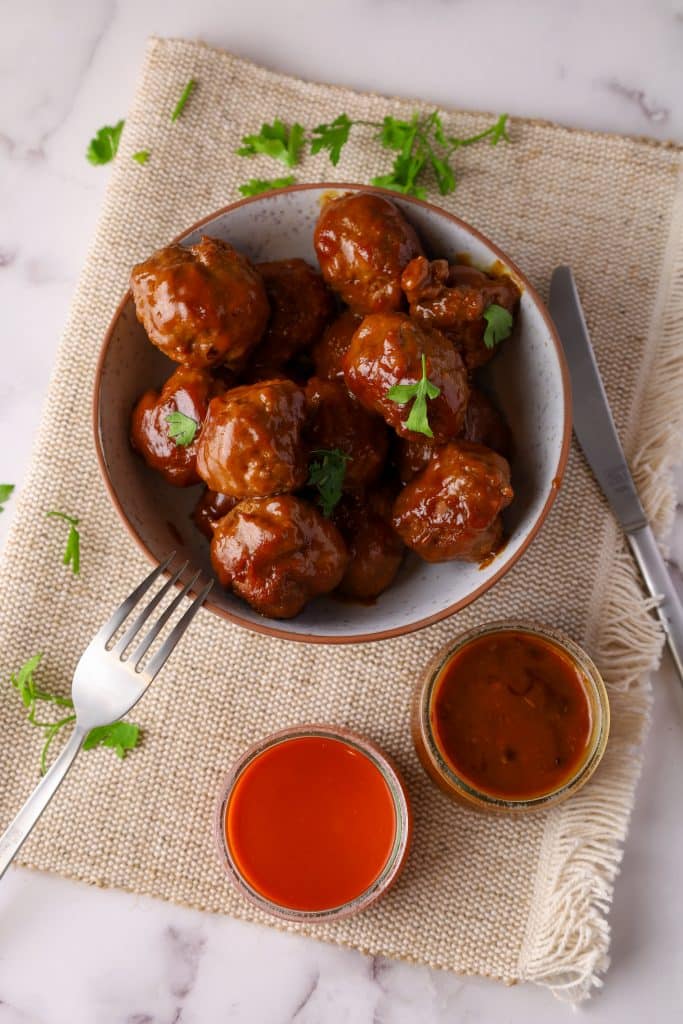 Don't forget the sides! A good sauce party spread should include some bread or crackers for dipping, as well as some veggies or fruit for a healthy option. And of course, don't forget the drinks! A nice selection of beer, wine, and spirits will help your guests relax and enjoy their meals.
Check out the printable recipe below and let me know what you think about this Sauce Party Meatballs Recipe (comments below).
To receive our daily recipes you can follow us on Facebook, Pinterest, and Instagram.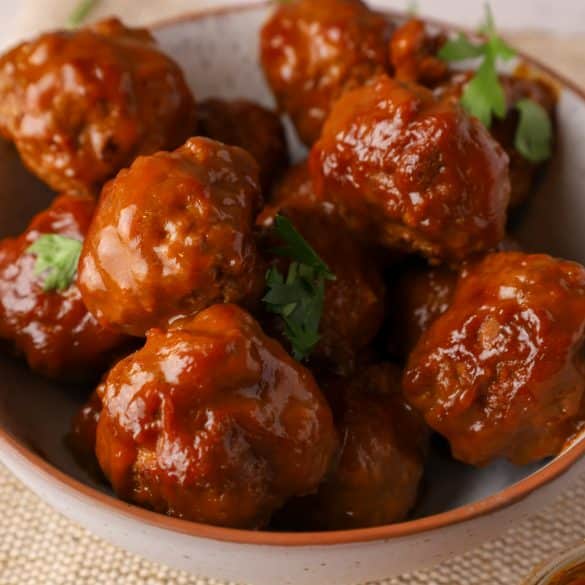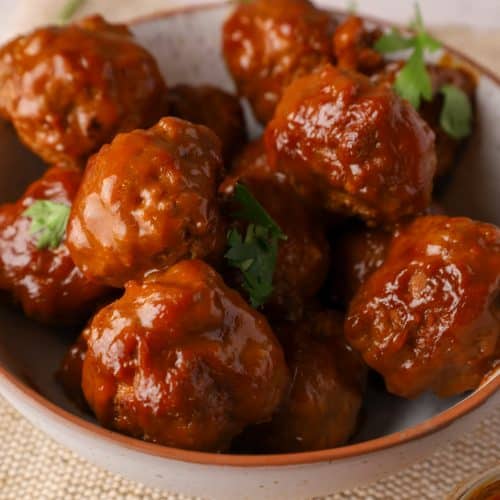 Teriyaki and Honey Mustard Sauce Meatballs: The Best Recipe If You're Having A Party
These party meatballs are so easy to make and are gone in minutes! Made with just a few ingredients, they are perfect for any party or gathering
Ingredients
2

lb

of frozen meatballs

1

cup

of honey mustard dressing

1

cup

of teriyaki sauce

¼

cup

hot sauce

if you like to be spicier then 1 cup of hot sauce
Instructions
In a large saucepan over medium heat, cook the meatballs in the honey mustard dressing, teriyaki sauce, and hot sauce until heated through for about 25-30 minutes. (Stir frequently)
Notes
Make sure your meatballs are the same size. This will help them cook evenly and prevent any undercooked or overcooked meatballs.
Nutrition
Calories:
315
kcal
Carbohydrates:
15
g
Protein:
17
g
Fat:
19
g
Saturated Fat:
7
g
Polyunsaturated Fat:
2
g
Monounsaturated Fat:
9
g
Cholesterol:
65
mg
Sodium:
1437
mg
Potassium:
334
mg
Fiber:
0.05
g
Sugar:
9
g
Vitamin A:
16
IU
Vitamin C:
5
mg
Calcium:
20
mg
Iron:
1
mg
Sauce Meatballs FAQs
How many meatballs do I need for 20 people?
For a group of 20 people, you will need approximately 120 meatballs. This may seem like a lot, but keep in mind that your guests will likely want seconds (and maybe even thirds!).

To make sure everyone gets their fair share, it is best to make at least 50% more than you think you will need. So, for a group of 20 people, aim for at least 150 meatballs. This way, even if some guests go back for seconds (or thirds!), there will still be plenty to go around.
How do you keep meatballs warm for a party?
If you're serving meatballs at a party, you'll want to keep them warm so they're at their best. There are a few ways you can do this.
One option is to place the meatballs on a baking sheet and keep them in a low oven (200-250 degrees Fahrenheit) until they're ready to be served. This will prevent them from drying out and keep them warm throughout.
Another option is to place the meatballs in a slow cooker set on low. This will also keep them moist and prevent them from drying out. If you're using this method, you'll want to add a little bit of sauce to the bottom of the slow cooker so the meatballs don't stick and burn.
Should you cover meatballs when cooking in sauce?
There are two schools of thought when it comes to covering meatballs when cooking in the sauce. Some people believe that covering the meatballs allows them to cook evenly and absorb more flavor from the sauce. Others believe that leaving the meatballs uncovered allows the sauce to reduce and thicken, resulting in a richer flavor.
If you're looking for evenly cooked meatballs with maximum flavor absorption, cover them while they cook. If you're looking for a thicker, richer sauce, leave them uncovered. Either way, your guests will be happy with these delicious party meatballs!
CHECK OUT THESE AWESOME, EASY RECIPES: