Who doesn't love cheesy garlic bread? It goes with everything and is the perfect way to make your meal a bit heartier. But sometimes, you just want an easy side dish without a lot of fuss. This is when cheesy garlic bread comes in to save the day!
All you need is a loaf of bread, some butter, garlic, and cheese. You can use any type of cheese you like, but I think parmesan or mozzarella works best. Then, simply spread the mixture on your bread and bake until the cheese is melted and bubbly.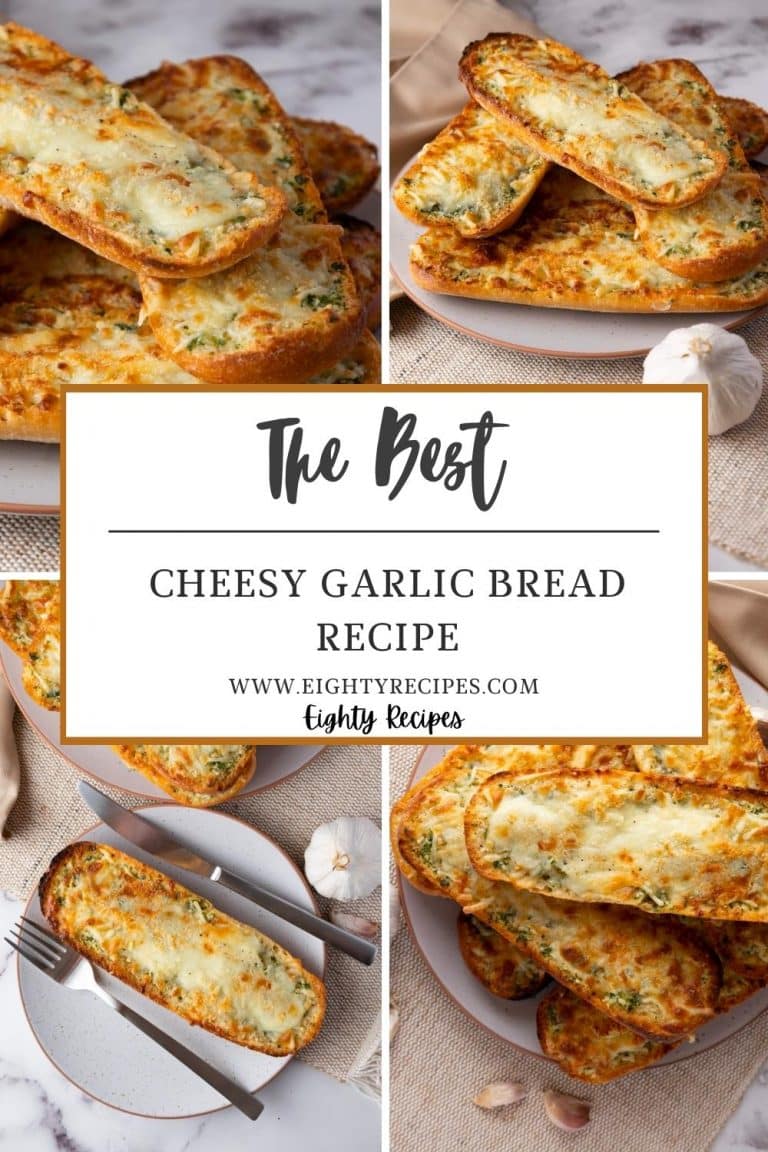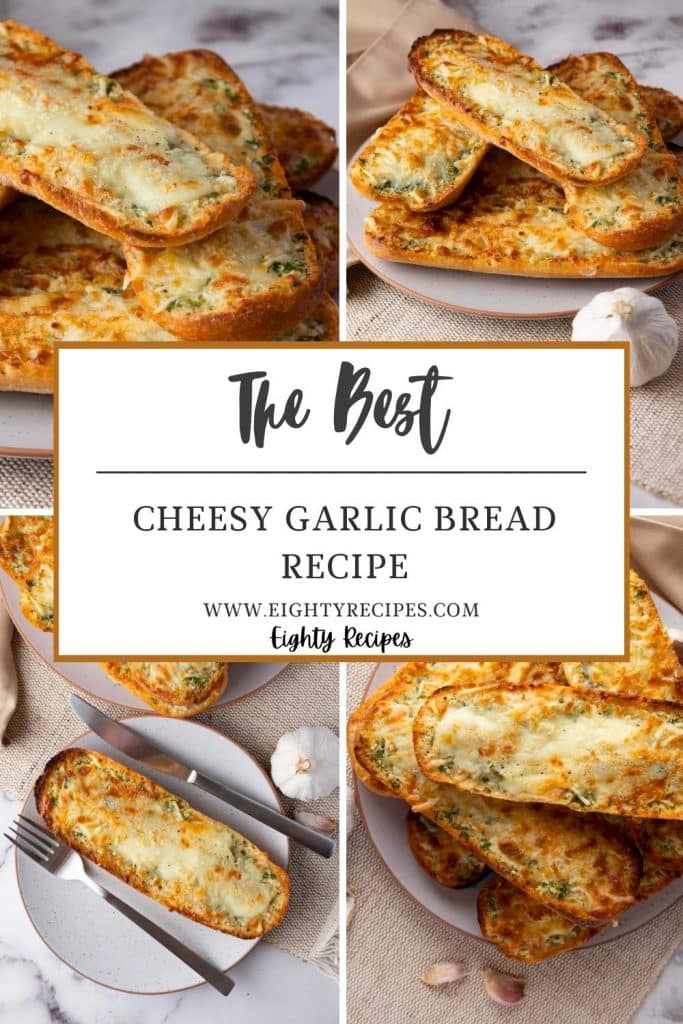 This dish is so simple, yet so delicious. It's perfect for a busy weeknight meal or even as an appetizer for a party. So next time you're looking for an easy side dish, reach for a loaf of bread and whip up some cheesy garlic bread!
What is Cheesy Garlic Bread?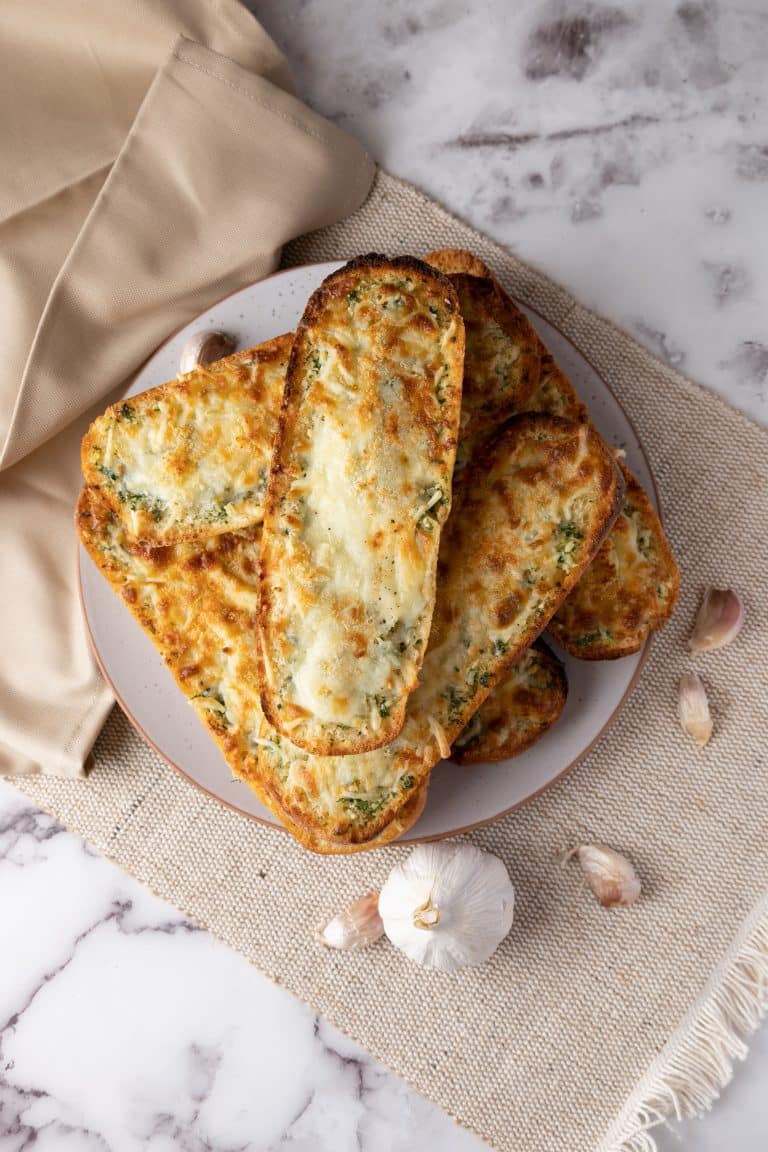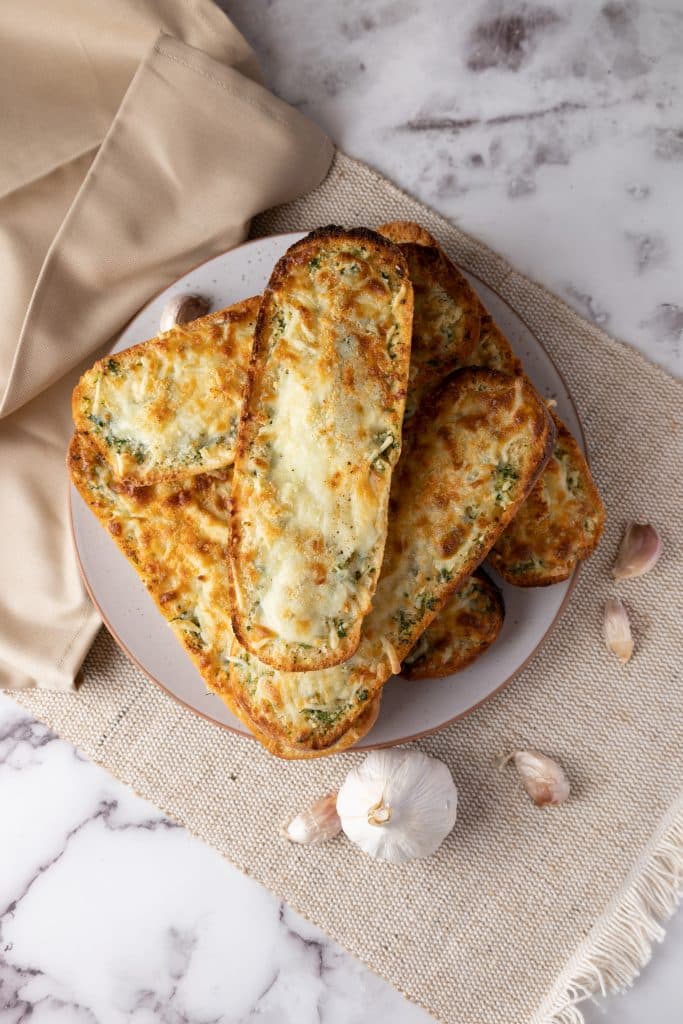 This dish is sure to please any garlic bread lover with its cheesy, garlicky goodness.
This recipe for cheesy garlic bread is made with a blend of mozzarella and Parmesan cheeses, as well as fresh garlic, for a flavorful and comforting dish. The bread is first topped with a buttery garlic spread, then the cheese mixture is added on top.
After baking until the cheese is melted and bubbly, this cheesy garlic bread can be served warm and enjoyed immediately. For an extra special treat, serve this bread with a side of marinara sauce for dipping.
How to make Garlic Bread With Cheese
This recipe for the best cheesy garlic bread ever is sure to please all the cheese lovers in your family. It is made with just a few simple ingredients, this garlic bread is packed full of flavor.
To start, In a small bowl, mix together olive oil, softened butter, minced garlic, and parsley. Set aside.
Preheat oven to 350 degrees F (175 degrees C).
Cut the loaf of french bread in half horizontally. Spread the garlic butter over the top and inside of both halves of the bread. Sprinkle with Parmesan cheese.
Wrap the bread loosely in aluminum foil and place it on a baking sheet. Bake for about 10 minutes, or until heated through and the cheese is melted.
What Goes Well With Garlic Bread?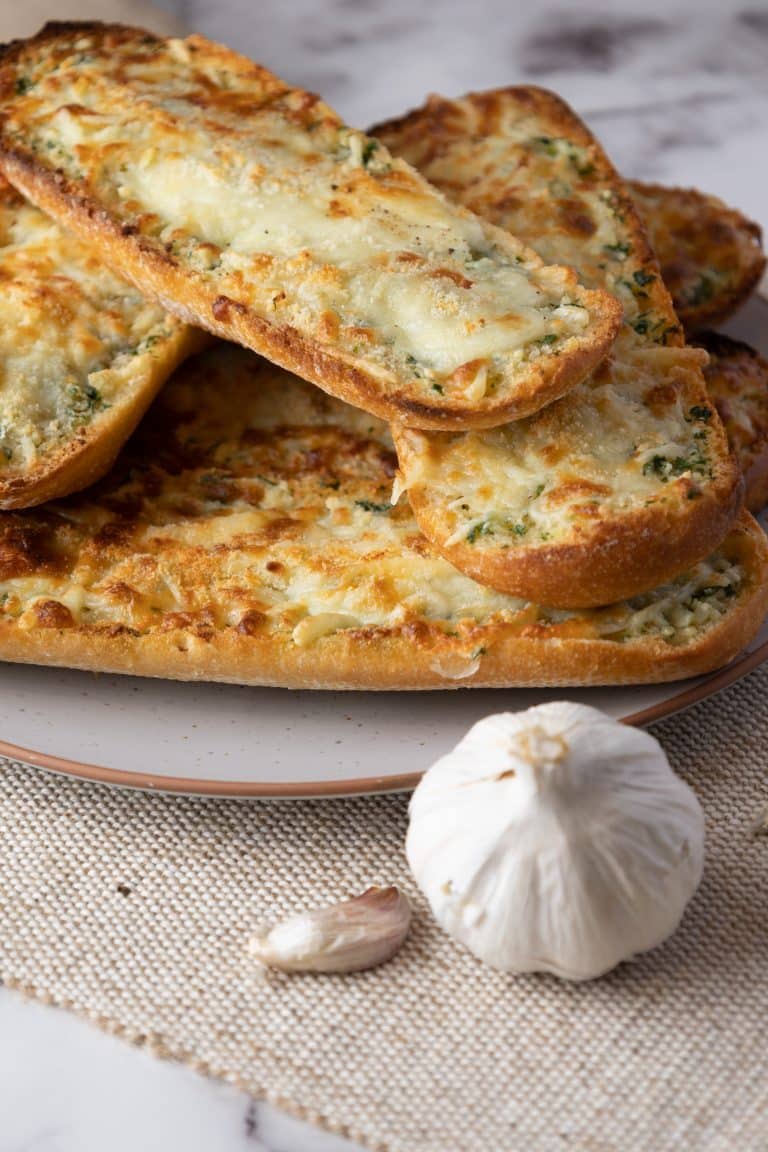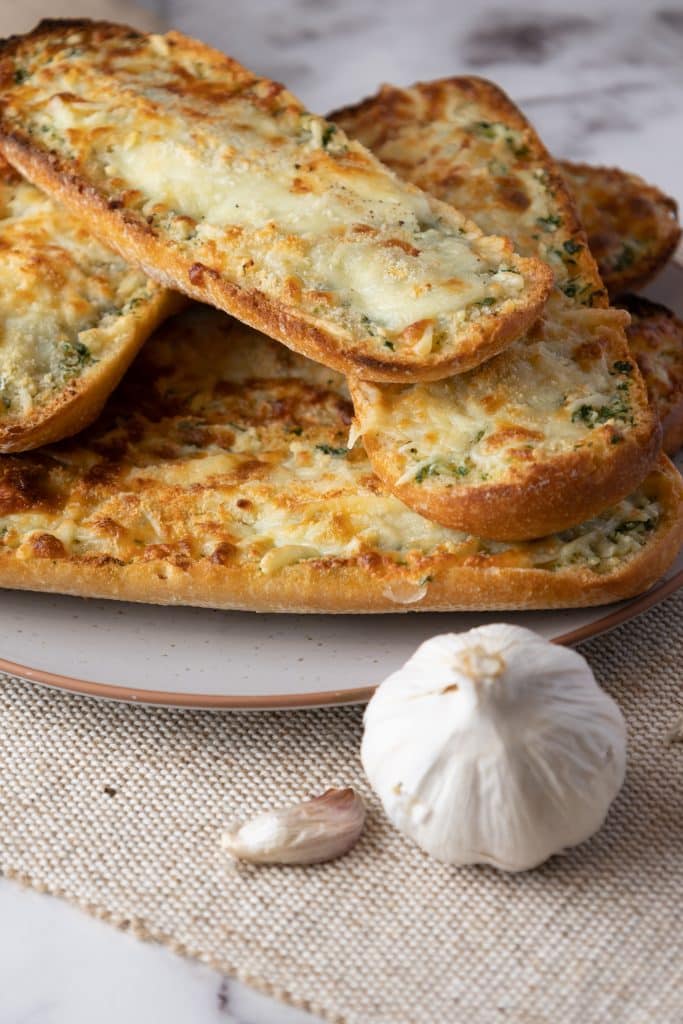 If you're looking for the perfect side to your garlic cheese bread, look no further! Here are some of our favorite dishes that go great with this cheesy goodness:
-A big bowl of pasta tossed in olive oil and topped with freshly grated Parmesan cheese
-A simple green salad with a light vinaigrette
-Roasted vegetables like Brussels sprouts or sweet potatoes
-Soup! Whether it's a hearty minestrone or a creamy tomato bisque, garlic cheese bread is the perfect way to soak up all that deliciousness.
How do you keep cheesy bread warm?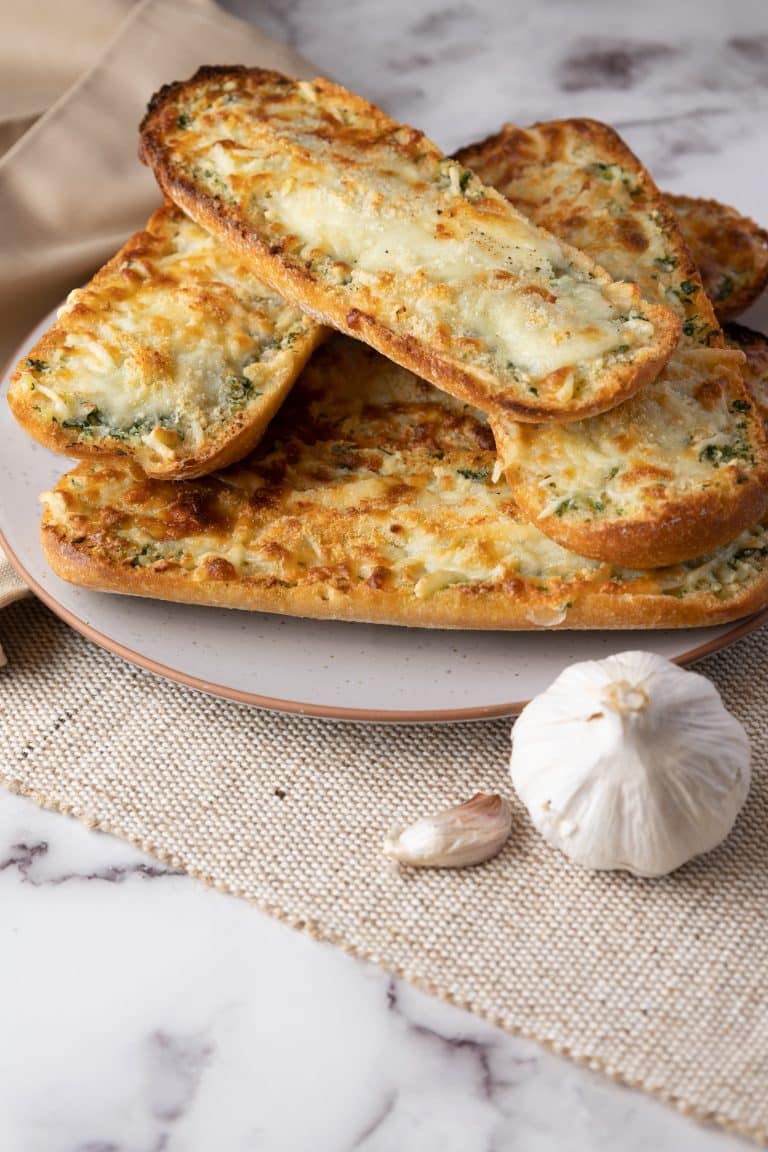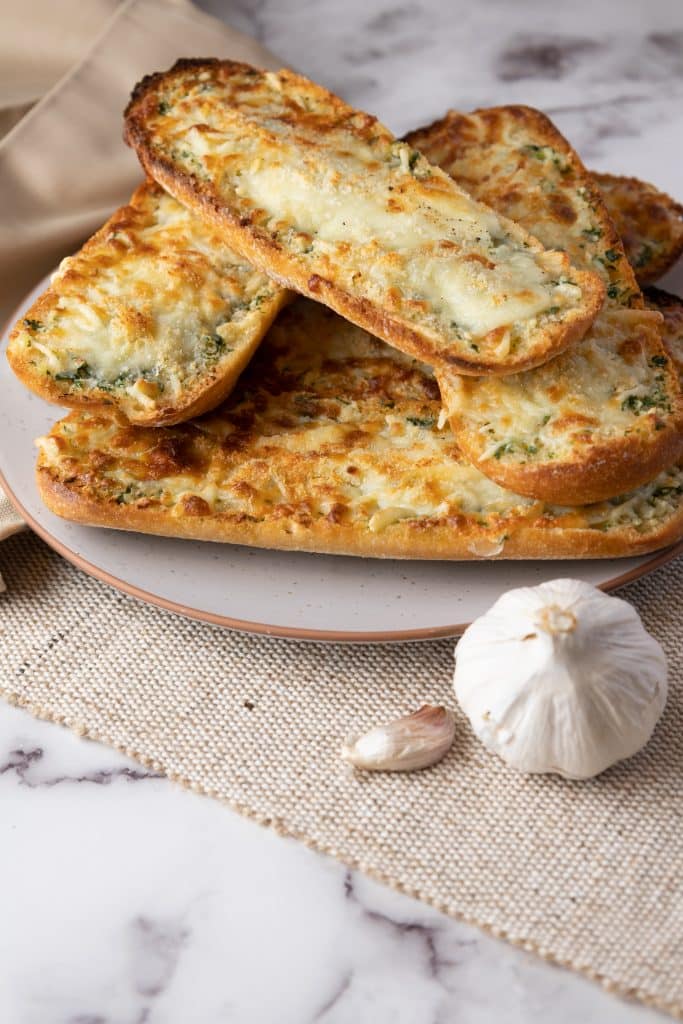 Wrap the bread in foil or parchment paper. This will help keep the heat in and prevent the bread from drying out.
How do you store cheesy garlic bread?
To store your leftover cheesy garlic bread, first, wrap it tightly in foil or plastic wrap. Then, place it in a freezer-safe bag or container and freeze it. When you're ready to enjoy your bread again, simply thaw it overnight in the refrigerator and reheat it in the oven until warm and bubbly.
But for me personally, I like just to prepare the mixture before and put it aside until I need to prepare the cheesy garlic bread and I spread the mixture over the entire surface of the bread halves.
Can you reheat cheesy bread?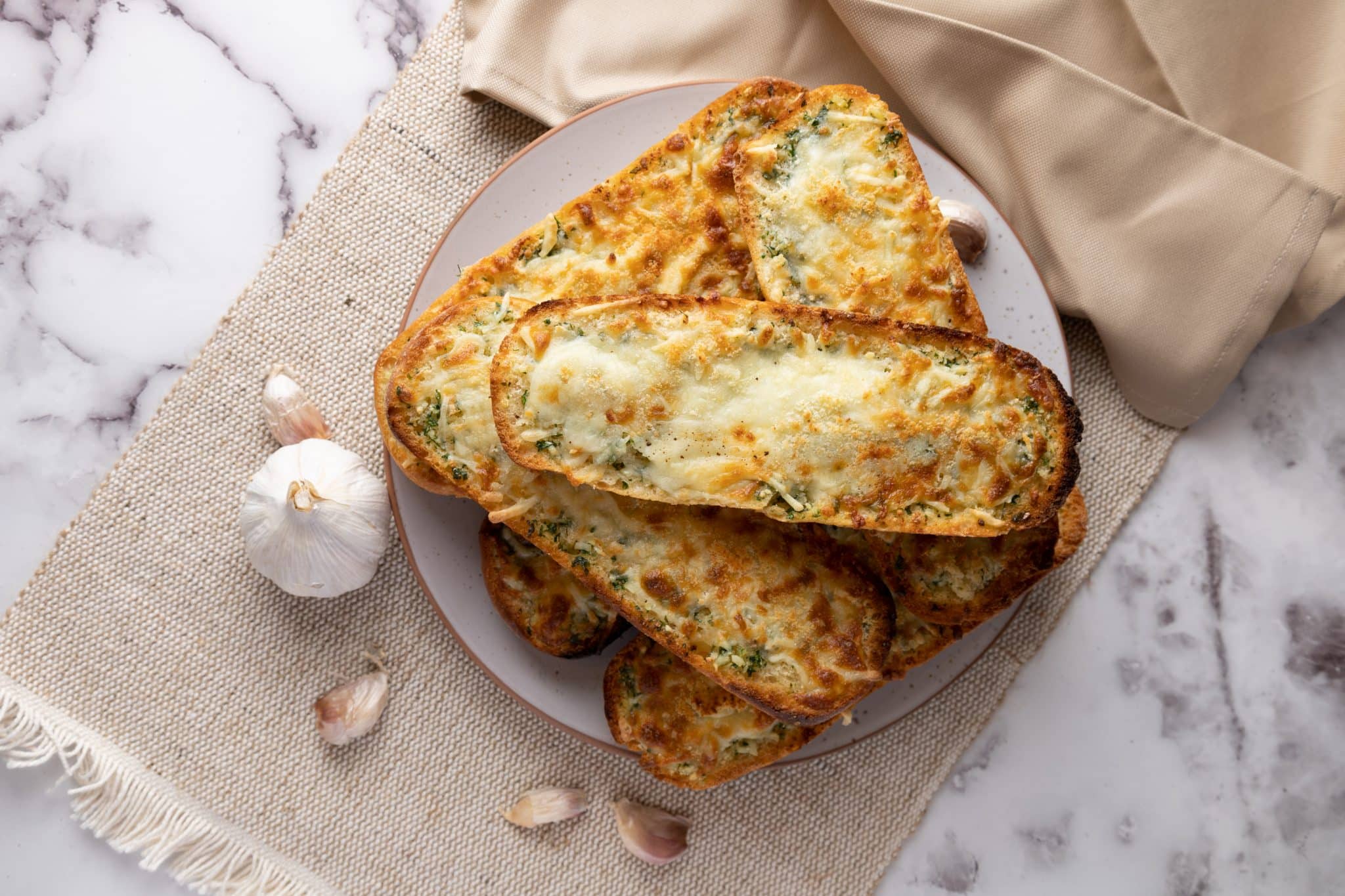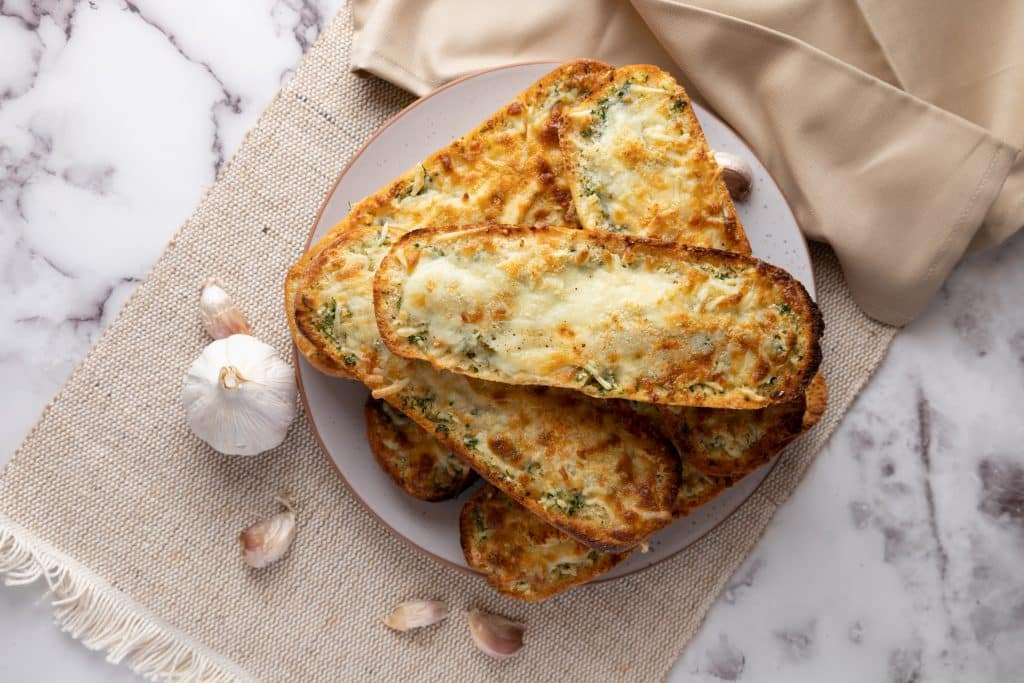 Of course, you can reheat cheesy bread, but it's not going to be as good as when it's fresh out of the oven. If you're going to reheat it, put it in a 350-degree oven for about 5-10 minutes
Expert Tips
Cheesy garlic bread is one of those classic comfort foods that everyone loves. Whether you're enjoying it as a side dish or a main course, it's always a hit. And while it's pretty easy to make, there are a few tips and tricks that can help you take your garlic bread to the next level.
Here are our top tips for making the best cheesy garlic bread ever: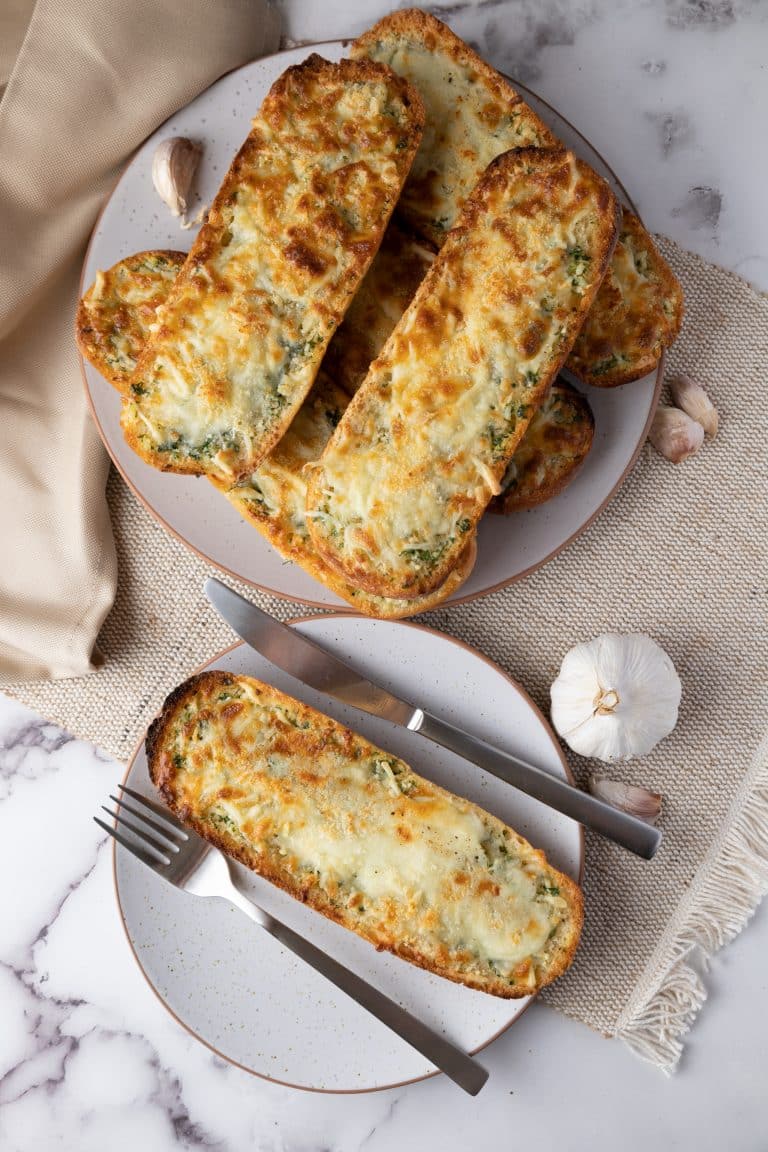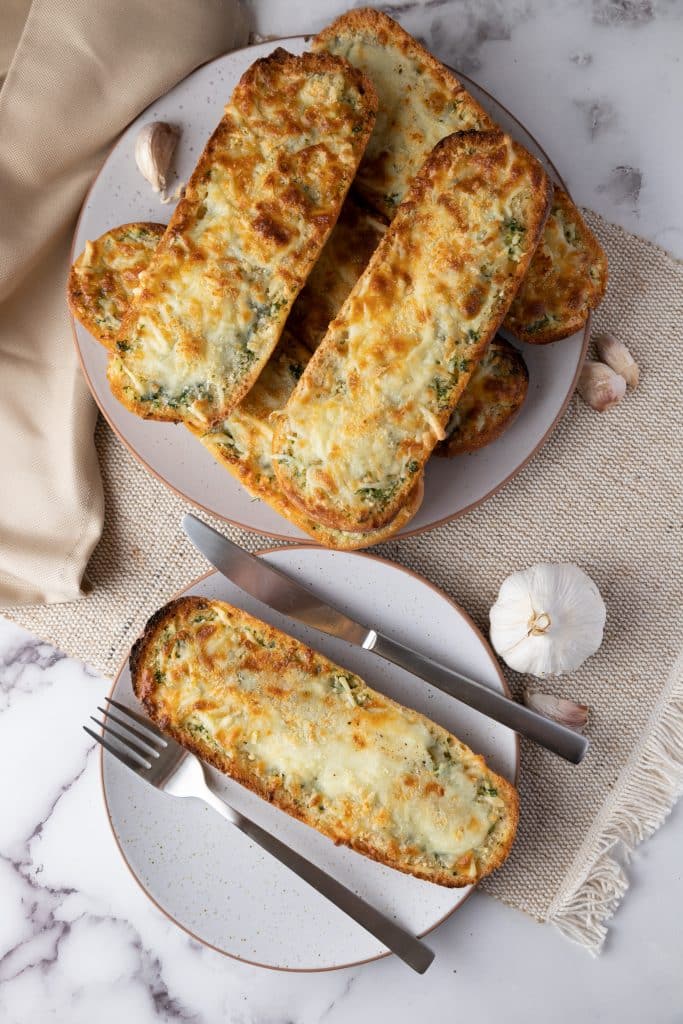 1. Use fresh garlic for the best flavor. If you don't have fresh garlic on hand, you can use jarred minced garlic or garlic powder. Just keep in mind that the flavor will be less intense.
2. Spread the cheese evenly over the bread so that every bite is nice and cheesy.
3. Preheat your oven before baking the bread so that it gets nice and crispy on the outside while remaining soft and fluffy on the inside.
4. Add some chopped herbs to the cheese for an extra flavor boost. Parsley, chives, and thyme all work well here.
5. Serve your cheesy garlic bread with a simple marinara sauce or dipping oil for an even tastier treat!
Check out the printable recipe below and let me know what you think about this Cheesy Garlic Bread Recipe (comments below).
To receive our daily recipes you can follow us on Facebook, Pinterest, and Instagram.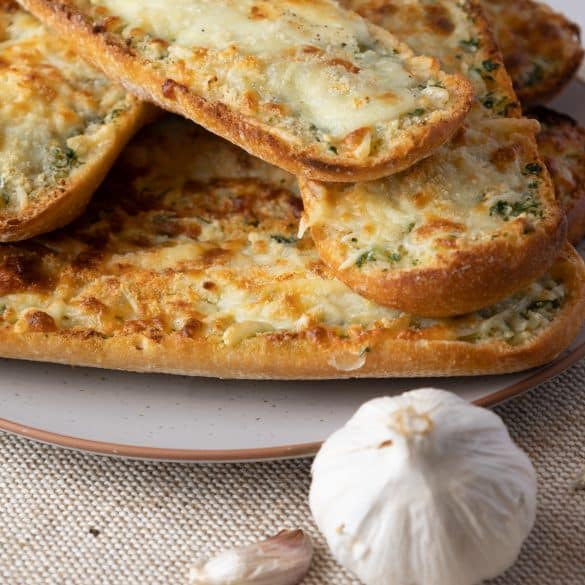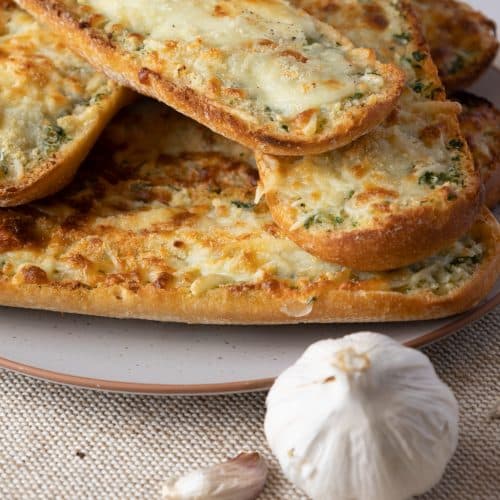 The Best Cheesy Garlic Bread Ever
Looking for a delicious and easy appetizer to make for your next party? Look no further than this garlic bread recipe! It's simple to follow and can be made with either Italian or French bread. Plus, the combination of mozzarella and Parmesan cheese makes it extra tasty. So give it a try today!
Ingredients
1

loaf of Italian bread or French bread.

60

grams

1/4 cups of salted Butter (or unsalted but you need to add more salt into the mixture)

2

Tablespoon

Olive oil

1

Tablespoon

of Garlic

minced

Salt & Pepper to taste

1/4

cup

of Mozzarella cheese

shredded

1/4

cup

of Parmesan cheese

shredded

Parsley

as a garnish
Instructions
Preheat oven to 350 degrees F.

Slice the Italian or French bread into halves

In a bowl, mix together the butter, olive oil, garlic, salt, and pepper.

Spread the mixture over the bread slices and top with mozzarella cheese and Parmesan cheese.

Bake for 10-12 minutes or until cheese is melted and bubbly.

Sprinkle with parsley before serving.
Notes
You can use any type of bread for this recipe, just adjust the baking time as needed.
The butter, olive oil, garlic, salt, and pepper can be adjusted to taste.
Nutrition
Calories:
318
kcal
Carbohydrates:
24
g
Protein:
5
g
Fat:
22
g
Saturated Fat:
13
g
Polyunsaturated Fat:
3
g
Monounsaturated Fat:
6
g
Trans Fat:
0.3
g
Cholesterol:
17
mg
Sodium:
289
mg
Potassium:
108
mg
Fiber:
2
g
Sugar:
14
g
Vitamin A:
195
IU
Vitamin C:
0.3
mg
Calcium:
47
mg
Iron:
1
mg
FAQs
Why is garlic bread served with pasta?
Garlic bread is the perfect complement to a steaming bowl of pasta. The garlic infuses the bread with flavor, and the bread soaks up the sauce from the pasta. The result is a delicious, hearty dish that will satisfy any appetite.
Does cheesy garlic bread need to be refrigerated?
No, cheesy garlic bread does not need to be refrigerated. In fact, it's best when served fresh out of the oven. However, if you have leftovers, you can store them in an airtight container at room temperature for up to 3 days.
Can you eat cheesy garlic bread alone?
You can eat cheesy garlic bread alone, and it can be a very satisfying experience. The key is to find a good recipe that uses quality ingredients. This bread should be packed with flavor, and the cheese should be melted and gooey. Serve it with a simple salad or some roasted vegetables, and you have a delicious and easy meal.
Why is my garlic bread soggy?
There are a few reasons your garlic bread might be soggy. One possibility is that you didn't bake the bread long enough or at a high enough temperature.

Another possibility is that you added too much butter or garlic to the bread, which made it too moist.

Finally, it's also possible that you let the bread cool for too long before serving, which can make it soggy. If you're trying to avoid soggy garlic bread, make sure t bake the bread at a high temperature (around 400 degrees Fahrenheit) for a good amount of time (about 15-20 minutes).
CHECK OUT THESE AWESOME, EASY RECIPES: