Potato And Chicken Casserole – This is for all of you who have a long and busy day ahead, but still, need to eat! This easy recipe will provide your body with a ton of carbs and protein. The best part is that you can make it in one pan without any fuss.
Who doesn't love a good casserole recipe? This Simple Potato And Chicken Casserole recipe is one that I have been cooking for years and it is absolutely tasty. With just a few basic ingredients, this dish can be whipped up in no time at all. In fact, you could even put it together using pre-cooked chicken and/or potatoes to cut some of the preparation time down.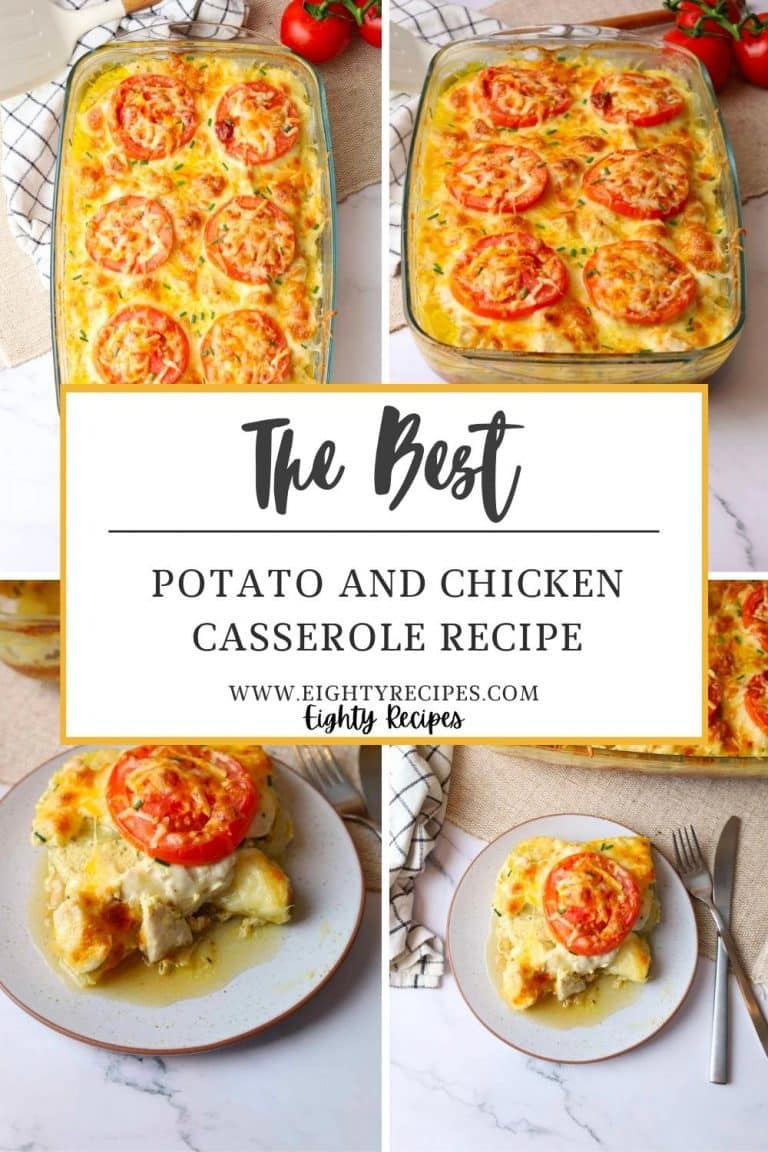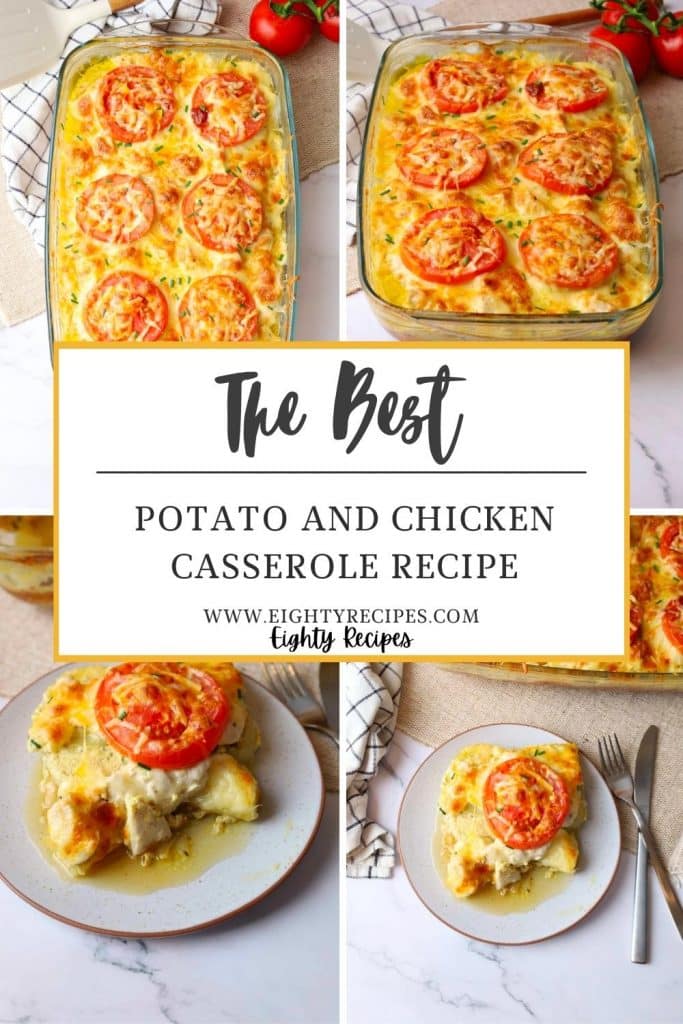 You'll probably find yourself making it every week. With a little prep time in the morning or the night before, dinner will be on the table in 30 minutes!
What are Potato And Chicken Casserole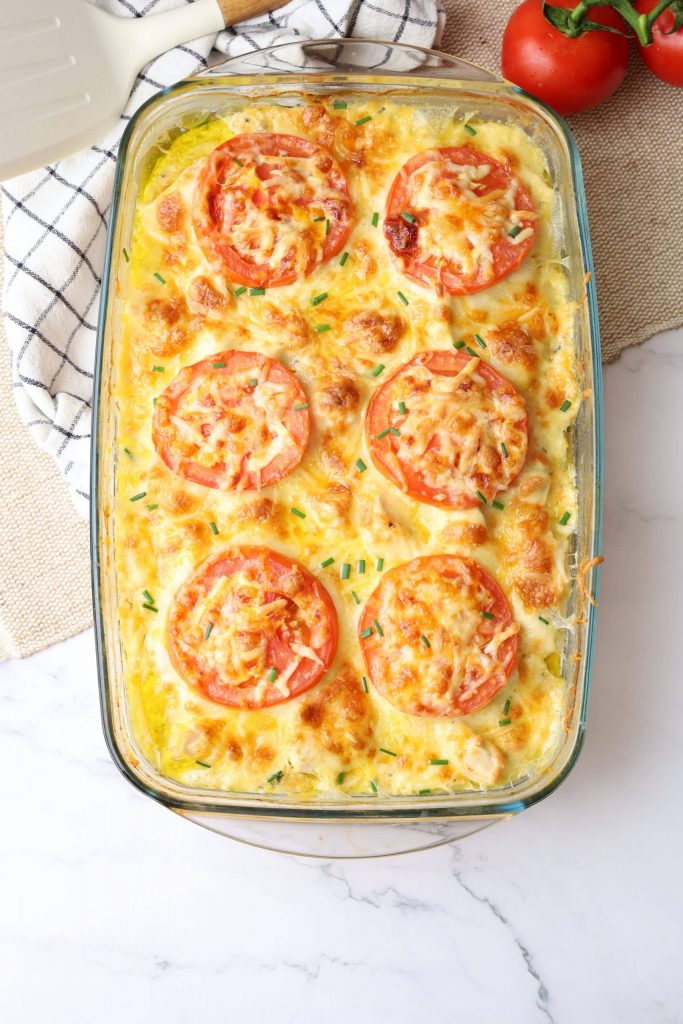 This dish is a casserole made with potatoes and chicken. It is a simple dish that can be made in a short amount of time. This dish is perfect for those nights when you want a quick and easy meal. The chicken and potatoes are cooked in a creamy sauce, making this dish both flavorful and hearty.
This casserole is a comfort food classic. It can be customized with your favorite herbs and spices. The combination of potatoes and chicken is a delicious and hearty meal that will leave you feeling satisfied.
Taste of Potato And Chicken Casserole
When it comes to comfort food, there are few things that can compare to a warm, hearty casserole. This simple potato and chicken casserole is the perfect dish to enjoy on a cold winter night. The creamy potatoes and tender chicken come together to create a meal that will leave you feeling satisfied. And best of all, this casserole is easy to make ahead of time, so you can enjoy it worry-free.
How to make chicken potato casserole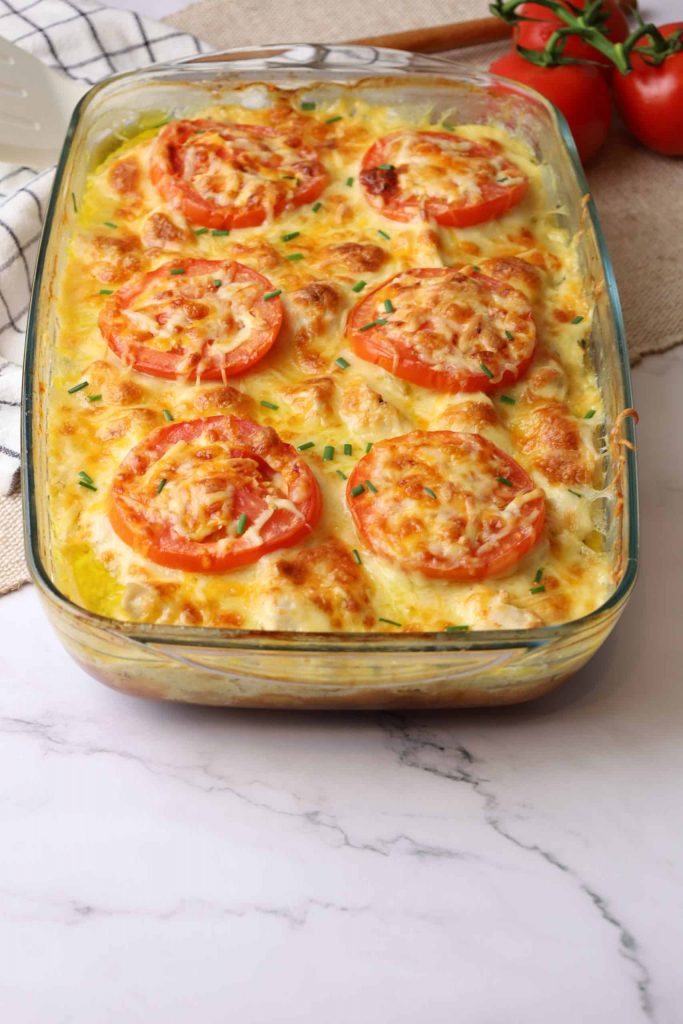 The casserole is made with chicken, potatoes, and a few simple seasonings. I like to use Yukon Gold potatoes because they have a creamy texture and hold up well in this dish. If you prefer, you can use another type of potato. Just be sure to cut them into similar-sized pieces so they cook evenly.
To make the casserole, start by cooking the chicken. You can use boneless, skinless chicken breasts or thighs. I usually bake mine in the oven, but you could also pan-fry them if you prefer. Once the chicken is cooked, set it aside and begin working on the potatoes.
Cut the potatoes into bite-sized pieces and place them in a large pot. Cover the potatoes with water and bring them to a boil over high heat. Once they're boiling, reduce the heat to medium-low and let them simmer for about 10 minutes, or until they're tender but not falling apart.
Now prepare sauce, In a small bowl, whisk together the eggs, heavy cream, curry, and Provencal herbs. Set it aside!
While the potatoes are cooking, chop the cooked chicken into small pieces. Once the potatoes are done, drain them in a colander and then add them back into the pot. Add in the chicken, homemade sauce, and shredded cheese.
Now it's time to assemble the casserole. Spread a layer of chicken and vegetables in the bottom of a baking dish. Top with a layer of stuffing mix (homemade or from a box), followed by a layer of shredded cheese. Repeat these layers until everything is used up.

Bake for 20-25 minutes, or until the cheese is melted and bubbly. Let cool for 5 minutes before serving hot. Enjoy!
Which herbs go well with chicken?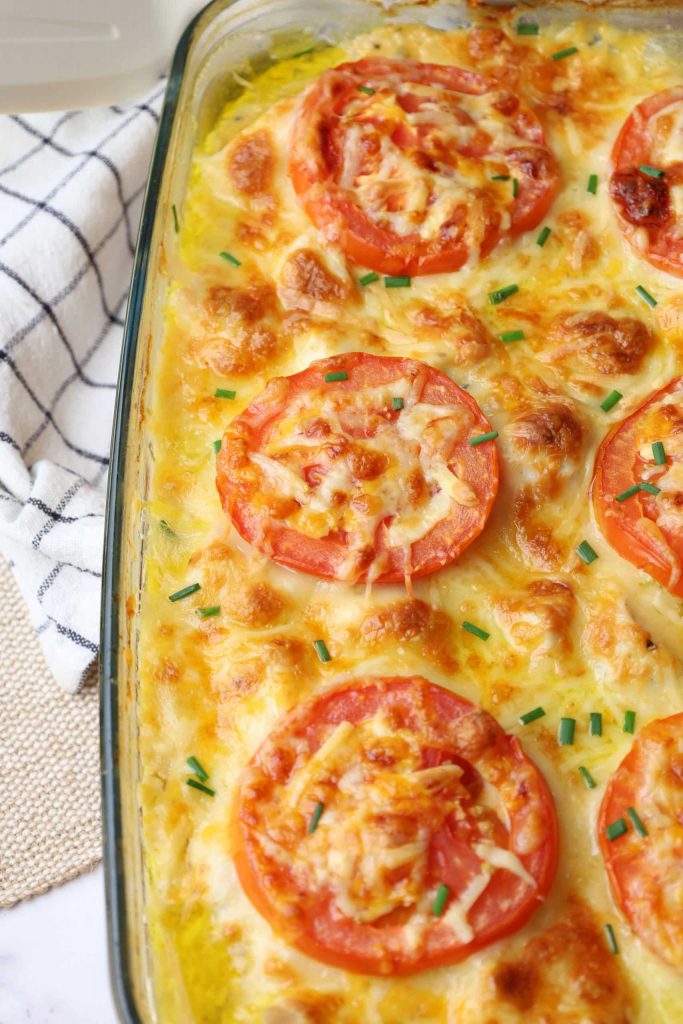 There are many herbs that go well with chicken. Some of the most popular herbs to use with chicken include rosemary, thyme, oregano, basil, and sage.
Each of these herbs has a unique flavor that can enhance the flavor of the chicken. When choosing which herbs to use with chicken, it is important to consider the other flavors in the dish.
For example, if the dish contains potatoes then using thyme and sage would be a good choice.
Variations
The great thing about this dish is that it is very versatile and can be easily adapted to suit your taste.
For example, if you prefer a more cheesy flavor, you could add some grated cheddar cheese to the top of the casserole before baking.
Alternatively, if you prefer a more robust flavor, you could add some chopped bacon or sausage to the mix. You could also swap out the chicken for another type of meat such as beef or pork.
And, of course, feel free to experiment with different types of potatoes – sweet potatoes would work well in this dish too.
Here are some more delicious Chicken and Potato recipes that you will love:
What to serve with this
When it comes to side dishes, there are a few things that go great with this casserole. A simple green salad is always a good option and goes well with the creamy dressing.
Another option is roasted vegetables, which would add a nice touch of color and flavor to the dish.
Lastly, some crusty bread would be perfect for soaking up all of the delicious sauce.
What to do with leftovers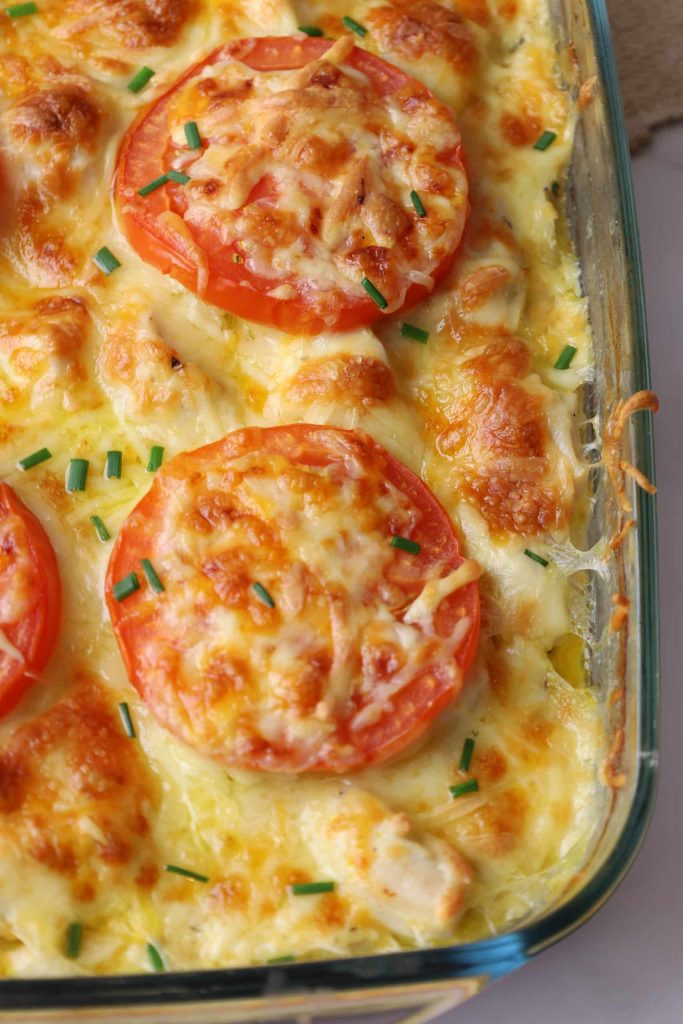 If you find yourself with leftover casserole, there are plenty of options for what to do with it. You can reheat it and enjoy it as is, or get creative and use it in another dish. Here are some ideas:
-Use leftover casserole as a topping for a baked potato
-Crush up the casserole and use it as a sandwich filling or wrap filling
-Mix the casserole with eggs and make a frittata or quiche
-Scoop out the insides of the casserole and use the shell as a bowl for soup or salad
Can I use frozen chicken?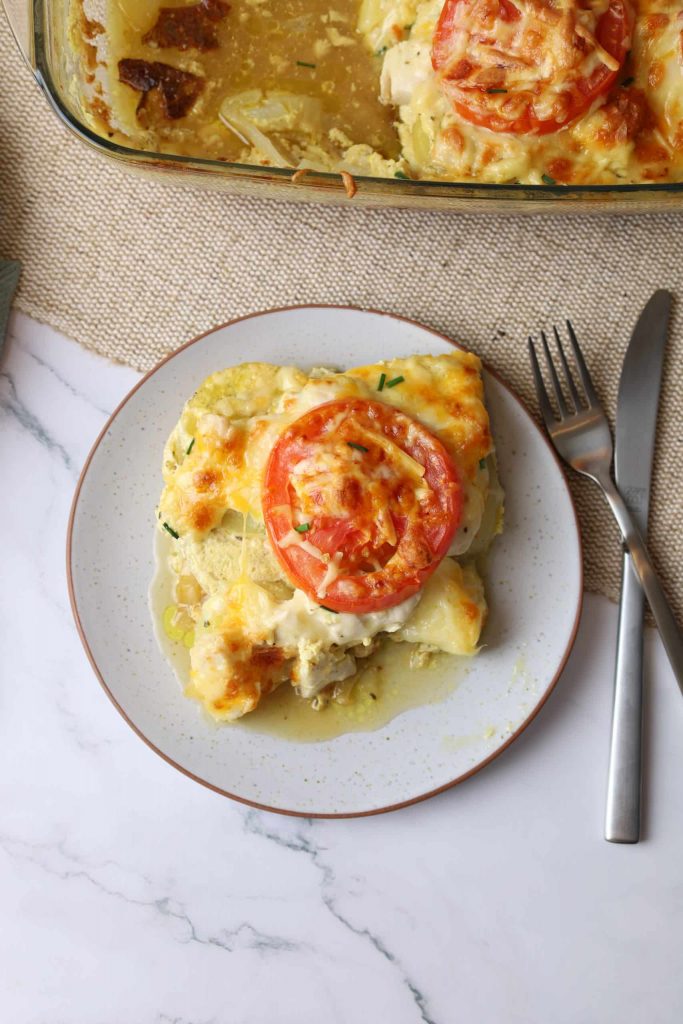 If you have frozen chicken, you can absolutely use it for this casserole! Just be sure to thaw it first. We recommend using boneless, skinless chicken breasts or thighs for this recipe.
Is this healthy?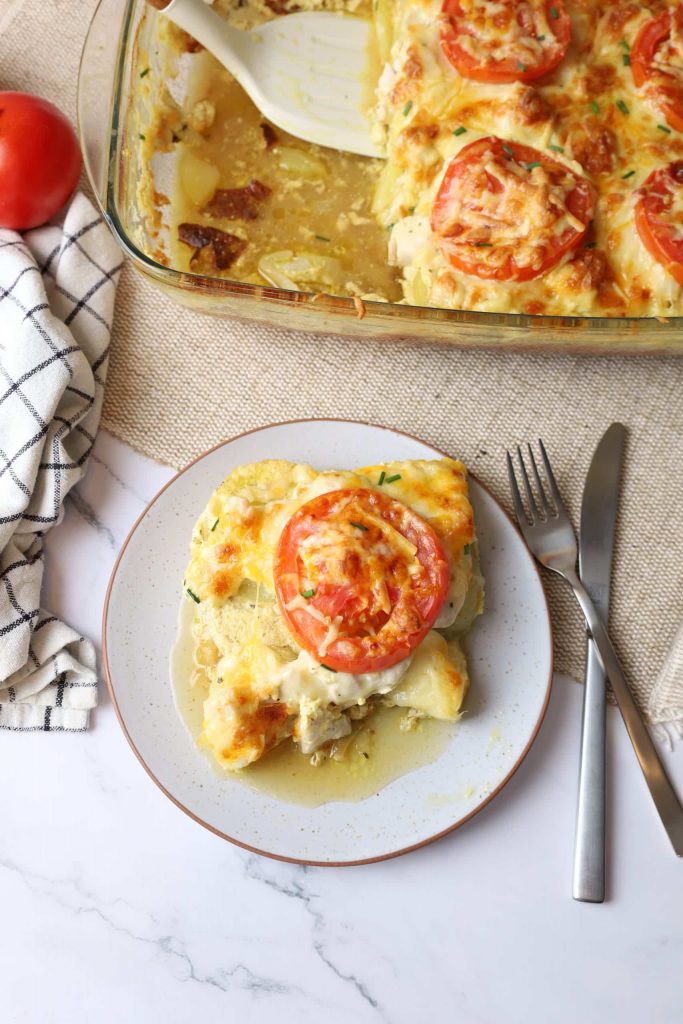 Consider the nutrient content of the dish. A healthy meal should have a good balance of protein, carbohydrates, and healthy fats, as well as vitamins and minerals.
let's take a look at our simple potato and chicken casserole. The ingredients list includes olive oilve, potatoes, chicken breasts, onion, tomato, egg, salt, and pepper. This is a pretty simple and straightforward ingredient list with nothing too processed or unhealthy.
Additionally, each serving of this casserole is only about 300 calories. As far as nutrients go, this casserole is a good source of protein and carbohydrates. It also contains some vitamin A from the carrots and vitamin C from the onion and garlic. Overall, this dish appears to be a reasonably healthy option.
Expert Tips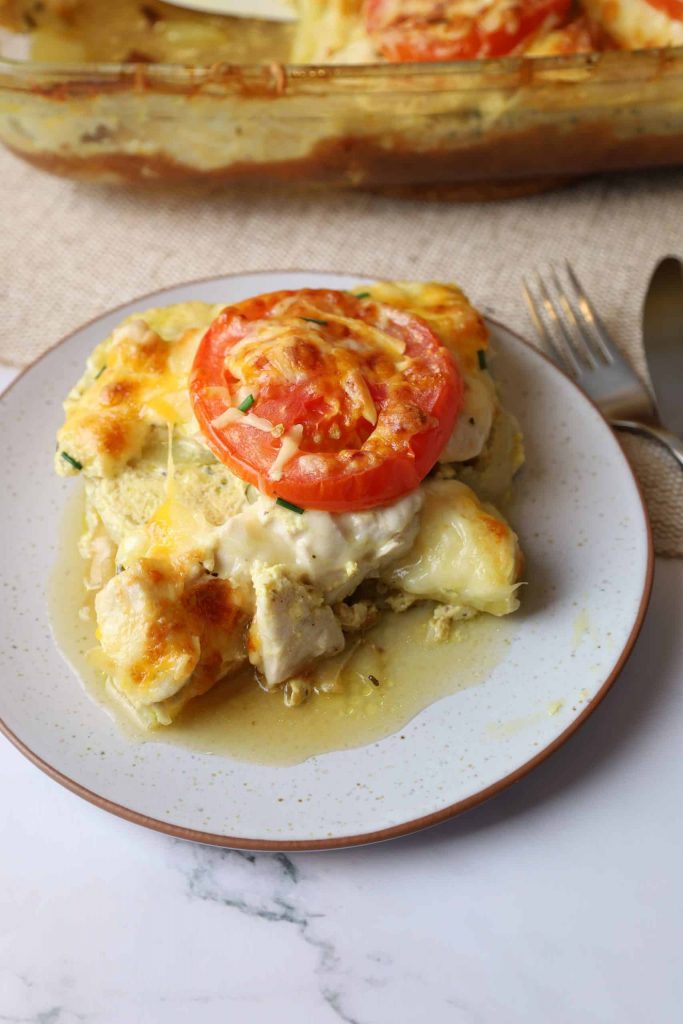 When it comes to casseroles, simplicity is key. This dish is the perfect example of a delicious and easy-to-make casserole that will please the whole family. Here are some expert tips to make this dish even better:
-Be sure to use starchy potatoes for this dish, as they will hold up better during baking. Yukon gold or russet potatoes are both good choices.
-If you want a little extra flavor, try adding some chopped onion or garlic to the potato mixture before layering it in the casserole dish.
-For a crispy topping, consider sprinkling some shredded cheese or bread crumbs over the top of the casserole before baking.
Check out the printable recipe below and let me know what you think about this potato and chicken casserole (comments below).
To receive our daily recipes you can follow us on Facebook, Pinterest, and Instagram.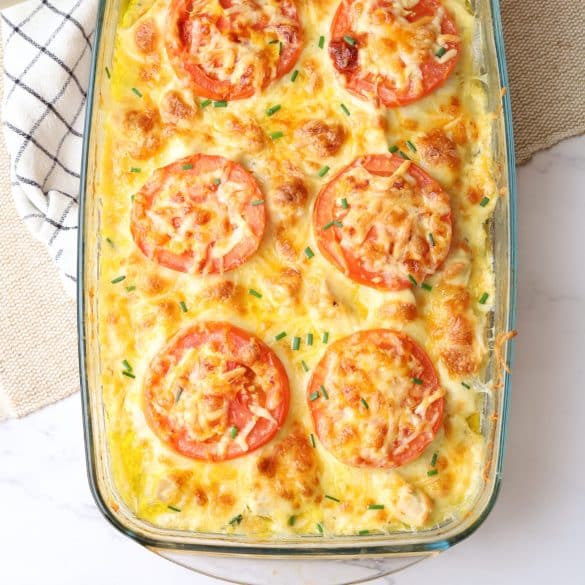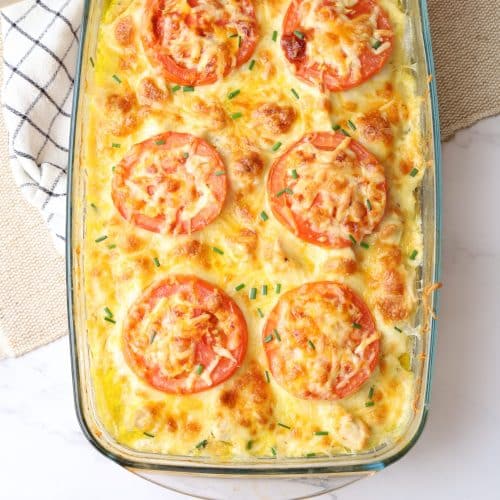 The Best Potato And Chicken Casserole Recipe You'll Ever Make
This Potato And Chicken Casserole is so good! I am really happy with how it turned out. The chicken was cooked perfectly and the potatoes were nice and soft. I will definitely be making this again!
Ingredients
Olive oil

1

Red onion

peeled and diced

3

large potatoes

peeled and diced

3

Chicken breasts

cut into small slices

1

Tomato for topping

1

cup

120g of shredded cheese (Gruyere)

Salt and black pepper
For sauce:
2

large eggs

6-7

oz

heavy cream

1

teaspoon

of curry and Provencal herbs
Instructions
First, start by Preheating your oven to 390F (200 deg C).

Then in a 9x13-inch baking dish spray olive oil.

Next, cut the onion into slices and place the onion into the bottom of the baking dish.

Add the pilled potato slices to the top of the onion. (you can boil the potatoes before for 10 minutes)

Then, cut the chicken breast into small pieces and place them over the potatoes. (you can season the chicken before)
For sauce:
Mix two eggs in a bowl. Add heavy cream and 1 teaspoon of curry. Stir well before adding the sauce.

You can cover it with aluminum foil, and bake it in the oven at 200 degrees Celsius (390F) for 40-50 min.

Remove from oven and sprinkle the cheese on the top and add tomato slices to the top and add more cheese on top of tomato slices too. Finally, place it back in the oven for 10-15 more minutes. Enjoy
Notes
Boil the potatoes before cutting.
Nutrition
Calories:
491
kcal
Carbohydrates:
27
g
Protein:
43
g
Fat:
23
g
Saturated Fat:
12
g
Polyunsaturated Fat:
2
g
Monounsaturated Fat:
7
g
Trans Fat:
0.01
g
Cholesterol:
209
mg
Sodium:
261
mg
Potassium:
972
mg
Fiber:
4
g
Sugar:
4
g
Vitamin A:
980
IU
Vitamin C:
30
mg
Calcium:
186
mg
Iron:
3
mg
Potato And Chicken Casserole FAQs
How do you fix a casserole that is too dry?
If your casserole is too dry, there are a few things you can do to fix it. First, try adding more liquid. This could be in the form of chicken or vegetable broth, milk, or even water. Just be careful not to add too much at once, as you don't want to make your casserole soupy.
Another way to combat a dry casserole is to add more moist ingredients. This could mean adding additional vegetables that have a high water content, such as zucchini or tomatoes.
Finally, if all else fails, you can always top your casserole with cheese or breadcrumbs before baking. This will create a barrier between the dry ingredients and the top of the casserole, preventing it from drying out during baking.
Do you Season chicken before or after cooking?

Do you Season chicken before or after cooking?
Seasoning chicken before cooking is the best way to ensure that your chicken is properly seasoned. By seasoning the chicken before cooking, you allow the spices and flavors to penetrate the meat and infuse it with flavor. Seasoning chicken after cooking can also be effective, but it is more likely that the seasoning will not be evenly distributed and will not have as much flavor.
How do you keep chicken moist when cooking?
– Use bone-in, skin-on chicken breasts. This will help keep the chicken moist as it cooks.
– Don't overcook the chicken. Cook it until it's just done, or even slightly underdone.
– Add a layer of moisture to the casserole. This can be achieved by adding some broth or water to the bottom of the dish before adding the rest of the ingredients.
following these tips, you'll end up with a moist, flavorful chicken casserole that everyone will love!
CHECK OUT THESE AWESOME, EASY RECIPES: