Have you ever thought about lunchtime? Maybe you don't consider it your favorite part of the day, or maybe you just haven't found a recipe that interests you. Well, what if we told you that lunch could be a whole lot more creative and fun? In this blog post, I collected 30 sandwich wraps recipes that will surely make lunchtime the best part of your day!
Sometimes it can be hard to come up with new ideas for lunchtime dishes that you can serve because the food is often the same old thing. Check out this article for some delicious and different sandwich wrap recipes that are sure to excite your taste buds and keep you going until dinnertime!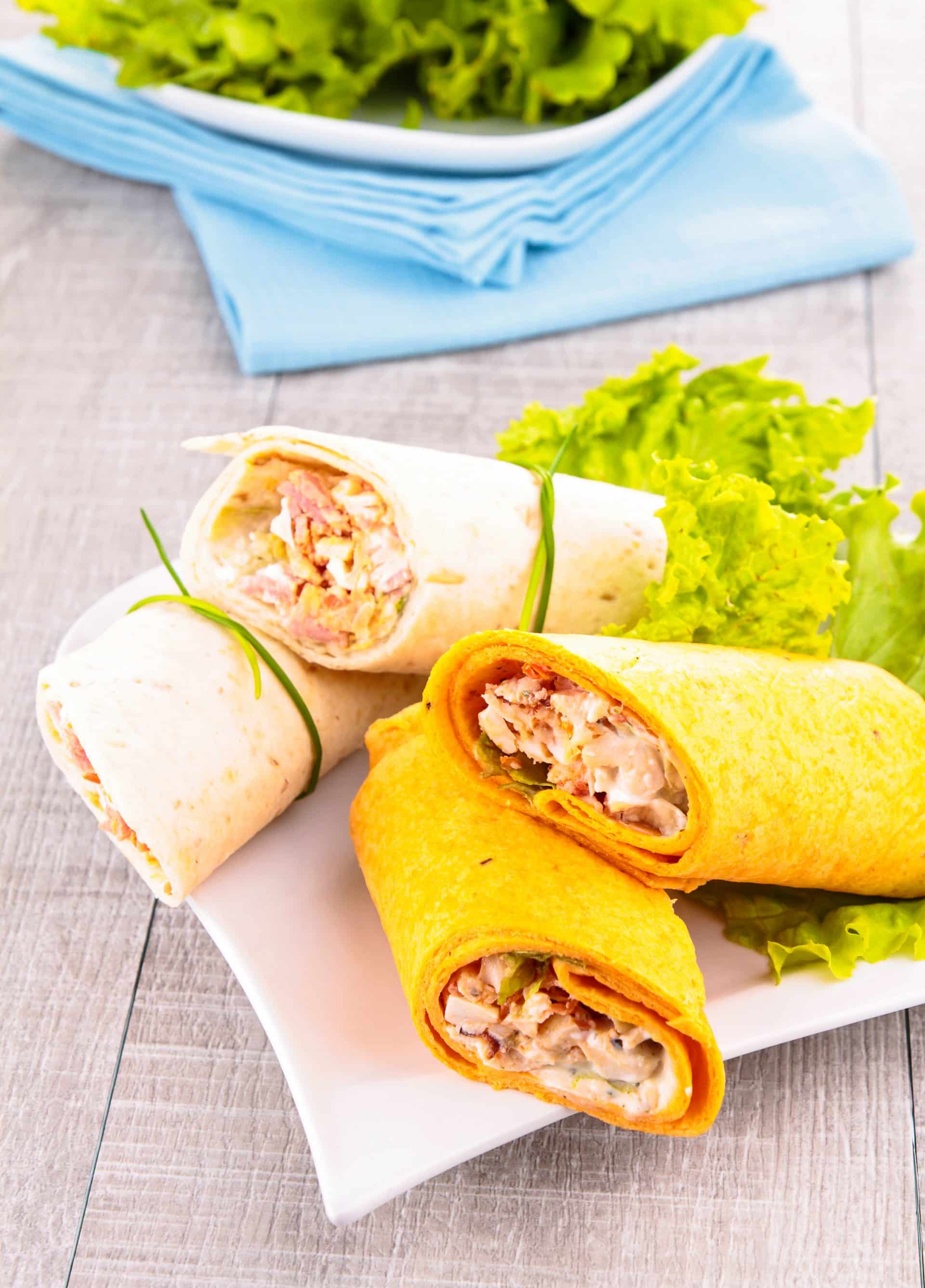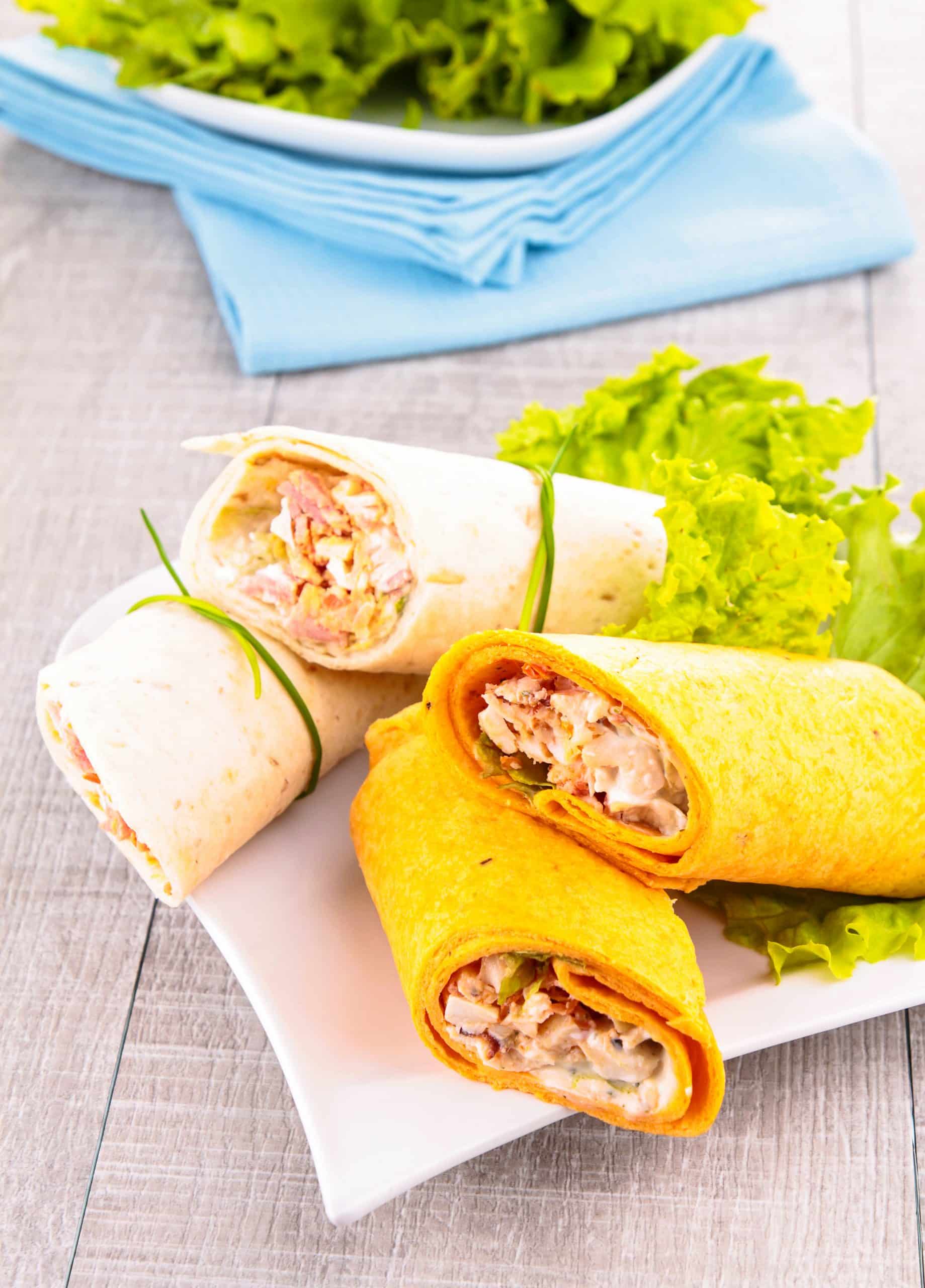 With so many sandwich wrap recipes out there, it's easy to get stuck wondering which ones are the healthiest and best. We've compiled a list of 30 healthy sandwich wraps that are sure to keep you coming back for more.
Sandwich wraps are a great way to make lunchtime more enjoyable. They're easy to make, and you can customize them to fit any taste. This blog post provides recipes for some of the best sandwich wraps around.
If you're looking for something quick and easy, try one of the variations below. These sandwiches can be prepared in just a few minutes, and they'll give you the perfect meal on the go.
What is a Sandwich Wrap?
A sandwich wrap is a type of food that is made from bread and fillings, which are then wrapped in a tortilla or pastry dough. They are often served with a dipping sauce or side salad.
There are many different types of sandwich wraps that you can make. Some of the most popular include chicken Caesar wrap, buffalo chicken wrap, cream cheese wraps, and bbq chicken wrap.
There are so many amazing sandwich wrap recipes out there, and we've gathered some of our favorites for you. Whether you're in the mood for a savory wrap or a sweet treat, we have something for you.
30 Best Sandwich Wrap recipes:
Sandwich wraps are a fantastic way to pack in all the nutrients you need for a healthy lunch without having to resort to unhealthy options. In this roundup, we've put together recipes for some of our favorite sandwich wraps that will leave you feeling satisfied and energized. Whether you're looking for something savory or sweet, there's bound to be a recipe here that will suit your palate. Let us know which one is your favorite in the comments below!
Falafel, while it can be found throughout the Middle East and the Mediterranean, has a special place. The food is filling, healthy and delicious. It's also vegan! I've deconstructed the recipe to make it easier to follow so that you can experience this delight for yourself.
This Mediterranean Veggie Wrap is a fresh, healthy vegetarian sandwich filled with homemade hummus, cucumber, artichokes, and feta. This recipe is perfect for lunch on the go, a light dinner, or a healthy snack. You can cut it into small pieces and keep in the fridge to nibble on throughout the week!
If you have a hankering for buffalo, whether it's the sauce or enjoying some wings, then this recipe is perfect for you! This wrap has tender pieces of chicken in a Buffalo Ranch dressing and vegetables that are grilled to perfection. you can serve it with this amazing Buffalo Chicken Salad Recipe.
The days of hot dogs and hamburgers are gone. Enter the chicken gyro: a greek staple that is quickly making its way into American kitchens. This recipe is easy enough to make on a weeknight, but fancy enough for family gatherings.
Whether you are looking for a delicious keto-friendly dinner or you just want to try something new, this recipe is sure to please. With no complicated cooking methods, this recipe is both simple and delicious. check out our list of 30 Best Simple Lettuce Salad Recipes
Lamb wraps are a delicious way to use up any leftover lamb from a Sunday roast. Wrap the cooked meat with pieces of chargrilled peppers, feta, and fresh mint – all wrapped in a flour or gluten-free wrap of your choice.
Here's a healthy and quick lunch idea: Cucumber wraps with green goddess dressing. This is a perfect sandwich replacement that delivers in the flavor department and beats out most sandwiches on the market.
This recipe has been inspired by the Cypriot tradition of making a wrap, but with a modern twist. It's full of flavor, easy to put together, and great for summer picnics! This is the perfect recipe for a summer BBQ.
Lunchtime can be a bit challenging when it comes to trying to come up with something new and exciting for kids. That's why we love this PB & Jelly Banana Sushi Tortilla Wrap! It's easy to make and packed full of flavor, so your kid will love it. Plus, it's easy enough that you can make it on the go without feeling too guilty.
Veggie wraps are so simple to make. Simply chop up your favorite vegetables, add them to a tortilla wrap or lettuce leaf and wrap with a fork or spoon to hold it together! You can make a variety of these wraps depending on what you have in the fridge.
This halloumi wraps with pesto, avocado, and walnuts is the perfect summer treat. They're easy to make and great for picnics or a road trip with friends. This recipe is so delicious and easy to make! All you need are a few ingredients and one pan. You can enjoy it as a light lunch or serve it up as part of a tapas spread with some pita bread and fresh veggies.
The best part about this keto tortilla wrap is that you can make it as simple or as extravagant as you want. You can use any type of meat or cheese and a variety of vegetables to personalize the wrap to your taste.
Feeling in the mood for a flavorful, healthy lunch that is substantial enough to power you through your afternoon? Then listen up! These Veggie Wraps with Buffalo Cauliflower are just what you need.
This recipe for Vegetarian Taco Wraps is a great meal and can be served as a wrap, snack or even an appetizer. You can also choose to add in different ingredients of your choice like avocado, tomato, corn, and more.
When you are in a hurry to eat something or need a healthy lunch for work, these turkey hummus wraps are perfect. They can be filled with anything you like and make the perfect quick meal that will fill you up without breaking your diet!
Who doesn't love a good pulled pork taco? It is hearty, filling, and so delicious that everyone comes back for seconds. The great thing about this recipe is that you can make a large pot of it quickly and easily in your Instant Pot!
If you love the convenience and taste of a good sandwich then this is the recipe for you. It's a fast and easy recipe that's perfect for lunch or dinner, a quick lunch idea or even an appetizer! And with just a few ingredients and simple preparation, it's perfect for those busy weeknights!
Whether you're in a hurry to get dinner on the table or need to pack up lunch for your kids, this Easy Chicken Wrap is a filling meal that they will love. Best of all, you can make it ahead of time and store it in the refrigerator for up to 3 days!
Who doesn't love hummus wraps? They're the perfect meal for a healthy, quick lunch. And with endless combinations to make these wraps fresh and exciting day after day, you'll never get bored!
Summer grilling is here and the best part about it? Cookouts are in full swing! Get your grill going, fire up the coals, or turn on your stovetop. No matter what type of cooking you choose, don't forget to start with these Healthy Grilled Chicken and Avocado Wraps!
This recipe is a great way to use up the leftover smoked turkey you might have from dinner. The bacon adds flavor and helps keep the wrap moist. You can enjoy this with a salad or as you like. Feel free to mix up the quantities and ingredients as you please. Looking for more Turkey Recipes? checkout this Ground Turkey Recipe (Korean-Style) and Mexican ground turkey rice bowl or this list of 26 Easy Ground Turkey Recipes You Can Make For Thanksgiving.
These turkey wraps are so easy to make and can be customized to your taste. You can use leftover roast turkey or pre-cooked deli turkey and add in veggies like carrots, tomatoes, onion, and spinach. You can also add in some cheese like cheddar or mozzarella, and a dressing of your choice!
Making healthy food to fuel your life doesn't mean you need to sacrifice flavor or convenience. These lettuce wraps are the perfect example of a flavorful and nutritious meal that is also quick and easy to assemble, as well as low in carbs.
Pinwheels are a perfect party appetizer or snack. But these Italian Pinwheels are even better! They're packed with meat and cheese, so they'll keep your guests satisfied for hours. You can also make them ahead of time and just pop them in the oven when you need them.
If you're looking for a light lunch, dinner or snack that'll get your palate going, try this avocado tomato salad power wrap! A healthy lunch recipe that will give you some energy and keep you going
Tired of the same old store-bought lunchmeat and sandwich combination? Looking for something new to shake up your midday meal routine? These turkey roll-ups will do the trick! They're easy as pie to make, and they're filled with fresh veggies that you'll feel good about giving to your kids.
If you're having trouble deciding what to make for your next gathering of meat-eaters and vegetarians, then I've got just the snack for you. This vegan coronation chickpea sandwich filling is quick, easy and so tasty. No cooking is required other than heating up the beans for about 10 minutes.
In today's fast-paced, busy, and hectic world, it's hard to find healthy meals to fit into your routine that is also delicious. The Vegetarian Wraps Recipe is a great option because it takes less than 15 minutes to make, it's packed with veggies that are full of vitamins and minerals and healthy for you.
Whether you're looking for an easy snack or an appetizer for a party, these Vegetable Cream Cheese Tortilla Roll-Ups are perfect! They're customizable, so you can add any of your favorite vegetables to them. Plus, they're versatile – you can serve them as is or use them as a base for a variety of recipes. So don't wait any longer – try these delicious Vegetable Cream Cheese Tortilla Roll Ups today!
This Chicken, Spinach, and Cream Cheese Tortilla Wrap is a delicious and easy lunch idea that is ready in no time! It's perfect for busy days when you don't have time to cook a big meal. The tortilla wrap is filled with chicken, spinach, and cream cheese, and it's served with a side of salsa. This wrap is a great option if you're looking for something light and healthy, but still delicious.
And Finally, my Buffalo Chicken Salad Recipe that you can Serve on top of a salad or in a tortilla wrap. Enjoy! (Check the recipe card below).
Check out the printable recipe below and let me know what you think about this Salad (comments below).
To receive our daily recipes you can follow us on Facebook, Pinterest, and Instagram.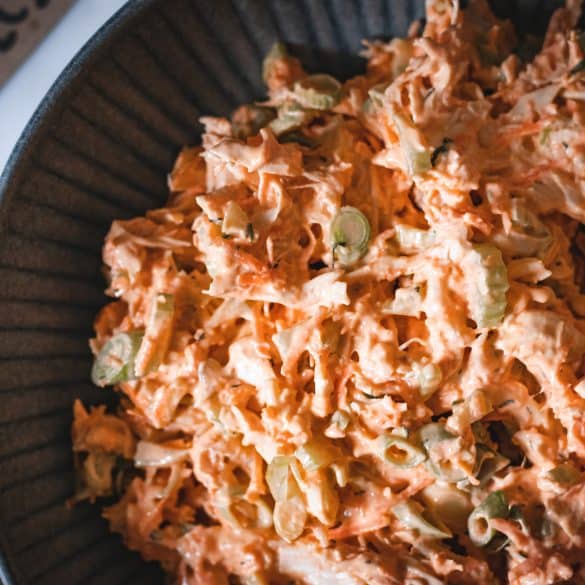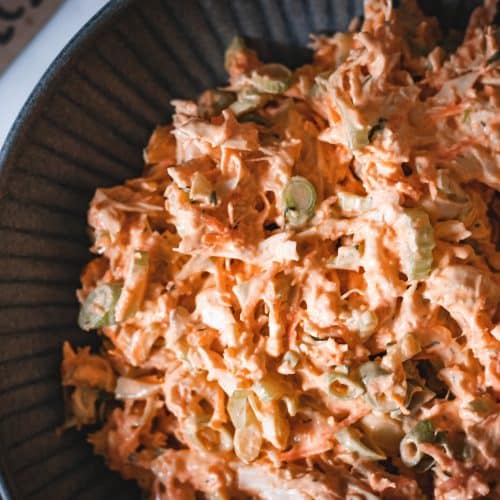 Buffalo Chicken Salad Recipe
This quick and easy recipe for Buffalo Chicken Salad is a filling and flavorful lunch that's great to pack up for work or school too!
Ingredients
4

cups

cooked shredded chicken breast*

½

cup

celery

½

cup

carrots

2

scallions

⅓

cup

Greek yogurt

⅓

cup

light mayonnaise

⅓

cup

Buffalo wing sauce

½

teaspoon

dried parsley flakes

¼

teaspoon

garlic powder

⅛

teaspoon

dried dill weed

Salt to taste
Instructions
STEP 1. Dice the celery, shred the carrots and slice the scallions. Add these into a mixing bowl along with the shredded chicken a mix thoroughly.

STEP 2. In a smaller bowl add all other ingredients and mix until well combined.

Chicken Buffalo Salad

STEP 3. Add the buffalo wing sauce onto the bigger bowl with the chicken/veggie mix and mix until well combined. Taste and add salt if needed.

Chicken Buffalo Salad

STEP 4. Serve on top of a salad or in a tortilla wrap. Enjoy!
Notes
*Before starting this recipe, cook your chicken breast in boiling water. Once thoroughly cooked (about 20-25 minutes depending on the amount of chicken breast), leave to chill. Shred into bite-size chicken pieces. Set aside.
Nutrition
Calories:
297
kcal
Carbohydrates:
4
g
Protein:
37
g
Fat:
14
g
Saturated Fat:
3
g
Polyunsaturated Fat:
5
g
Monounsaturated Fat:
4
g
Trans Fat:
0.01
g
Cholesterol:
109
mg
Sodium:
15039
mg
Potassium:
411
mg
Fiber:
1
g
Sugar:
2
g
Vitamin A:
2339
IU
Vitamin C:
2
mg
Calcium:
55
mg
Iron:
2
mg
FAQ's:
Are sandwich tortilla wraps healthy?
Yes, sandwich wraps can be considered healthy if you make sure to include only healthy ingredients. Some of the best ingredients for making sandwich wraps are Ezekial bread and avocado. These ingredients combine to create a delicious and nutritious wrap. Another important factor to consider when making sandwich wraps is the wrap itself. Make sure that the wrapper is sturdy and able to hold up to your filling without breaking. Some good options for wrappers are pre-made or store-bought wraps. Alternatively, you can make your own using some sturdy bread and a good quality avocado.
How do you fill a wrap sandwich?
To make a wrap sandwich, you will need some ingredients: a wrap, some fillings, and a bread or tortilla. Here are some tips for filling your wraps: For the simplest sandwich, just put whatever you like in a wrap and enjoy. If you're feeling creative, there are lots of ways to customize your wrap. You can use different types of meats, vegetables, and sauces to make your sandwiches unique. Another option is to build your own sandwich. This means selecting different fillings and then using them together in creative ways. For example, you could put avocado inside of a tortilla wrap with chicken and bacon. Then, top it with cheese and sour cream for an amazing lunchtime treat. Finally, if you're feeling really ambitious, you can make a vegan wrap. Just select a vegan wrap and then add your favorite toppings. This includes things like avocado, hummus, salsa, and guacamole. Your sandwich will be filled with delicious flavors that will take your lunchtime experience to a new level!
How do you make wraps so they don't get soggy?
One of the biggest problems with sandwiches is that they can quickly get soggy. To avoid this, you need to make sure your wraps are prepared correctly. Follow these tips to make sure your wraps stay crispy and delicious: 1. Make sure your wrap is filled with fresh ingredients. Juices and oils will make your wraps soggy, so try to use low-sodium versions of condiments or dressings. 2. Make sure your wrap is wrapped well. It's important that the wrap stays sealed so that the fillings don't leak out and make the sandwich soggy. 3. Don't overheat your wraps. Heating them up will cause them to become soggy. Instead, heat them only until they are warm and slightly soft.
Are wraps healthier than bread?
Wrap recipes are a great way to get your protein and carbs for lunch, without having to feel weighed down or stuffed. They're also a great way to jazz up your lunchtime routine. There are many different types of wraps, so you can find something that fits your taste and dietary preferences. Some of the most popular sandwich wraps include chicken salad wraps, tuna salad wraps, pesto wrap recipes, and veggie wrap recipes. There are plenty of healthy sandwich wrap recipes out there that will not only make lunchtime more enjoyable, but they'll also help you stay on track with your diet. Try some of these recipes out this weekend and see how you like them!
Which is healthier, sour cream or cream cheese in tortilla wraps?
There is some debate over which is healthier, sour cream or cream cheese in tortilla wraps. The verdict is that it depends on the person. Some people say that sour cream is healthier because it contains less fat and calories than cream cheese. However, others argue that cream cheese can be a healthier option because it contains less dairy fat. It's also high in protein and calcium. So, it can provide your body with the nutrients it needs. Ultimately, the decision comes down to what you prefer. If you're looking for a healthy option, try using sour cream in your tortilla wraps. If you want something more indulgent, go with cream cheese.
CHECK OUT THESE AWESOME, EASY RECIPES: