These Shredded Chicken Nachos make a great, healthy weeknight meal. The shredded chicken is seasoned with homemade taco seasoning and baked in the oven until super tender. Then it's topped with all the tasty toppings- diced tomatoes, avocado, shredded cheese, sour cream, and diced jalapenos. It's an easy weeknight meal that'll be ready to go from freezer to oven in just 40 minutes!
We all have those nights when you know you'll be exhausted from work and looking for something quick and easy to make for your family. This recipe for Shredded Chicken Nachos is one of my go-to recipes for a quick, easy weeknight meal. I hope you enjoy it!
Whether you're looking for a quick and easy dinner or have some leftover chicken from the weekend, these Shredded Chicken Nachos are a delicious meal that is ready in less than 40 minutes and uses just a single sheet pan.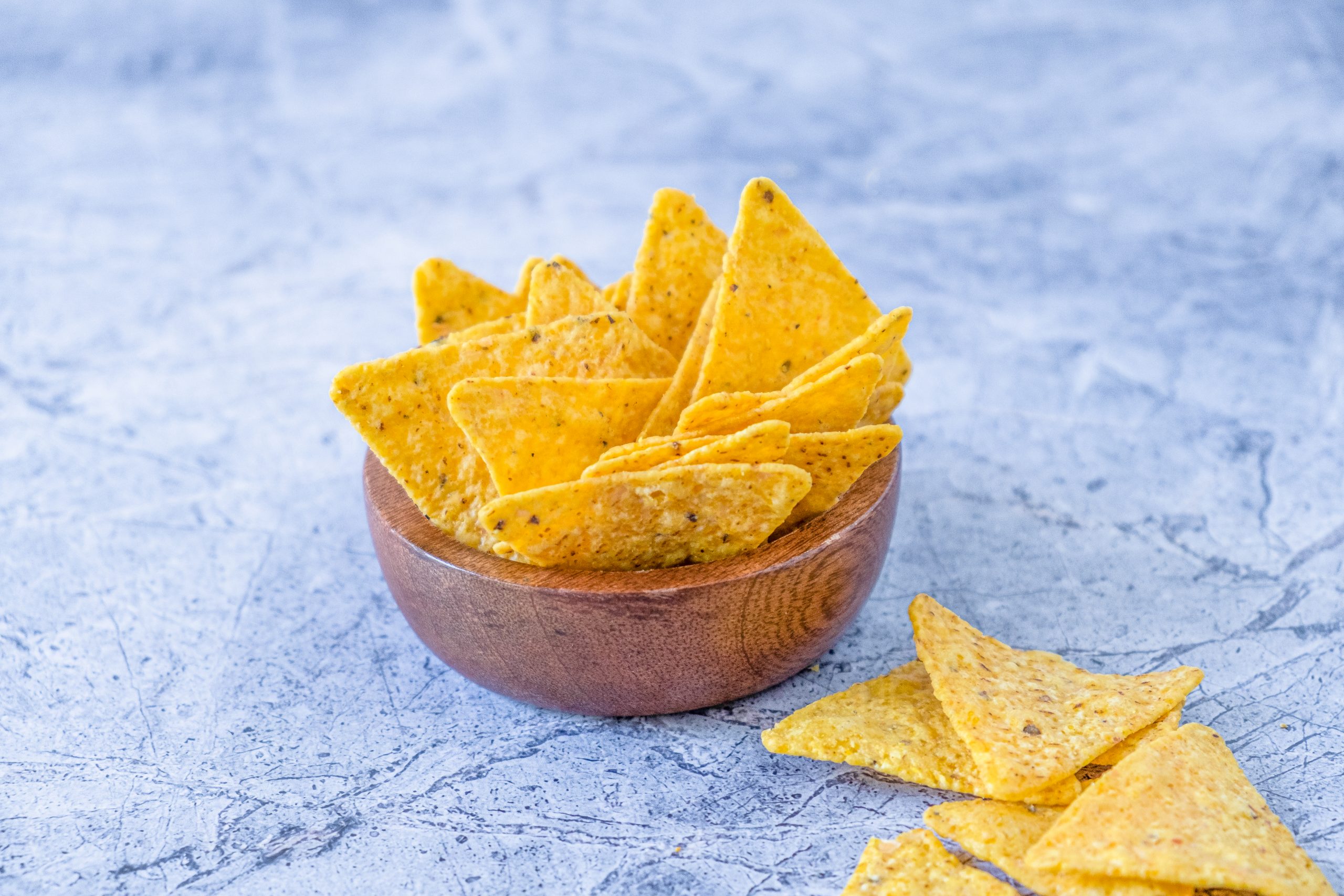 Tips and Tricks:
Here are a few tips and tricks to help you make the best-shredded chicken nachos possible:
– Use fresh or frozen chicken breast for the best results. If you're using frozen chicken, be sure to thaw it before cooking.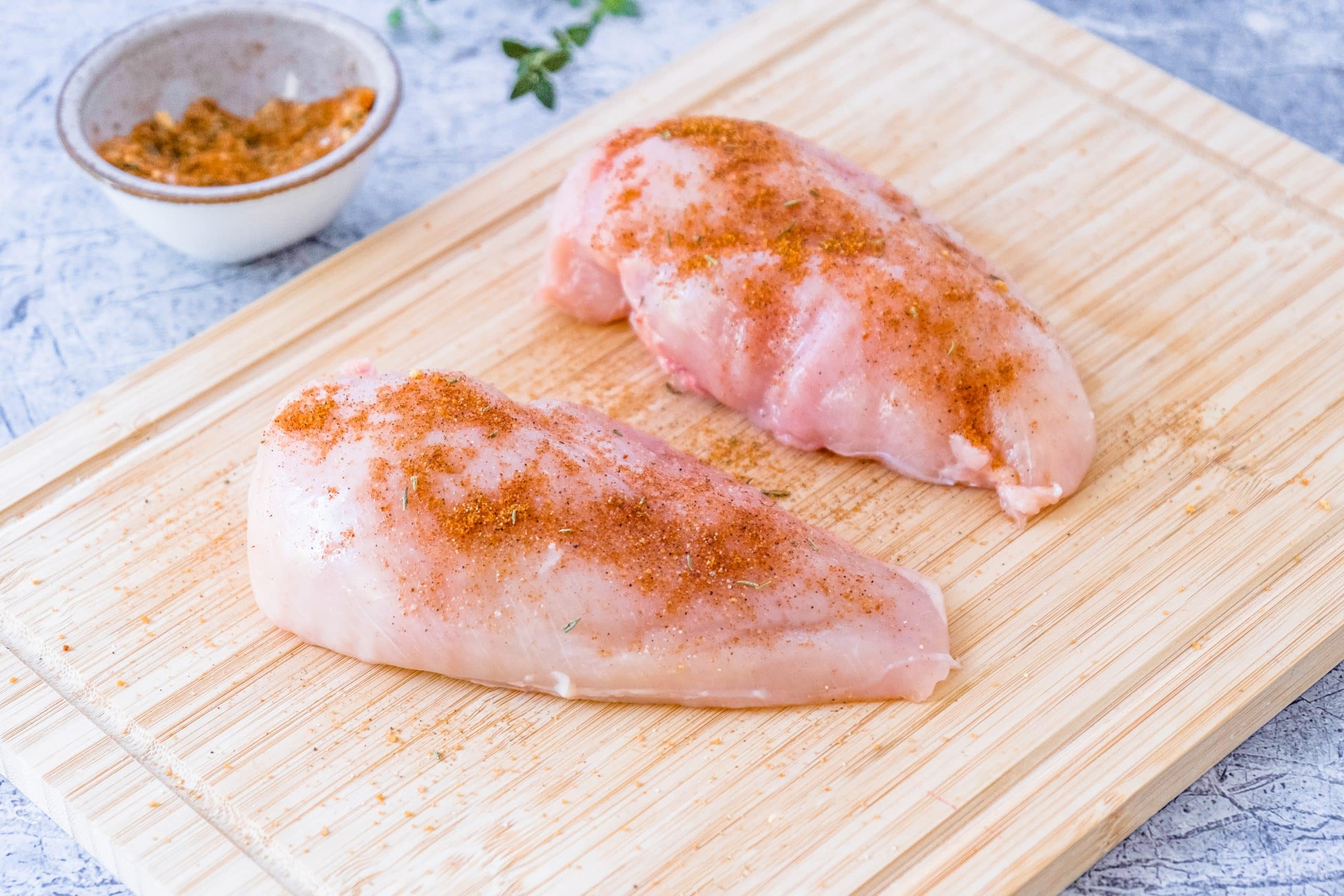 – Season the chicken with your favorite spices or use a pre-made seasoning blend. One simple blend that works well is equal parts chili powder, cumin, and garlic powder.
– Cook the chicken in a skillet over medium-high heat until it's cooked through. Then, shred it using two forks or a stand mixer fitted with the paddle attachment.
– Assemble the nachos on a baking sheet pan or in a cast iron skillet. Top them with shredded cheese, diced tomatoes, black beans, and anything else you like. Then, bake them until the cheese is melted and bubbly.
– Serve the nachos hot, topped with sour cream and salsa. Enjoy!
Shredded Chicken Nachos Recipe FAQ's:
What is a Shredded Chicken Nacho?
A shredded chicken nacho is a quick and easy weeknight meal that is perfect for any family. This dish is packed with flavor and is sure to please even the pickiest of eaters. Best of all, it can be made in under 40 minutes! If you're looking for a quick and easy weeknight meal, these shredded chicken nachos are the perfect solution! With just a few simple ingredients, you can have a delicious and hearty meal on the table in no time. The best part about these nachos is that they can be easily customized to your liking. If you're a fan of spice, feel free to add some extra jalapeños or chili powder to the mix. Or, if you prefer your nachos on the cheesy side, simply add more cheese! However you like them, these nachos are sure to please. So next time you're looking for an easy weeknight meal, give these shredded chicken nachos a try. You won't be disappointed!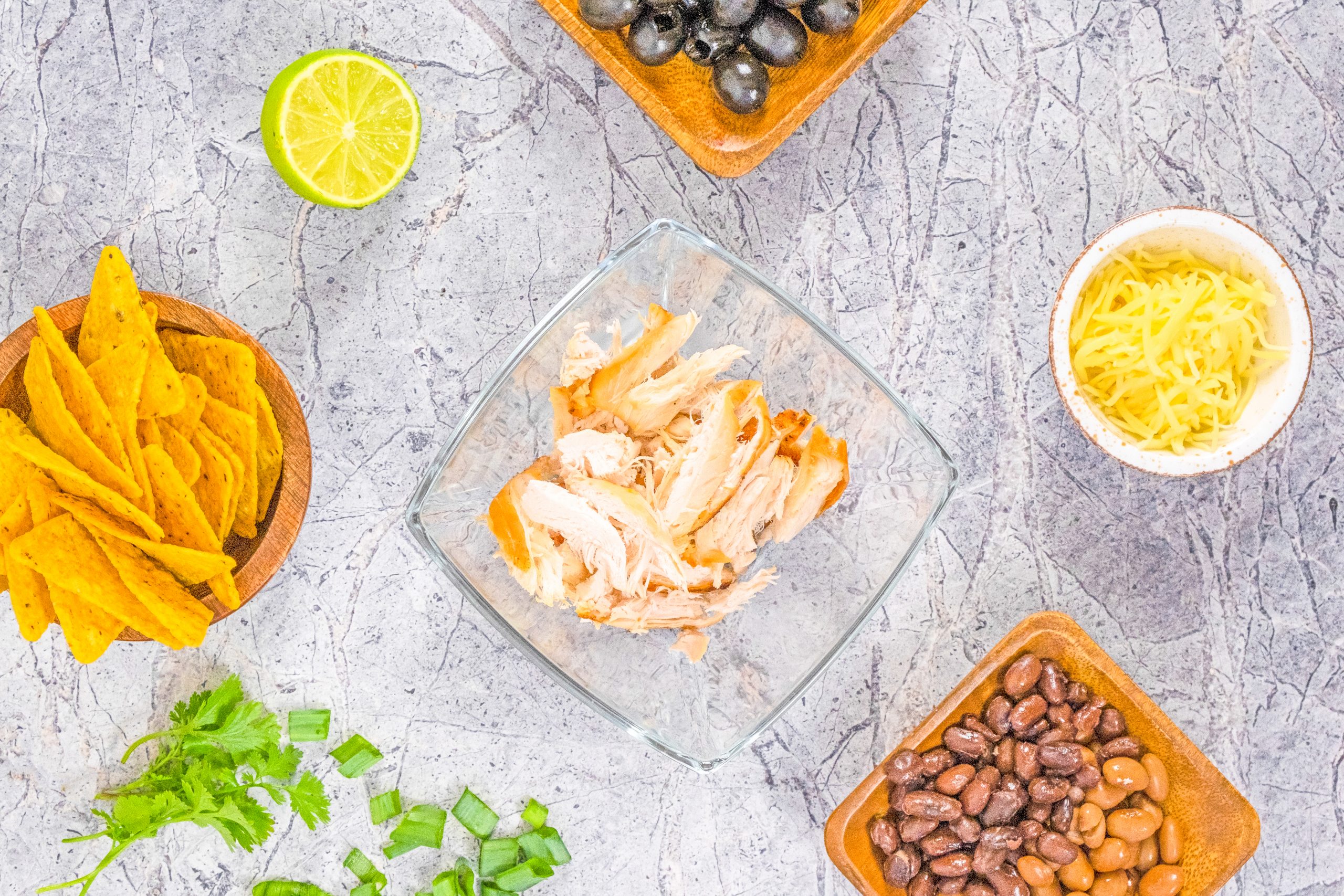 Why are These Nachos Healthy?
These nachos are a super easy weeknight meal that is also healthy! I know, it sounds too good to be true. But these nachos are made with shredded chicken, which is a lean protein, and they are baked instead of fried. This means that they are much lower in fat and calories than traditional nachos.
What kind of shredded cheese goes on nachos?
There are many different types of cheese that can be used on nachos, but shredded cheese is typically the best option. Some of the most popular types of shredded cheese for nachos include cheddar cheese, Monterey Jack cheese, and Swiss.
Can you freeze the shredded chicken to use later?
If you have leftover shredded chicken, don't worry! You can easily freeze it to use for another meal. Simply place the chicken in a freezer-safe container and store it for up to four months. When you're ready to use it, just thaw the chicken in the fridge overnight and add it to your favorite recipes.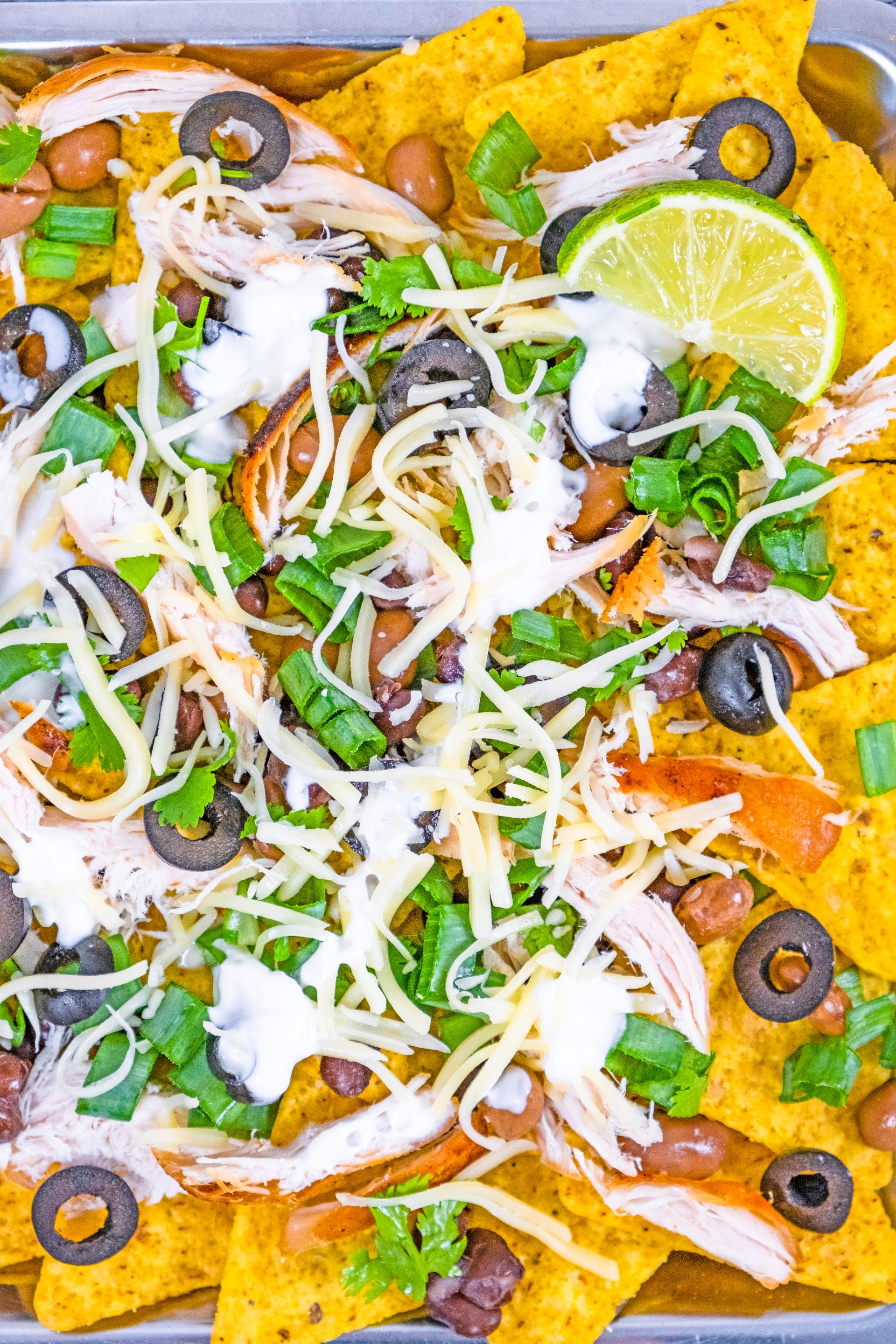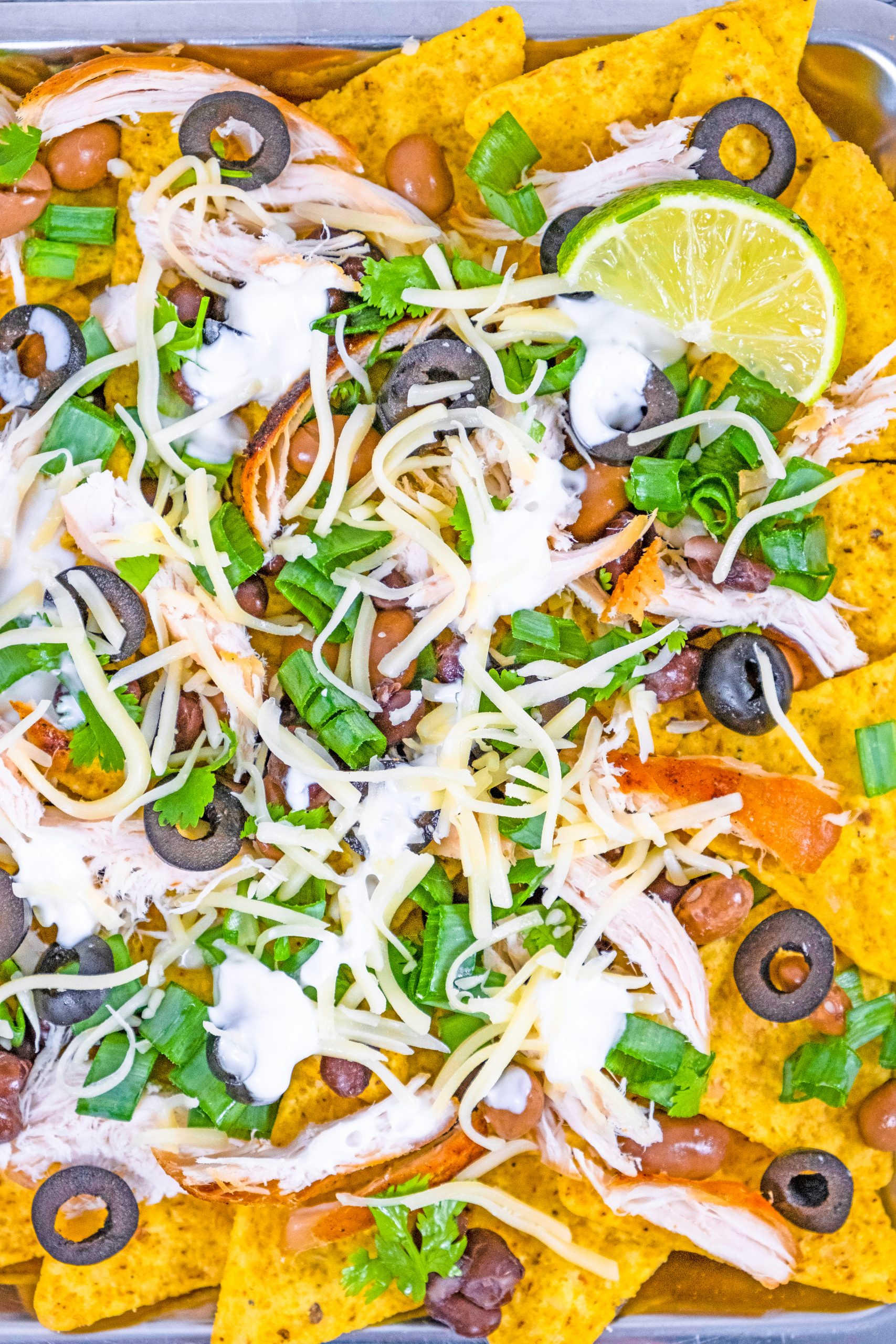 Is Pulled chicken the same as shredded chicken?
The answer is yes! Pulled chicken is simply chicken that has been cooked until it's tender enough to shred, making it the perfect addition to these nachos. So go ahead and give them a try – your taste buds will thank you!
How To Reheat Nachos?
If you're like me, you love nachos. But sometimes, you don't want to go through the hassle of making them from scratch. That's where these shredded chicken nachos come in! They're super easy to make and only take about 30 minutes to reheat. Plus, they're packed with flavor and will satisfy your nacho cravings. To reheat these nachos, simply preheat your oven to 350 degrees Fahrenheit. Then, place the nachos on a baking sheet pan and bake for 10-15 minutes, or until heated through. Once they're hot and bubbly, they're ready to eat! Serve with your favorite toppings and enjoy.
With sour cream or full-fat greek yogurt?
One of the great things about this recipe is that you can customize it to your liking. For example, you can use either sour cream or full-fat greek yogurt in the toppings. If you're watching your calories, the greek yogurt is a great option. But if you're looking for a richer flavor, go with sour cream. Either way, you can't go wrong!
What to do with the remaining chicken?
If you find yourself with leftover chicken, don't despair! There are plenty of ways to use it. One great option is to make Slow Cooker Queso Chicken Tacos.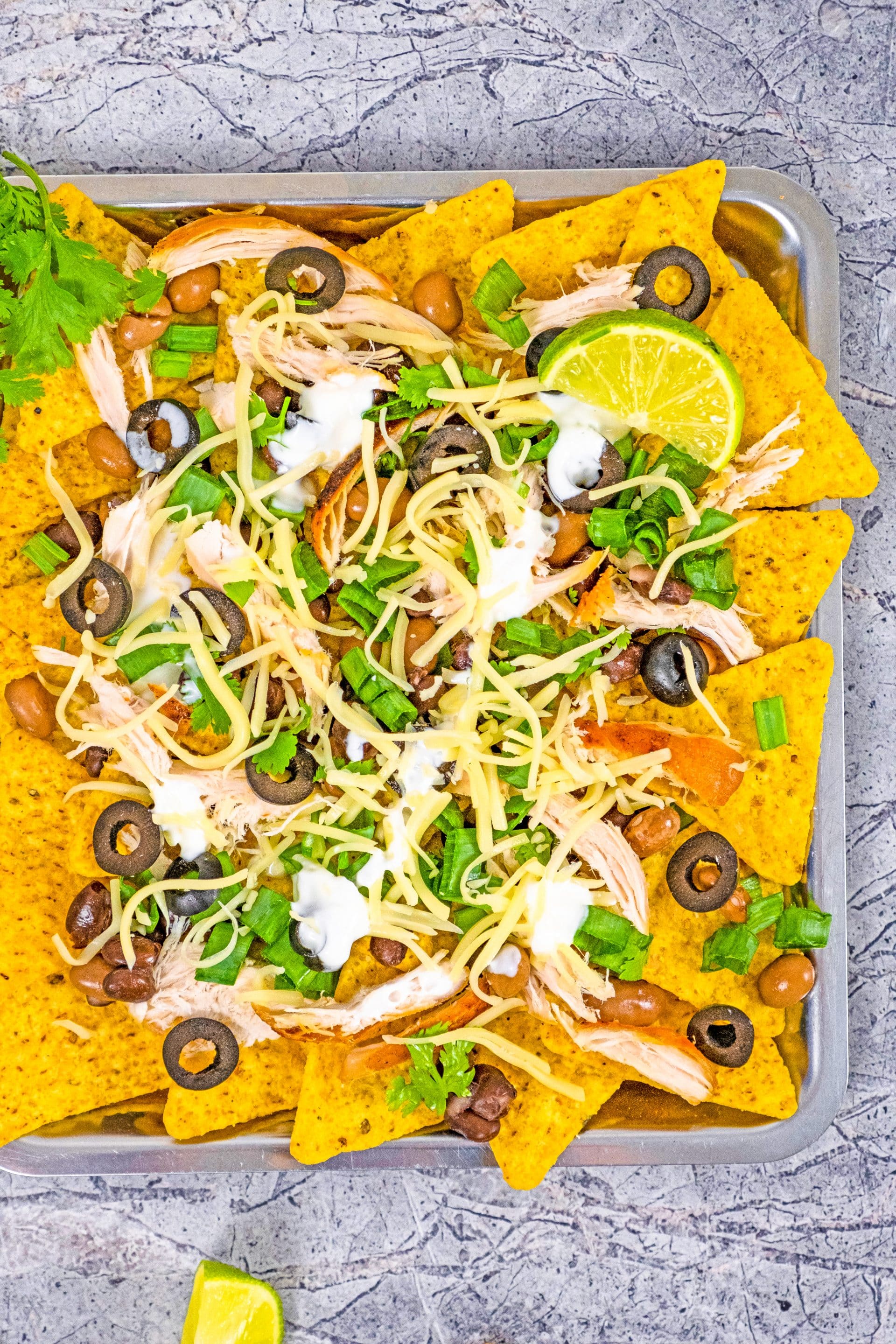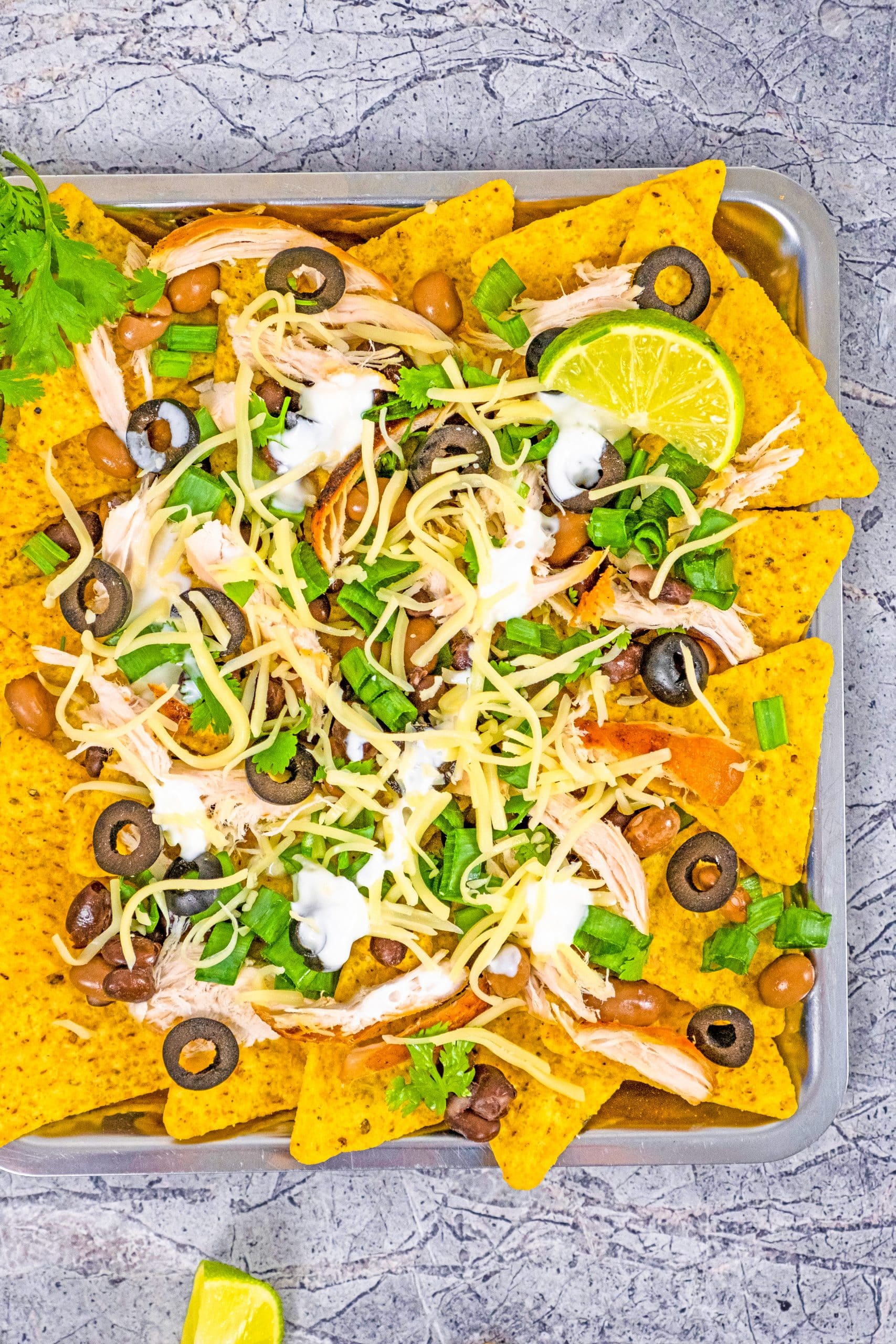 What Toppings to Put On Nachos?
Nachos are versatile dishes that can be customized to suit anyone's taste. The possibilities for toppings are endless, but here are a few of our favorites:
Salsa: Choose your favorite salsa to top your nachos. We like to use fresh salsa for a bright flavor, but feel free to use whatever you have on hand.
Guacamole: A classic nacho topping, guacamole is always a crowd favorite. If you're feeling adventurous, try making your own!
Cheese: You can never go wrong with cheese on nachos. We recommend using shredded cheese for the best coverage.
Beans: Black beans or refried beans are a great way to add some protein and fiber to your nachos.
Meat: Shredded chicken, ground beef, or carnitas are all delicious options for topping your nachos. Just be sure to cook the meat ahead of time so it's ready to go when you're assembling the nachos.
Veggies: Nachos are a great way to sneak in some extra vegetables. Try topping them with diced tomatoes, onions, and peppers.
Tortilla chips: Don't forget to get some tortilla chips on your plate! It's a great way to soak up all the delicious sauce.
Sour cream: If you're a sour cream lover, don't leave it out of your nachos. Is an easy way to cool things off and add some extra flavor. (You can replace it with full-fat greek yogurt if you need a healthy version).
Black beans: Black beans are a great way to add some extra protein and fiber to your nachos. They also get nice and soft from the sauce so they moisten up the chips. Topped with cheese, sour cream, and veggies, black beans aren't noticeable.
Avocado: Try a few slices of avocado on top of your nachos. It adds creaminess and healthy fats as well as a burst of flavor!
Sliced black olives: Black olives are just briny enough to add a salty touch to your nachos. They taste great as an addition and can be hidden under your other toppings.
Diced green chilies: If you like spicy nachos, try adding a few diced chilies on top.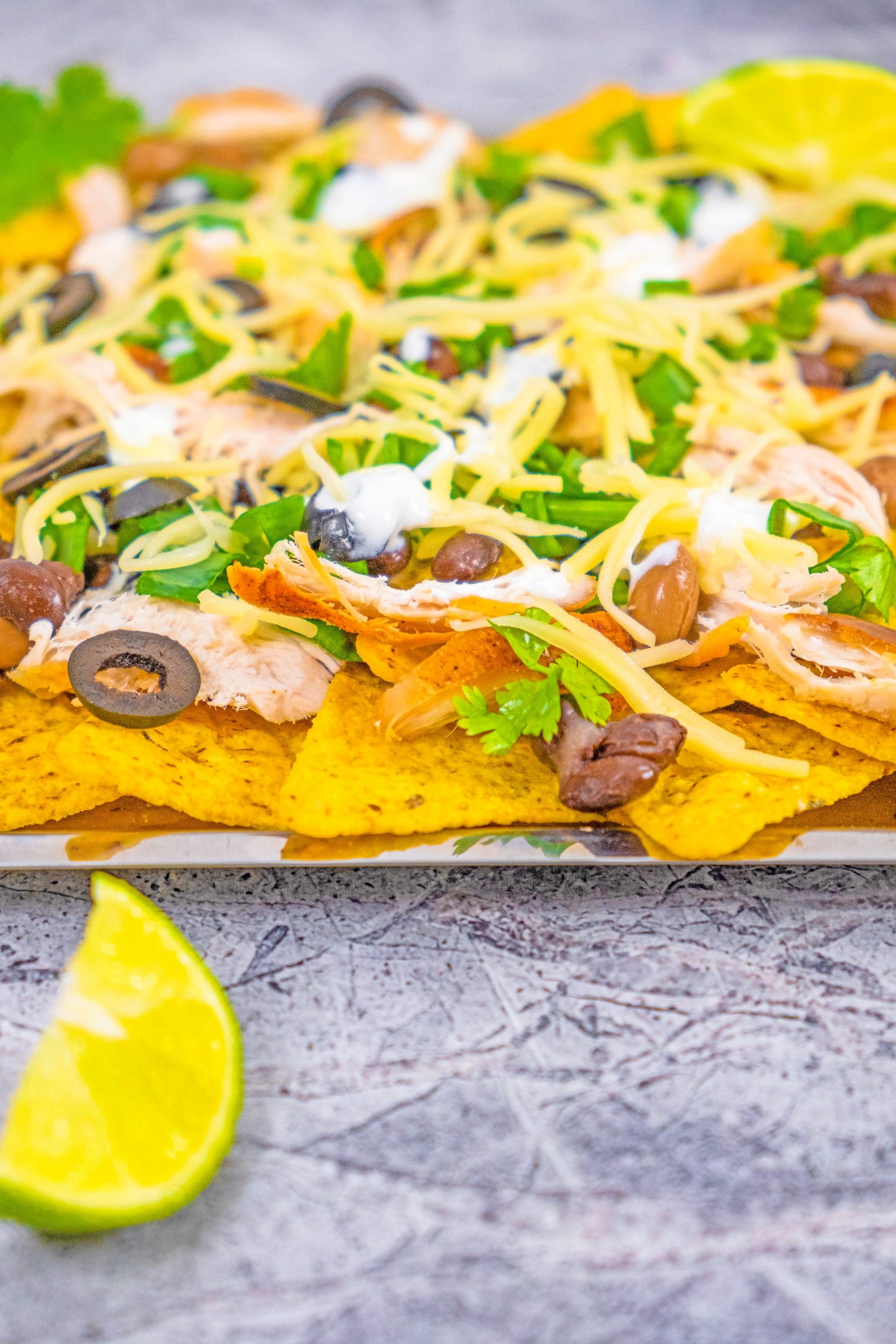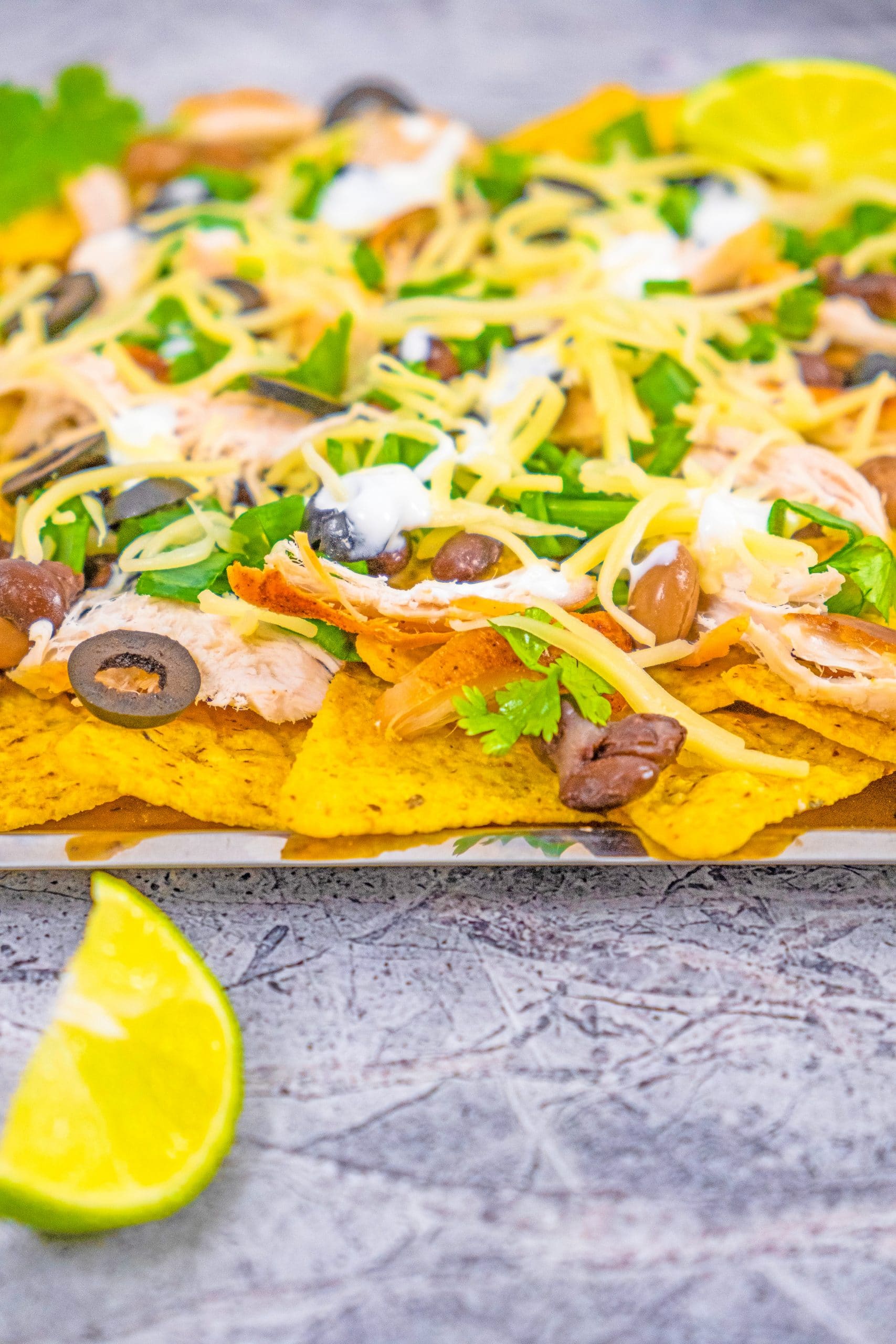 Check out the printable recipe below and let me know what you think about this shredded chicken nachos recipe (comments below).
To receive our daily recipes you can follow us on Facebook, Pinterest, and Instagram.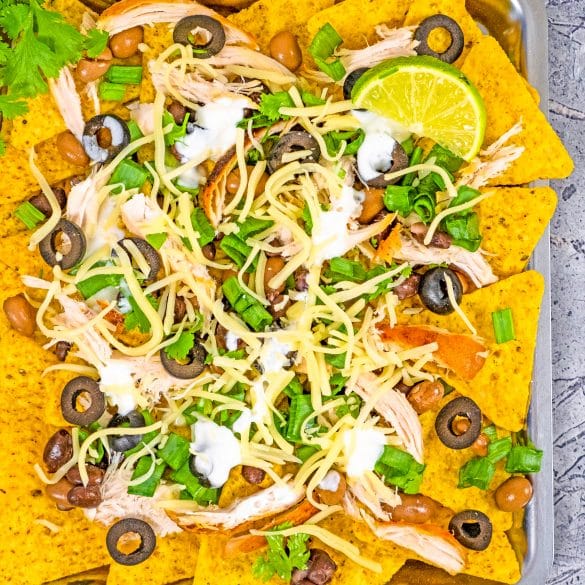 The Best Shredded Chicken Nachos Recipe
These Shredded Chicken Nachos are a super easy weeknight meal that will please the whole family! Made with just a few simple ingredients.
Ingredients
For the Shredded Chicken:
1/2

teaspoon

sea salt

1/2

teaspoon

cumin

1/4

teaspoon

pepper

1/4

teaspoon

onion powder

1/4

teaspoon

garlic powder

1/4

tsp

chipotle chile powder

or cayenne

2

Chicken breasts of boneless

skinless chicken

1

tbsp

olive oil

5

ounces.

bags whole wheat tortilla chips

1 13

ounces.

Can black beans or pinto beans be drained

1

cup

corn kernels

1/2

cup

grated Jack cheese

1

Can be sliced black olives

drained

2-3

green onions

sliced

1/2

cup

sour cream or full-fat greek yogurt

4

tablespoons

lime juice

fresh
Other Variations for Nacho Toppings:
Sliced green onions

Red onion diced

jalapeno

Avocado slices

Greek yogurt sour-cream

Chop cilantro

Salsa

Tortilla chips

check the last paragraph for other options.
Instructions
STEP1: Preheat the oven to 350°F. Line a rimmed sheet with parchment papers, and then put it aside.

STEP2: Mix the spices for the chicken in a small mixing bowl. Stir until well combined. Season the chicken breasts until well coated.

STEP 3: In a saucepan skillet heat olive oil. The seasoned chicken should be added to the skillet and cooked for about 6 minutes, or until golden brown. Once the chicken is cooked through, turn off the heat and place it on a cutting board.

STEP 5: Place a layer of tortilla chips on top of the sheet pan.

STEP 6: Spread the beans over the tortilla chips. Next, add the cheese, sliced olives, and sliced green onions.

STEP 7: Bake nachos, in the oven for 10-13 minutes until the cheese is melted. (preferably uncovered)

STEP 8: Make the sour cream or greek yogurt drizzle while the nachos bake. Combine the cream or greek yogurt and the lime juice.

STEP 9: Allow the nachos to cool. Add any toppings you like and drizzle greek yogurt lime glaze.
Notes
1. You can use any type of chicken that you like. For these nachos, we used shredded chicken breast, but you could also use rotisserie chicken or thighs.
2. The key to getting the perfect balance of flavor is to use good quality salsa. We like to use homemade salsa, but you could also use your favorite store-bought brand.
3. Be sure to use plenty of cheese! We like to use a mix of cheddar and Monterey Jack cheese, but you could use any type of cheese that you like.
4. These nachos are best served fresh, so be sure to make them just before you're ready to eat them. They'll still be delicious if they're made ahead of time, but the chips will be softer and the cheese won't be as melted and gooey.
Nutrition
Serving:
1
g
Calories:
334
kcal
Carbohydrates:
45
g
Protein:
21
g
Fat:
9
g
Saturated Fat:
4
g
Polyunsaturated Fat:
1
g
Monounsaturated Fat:
2
g
Trans Fat:
0.004
g
Cholesterol:
34
mg
Sodium:
412
mg
Potassium:
919
mg
Fiber:
9
g
Sugar:
4
g
Vitamin A:
258
IU
Vitamin C:
4
mg
Calcium:
171
mg
Iron:
3
mg
How do you like your nachos? Tell us in the comments below!
CHECK OUT THESE AWESOME, EASY RECIPES: