It's that time of year again! Thanksgiving is only a few days away, and you're still trying to think of what to cook for dinner. If you're looking for an easy, healthy alternative to turkey, then we have the perfect solution for you. Today, we're going to be running through 26 different ground turkey recipes so you can cook up something tasty for your family on Thanksgiving.
Recipes You Can Cook With Ground Turkey?
If you're looking for some delicious recipes to cook with ground turkey this Thanksgiving, look no further! We've got some great ideas that are sure to please everyone at the table.
One of our favorites is a classic Thanksgiving stuffing made with ground turkey. This dish is always a hit, and it's so easy to make! Simply combine some chopped onions, celery, bread crumbs, and spices with ground turkey and bake in the oven. It's the perfect side dish to accompany your holiday meal.
Another great option is turkey meatloaf. This turkey meatloaf recipe is perfect for those who want a hearty main dish without all the fuss. Simply mix together ground turkey, bread crumbs, onion, garlic, ketchup, and eggs. Then shape into a loaf and bake in the oven. So easy and so delicious!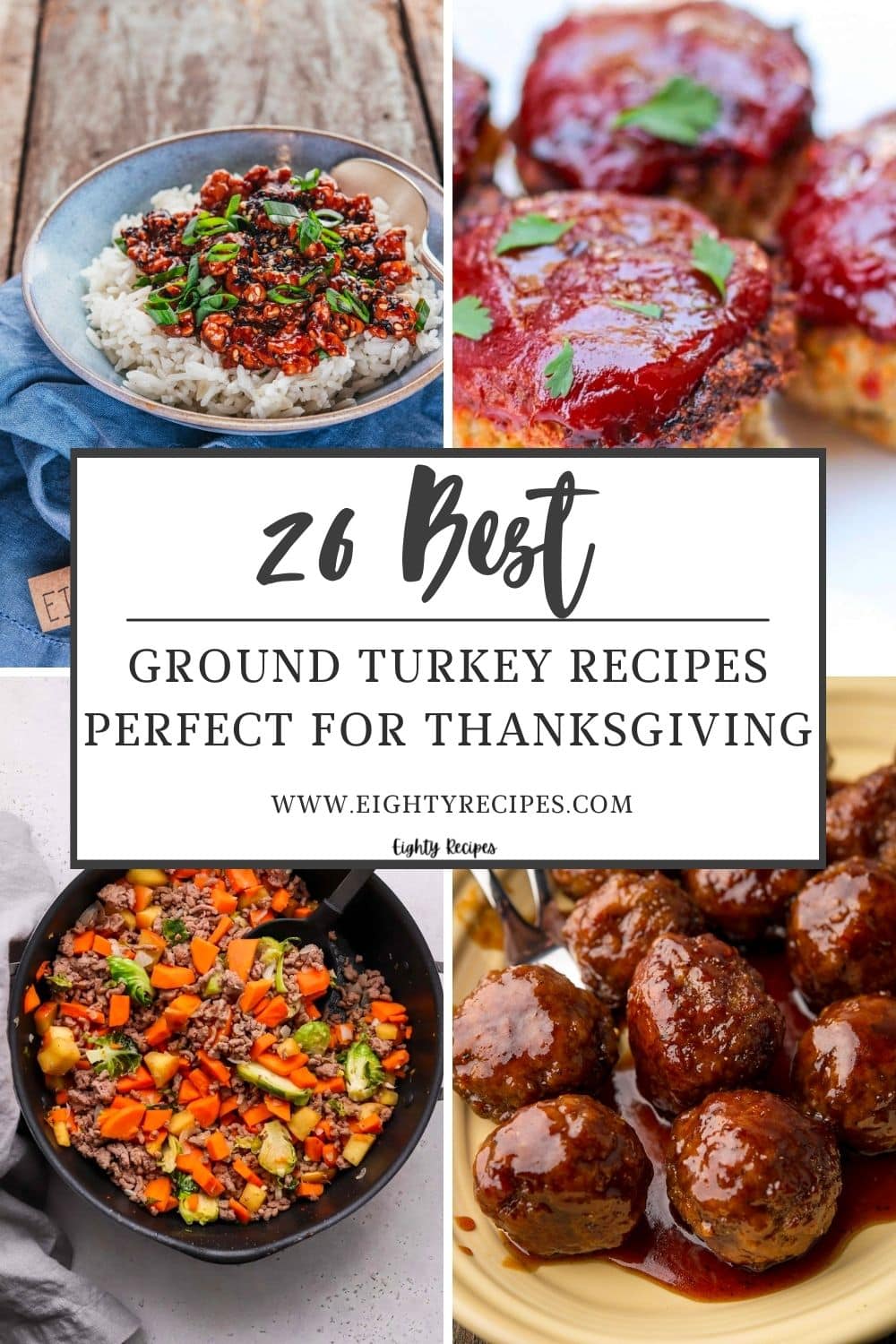 Still, looking for more ideas? Check out this list of 26 best Ground turkey recipes:
Here are some delicious Thanksgiving Day recipes that feature ground turkey as the main ingredient. These dishes are sure to please even the pickiest of eaters and will make your holiday meal planning a breeze. So, whether you're looking for a traditional turkey dinner or something a little more unique, give one of these recipes a try. Your family and friends will be thankful that you did!
Ground Turkey Easy Recipe. If you love ground turkey recipes, then this is the one for you. This Korean-style ground turkey can be used for lunch or dinner on weekdays, and even in a lunchbox.
The colder months are on their way, which means it's time to start looking for some new recipes that will keep you warm and cozy It's never too late to change up your chili recipe! This turkey dish is packed with flavor and is a great way to switch up tacos in the new year.
Ever feel like you are missing out on fresh produce that is in season? Well, this recipe solves the problem. This soup comes from a CSA farm and those vegetables are what makes it so special. The kale takes on a really unique flavor when paired with a hearty meatball and some cream.
When you're not in the mood for a heavy dinner, these Ground Turkey Zucchini Boats will leave your stomach satisfied and craving more. This is a light meal that can be served with vegetables, with tortillas for dipping, or over rice.
Get ready to enjoy a simple, flavorful turkey pasta recipe that is perfect for a quick and easy weeknight meal. Ground turkey is a lean protein that's high in protein, and low in fat, and it's the perfect addition to this hearty dish.
Ground turkey is a very versatile and healthy protein that you can use in so many different ways. From tacos to soups and stir-fries, it really does have a place in everyone's recipe rotation. These teriyaki bowls are not only delicious but also contain all of the healthy whole30 ingredients needed to make them!
What's your go-to meal when you're craving something comforting and delicious that won't break the bank? If ramen is a large part of your life, try these homemade ramen bowls. It combines lean ground turkey with vegetables, flavored with traditional ramen noodles, and seasoned with soy sauce. what do you wait for? check this lean ground turkey recipe now.
What's better than a quesadilla? One that is light and healthy! This ground turkey recipe is a perfect lunchtime meal or even an appetizer, and it's easy to prepare with ingredients you probably already have in your pantry.
Cravings for healthy food are the worst and it's difficult to find a satisfying meal. This recipe from Taste of Home is the perfect solution!

There are some nights when you just don't have the energy to cook a complicated meal. This is where those great recipes come in that require very few ingredients and little preparation time. These turkey burger sliders are easy peasy, delicious, and ready in less than an hour!
Looking for a new and different dish to add to your repertoire this holiday season? This Ground Turkey Enchilada Casserole is the perfect dish for you! It's easy to make, and it gives you plenty of options in terms of what ingredients to use up in your kitchen. This layered casserole is perfect as a main dish or as an appetizer!
You might have planned to spend your holidays with loved ones and have your own time off, but if you are the type of person who loves cooking or baking, it can be difficult to find time to do this while you are also hosting guests. Fortunately, Canadian Turkey has a recipe that will make any dinner party look like a dinner party!
When you're looking for a hearty and savory meal, think about cooking up a big batch of this pink pasta sauce. It's a rich and creamy tomato sauce that is flavorful from the cream cheese and parmesan cheese, and the addition of ground turkey will give it plenty of protein, making it perfect for the holiday season. Enjoy!
One of the most popular Thai dishes is always a Thai Basil Beef stir-fry – it's an easy, budget-friendly dish that can be enjoyed in many different forms. Thai Basil Turkey Fried Rice recipe is prepared in just 5 minutes, you can have a sizzling plate of hot and fragrant flavors ready in no time!
Want to cook a healthy dinner at home with your air fryer, but not sure what to make? This recipe is for you! With just a few ingredients and simple preparation, you'll have a delicious and healthy meal in minutes.
Every culture has its own regional cuisine. The Thai food that I adore so much is low in carbs and high in flavor, making it perfect for those of us who are on diets and trying to stay healthy. In this recipe, I'm sharing my favorite Thai dish, which starts with a simple ground turkey curry.
The original turkey burger dish that is popular throughout America, also known as Burger in a Bowl, is a very simple recipe made with ground turkey, egg, bread crumbs, and seasoning. This ground turkey salad recipe uses sun-dried tomatoes instead of mayonnaise for a refreshing twist on an American classic.
Looking for that perfect appetizer for your next party? It's easy to make with just a few ingredients and in no time, these Maple Glazed Ground Turkey Meatballs will be looking at you from the buffet table. And if you're up for it, add some crispy bacon bits!
This healthy turkey chili and a bowl of hot, yummy asparagus soup are hard to come by in a restaurant, but you can make it yourself with this recipe! This chili is so flavorful, that even the picky eaters in your life will love it.
Some people enjoy making what is traditionally a meat-based dish, which can be difficult to do without ingredients you might not already have on hand or may find difficult to find. Having gluten-free and egg-free meatballs just got easier! Find out how to make these tasty treats in this article.
This recipe will have your dinner guests coming back for seconds and thirds. This culinary masterpiece, which is full of flavor and texture, may appear to be a complicated dish but has ingredients that are easily found in a grocery store or in your kitchen pantry.
Looking for a new and delicious way to cook a ground turkey? For this recipe, the ground turkey is sautéed in a garlic, ginger, and soy sauce mixture before it's cooked with frozen mixed vegetables. It's a simple but satisfying dish that works well as an appetizer or main dish.
Cooking a dish doesn't always have to be a long and arduous process. Sometimes you can make something in just minutes! This Turkey Meatloaf recipe is one of those quick meals that really packs an amazing taste. Feta cheese is always a great addition as well, which can thicken the sauce without adding any more fat or calories than need be.
Turkey Meatballs make a delicious dinner and they're so easy to make! This recipe combines oven-baked or slow cooker-baked Turkey Meatballs with Marinara Sauce and Mozzarella Cheese. Serve them over mashed potatoes or rice!
If you need a new recipe idea to try this season, you should consider making these turkey burgers. These tasty burgers are made with ground turkey, mixed with spices and herbs, then topped with tomatoes and avocado for an extra burst of flavor. The best part? This recipe is assembled in just over 30 minutes!
The idea of a healthy low-calorie meal is hard to come by. It's not always easy to find something that is both tasty and good for you, but this ground turkey sweet potato skillet with brussels sprouts and apples from Wholesome Yum will leave you feeling satisfied and energized!
Recipes For All The Non-Turkey Dishes (Stuffing, Gravy, Cranberry Sauce, Sides, etc…)
Thanksgiving is a time to come together and celebrate with family and friends. It's also a time to enjoy all of the delicious food that comes with the holiday! While turkey is typically the star of the show, there are so many other amazing dishes that make Thanksgiving complete. Stuffing, gravy, cranberry sauce, and all of the delicious sides are what really make the meal special.
Ground Turkey Recipes FAQs?
Is ground turkey healthier than ground beef?
There are a lot of conflicting opinions out there about whether ground turkey is actually healthier than ground beef. Some say that it is, because it has less fat and calories. Others say that ground beef is actually better for you, because it contains more nutrients and protein. So, what's the verdict? Well, the truth is that both ground turkey and ground beef have their pros and cons. Ground turkey is lower in fat and calories, but it also has less protein and iron than ground beef. Ground beef, on the other hand, is higher in fat and calories, but it also contains more nutrients and protein. So, which one should you choose? It really depends on your individual needs and preferences. If you're looking for a leaner option, then ground turkey may be the best choice for you. But if you're looking for something that's more nutrient-rich, then ground beef may be a better option. Ultimately, the decision is up to you!
Is ground turkey good for weight loss?
As we all know, Thanksgiving is a time for family, friends, and of course, food! But if you're trying to lose weight or eat healthier, you may be wondering if ground turkey is a good option for you. Turkey is generally a leaner meat than other options like beef or pork, so it can be a great choice if you're looking to cut down on calories. Additionally, ground turkey is a good source of protein, which can help you feel fuller longer and promote weight loss. So if you're looking to enjoy a delicious Thanksgiving feast while still sticking to your healthy eating goals, consider using ground turkey in your recipes!
How do you make lean ground turkey taste good?
There are a few things you can do to make lean ground turkey taste good. First, make sure to cook it until it is well done. This will help to bring out the flavor of the meat. You can also add some spices or herbs to the turkey before cooking it to give it more flavor. Finally, consider using ground turkey in recipes that call for ground beef. This will help to stretch your food budget and still allow you to enjoy all of your favorite Thanksgiving dishes.
Why does my turkey meatloaf fall apart?
One of the most common questions we get during Thanksgiving is why does my turkey meatloaf fall apart. There are a few things that could be causing this, so let's break it down. One possibility is that you're not using enough binding agent. When you make meatloaf, you need some kind of binding agent to help hold everything together. This could be eggs, breadcrumbs, or even oatmeal. If you're not using one of these ingredients, your meatloaf is more likely to fall apart. Another possibility is that you're overcooking your meatloaf. Turkey is a leaner meat than beef, so it's more susceptible to drying out. If you cook your meatloaf for too long, it will start to fall apart. Finally, it's possible that you simply don't have enough fat in your recipe. Fat helps to bind the ingredients together and keeps the meat moist. If you're using lean ground turkey, you may need to add some additional fat to your recipe. This could be in the form of olive oil, bacon grease, or even cream cheese.
Can you substitute ground turkey for ground beef in meatloaf?
When it comes to dishes like meatloaf, many people assume that ground beef is the only way to go. However, ground turkey can actually be a great substitution in recipes like this. Ground turkey is a leaner option than ground beef, so it can be a healthier choice as well. Plus, it can still give your meatloaf plenty of flavor. If you're looking to switch things up this Thanksgiving, try using ground turkey in your meatloaf recipe.
Check out the printable recipe below and let me know what you think about this Ground Turkey Easy Recipe (comments below)
To receive our daily recipes you can follow us on Facebook, Pinterest, and Instagram.
CHECK OUT THESE AWESOME, EASY RECIPES: