The Easiest And Most Delicious Creamy Pineapple Fluff Salad You'll Ever Make. This Creamy Pineapple and Marshmallow Fluff Salad Recipe is the perfect dish for a hot summer day. I remember It was a hot summer day and I needed to make a dish that would be refreshing and cool. I decided on this Creamy Pineapple Fluff Salad Recipe because it looked easy and sounded delicious. I wasn't wrong! This recipe was incredibly easy to follow and turned out great. The cottage cheese makes it creamy while the gelatin mix gives it a nice pineapple flavor. And of course, who can resist mini marshmallows? My family absolutely loved this dish!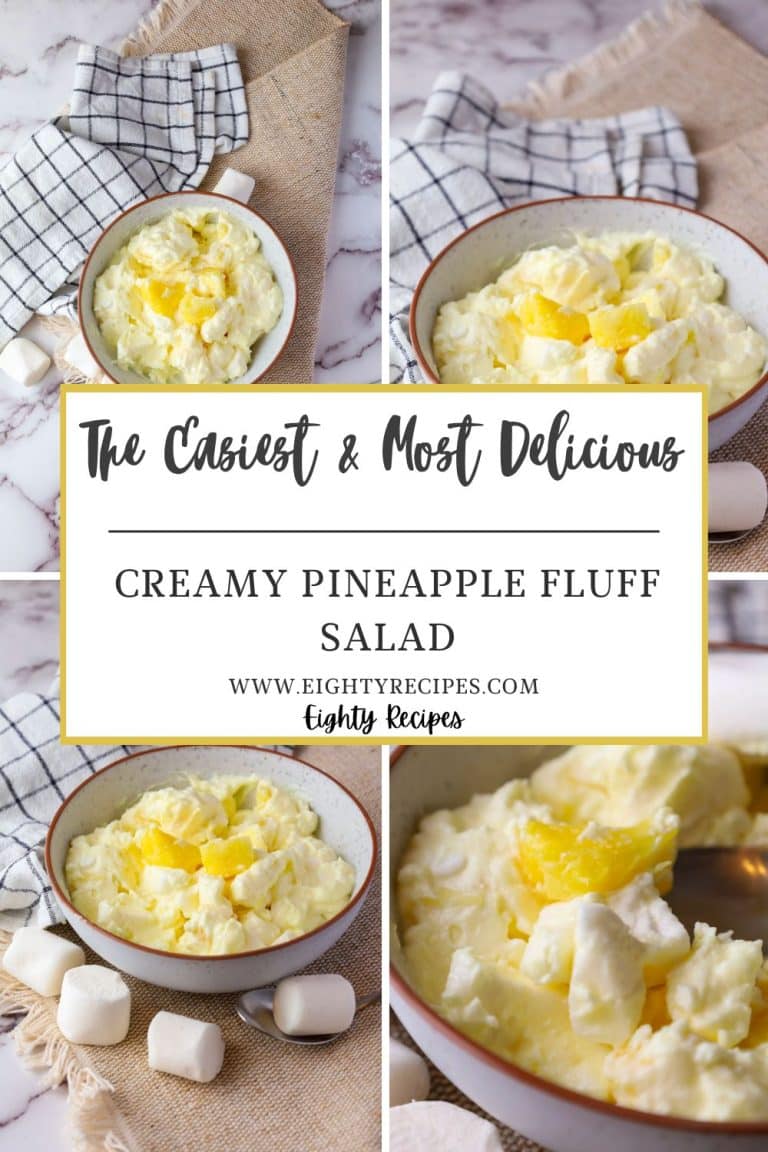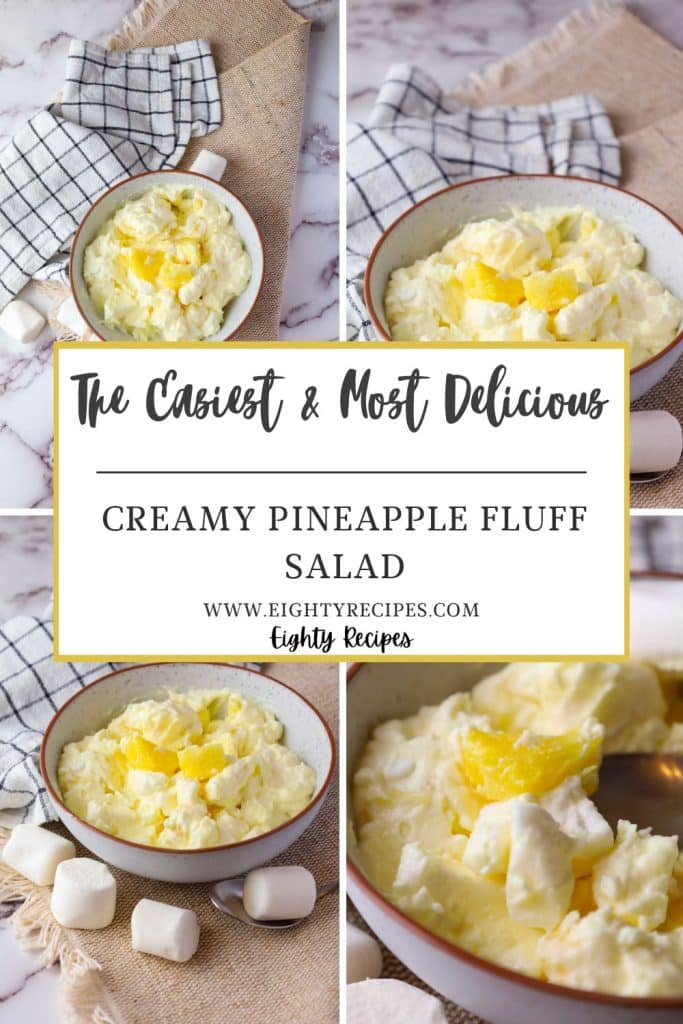 Jump to:
Taste of Creamy Pineapple Fluff Salad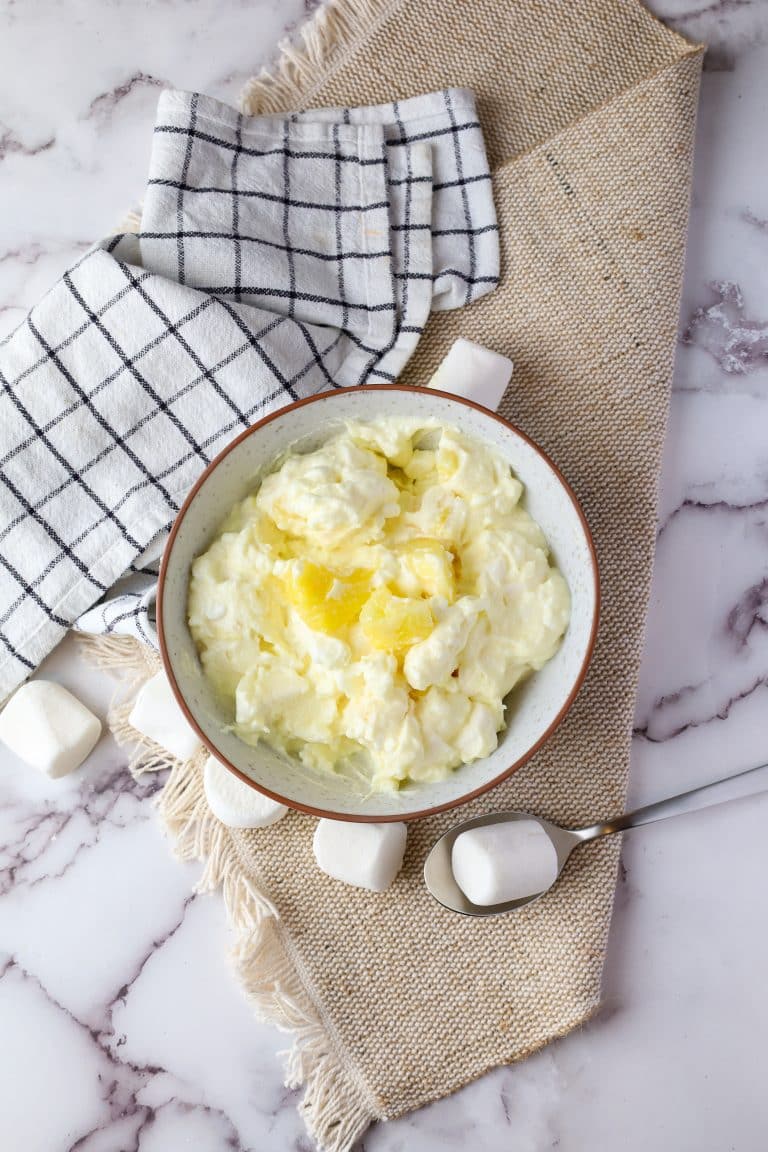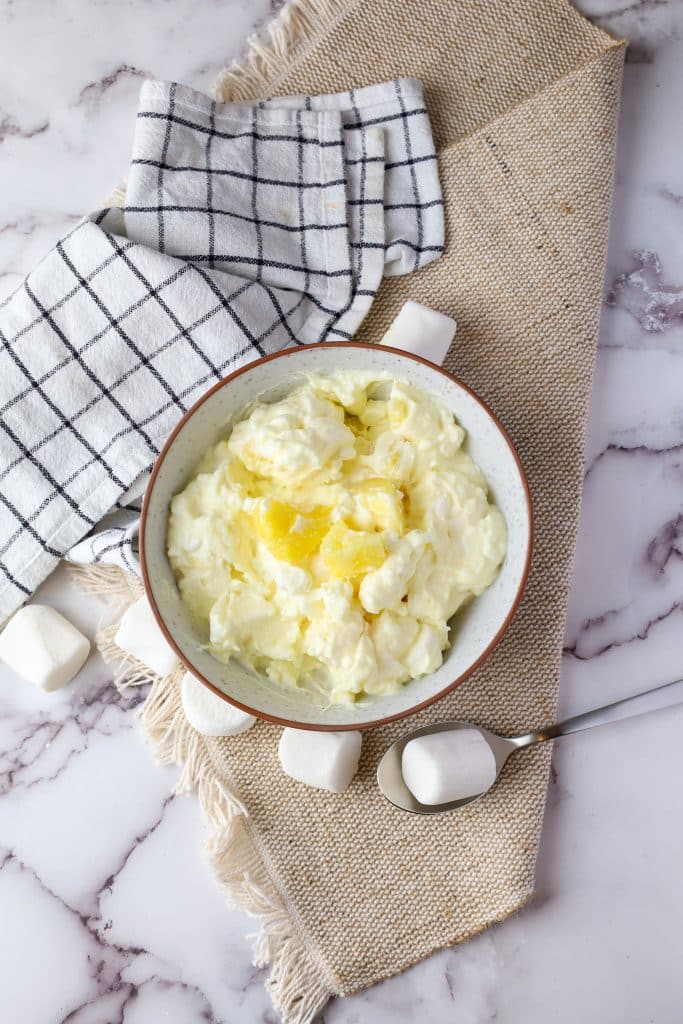 The taste of Creamy Pineapple Fluff Salad is sweet and creamy, with a hint of pineapple flavor. The marshmallows add a fun and festive touch, while the whipped cream makes it light and airy. This salad is sure to be a hit at any gathering!
This Creamy Pineapple Fluff Salad is the perfect blend of sweet and tangy, with just a touch of decadence from the pineapple cream cheese.
How to make Pineapple Marshmallow Fluff Salad
This salad is so easy to make and only requires a few simple ingredients that you probably already have on hand.
The base of the salad is fresh pineapple, which is combined with instant pudding mix, whipped topping, and mini marshmallows. You can use any flavor of pudding mix that you like, but I think vanilla pairs best with the pineapple.
The salad can be made in advance and refrigerated until you're ready to serve it. This will also allow the flavors to meld together and the salad to thicken up. Just before serving, top the salad with a sprinkle of chopped nuts or shredded coconut for a little extra flavor and texture.
Variations With Dressing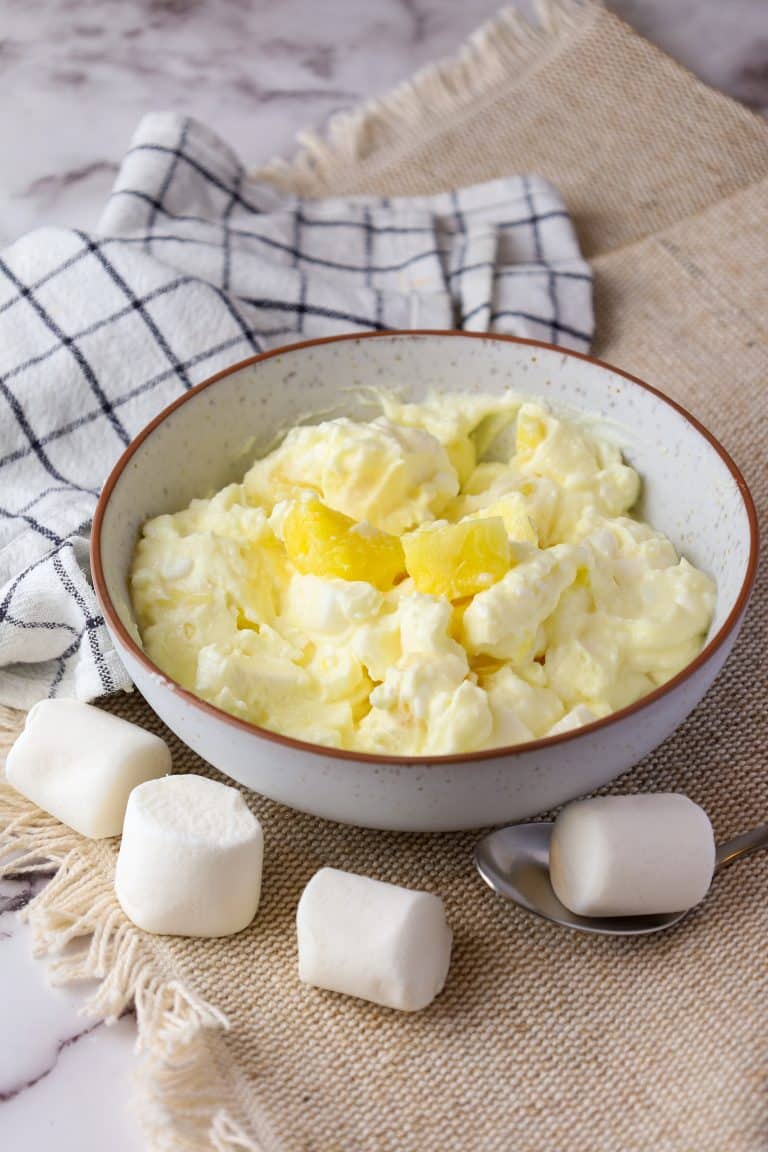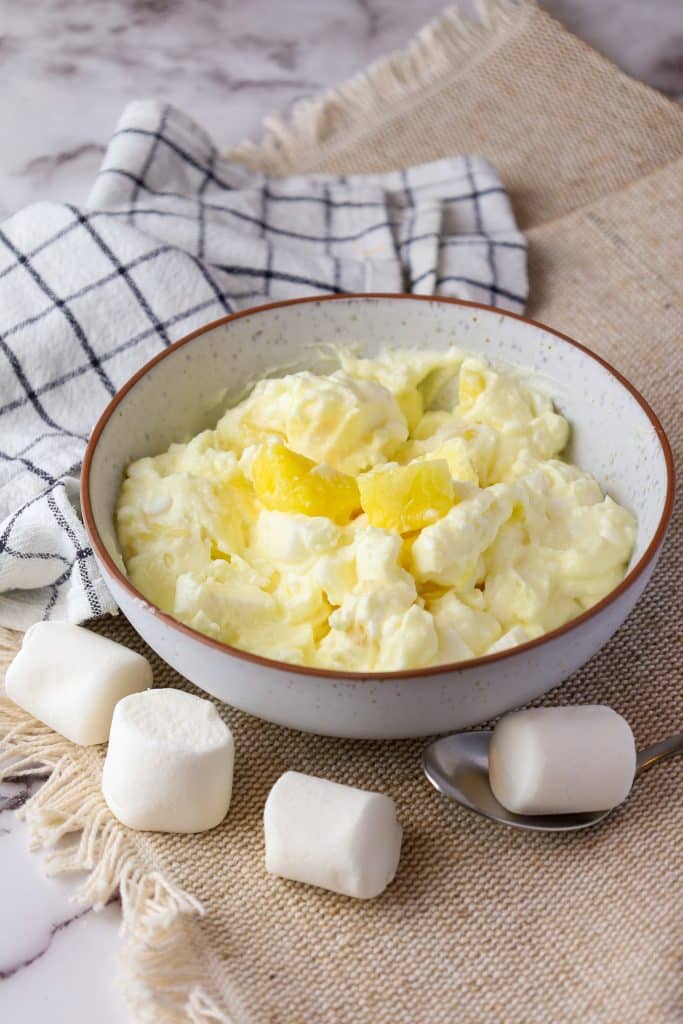 There are many variations of this marshmallow fluff salad, but the most common is whipped cream. Another variation that is popular is adding a layer of vanilla pudding mix to the bottom of the dish before adding the pineapple. This gives the salad a little more sweetness and creaminess. You can also add in some shredded coconut or chopped nuts for extra texture and flavor.
Ideas to make it more filling?
Here are some ideas to make this marshmallow fluff salad even more filling:
1. Include a variety of fruits and vegetables in your salad for a filling meal.
2. Use creamy fruit such as avocado or mango as a topping for your salad.
3. Fill up on fiber-rich ingredients like quinoa, beans, or nuts in your salad.
How long should I refrigerate it?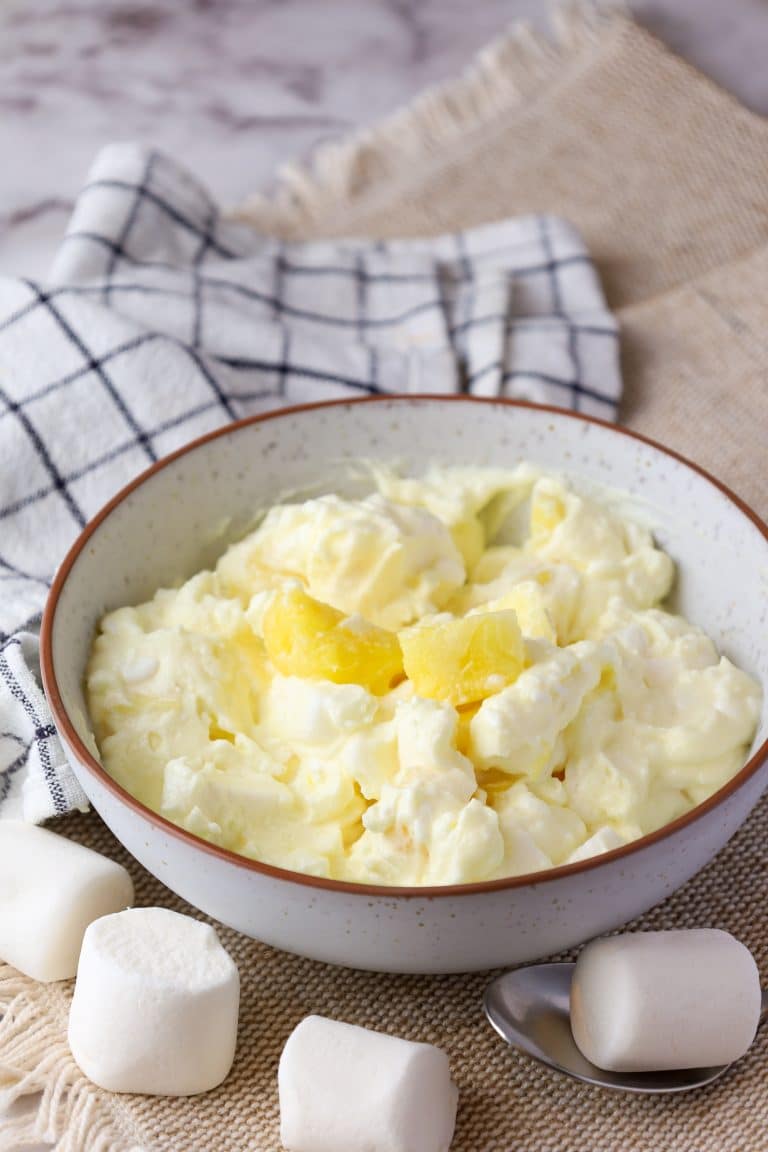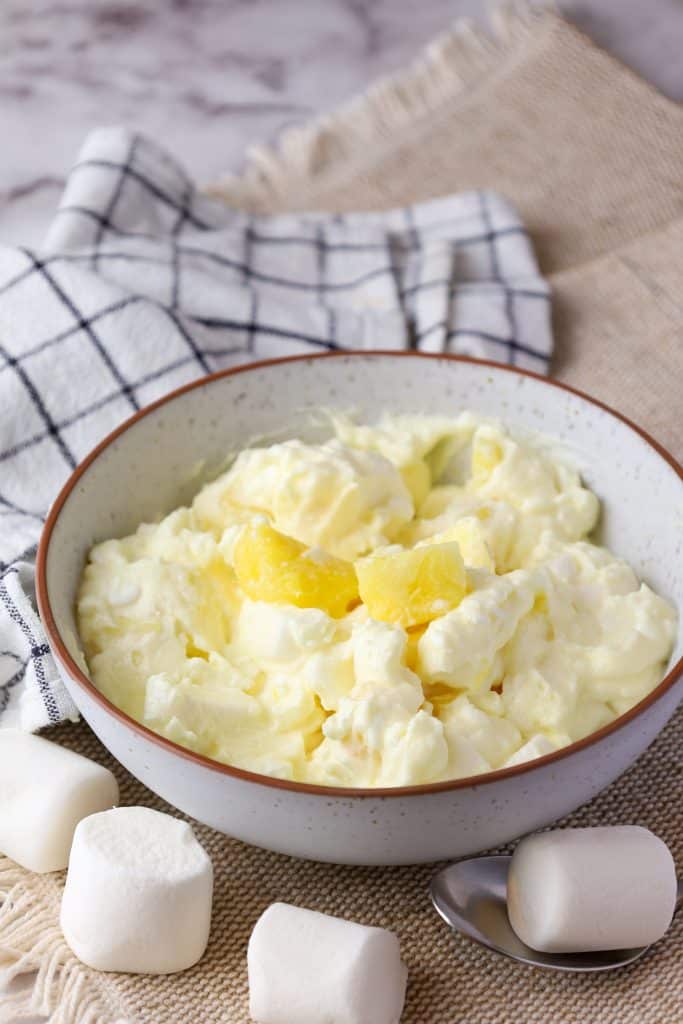 This salad is best when served cold, so make sure to refrigerate it for at least an hour before serving. If you want to make it ahead, you can prepare the salad the night before and refrigerate it overnight. The flavors will meld together and the salad will be even tastier!
Expert Tips For This Amazing Creamy Pineapple Salad: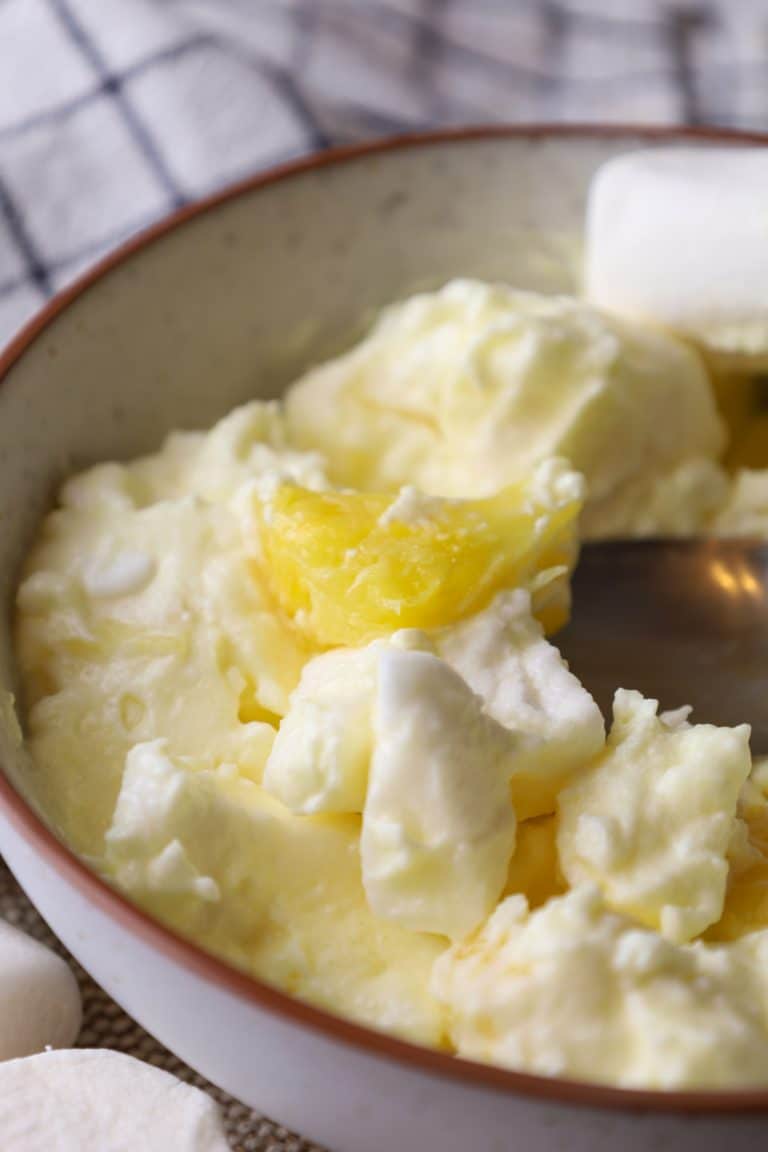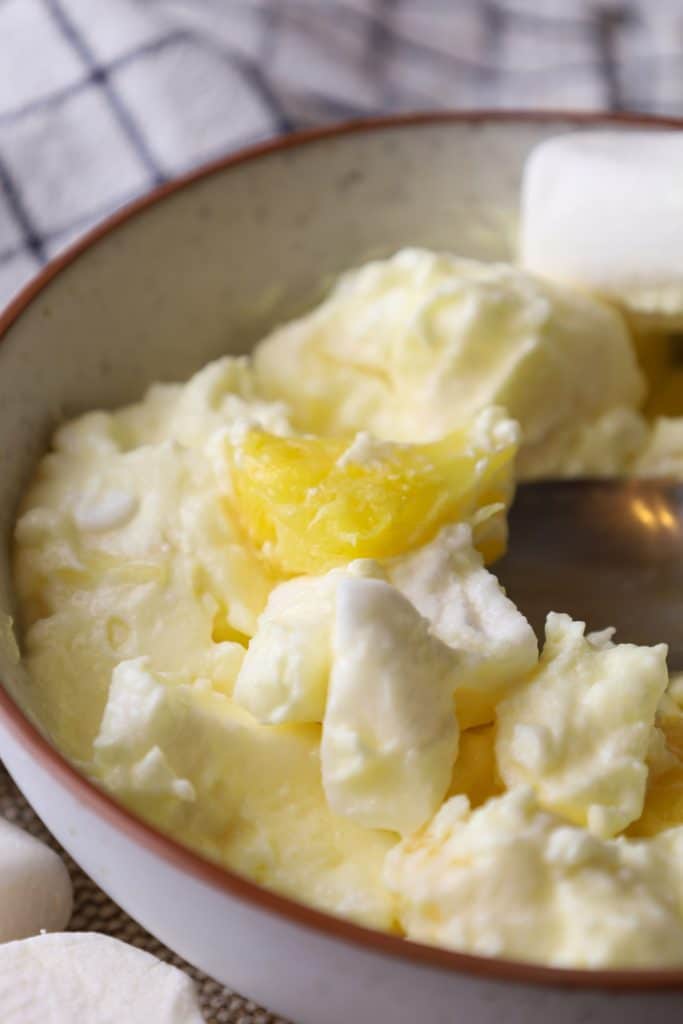 When it comes to making a pineapple fluff salad, there are a few expert tips that you should keep in mind. First, be sure to use fresh pineapple in your salad. canned pineapple just won't give you the same flavor. Second, make sure to drain the pineapple well before adding it to the other ingredients. Otherwise, your salad will be too watery.
And finally, to get that perfect fluffy texture, be sure to use whipped topping that is thawed completely before folding it into the rest of the ingredients.
Check out the printable recipe below and let me know what you think about this Creamy Pineapple Salad Recipe (comments below).
To receive our daily recipes you can follow us on Facebook, Pinterest, and Instagram.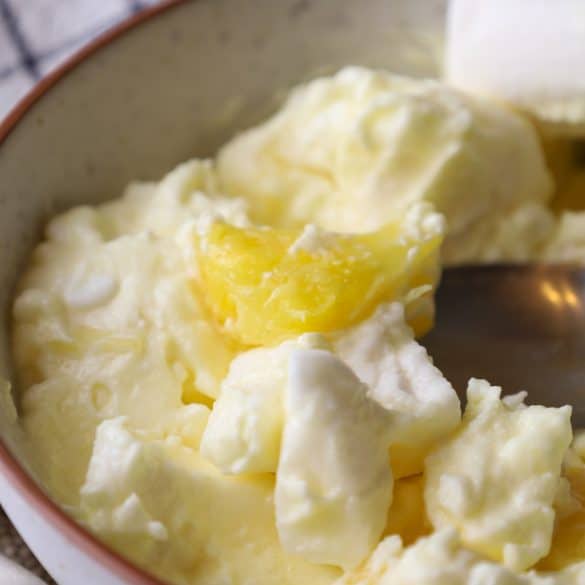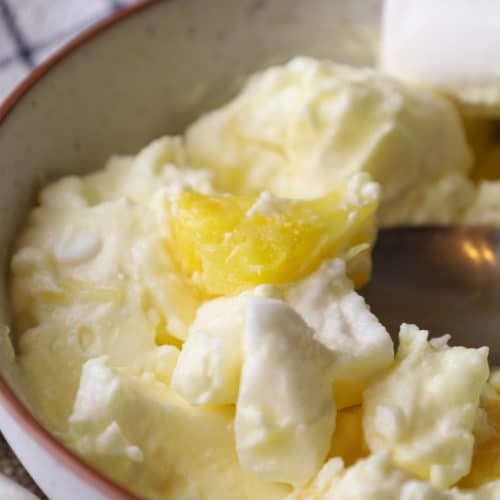 Creamy Pineapple Salad
Creamy Pineapple Salad is a light and refreshing salad recipe, perfect for summer days.
Ingredients
3

oz.

package of Pineapple gelatin mix

just the powder

8

oz.

frozen whipped topping

thawed

16

oz.

4% fat cottage cheese

small or large curd will work

14

oz.

can of Pineapple

drained

1

cup

mini marshmallows
Instructions
Place the frozen whipped topping and Pineapple gelatin mix in a large bowl. Using a rubber spatula, mix the ingredients well. Make sure to scrape the sides of the bowl as you mix.

Then, fold in the cottage cheese until well combined.

To the bowl, add the drained pineapple along with the mini marshmallows. Mix carefully until well incorporated.

Place the salad in the fridge to chill until ready to serve. Or serve the creamy pineapple fluff salad immediately. Enjoy!
Nutrition
Calories:
303
kcal
Carbohydrates:
41.6
g
Protein:
13.1
g
Fat:
9.9
g
Cholesterol:
16.3
mg
Sodium:
449.3
mg
Sugar:
36.8
g
FAQS
Why my salad is watery?
If you've ever made a fruit salad, you know that one of the most common problems is that it can become watery. There are a few reasons why this happens, but the most common one is that the fruits release juices as they sit in the salad. This is especially true of watery fruits like pineapple, grapes, melons, and citrus fruits.
There are a few ways to prevent your salad from becoming watery. One is to use firmer fruits like apples and pears.
Another is to drain the juices from the fruits before adding them to the salad. And finally, you can make a dressing or sauce for the salad that will help bind the juices and keep everything together.
How to make it thick?
There are a few key ingredients that will help thicken up your pineapple fluff salad. Start by adding in some instant vanilla pudding mix This will give the salad a nice thick and creamy texture. Next, add some sour cream. This will also help to thicken up the salad and make it more creamy.
Finally, add in some crushed pineapple. The pineapple will add both sweetness and thickness to the salad.
CHECK OUT THESE AWESOME, EASY RECIPES: