High-Calorie Smoothies? If you're looking for a way to add more calories to your diet, smoothies are a great option. They're easy to make, and you can customize them to include the ingredients you love. Plus, they're a great way to get in all of your nutrients in one meal.
Smoothies are a great way to get an extra dose of nutrients and vitamins, but they can also be a quick and easy snack that's perfect for those days when you're too busy on the go. They're also a really good way to pack in some extra calories if you're looking for a boost. If you want to give your body the energy it needs without overloading on sugar or carbs, then these 26 High-Calorie Smoothies are for you!
Sometimes you need a little boost of energy and what better way to get it than from a delicious smoothie? From high-calorie berries to morning-friendly oatmeal, these 10 smoothies are perfect picks for any time of day.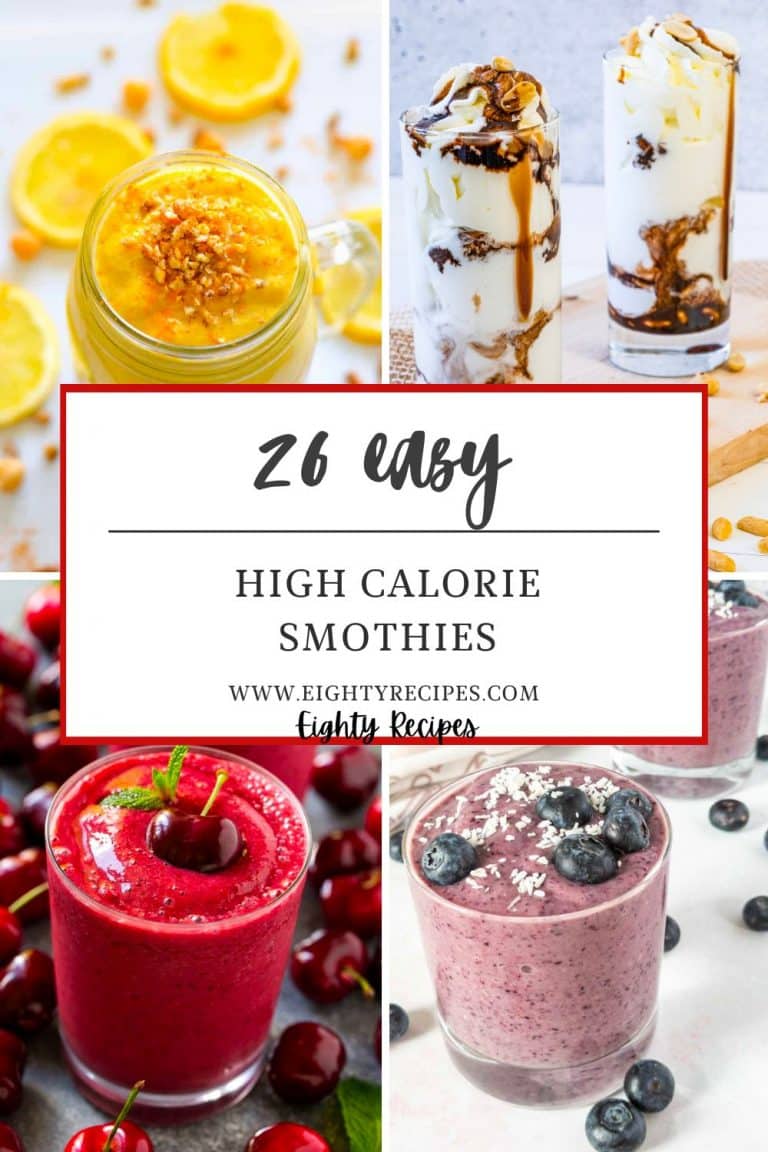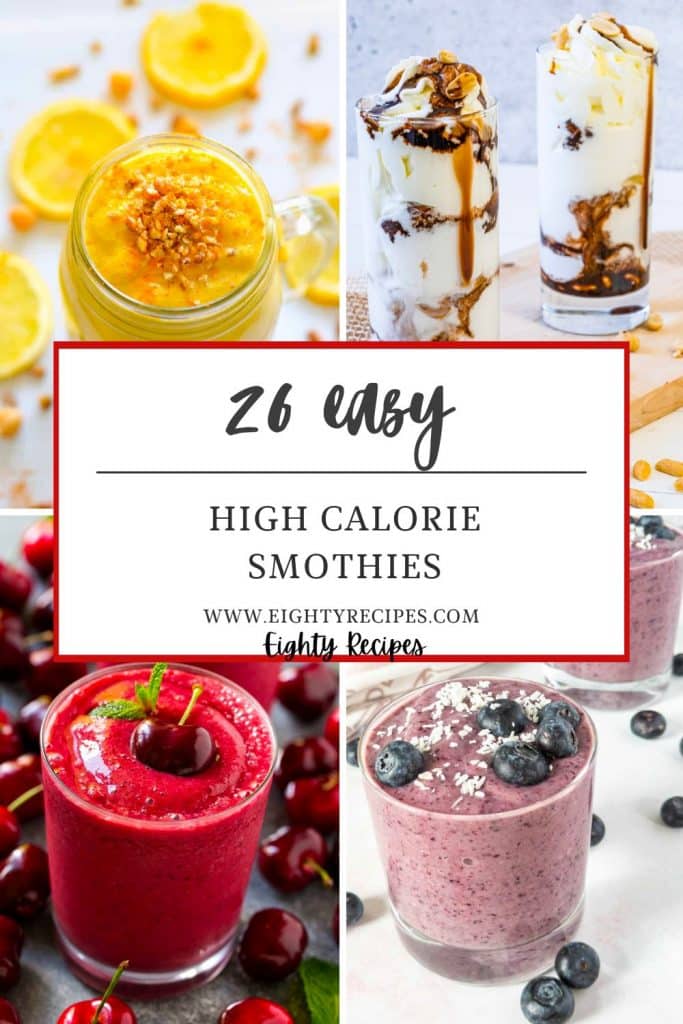 There are a few things to keep in mind when you're making high-calorie smoothies. First, you'll want to make sure that you're using whole milk or yogurt instead of water or juice. This will help add more calories and creaminess to your drink. Second, add some healthy fats like nut butter or avocado. These will help you feel full and satisfied after drinking your smoothie. Finally, don't be afraid to add in some extra sweetness with honey or fruit. This will help balance out the flavors and make your smoothie even more enjoyable.
Need a high-calorie smoothie? Check out these 26 high-calorie smoothies, all made with healthy fresh ingredients that are full of nutrition.
The homemade peanut Buster Parfaits Recipe is the perfect way to show off your amazing culinary skills and impress your friends and family! (Find the recipe on the recipe card below).
Luscious Lemon Cheesecake Smoothie is an amazing drink packed with probiotics, which are essential for a healthy gut and immune system, along with vitamins and minerals.
Did you know that you can actually increase the calories in a smoothie without compromising taste? This high-calorie smoothie is a great whole-food option if you want to gain weight or have trouble maintaining a healthy weight. Peanut butter and avocado are the key ingredients for this delicious weight gainer.
The Weight Gain Chocolate Smoothie recipe is a meal replacement shake that will keep you satiated and provide enough protein to help build muscle.
This is a two-step smoothie recipe that requires just two ingredients! This tasty and easy-to-make banana 2-step oat milk smoothie is a dairy-free option for breakfast, lunch, or a late-night snack. You can substitute the peanut butter for any other nut butter or seed butter if you prefer.
This is not your typical chocolate smoothie. It's thick, creamy, and 100% gut-healthy for you! Best of all, it takes less than 5 minutes to make in the blender with just a few ingredients.
Whether you're looking for a healthy snack to make on the go, or a sweet treat to enjoy at home, this avocado peanut butter smoothie can be whipped up in minutes. It's loaded with protein and healthy fats, so it'll keep you feeling full for hours!
Frosty, fruity, and delicious, this banana strawberry smoothie is a great way to start your day. It's also super nutritious, containing protein (from the milk), healthy fats (from the frozen bananas), and potassium (from the fruit).
This blueberry avocado smoothie is so good and loaded with healthy fats, protein, and antioxidants. It's naturally sweet and only needs a few simple ingredients.
The Keto Orange Julius is a rich and delicious low-carb keto orange drink that will satisfy your sweet tooth while staying on track with your weight loss goals. It is also packed with potassium, and vitamins A, C, and E which are important for healthy skin, hair, and nails!
Smoothie bowls are a great way to enjoy your favorite breakfast smoothie, but they are also an excellent way to add lots of nutritious ingredients. Whether you're craving something sweet or savory, there is surely a recipe out there for you!
Breakfast is the most important meal of the day, but it can also be the most daunting. One thing you can do to make it easier is to choose a healthy and satisfying breakfast hash – like this Banana Mango Smoothie Bowl with Bee Pollen and Turmeric !
We love this Mango Smoothie recipe because not only is it unbelievably easy to make, but it also tastes like candy. It is made with 3 ingredients that you might already have at home (or can buy pretty cheaply). And if you prefer a more refreshing taste, use ice instead of yogurt for an even cooler and creamier smoothie.
Smoothies are a great way to get in a nutrient-dense meal with any leftover fruits and vegetables you have on hand. There is so much to love about this Strawberry Shortcake Smoothie; it's perfect for breakfast, a post-workout snack, or as a dessert!
There are many different recipes for chocolate-based desserts, and people have many different opinions on the best one. However, I think that there is one thing that everyone can agree on – chocolate TASTES good!
Bubble tea is a popular drink all around the world, but is mostly found in Asian countries. Using tapioca balls and tea with sugar, it is an icy cold drink that's both sweet and tasty! It can be made at home for much cheaper than going to a bubble tea shop. One of the most popular types, taro milk tea, is easy to make and more delicious than any premade mix.
Raspberries and blackberries are two of the most fiber-filled fruits out there. They are also high in vitamin C and cancer-fighting antioxidants – making them a perfect food to snack on when you need to ward off colds, fight inflammation, or help prevent cancer.
Strawberries and Bananas make a great smoothie with the right touch of sugar, vanilla and milk. This recipe is very easy to make.
Here is a great green smoothie recipe that will be sure to satisfy even the hungriest of appetites. Start with a base of pineapple, kale, and avocado, and then add in any fruit you like, whether it's banana, mango, or even watermelon!
If you're looking for a drink that is fun, good for you and tastes oh-so-delicious, this cherry smoothie recipe should be the perfect solution. Not only is it filled with nutrients and vitamins, but it's also vegan and doesn't contain any refined sugar—all you need to do is mix all the ingredients together in one go.
The Weight Gain Chocolate Smoothie is perfect for those who are looking to put on some weight and bulk up. This drink is high in calories and protein, making it a great option for those who have a hard time getting enough calorie intake in their diets. Try this tasty drink for your next meal!
Tired of trying to find healthy chocolate avocado smoothies that are also delicious and satisfying? This recipe is for you! Full of healthy fats and protein, this will become your new go-to recipe.
Mango milkshakes are a delicious and refreshing cool-down, but they're also surprisingly healthy! You can whip up this drink in just a few minutes, with only 4 ingredients. Making your own mango milkshakes at home is cheaper than running to the store and buying them, plus you'll know exactly what went into it.
This blueberry tahini smoothie is the perfect way to start your day! After a long night out and too much pizza, it can be hard to muster up the willpower to make a healthy breakfast. But this recipe is so simple that you'll be craving these all week.
You will love this smoothie. Even if you have never been a big fan of fruit and milk or fruity yogurt, apple and peanut butter just do it for you. And the crunch from the cereal? Yum!
If you're looking for a quick and delicious breakfast, snack, or dessert that's actually good for you, this blueberry detox smoothie is the perfect answer.
High-Calorie Smoothies – Conclusion:
These 26 high-calorie smoothies are a great way to get a daily calorie boost. They're all packed with nutrients and healthy fats that will help you feel fuller and longer and give you sustained energy throughout the day. If you're looking for a quick and easy way to increase your calorie intake, these smoothies are a great option.
Check out the printable recipe below and let me know what you think about these High-Calorie Smoothies (comments below).
To receive our daily recipes you can follow us on Facebook, Pinterest, and Instagram.
High-Calorie Smoothies FAQ:
What smoothie is best for weight gain?
A smoothie can be a great way to get an extra calorie boost each day. However, not all smoothies are created equal when it comes to calories. Some smoothies can pack in over 1000 calories, while others may have less than half that.
So, what's the best smoothie for weight gain? It really depends on your individual calorie needs. If you're looking to add a few extra pounds, you'll want to choose a smoothie with plenty of high-calorie ingredients like peanut butter, whole milk, and bananas. On the other hand, if you're trying to gain weight slowly and healthily, opt for a smoothie with moderate amounts of healthy fats and proteins.
What can I add to a smoothie to increase calories?
If you're looking to add a few extra calories to your diet, there are a few things you can add to your smoothie to make it a little more calorie-dense. Adding nut butters, whole milk, avocado, or even ice cream can all help increase the number of calories in your smoothie without sacrificing taste or nutrition. Just be sure to watch out for added sugar if you're trying to maintain a healthy diet.
Are smoothies a good way to gain weight?
If you're looking to gain weight, smoothies can be a great option because they're easy to make and can be packed with calories.
When you're trying to bulk up, it's important to consume more calories than you burn off each day. This means eating more food than usual, which can be challenging if you don't have a lot of appetites or if you're not used to eating large meals.
Smoothies can help you reach your calorie goals because they're very efficient in terms of delivering nutrients and calories. A single smoothie can contain hundreds of calories, so it's a great way to get a big calorie boost without having to eat a lot of solid food.
How do I make a high-calorie smoothie or shake?
There are a few things you can do to make a high-calorie smoothie or shake. First, add some full-fat dairy products like milk, yogurt, or ice cream. This will add calories and also help to thicken the smoothie. Another option is to add in some nut butter or oils, which are high in calories and healthy fats. Finally, consider using protein powder or adding extra fruits and vegetables to boost the calorie content.
How many smoothies should I drink a day to gain weight?
If you're looking to add some extra calories to your diet, drinking a high-calorie smoothie is a great way to do it. How many smoothies you should drink each day depends on how many calories you're aiming to consume.
If you're trying to gain weight, you'll need to consume more calories than you burn off each day. The average person burns around 2,000 calories per day, so if you're trying to gain weight, you'll need to consume more than that. A good starting point would be to aim for 2,500-3,000 calories per day.
To reach this calorie intake, you could drink one or two high-calorie smoothies each day. A typical high-calorie smoothie might have 500-700 calories, so drinking two of these would get you most of the way to your daily calorie goal.
If you find it difficult to drink that many smoothies, or if you're struggling to hit your calorie goals with just smoothies, then adding in some solid foods will help. Adding a banana or some nut butter to your smoothie can increase the calorie content without making it too filling. And if you still can't hit your calorie goals.
CHECK OUT THESE AWESOME, EASY RECIPES: